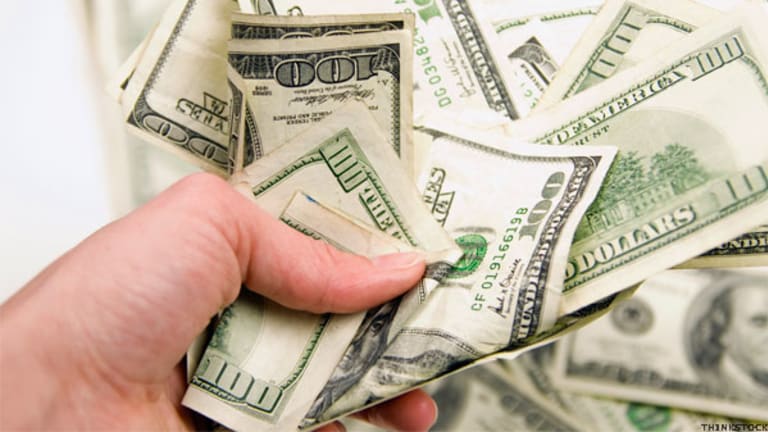 5 Summer Home Improvements That Pay Off
Homeowners shouldn't go diving into a pool purchase, but driving those deck posts isn't such a bad idea.
WASHINGTON (TheStreet) -- Each spring when the temperatures rise and hibernation ends, a select segment of homeowners starts thinking this is the year to go down to Home Depot (HD) - Get Report, Lowe's (LOW) - Get Report or Sears (SHLD) and start putting together that deck or digging out that long-desired pool.
For some of the most popular household improvements, it's never a good year to put them in.
This year will be especially rough, as 64% of Americans surveyed in
American Express'
(AMX) - Get Report
Spending and Savings Tracker said they'll invest in home improvements -- similar to last year's 62% -- but plan to spend only an average $3,400 on them. That's nearly half the $6,200 they vowed to spend last year, and it cuts contractors out of the mix considerably; the 47% who planned to hire help last year shrunk to 20% this year.
Renovations are starting to stagnate. Harvard University's Joint Center for Housing Studies says spending will inch up only 0.2% this year from last year. After uprisings in Egypt and Tunisia, political unrest in Bahrain, Yemen and Syria, military action in Libya and a earthquake, tsunami and nuclear crisis in Japan, the argument for remodeling a home now sits on a pretty shaky foundation. The Consumer Confidence Index rose 1.6 points in April on job news, but still hasn't made up an 8.6-point drop in March -- the first in five months. Meanwhile, average gas prices rose to nearly $3.91 per gallon, more than a dollar what it cost for the same gallon a year ago, and are expected to reach $4 by early May.
That said, homeowners should chose wisely before pouring out the concrete for a patio or cannonballing into a big investment such as a pool.
TheStreet
took a look at five of the biggest outdoor remodeling projects homeowners are considering before the summer and ranked the ones worth sweating over:
Pool
Worth doing?
Push
At $25,000 to $50,000 or more, an in-ground pool requires a gut check before homeowners even dip a toe in the water. Sure, the National Association of Realtors' National Center for Real Estate Research boasts that an in-ground pool can add about 8% to a home's resale price, but that value swings dramatically, from 6% in the frosty Midwest to 11% in the most toasty Sun Belt.
It also doesn't cover the more than $2,000 it'll cost in maintenance and the hundreds it'll set owners back to keep heated models warm. Don't forget that many states require homeowners to fence in or cover their pools, which adds to the cost and insurance liability. In-ground pools don't exactly age well, either, with most requiring hundreds for filter and pump repairs within less than a decade and resurfacing costs running upward of $10,000 shortly after that first decade.
If you think an above-ground pool is the cheapest answer, it is -- upfront. According to the Center for Real Estate Research, an above-ground pool not only adds no value to a house, though, but can actually
subtract
1.9% of a house's value if the buyer decides the eyesore needs to come down. Basically, if the pool's not there for your personal enjoyment -- your very costly personal enjoyment -- it shouldn't be there at all.
A deck
Worth doing?
Yes
If your home doesn't have a deck and could, you're basically burning money and wasting space by not having one.
According to
Remodeling Magazine
's 2010-11 Cost. vs. Value Report, done in conjunction with the National Association of Realtors, a deck of any kind is one of the best investments a homeowner can make. The best part is that it's actually better to take the "cheap" way out.
A $16,000 composite deck that won't warp or fade in the rain, snow and sun will recoup 66% of its cost in resale value. For comparison's sake, that's better than the 59.5% of a $21,000 investment you'd get back for replacing a roof or the 53% of a $40,000 outlay that would come back at selling time for the poor sap who added another bathroom.
For a wood deck, which is more susceptible to the elements than its composite comrade but costs about $5,000 less, homeowners would get back 72.8% of what they put into it. That's outdone only by a steel entry door replacement (102.1% return) and garage door replacement (83.9%) and the same value as remodeling a kitchen.
Patio
Worth doing?
Yes
On paper, patios are about as dated as three-martini lunches, calling a receptionist "doll face" and wearing floral shorts with boat shoes. Unlike each of these American postwar relics, however, the patio still serves a purpose when the situation requires it.
For homeowners with flat plots and flatter homes or deck-worthy homes so densely packed among their neighbors that the only views are of other people's decks, patios are a simple way to expand outdoor living space while maintaining some semblance of privacy in highly-populated urban areas.
Compared with decks, they're fairly cheap, too. Brick patios start at roughly $11 per square foot and can be installed by contractors for roughly $3,500 -- or $700 if you're willing to do the work yourself, according to HGTV. Concrete is slightly more expensive, as the ConcreteNetwork says the price of preparing and pouring your summertime slab can run from $1,000 to $2,000 for a 10- by 20-foot space to between $5,000 and $10,000 a 100- by 100-foot patio. The financially fit, however, may want to splurge on their grandfather's surface of choice: flagstone, which runs $15 to $18 per square foot. A 10- by 20-foot patch starts at $3,000, while an 80- by 20-foot area fetches upward of $30,000, according to CostHelper.
Remodeling's
Cost vs. Value Report doesn't cover patios, but the sizable return on decks and the comparably minimal investment required for a patio suggests homeowners are standing on solid ground when paving out a place to put the grill or fire pit.
Outdoor kitchen
Worth doing?
Depends on location
If you're in Syracuse, N.Y., and facing 170 inches of snow during the winter, putting a Viking stove, Lynx Grill and Kalamazoo Outdoor Gourmet dishwasher, bar and pizza oven in your outdoor space probably isn't going to pay off. If you're in Arizona or California, where a fenced-in outdoor area can actually count toward the home's square footage, an outdoor kitchen can be a brilliant investment.
If your outdoor kitchen is considered an actual kitchen, the return on a major kitchen remodel -- in this case, 69% -- would be roughly the same. Homeowners should in no way believe they'll be getting a break on the average $58,000 it costs to put in a kitchen, though. Despite having a pedestal grill in its clearance section for $2,000, the majority of Kalamazoo's grills run from $7,000 to upward of $15,000.
Throw in common kitchen fixtures such as refrigerators, sinks, cooktops, cabinets, dishwashers and even splurge items including beer taps and pizza ovens -- not to mention the associated plumbing -- and an outdoor kitchen can be every bit as formidable as a home's standard kitchen, if not more so. Features such as range hoods and portable heaters are also making outdoor kitchens year-round propositions in markets as seasonally chilly as Nantucket and Northern Michigan.
"We have reason to believe an outdoor kitchen installation has a return on investment that is at least comparable to that of an indoor kitchen," said Russ Faulk, vice president of product development for Kalamazoo Outdoor Gourmet. "In some markets, a fully functional outdoor kitchen means adding a second kitchen to the home's listing. So you list the home as five bedrooms, two kitchens."
Gazebos
Worth doing?
If you have the space, absolutely
Gazebos tend to get lumped into the same aesthetic niche as lawn ornaments and water features, but that far oversimplifies what this $2,000 to $6,500 investment can do for a home or property. By basically giving the yard a roofed deck or a detached porch, a gazebo of the right size can make a lovely reading room, an extended gardening area or a nice shaded spot to take shelter with a drink during summer parties.
Vinyl versions from Home Depot or Lowe's tend to drive up the price a bit, but 12-foot gazebos made with treated wood are viable alternatives. If that hard ceiling isn't a necessity or you already have an outdoor space such as a patio, $800 to $5,000 vine-strung pergolas are a gazebo option for those seeking some shaded solitude. While gazebos and pergolas lean heavily on aesthetic appeal for their value -- making their resale return a bit ambiguous -- remodeling professionals suggest that the fluctuating values of almost any home improvement should make features such as gazebos and pergolas labors of love, not summer projects for those looking for a sunnier sale price.
"Builders are facing headwinds getting appraisals that give full value to the cost of materials and construction, and remodeled homes face similar challenges upon resale," says Stephen Melman, director of economic services for the National Association of Home Builders. "The best reason for remodeling is to improve the lifestyle of the owners, and that benefit is greatly undervalued."
-- Written by Jason Notte in Boston.
>To contact the writer of this article, click here:
Jason Notte
.
>To follow the writer on Twitter, go to
.
>To submit a news tip, send an email to:
.
RELATED STORIES:
>>6 Essentials For Airline Travel Survival
>>4 Ways Albert Pujols Is Bad For Home Sellers
Jason Notte is a reporter for TheStreet. His writing has appeared in The New York Times, The Huffington Post, Esquire.com, Time Out New York, the Boston Herald, the Boston Phoenix, the Metro newspaper and the Colorado Springs Independent. He previously served as the political and global affairs editor for Metro U.S., layout editor for Boston Now, assistant news editor for the Herald News of West Paterson, N.J., editor of Go Out! Magazine in Hoboken, N.J., and copy editor and lifestyle editor at the Jersey Journal in Jersey City, N.J.