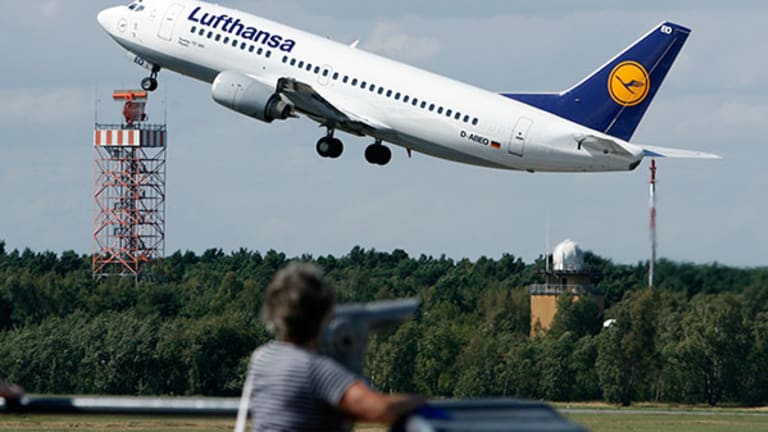 5 Strategies for Holiday Travel Procrastinators
So you waited until now to book holiday travel? Bold move. But you still have some chance to get where you're going.
PORTLAND, Ore. (TheStreet) -- So you waited until now to book holiday travel despite the fact there's almost a full week less time between now and Christmas than last year. Bold move.
Just days before Thanksgiving and roughly a month before Christmas, we don't feel it's a reach to say holiday travel bargain hunters are tracking an extinct species. Deals? There are no deals. You're lucky if there are open seats out there getting more expensive by the moment.
You say
JetBlue
(JBLU) - Get JetBlue Airways Corporation Report
just offered a winter fare sale? Yeah, but most holiday dates are
. Think Santa's got a cheap flight hidden in his bag somewhere? Maybe if you're headed to
. Waiting for that great, last-minute Thanksgiving deal? As
FareCompare
Chief Executive Rick Seaney notes, "You waited too long."
You have some holiday travel options, but none meet even the most forgiving definition of "good." Shut off those fare alerts and don't expect any deals or discounts in the pages that follow. With the help of the folks at FareCompare and
SmarterTravel
(TRIP) - Get TripAdvisor, Inc. Report
, we have put together a few tips that will prevent you from bankrupting yourself. They'll soften the blow a bit, but you're still taking a strong punch right to the wallet:
Fly on the holiday
Maybe you misjudged the calendar or just flat out forgot. Either way, you haven't booked a ticket and breaking your loved ones' hearts isn't an option.
The good news is that some tickets are still available. The bad news? They're roughly the cost of
a large family's Thanksgiving dinner
.
Also see: 3 Steps to Mastering Holiday Gift Delivery>>
If you have frequent-flier miles to use, now is the time. There are going to be last-minute redemption fees, but would your rater pay full price? Also, consider flying on Thanksgiving Day. You'll miss the parade unless you're on a flight with
DirecTV
(DTV)
, but not getting to mock Matt Lauer is the price you pay for your sloth. Meanwhile, you'll be flying on one of the least popular days on the airline calendar and make it home in time for turkey and stuffing. If you really want to save, make it a quick turnaround and leave on the Saturday after thanksgiving. It can knock $100 to $200 off the ticket price and will be your only opportunity to do so unless you want to leave on Tuesday.
Change destinations
There are ways of getting to Thanksgiving dinner in Washington, D.C., without flying into Reagan International, Dulles or even Baltimore. Meanwhile, there's hope for escaping New York without joining the rest of the city in LaGuardia, JFK or Newark.
New Yorkers may want to consider flights into Newburgh, N.Y., Philly or Hartford. Philly isn't a bad option for getting to D.C., either, but Roanoke might be a great bet if you can deal with the drive. Heading home to Seattle this season? Try Portland or Vancouver. Want to get back to Chicago but don't want to deal with Midway or O'Hare? Join the Notre Dame fans in South Bend, Ind., or the Cheeseheads in Milwaukee.
It'll cost you an hour or two in driving, but could save you as much as $100 if you pick the right routes.
Connecting flights are your friends
Red-eye and connecting flights are a huge help this time of year year. By comparing routes you could save $100 or more by selecting a less-convenient connecting flight.
We will warn, however, that layover locations are all-important during winter travel. Saving $150 on a flight by making a connection means little when you're snowed in somewhere in the Midwest and losing a travel day in the process. Seek warm-weather connections and cross your fingers.
Also see: 5 Holiday Shopping Apps You May As Well Download Now>>
Consider all options
Being adamant about your level of comfort this late in the game is only going to cost you more time and money.
Moving around with more luggage than Coco Chanel isn't frugal at any time of year thanks to baggage fees. During the holidays, travel surcharges only make anything above a carry-on seem like a costly luxury. Now is the time to start thinking about shopping for holiday gifts online and having them shipped directly to your destination. Also, don't be afraid to get your hands dirty doing some laundry in your destination of choice. On a flight with multiple connections, shedding a few bags can save as much as $70 each way.
Also consider just how much this visit means to you. If it means enough to extend your stay, consider flying before Dec. 15. We realize that's a bit far ahead, but airline surcharges and peak travel days only make it tougher from that point on. Otherwise, you're flying in on Christmas Day and not leaving until the Dec. 29 or 31. According to
Priceline
(PCLN)
, those are the best days for pricing and availability and even that's not saying much.
Make it a package deal
Seaney and SmarterTravel's Ed Perkins have recommended travel packages as a way around winter holiday pricing.
Perkins notes that most big airlines and big online travel agencies bundle packages that often cost less than arranging the individual parts on your own. Granted, those deals are a whole lot better when you book in, oh, September, but there's still a chance you can get a package with a price low enough to basically get you a rental car for free.
We can't promise you'll save a whole lot on airfare, but at least you'll get a cheap ride or room for your trouble.
-- Written by Jason Notte in Portland, Ore.
>To contact the writer of this article, click here:
Jason Notte
.
>To follow the writer on Twitter, go to
.
>To submit a news tip, send an email to:
.
RELATED STORIES:
>>Here's Your Thanksgiving Playlist
>>We Keep Paying The Cost Of Our Wars
>>Blockbuster's Self-Inflicted Tragedy Is Our Loss
Jason Notte is a reporter for TheStreet. His writing has appeared in The New York Times, The Huffington Post, Esquire.com, Time Out New York, the Boston Herald, the Boston Phoenix, the Metro newspaper and the Colorado Springs Independent. He previously served as the political and global affairs editor for Metro U.S., layout editor for Boston Now, assistant news editor for the Herald News of West Paterson, N.J., editor of Go Out! Magazine in Hoboken, N.J., and copy editor and lifestyle editor at the Jersey Journal in Jersey City, N.J.