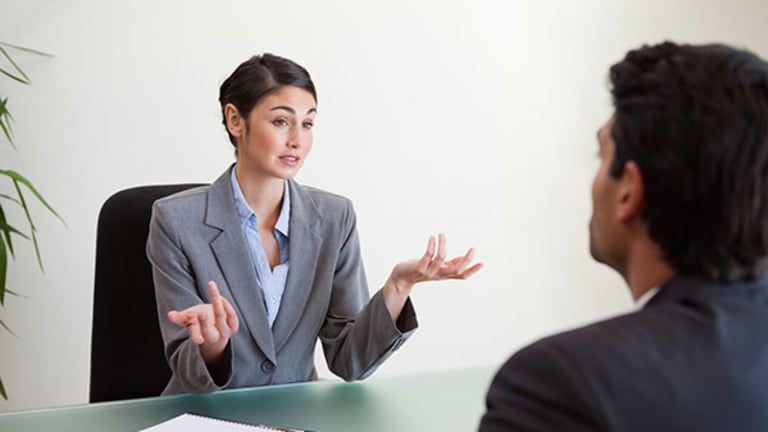 5 Steps to Selling an Idea to Your Boss
Got a great idea to share with your managers? Here's how to make sure they like and support it.
NEW YORK (
) -- Although you may have tough conversations with your boss every week, none can be quite as daunting as "the pitch" -- you know, when you have a great idea, but you've also got to convince your manager it's a winner. Whether you're interested in pursuing a big client, buying equipment or even throwing a party, you've got to come to the conversation prepared. To convince your boss you're right, follow these five tips on the best ways to sell an idea in the workplace.
1. Find "the win" by doing your homework.
First and foremost, do your homework, says Don Mroz, president of Post University in Waterbury, Conn.
"No matter what you're presenting, the devil is always in the details," Mroz says. "Make sure you really think through what you're asking for, because if it's not well planned, you're not going to get very far."
You've got to ask yourself, "Where is the win for the organization?" Mroz says. How will your idea benefit the company? How will it improve the culture, the bottom line or their image?
"People come up with great ideas every day, but often they haven't thought about what resources will it take, who is going to do the work or how much it will cost," he says. "Almost any new idea will cost something."
You've got to think about how long the implementation takes, how many staff members it will require and how long it will be before the company sees a return on its investment, Mroz says.
"You may be thinking about how creative you'll get to be when you execute your new idea, but your manager may be thinking, 'How long before I see ROI?'"
2. Pitch your idea to a colleague first, and encourage them to be a tough critic.
"To ensure your idea is a good one, you've got to role play and have someone pick it apart," Mroz says. "Have someone you really respect get in there and question every angle."
Also see: Why It Can Be Good to Take Blame in the Office>>
Before you pitch to your co-worker, Susan Inouye, an executive coach and author of
Sawubona Leadership: The Bridge For Engaging A New Generation of Leaders
, says it's a good idea to work up a detailed one-sheet outline.
The outline should "define the obstacle your idea addresses, the solution you are proposing to overcome this obstacle and the benefits to solving this challenge," Inouye says. "This helps to clear our mind as to what we are proposing so it is easy to share with a few close co-workers whose opinions we value. Their questions and feedback can help us to rewrite and improve our outline."
Also, ask your colleague their opinion about your tone -- if you are pitching a more serious topic, such as going into a new market or creating a product or service, you don't want to sound too bubbly or excited, Mroz says.
"Make sure you're approaching the pitch with the right voice."
3. Make your boss a part of the conversation, not just a listener.
"To sell something to your boss, you need to start with stating the opportunity you will be addressing and getting his or her buy-in," says Scott Ragusa, president of contract staffing at recruitment firm
WinterWyman
.
"Make the conversation collaborative. The more your boss feels invested in the idea, the more he or she will sell it," Ragusa says. "By making them part of the solution, they will sell to the next group of people -- their boss, your team, the board -- with passion."
If you ask your boss for feedback on your idea, they're definitely going to be more open -- especially if it involves a challenge they are tasked with solving, Inouye says.
"People in positions of power enjoy sharing their experience and wisdom and being the source of information, but they are often resistant to the ideas of others," Inouye says.
But by soliciting your manager's feedback, you're making them a part of the process rather than separate from it, she says -- and that can make all the difference.
Also see: Small Business Burnout: How to Keep Employees Happy and Engaged>>
"The more we let go of our egos and look towards our boss as a mentor in the development and implementation of our idea and are willing to share the credit with them, the more invested they become. We must remember that their contributions are necessary to get it done," she says.
4. Don't be afraid to address current problems
Even though it might not be pleasant, you've got to point to existing difficulties at the company that might be resolved or aided by your idea, says
ActionCoach
business coach Kevin Weir.
"What I've found is that bosses are rigid not because they want to be rigid, but because they operate out of fear," Weir says. "They are afraid that any sort of change will have a negative effect on their position."
Your boss will likely feel more comfortable with your proposal if he or she can see it as a "resolution" rather than a "new idea."
"Your best strategy is to first help identify to your boss the negative consequences of the current situation. How much money are we losing using the current system? How many man-hours go wasted by doing the same old routine? How much more revenue are we potentially losing by continuing to stay at steady-state? At some point he or she will start to realize that the cost of inaction is much greater than the cost of action," Weir says.
5. Timing is everything
Even if you have an appointment on the books with your manager for months, if something big happens at the company, reschedule immediately, Mroz says.
"The worst thing you can do is present your idea right as another huge decision is being made at the company," he says. "Find out as much as you can about the timing of your presentation when you schedule it, and be ready to move it if something big breaks."
The last thing you want to do is come off looking like you have no appreciation for what the rest of the company is going through, Mroz says. Also, stay attuned to what your manager is going through personally -- if he's having a tough week or is dealing with personal issues, be proactive and say, "Let's reschedule."
Even once you've presented your idea, it's still a good idea to keep timing in mind -- you don't want to hassle your boss for details on what they're thinking about your pitch. They'll tell you when they're ready, Mroz says.
"If they say, 'Let me get back to you on that,' then give them time to think things through. They may be thinking about how it's going to work, and you need to let them process what they've heard," he says.