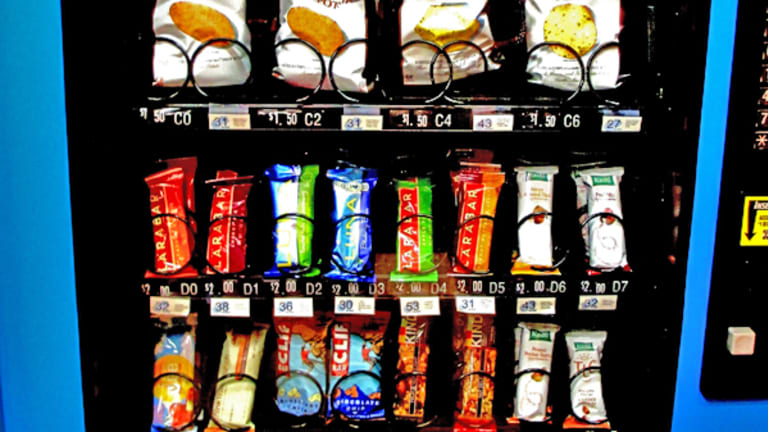 5 Steps to Getting Your Workers Eating Healthy Snacks
More businesses are switching to healthy snacks. Here's what you need to know before you make the change.
More businesses are switching to healthy snacks. Here's what you need to know before you make the change.
NEW YORK (
) -- Organic, healthy foods are popping up everywhere these days -- in grocery stores, restaurants, cafes and even at the office. As the trend toward healthy eating and drinking continues, experts say more companies are rethinking their traditional snack machine offerings and moving toward more low-calorie whole food options.
If you're thinking of offering healthy snacks at your business, it's easier now than ever, but there are some important things to consider before you eliminate your sodas and candy altogether.
1.) Decide how far you want to go.
"It's no secret that what you eat is half of the battle towards having health, and companies want to reinforce that at work," says Bruce Clark, president and CEO of
CAI
, a human resource management firm. "You can go all the way and all you will have in your snack machines is dried fruit and semi-perishable fruits like apples, or you can go halfway and still have something in there for people with a sweet tooth."
Many companies are opting for small changes and may substitute bottled water or lower-calorie beverages such as Vitamin Water Zero in favor of sugary carbonated sodas in drink machines, Clark says.
"That's your challenge, is how far you want to go," he says. "Some companies have eliminated snack machines altogether, but that's not the right move for every company."
Thankfully, many vending companies are beginning to stock healthy options, says Gina Payne, national director of wellness at professional services and consulting firm
CBIZ Employee Services
. With that said, most vending companies still offer junk food and will stock healthy items right alongside high-calorie treats.
"Most experts espouse that choice should be provided -- but it is also true that the choice needs to be 'easy' in order for us to make it -- that's just human nature," Payne says. "The easiest way to inspire a healthy choice is to only offer snacks that are good for you."
Also see: Small Business Burnout: How to Keep Employees Happy and Engaged>>
2.) Think about where you'll get your healthy snacks and the infrastructure you'll need.
"Not every area will have a vendor capable of a truly healthy snack machine," Clark says. "Some vendors just don't carry products like dried fruit, or they aren't able to offer a refrigerated machine like you'd need if you wanted to offer fresh fruit or Greek yogurt."
Unfortunately, you may find you'll need to be in or near a major metropolitan area to ensure access to healthier snacking options and "fancier" vending machines, Clark says, adding that it takes a "conscious effort" to find the right vendor who can bring in something healthy that's not also going to be twice the price.
Also, healthy snacks will cost more, Clark cautions. Companies must decide whether they want to subsidize the snacks or run the risk of irritating employees who are upset that things are more expensive.
"I see a lot of employers frustrated with complexity of it, both the difficulty in locating a responsive stable vendor and a reasonable cost," he says.
3.) Decide what kind of message you want to send.
"For an employer who is not really invested in wellness and trying to make that part of company culture, why would you do anything differently?" Clark asks. "It's much easier to stock a traditional snack machine, so unless you are offering a comprehensive wellness program at your office, don't bother."
Many companies start out with good intentions for a health program, offering the occasional "lunch and learn" that focuses on weight loss or sending out an email newsletter with health tips, but over time those things often aren't sustained, Clark says.
Also see: What to Do When Employees Steal Food and Drink>>
"You can send out a note once or twice that says, 'Hey we have a bunch of apples in the kitchen, go eat one.' But that's not going to go anywhere, because it's not connected to a sustained and serious effort that is deepened over time."
If a company wants to change the behavior of its employees, it must change the situation, Payne says.
"Employees who are contemplating a healthy change need to see that their employer has created a culture of health. They need to see that the company provides opportunity and access to physical activity, active workforce guidelines and more."
4. Decide what you're going to charge.
"Sometimes you'll see a price distinction between the candy and the healthy items," Clark says. "For example, companies may charge 25 cents for water but $1.50 for soda. They impose that so that you make a healthier choice. They're trying to send the message: This is not the best choice for you, and this doesn't fit with our wellness theme."
Even though it may seem rude to charge more for less-healthy items, Clark says companies are just "reinforcing their message via price." When companies charge more for a sugary or fattening snack, it's their way of saying, "This item is only OK to have every once in a while, and maybe the price will encourage you to have it just once in a while."
5.) Decide how you'll deal with complaints.
"You may have some people who just aren't happy with the removal of their favorite snack," Clark says. "But honestly, if one snack was what was keeping your employees happy, then you have bigger issues to address."
Some employees may feel like they have a "right" to certain kinds of snacks, but Payne stresses that is just an illusion and should be treated as such.
"We have no more right to our bad snacks than we have a right to be unaccountable to the consequences of our bad lifestyle choices," Payne says. "Some may say that the health of an employee is a personal and private matter and organizations don't have any say in it -- however, companies who want to be successful absolutely need healthy and productive workers to make that goal a reality."