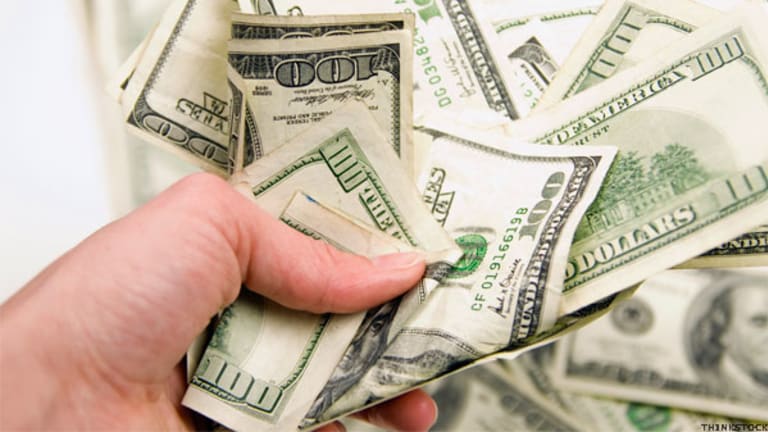 5 Spring Spending Splurges To Avoid
Spring cliches like early season baseball games, bright new clothes and a bargain-basement house can end up costing a bundle.
NEW YORK (TheStreet) -- Just because you're ready to come out of hibernation this spring doesn't mean your spending money has to go with you.
There were a lot of items
in the
, but the sun's return and rising temperatures won't shoo away the dark clouds hovering over certain items and services this spring.
The Consumer Confidence Index dropped by 8.6 points in March -- the first drop in five months -- while the Thompson Reuters Consumer Sentiment Index went along for the ride with a 12.9% month-to-month drop and a 8.3% dive from a year ago. Meanwhile average gas prices rose to roughly $3.68 per gallon, or 86 cents more than the cost of that same gallon at this time last year. Various global and political crises are weighing on the consumer, who's in no mood to go springing into fair-weather splurges.
There'll be no shortage of well priced items to buy during the next three months -- cruises and cookware in April, vacuum cleaners and patio furniture in May, gym memberships and dishes in June -- but the five items listed below aren't among them.
Baseball tickets
There are two constants in spring baseball: The games won't mean much, but they'll cost plenty.
Argue all you'd like that a team that finished one game out of the playoffs would have loved an extra win in April. Any playoff team worth its salt wins those must-win games in September. The first month or so is basically a first look. A way to set the lineup, tax the old guys and test the new ones. The Boston Red Sox, for example, dropped their new $140 million outfielder Carl Crawford to seventh in the batting order three games after his bat forgot what a baseball looked like during the Sox's opening series. With a .296 career batting average, it seems unlikely he'll still be in that doghouse in September.
Meanwhile, die-hard fans
than a forgotten box of fish sticks during the first months of the year just to see how it all shakes out -- with temperatures in the Northeast and Great Lakes hovering in the upper 30s and mid-40s well into April. They'll be paying more for the privilege this year, as major league ticket prices rose 1.2% to an average of $26.91 after a 1.5% hike last year, according to Team Marketing Report. The average price of taking a family of four to the game -- including four tickets, two small beers, four small sodas, four hot dogs, parking for one car, two game programs and two adult-sized caps -- also rose 2% from last year, to $197.35.
We realize that, for the fans of league cellar dwellers, early season games may be the only chance to see their team with a winning record, but if you're repeatedly shelling out more year after year, you may as well hold out for better weather.
Seasonal apparel
Is it better to be broke and in fashion than a year behind and flush?
If consumers are wearing the current spring lines but have nothing in their pockets, they may want to re-evaluate how they're answering that question. Spring usually gives apparel sales a bit of a boost, with the National Retail Federation saying that 39.6% of Easter shoppers spent a portion of the $118.60 they parted with last holiday season on clothes. However, the bump doesn't tend to be that big, as consumers spend only an average of $19 on apparel and only 7% do so in specialty clothing stores such as
The Gap
(GPS) - Get Gap, Inc. (GPS) Report
,
Aeropostale
(ARO)
or
American Eagle
(AEO) - Get American Eagle Outfitters, Inc. Report
.
"Because the prices are higher than during post-holiday sales, they kind of bring in revenue that way," says IBISWorld analyst Nikoleta Panteva. "It's kind of iffy this year because it's uncertain if consumers are willing to pay full price or if they are watching their budget."
A new car
If you're looking for a good deal on a new ride, it just sped by you and is now a couple miles down the road in the opposite direction.
The road through March was paved with incentives from
Ford
(F) - Get Ford Motor Company Report
,
Nissan
(NSANY)
,
GM
(GM) - Get General Motors Company (GM) Report
and even Hyundai that helped increase U.S. auto sales 17% from last year. Blame the pent-up winter demand, the new-model releases or even the American desire to duck rising gasoline prices if you'd like, but those $1,500-to-$2,000 incentives are a big push for customers who may otherwise put off their purchases until spring.
"March always has 31 days, so that definitely helps," says Jessica Caldwell, senior analyst at Edmunds.com. "It's always one of the top sales months, along with May, August and December."
Don't take May for granted this year, however, as the continued earthquake-, tsunami- and nuclear-related turmoil in Japan is still playing havoc with
and shortages of even the most seemingly benign part can bring production of nearly all the world's car models to a screeching halt. Caldwell notes that better incentives can usually be found during August and early September, when automakers clear out stock to make way for next year's models.
Jewelry
Congratulations, jewelry buyer, you left proposal season just in time for spring wedding season. The good news is that you don't have to present documentation to get in on the wedding promotional deals available during the next three months or so. The bad news is that you'll be among a crush of couples deciding whether tungsten is a more manly metal than titanium or whether its better to have diamonds on one or both sides.
"If you're not engaged, buying jewelry during peak wedding season or proposal season, which is November to February, isn't necessarily a bad thing," Rebecca Dolgin, executive editor of wedding site
TheKnot.com
(KNOT)
. "In fact, if you're looking to make a purchase during this time, there may be more retailers offering promotions to try to secure your business. Yes, the stores may be a bit more packed, but on the upside, you may secure a great price."
That's the kicker, though: You're not even getting that much incentive to buy. According to jewelry industry group Jewelers of America, jewelry buyers are getting their deals with just about everyone else right around the start of the winter holidays -- with 28% of all engagements taking place in November and December.
"Today, due to the high cost of wedding venues and wedding-related expenses, many couples are having their weddings all throughout the year," says Helena Krodel, spokeswoman for Jewelers of America. "Therefore, anytime is the 'right' time to purchase jewelry."
That said, hold off until the young couples' rings are old news and come back to the jewelry counter in a couple of months.
Housing
Spring is typically the high season for housing stock, so that means it's a buyer's market, right? We guess, if a "buyer's market" involves letting the average price of existing homes jump to $183,000 from $165,000, as they did between February and June of last year, according to the National Association of Realtors.
But it'll be different this year without the first-time homebuyer's tax incentive, right? Not really. Housing inventory hovered between 3.9 million and 4 million homes last spring, which equates to a roughly 8.2- to 8.9-month supply after a 3.5 million, 8.4-month supply in February. This February, however, the backlog of available houses was at 8.6 months and fewer than 3.5 million. This time, though, interest rates are on the rise while housing prices and sales decline.
Given last year's example, it may be best to hold off that house hunt until summer if possible.
"Mortgage rates are still near historic lows, and affordability is at record highs," says Stephanie Singer, spokeswoman for the National Association of Realtors. "The decision if and when to buy a home is a very personal one and depends on many factors."
-- Written by Jason Notte in Boston.
>To contact the writer of this article, click here:
Jason Notte
.
>To follow the writer on Twitter, go to
.
>To submit a news tip, send an email to:
.
RELATED STORIES:
>>6 Essentials For Airline Travel Survival
>>5 Ways To Blow Your Tax Refund Wisely
Jason Notte is a reporter for TheStreet.com. His writing has appeared in The New York Times, The Huffington Post, Esquire.com, Time Out New York, the Boston Herald, The Boston Phoenix, Metro newspaper and the Colorado Springs Independent.