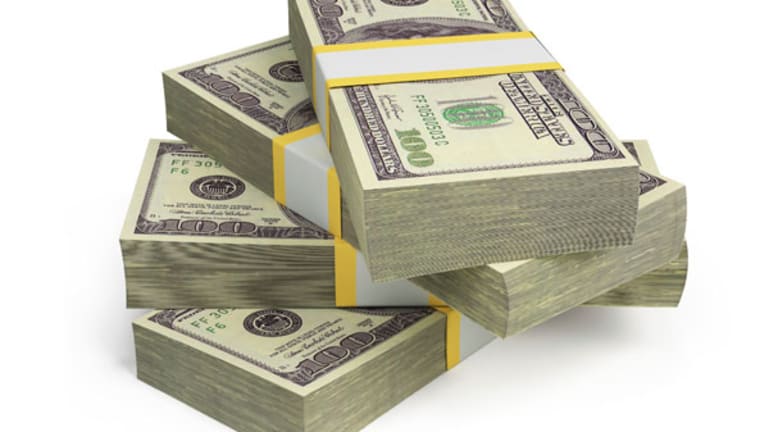 5 Silly Security Measures Worth Scrapping
A naked full-body scan is nobody's idea of a good time, but there are other intrusions that are just as bad.
WASHINGTON (TheStreet) -- Considering all the minor security intrusions creating major hassles for Americans, it's amazing it took naked X-rays of airline passengers for anyone to notice.
A week after
US Airways
(LCC)
and
American Airlines
(AMR) - Get Alpha Metallurgical Resources Inc. Report
pilots balked at being forced through full-body scanners and exposed frequently to their radiation and less than a week before disgruntled passengers eschew scanners for private full-body patdowns on
-- backing up thousands of other fliers behind them on one of the busiest flying days of the year -- Americans' stomach for all-encompassing security seems to be waning.
Air travelers are increasingly balking at full-body scans that electronically strip them, but the scans are only one form of security indignity the country deals with daily.
Travelers and airlines have paid an extra $5.9 million a year each year since the Sept. 11, 2001, terrorist attacks for the privilege of being poked, prodded and now placed in electronic peep-show booths. Each time the country thwarts a terrorist attack, passengers are pressed to give up just a bit more: their shoes in 2001 after Richard Reid tried to blow up American Airlines Flight 63; their bottles of
Pepsi
(PEP) - Get PepsiCo Inc. Report
and Aveeno products in 2006 after a transatlantic aircraft plot; and their thin veil of privacy this year when full-body scanners followed the attempted bombing of Northwest Airlines Flight 253 last Christmas.
Yet those are just additional items on a growing list of bans, searches and state-mandated scare tactics Americans put up with on a daily basis. Not all result in Libertarian bloggers being threatened with a $10,000 fine for opting out of a full-body scan, but they all eat away at Americans' time and money under the guise of security. Unlike the full-body scanners, however, some of these measures may not be long for this world.
TheStreet
pulled together six of the least-sufferable small security measures Americans have to endure and handicapped the odds of each of them sliding into obscurity in the near future:
The Air Travel Liquid ban
Odds of an "all clear": 3-1
Initiated by the Transportation Safety Administration in 2006 after British police foiled a plot to blow up airliners with liquid explosives, the liquids ban allows Americans to bring only 3.4-ounce bottles in plastic baggies through the security gate -- after which point you can buy as many pricey 20-ounce bottles of Aquafina as you desire. Americans groused about long lines but didn't kick up much of a fuss, though their European counterparts have been a bit more boisterous about getting their big bottles back into business class. After initially declaring the liquids ban would remain in place until 2013, the European Union gave the go-ahead to test X-ray scanners that can identify each liquid based on its unique wavelength profile. That trimmed the EU's estimate for flushing the liquid ban to April 2011, provided scanners are in place by that time. TSA officials actually said in 2008 that
the ban would be gone "within a year,"
but they're the ones who are gone and the ban's future in the U.S. remains unclear.
Holiday travelers this year may get a renewed tease of things to come, though:
"I was in Logan Airport in Boston and saw a sign that said they were introducing new technology that can identify the bad liquids and to look for a lifting of the ban in the future," says Anne Banas, editor of travel site
. "That said, travelers should still prepare for the ban to be in effect this holiday season."
The International Air Transport Association
believes the ban should be lifted, but that any approach to liquid screening should respect passengers and not be based on artificial or political timelines. To be effective, the IATA believes the ban should be lifted through a globally coordinated effort that pushes regulators and manufacturers to find a one-bin solution to liquid and laptop scanning issues.
"The worst case would be if we had one region of the world eliminate the ban and another country keep it in place," IATA spokesman Steve Lott says. "Our ultimate goal whether the ban is lifted or not is global coordination, because if we aren't on the same page, you're going to have an uncoordinated mess that's going to leave the traveler confused and frustrated."
Use of electronics during takeoff and landing
Odds of an "all-clear": 5-1
As Lott points out, this is a Federal Communications Commission and Federal Aviation Authority measure that predates the TSA by a stretch. The commonly accepted explanation for why you can't just whip out your
Apple
(AAPL) - Get Apple Inc. Report
iPhone and text away during takeoff or stream
Caddyshack
via
Netflix
(NFLX) - Get Netflix Inc. Report
while the plane descends is that your device's communication with transmitters on the ground can interfere with the plane's air-to-ground transmissions, causing a bad scene that's no fun for anyone. Fair enough. The flaw in this logic, as some airlines are discovering, is that it assumes transmissions are only coming from the ground.
JetBlue
(JBLU) - Get JetBlue Airways Corporation Report
,
Southwest
(LUV) - Get Southwest Airlines Company Report
,
AirTran
( AAI) and
Alaska Airlines
(ALK) - Get Alaska Air Group Inc. Report
have all either tried or implemented satellite-based Wi-Fi systems already in place on several European carriers.
As much as
Iridium
(IRDM) - Get Iridium Communications Inc Report
would love this to mean a mass traveler migration to satellite phones, it more likely opens the door to voice-over-IP services that can use the Wi-Fi connection and won't interfere with aircraft communications. It may take the larger carriers a little more time to catch on, however, as a costly foray into satellite communications through their partnership on
Boeing's
(BA) - Get The Boeing Company Report
failed Connexion device nearly a decade ago made
United
(UAL) - Get United Airlines Holdings Inc. Report
,
American
(AMR) - Get Alpha Metallurgical Resources Inc. Report
and
Delta
(DAL) - Get Delta Air Lines Inc. Report
somewhat skittish.
Traffic light cameras
Odds of an "all-clear": Even
It's a simple formula: When your city or town police force needs to shore up the coffers, just slap some cameras onto the traffic lights and watch that scofflaw scratch roll in. It's that simple, right? Not in 2010 America, where one man's red-light-running deterrent is another's back-door tax. A district judge in New Orleans issued an injunction blocking use of that city's cameras after discovering they were being operated by the department of public works instead of police. She lifted the injunction when the police took over camera duties earlier this month.
While places such as Sherwood, Ore., Cherry Hill, N.J., and Albermarle County, Va., are enamored of their new and proposed traffic cameras, voters in Houston, Anaheim, Calif., and Mukiltelo, Wash., thought little of them and followed the lead of Anchorage, Alaska, by voting down their use.
Many of the cameras' opponents see them an unnecessary government intrusion and a money grab, while proponents in camera-using towns such as Libertyville, Ill., admit they bring in far less money than officials and vendors often promise (in Libertyville's case, about $200,000 less in the first six months than originally estimated). Is it because they're so effective? Not really. As indicated by one
dedicated to exposing loopholes in camera-based ticketing and helping ticketed drivers avoid fines, motorists catch on pretty quickly once they know where cameras are located -- and just how flawed they are.
Receipt checkers
Odds of an "all-clear": Costco's last decade of revenue-to-1
Even when a company's only securing its bottom line, it's a security measure.
Best Buy
(BBY) - Get Best Buy Co. Inc. Report
,
Wal-Mart
(WMT) - Get Walmart Inc. Report
, Sam's Club,
BJ's Wholesale Club
(BJ) - Get BJ's Wholesale Club Holdings Inc. Report
,
Home Depot
(HD) - Get Home Depot Inc. (The) Report
,
Lowe's
(LOW) - Get Lowe's Companies Inc. Report
and other retailers have made the receipt checker as much of an American staple as the surly waitress or the slick used car salesman -- but far less intimidating.
Those in the "retail loss" community will spend hours telling you how great these folks are at making sure you've been "correctly charged" for all of your items. The resulting complaints that fill the pages of
and other consumer advocacy blogs and publications make it clear that they're fairly inept at preventing the loss of one key item: Your repeat business. Unless they work for a warehouse club, where a receipt check is a stated condition of membership, these checkers are often blissfully unaware that such checks are voluntary. Legally, you don't have to show these folks anything and can bid them good day as you exit the store.
The reality is that this will usually result in direct conflict with these glorified greeters, their undertrained managers and the police who'll have to be called to sort out the whole mess. Here's the deal: As long as these retailers have stuff people want to steal and have people regularly stealing it, they're going to resort to "security" measures such as this. The best advice any consumer can get about receipt checkers is this: If you don't like them, shop somewhere else. Amazon, for instance, has no such "security" issues.
FBI/Interpol warnings on DVDs and Blu-ray discs
Odds of an "all clear": 3-2
Ever since your uncle spent his weekends watching rented copies of
Blame It On Rio
and
Spies Like Us
on Betamax back in the 1980s, U.S. home video watchers have been subjected to the now-iconic FBI shield and Interpol's fire-red warning about piracy. You'll note that this hasn't stopped fellows in long jackets from offering you $5 copies of the Denzel Washington/Chris Pine action vehicle
Unstoppable
on DVD while it's still in theaters.
Listen, we understand that the studios and networks have too much money tied up in their intellectual property to stop reminding us not to rip it down and disseminate is as we please. But the FBI and Interpol warnings are becoming as quaint as a drive-in theater's "Let's All Go to the Lobby" filler screen with the dawn of Netflix instant viewing, Hulu streaming and iTunes,
Amazon
(AMZN) - Get Amazon.com Inc. Report
and Wal-Mart video downloads. Know what's missing from each of those digital darlings? Big Brother shouting at you from the screen. Know what else isn't there? The 30 or so previews, commercials and other nonskippable fillers the studios throw in to get you to buy more product.
There are
with your remote to skip past them, but it's safe to say those warnings will stay on discs as long as there's a laser left to read them. Streaming and digital files don't have the time or the drive space to patronize their paying public.
-- Written by Jason Notte in Boston.
>To contact the writer of this article, click here:
Jason Notte
.
>To follow the writer on Twitter, go to
.
>To submit a news tip, send an email to:
.
RELATED STORIES:
>>Hot Sites For Online Holiday Shopping
>>5 Best Gift Cards For Early Holiday Shopping
>>Credit Cards That Pay For Holiday Shopping
Jason Notte is a reporter for TheStreet.com. His writing has appeared in The New York Times, The Huffington Post, Esquire.com, Time Out New York, the Boston Herald, The Boston Phoenix, Metro newspaper and the Colorado Springs Independent.