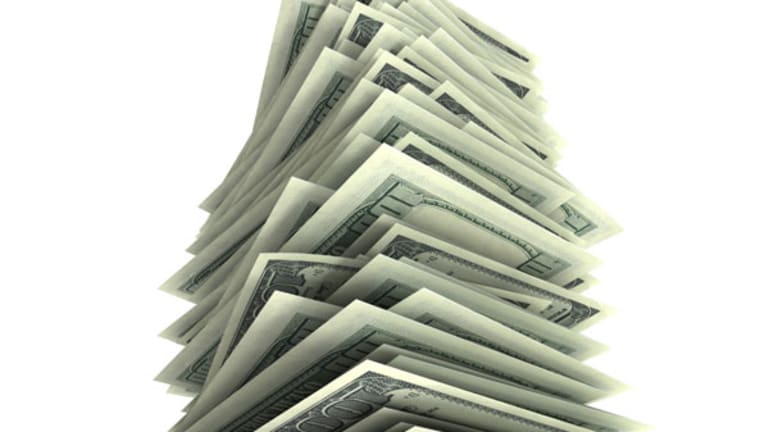 5 Seemingly Small Hard Ciders and Their Big Corporate Owners
Hard cider sales are up, but not all of these crafty drinks are the little local picks they appear to be.
PORTLAND, Ore. (TheStreet) -- No, hard cider drinkers don't want a beer, thank you. They want cider and, as they want more of it, surprisingly large beer companies are starting to give it to them.
According to market research firm
SymphonyIRI Group
, hard cider sales at supermarkets and other stores hit about $90 million for the 12 months ending Oct. 30. That's up more than 65% from a year earlier and outpaces the 5.6% growth of wine, 13% growth of the craft beer segment and 1.4% decline in overall beer sales just a year earlier. Considering that SymphonyIRI's research excludes sales at liquor stores discount stores such as
Wal-Mart
(WMT) - Get Walmart Inc. Report
, it may be shortchanging cider's growth a bit.
Part of cider's appeal is that it has roughly the same low alcohol content of beer, but a sweeter flavor for those put off by hop or grain bitterness. Hard cider makers press apples for their juice, add yeast and let the mixture ferment in a process similar to winemaking. The yeast chows down on the sugars in the juice and produces a concoction with 5% to 6% alcohol by volume. That's similar to beer and, like beer, can have its alcohol levels reduced to a more drinkable brew below 4% ABV or raised to a potent, wine-like concoction closer to 12% ABV.
Nonetheless, hard cider sales still get tossed into the overall beer market and account for 0.2% of of sales, according to a report by
Nomura Research
, which is a sixth of the 1.2% market share held by Samuel Adams Brewer
Boston Beer
(SAM) - Get Boston Beer Company, Inc. Class A Report
. Yet Americans are developing a taste for sweeter alcohol such as Mike's Hard Lemonade, which helped parent company
Mark Anthony Group
's sales grow 16.2% in 2011.
That sweetness gets cider just about everywhere. Roughly half of cider's consumer base is made up of women, compared with only 20% for beer. It also sells for an average of $35 a case, according to Nomura. That's well above the $29-a-case paid for imported beers and $33 brought in by craft beer.
Since last year,
Anheuser-Busch InBev
(BUD) - Get Anheuser-Busch InBev SA/NV Sponsored ADR Report
,
MolsonCoors
(TAP) - Get Molson Coors Brewing Company Class B (TAP) Report
and SABMiller have also developed a taste for cider and have taken on big cider brewers such as Ireland-based C&C and even Boston Beer. While there are still locally based cider producers throughout the United States, drinkers should know that some big brewers are hiding behind small labels. We found five examples of ciders that aren't quite the little local picks they appear to be:
Angry Orchard Cider
Owner:
Boston Beer
The makers of Samuel Adams have been cranking out their Crisp, Apple Ginger and Traditional Dry versions of this cider since fall of 2011 while hiding behind the crooked tree on the 12-pack's label.
Boston Beer had tried its hand at cider once before, introducing HardCore Cider in the late '90s, but decided to give it another stab with a more craft spin. The company entrusted cider maker David Sipes with studying ciders and apples from around the world and culling fruit for their new line of ciders from France and Italy.
Boston Beer's gamble paid off as
Nielsen
ranked Angry Orchard among its Top 10 beer growth brands at the end of 2012. Granted, it grabbed only 0.1% of the market's volume and 0.2% of its share, but just remember that all the cider in the U.S. combined is only 0.2% of the beer market by volume. It's been here less than a year and already holds a huge chunk of the cider market. Angry Orchard has grown into a force of nature with big Sam's beer money behind it.
Crispin Hard Cider
Owner:
MolsonCoors and SABMiller joint venture, MillerCoors
Last year, we had nothing but lovely things to say about Minnesota-based Crispin.
The company's base "Blue Line" ciders were just gaining traction at bars and bottle shops, its 5.8% ABV Browns Lane Imported Classic English Dry Cider tipped its cap to European ciders by including apples from the Malvern Hills of Worcestershire and its whiskey-barrel-aged 6.9% ABV helped give the line credibility among the craft beer crowd. It racked up $5 million in sales and was a raging success.
Last February, MillerCoors came in and bought what was then the third-largest U.S. cider producer for a reported $40 million. Crispin and its brands are still intact, but they've been moved into MillerCoors' Tenth and Blake craft beer division with Blue Moon and Leinenkugel's. Now only loosely associated with its place of birth, Crispin is based in Kansas City, Mo. In both distance and scale, it's a long way from home.
Michelob Ultra Light Cider
Owner:
Anheuser-Busch InBev
Not many folks seem to believe the people behind Michelob Ultra are tiny craft brewers, but the Brewers Association craft beer industry group put Michelob on its
hit list just as a reminder.
In fairness to the Brewers Association, it's not as if A-B hasn't tried to camouflage Michelob as craft beer before. It made Michelob commercials that looked oddly similar to Samuel Adams brewhouse commercials while promoting a craft-style line of beers a few years back and has maintained itself as a crafty A-B offshoot in recent years.
Low-cal Michelob Ultra doesn't really fit into that category, however. The brand's foray into cider targets the same key audiences -- people watching their weight and folks who hate the taste of beer -- but does little to convince anyone that brewers at A-B are putting much thought (or apple content) into their blend.
Hornsby's
Owner:
C&C Group
Hornsby's sure looked like a little craft cider back in 2011, when it was still sporting a mustard yellow label, some retro rhino art and a brown bottle. Then C&C Group came in.
For those not in the know, C&C owns Irish brand Magners and is a big force in the global cider business. In November 2011, it threw roughly $25 million at Hornsby's owners, Ernest and Julio Gallo, and immediately took a 20% share of U.S. cider sales. Buy the end of last year, Hornsby's had ditched the brown glass and old-man label and was rebranded in clear bottles with white, modern-art stamps strangely similar to Smirnoff Ice and other malt-beverage brands.
While Hornsby's "Hard Crisp Cider" is still its flagship product, its
has been joined by a red "Hard Strawberry Lime" stablemate in a burgeoning rainbow reminiscent of the Mike's Hard line of beverages. Hornsby's craft cider is now a party drink, and it's hard to go back to the pub once you're past the velvet rope.
Woodchuck Cider
Owner:
C&C Group
Last year at this time, Woodchuck and parent company Vermont Hard Cider had a 60% share of the U.S. cider market and were living the sweet life in Middlebury, Vt.
Woodchuck's brewers surrounded their flagship amber cider with varieties including pear, raspberry, Granny Smith apple and the darker, drier 802 apple flavor. They also produced seasonal varieties that include a spring flavor with maple and brown sugar and a fall version spiced with cinnamon, nutmeg and white oak. Woodchuck even produced 750-milliliter bottles of limited-release ciders that could impress even the most skeptical craft beer snob.
But what did people remember? That syrupy sweet concoction that washed over college bars in the '90s and, like Spin Doctors and Gin Blossoms songs, just never quite left campus once a generation of drinkers graduated to wine and craft beer. With that pall hanging over it, Vermont Hard Cider sold its U.S. rights to the Strongbow brand to Heineken in August and, in October, announced plans to sell the remainder of its operations to C&C for $305 million.
C&C gets nearly 50% of the U.S. cider market and Woodchuck gets to cast off its craft airs and expand into bigger markets. Vermont Hard Cider CEO Bret Williams once predicted that the cider market could take up as much as
. Since craft beer hasn't hit that mark yet, Woodchuck's creators may have lost patience with a market that's limiting cider's potential.
-- Written by Jason Notte in Portland, Ore.
>To contact the writer of this article, click here:
Jason Notte
.
>To follow the writer on Twitter, go to
.
>To submit a news tip, send an email to:
.
RELATED STORIES:
>>5 Destinations For 'Dark Week' Travel
>>5 Most Infamous Cars Of 2012
Jason Notte is a reporter for TheStreet. His writing has appeared in The New York Times, The Huffington Post, Esquire.com, Time Out New York, the Boston Herald, the Boston Phoenix, the Metro newspaper and the Colorado Springs Independent. He previously served as the political and global affairs editor for Metro U.S., layout editor for Boston Now, assistant news editor for the Herald News of West Paterson, N.J., editor of Go Out! Magazine in Hoboken, N.J., and copy editor and lifestyle editor at the Jersey Journal in Jersey City, N.J.