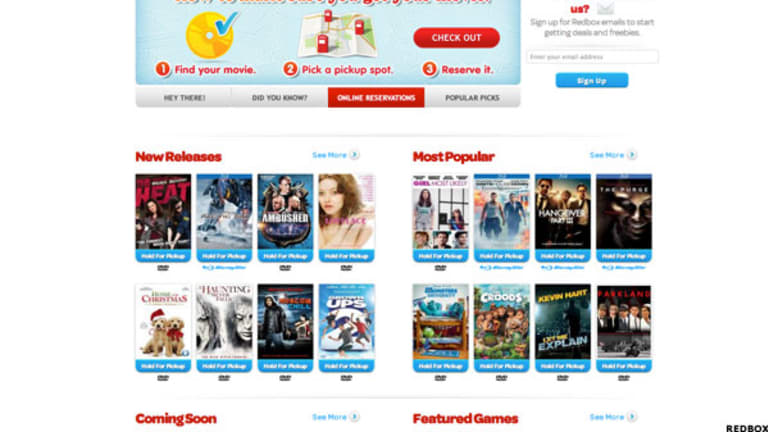 Publish date:
5 Retailers Keeping Video Rental Alive
With Blockbuster gone, who's going to serve the people who actually want to slide a DVD into their player or laptop?
With Blockbuster gone, who's going to serve the people who actually want to slide a DVD into their player or laptop?
PORTLAND, Ore. (TheStreet) -- The demise of one-time video rental titan Blockbuster finally puts that chain's long struggle with an evolving marketplace to rest, but it doesn't answer one question: Who's going to rent everyone their DVDs?
Admittedly, it's not great out there for the last DVD renters. Since 1999, the number of video stores in the U.S. has dropped from 28,000 to just 6,122 in last year before the Blockbuster closings, according to the Entertainment Merchants Association. Contrary to what the
self-inflicted tragedy of Blockbuster
may lead consumers to believe, however, its death isn't the end of DVD rental. While Blockbuster made up a large portion of that particular industry, market research firm
IBISWorld
notes it's still a $4 billion market that still has a core of demand. That core has shrunk nearly 14% since 2008 -- thanks largely to Blockbuster's troubles -- but video-on-demand services from
Comcast
(CMCSA) - Get Report
,
Time Warner Cable
(TWC)
,
DirecTV
(DTV)
,
Dish Network
(DISH) - Get Report
and on-demand streaming services from
Amazon
(AMZN) - Get Report
,
Apple
(AAPL) - Get Report
iTunes and
Wal-Mart's
(WMT) - Get Report
Vudu haven't killed it yet.
Supply just might. According to
Home Media Magazine
, the 7.12 million DVDs sold this year made up 83% of all disc sales through October. Unfortunately, sales of those discs have plummeted more than 23% since last year despite fetching an $11 average price that's 7% lower than it was in 2012. Don't expect Blu-ray discs to come charging to the rescue, either. Instead of becoming the new standard, their share of the market hovers around 17% as sales drop 26.5% year over year. The movie industry seems content to make Blu-ray discs and upmarket niche item, as their average price has risen 2.6% within the past year to $20.54 -- or nearly double that of a DVD.
The fact is that studios really don't want to have to sell or even rent physical copies of movies anymore. They cost money to make, to package, to ship and to take back when viewers don't want millions of copies of a film they didn't exactly flock to when it was in theaters. Still, they'll package digital copies and Ultraviolet versions in with purchases just to get everybody nice and acclimated while arranging early releases for "Digital HD" versions of films and television shows to get fans to pay a premium for content without the packaging or ownership.
But there's still a corner of the population that not only likes the physical copies, but likes renting them. There are still certain titles that haven't made the switch to digital downloads or streaming and there are customers who prefer getting a DVD on their own schedule rather than waiting for a streaming service to get a particular title.
Those folks still have a bunch of options, but even they may not be around for long. We present the following five alternatives for DVD rental and wish disc loyalists the best of luck with keeping them.
Also see: Blockbuster's Self-Inflicted Tragedy Is Our Loss>>
The little red kiosk isn't the video store, but it's quickly becoming the face of DVD rental for U.S. customers still attached to the practice. Parent company Outerwall (OUTR) has spread them throughout grocery stores, convenience stores, discount stores and even McDonald's (MCD) - Get Report locations in an attempt to convince folks that DVD rental is still a worthwhile endeavor -- especially when it costs less than $2. As of last year, there were 46,000 in the U.S. alone.Redbox still has a bit of a new-release advantage over its DVD-by-mail competitors, but it's had to resort to making the same delayed-release deals with Warner Brothers and other studios in an attempt to secure content. It's also given customers reason to worry by partnering with Verizon on its new streaming service, Redbox Instant. While that service is still in its infancy and lacking in content and distribution, it's only a matter of time until it gets the itch to compete directly with Hulu, Amazon, Netflix (NFLX) - Get Report, HBO Go and others.In the meantime, Redbox is learning the value of disc-rental convenience on unseasonably cold nights. Redbox generated a record 199.5 million rentals last quarter, up 13.1% from the same period last year. That's boosted Redbox revenue by more than 9% and gave consumers a valuable and convenient fallback for DVD rentals.
Well, Netflix is still in the DVD-by-mail service. Unfortunately, it may not be in it for much longer.Netflix boasted 7.15 million DVD subscribers in its last quarter. That would be great if it didn't have 8.6 million at the same time last year and more than 14 million when it split its DVD and streaming services in 2011. That DVD audience is still expected to contribute $96 million to $110 million in profits for Netflix this year, but that's clearly secondary to the $165 million to $177 million being generated by streaming.It's also a fraction of the more than $410 million in profits DVDs generated for the company just a year ago. Remember when Netflix used to really care about DVD turnaround, delivery logistics and things related to the U.S. postal service? Yeah, that's kind of out the window, too, as the company continues downsizing from 58 distribution centers 2011 to 39 today. A handful more are expected to go within the next year. It's a shame, as Netflix's DVD holdings are still extensive and include content such as HBO programming, which will never see the light of HD television on Netflix's streaming service. It's still where a whole lot of Netflix's best offerings reside, but the price hike and downgrade in priority suffered by Netflix's DVD branch in recent years -- including the marginalization of customers' DVD queue in a recent site "upgrade" -- makes it feel a whole lot less accessible. Netflix has also done a great job of making the whole DVD enterprise seem less convenient. Streaming may not give you all the content you want, but it reduces the wait and hassle for content that's there. Movies don't become huge roadblocks when it turns out you're not in the mood for a particular genre and, when they turn out to be duds, there's no four-day penance period before you can watch a new one.Get your DVDs from Netflix if you must, but Netflix's mission seems to be similar to that of Blockbuster in its final days: To make the DVD rental experience as unattractive as possible.
Imagine if the Netflix DVD-by-mail algorithm actually cared about the quality of the film you watched and took all the intangibles of the moviegoing experience into account when curating your selection. That's CafeDVD in summary.
The online equivalent of the quirky independent video store in a city you live way too far from or the personal collection of the film student and cinephile who live a block down, CafeDVD makes a point of weeding out the dregs of the "new release" shelves and taking a more scholarly approach to its offerings. Lists of subcategories including the American Film Institute's Top 100, Criterion Collection films, Roger Ebert's Overlooked Film Festival, Films That Were Banned/Censored and On Totalitarianism call back to a time when a video store's staff would take the time to cull their own shelves full of picks and discerning customers could be drawn by collections that encouraged exploration rather than added expense.
The front page is spare, but it'll make the naturally curious wonder if they'd ever pick Mickey Rourke for the lead in the film version of a Bukowski story again or if John Woo's
The Killer
held up as well as you remembered it in your 20s. The DVD rental market has little choice but to devolve into niches, but CafeDVD has served its particular nice well for nearly 15 years.
Also see: Last Picture Show for Second-Run Theaters?>>
Welcome to the largest video-store chain in America.
With 770 stores throughout the U.S. (mostly in the Midwest) and Canada, Family Video was bigger than Blockbuster even before the latter shut down. In fact, Family Video just added 18 stores this year and makes clear on its website that it's actually hiring.
What's the secret? Basically, don't sell out the original idea. Family Video just kept plugging away with the standard video store when Blockbuster, Hollywood Video, Movie Gallery, West Coast Video and all of the other retail video tombstones started freaking out about the coming digital apocalypse. With rental prices capped around $3 per rental, free rentals for kids, a forgiving and negotiable late fee policy, the chain has watched same-store sales increase for three decades. They're already up 4.5% in 2013 from last year.
This is what you can do when you don't have Viacom or Carl Icahn breathing down your neck to cut costs and maximize profits, but it's also a bit easier when you're not leasing hundreds of properties across the country. Family Video owns most of its stores, which reduces overhead, but its pricing and well-targeted demographics have given its stability that an unstable Blockbuster could only have dreamed of.
Vice and virtue
Remember what we said about DVD rentals and niches? Well here are both ends of the spectrum.
Netflix may not think much of its DVD-by-mail service anymore, but the Christian film industry and the adult film industry certainly do. Dissatisfied with the lack of all but the softest porn on Netflix and apparently unimpressed with the Internet's trove of video offerings, the reliably loyal contingent of adult film watchers fuels a DVD-by-mail industry spanning a variety of sites including SugarDVD, Excalibur Films and others. It's an industry that thrives on its subcategories, so a DVD-by-mail market that prides itself on discretion is only a natural addition to an already thriving enterprise.
On the other side of the coin is ChristianCinema, which eschews the overwhelming majority of mainstream offerings in favor of what it considers more wholesome fare. Somehow, the story of General Stonewall Jackson and a copy of Disney's
Up
-- a film in which an older gentleman kidnaps a boy scout and kills a man by dropping him off of an airship to his death -- slipped into the mix, but the site largely accomplishes its goal of avoiding Hollywood at all costs.
These are two groups that exist in diametric opposition to each other, but their commitment to watching content that the mainstream abhors using a method that doesn't require them to leave the safety of home may just save the DVD-by-mail industry.
-- Written by Jason Notte in Portland, Ore.
>To contact the writer of this article, click here:
Jason Notte
.
>To follow the writer on Twitter, go to
.
>To submit a news tip, send an email to:
.
RELATED STORIES:
>>Blockbuster's Self-Inflicted Tragedy Is Our Loss
>>Last Picture Show For Second-Run Theaters?
>>Generation X Sold Out Cobain and Biggie
Jason Notte is a reporter for TheStreet. His writing has appeared in The New York Times, The Huffington Post, Esquire.com, Time Out New York, the Boston Herald, the Boston Phoenix, the Metro newspaper and the Colorado Springs Independent. He previously served as the political and global affairs editor for Metro U.S., layout editor for Boston Now, assistant news editor for the Herald News of West Paterson, N.J., editor of Go Out! Magazine in Hoboken, N.J., and copy editor and lifestyle editor at the Jersey Journal in Jersey City, N.J.