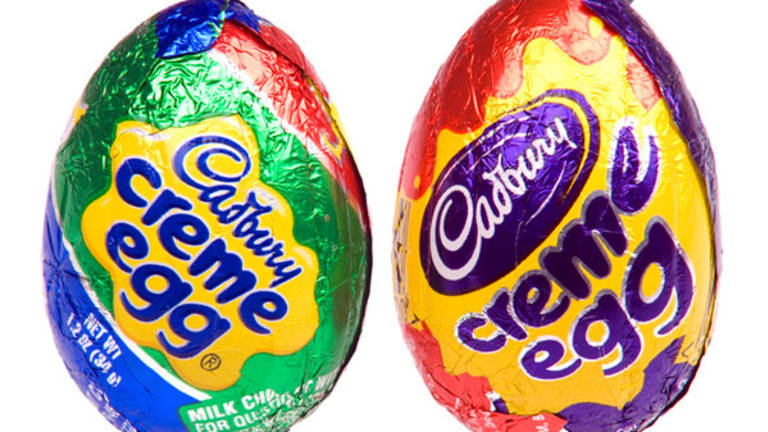 5 Recipe and Formula Changes That Destroyed Products Other Than Cadbury Creme Eggs
The sweet Easter treat is getting tweaked in its home country, but the U.S. has seen unwanted changes to Coca-Cola, Maker's Mark bourbon and other products.
PORTLAND, Ore. (TheStreet) - A company is well within its rights to alter the recipe or formula of one of its consumer products if it sees fit. It just shouldn't expect consumers to react quietly.
Consumers form a relationship with their favorite products over the years to the point that even the slightest change in their look, flavor, texture or general makeup can spur noisy backlash among loyal fans. Cadbury is learning that lesson the hard way this year, as it found a way to infuriate fans on both sides of the Atlantic by tinkering with its Cadbury Creme Eggs.
In the United Kingdom, Cadbury Creme Eggs, typically sold in packs of six, will be sold in packs of five for the same price, according to The Daily Mail. Far worse, however, is the news that the Creme Eggs are trading their exterior chocolate made from Cadbury's trademark Dairy Milk chocolate for shells made from a generic cocoa mix instead. That's not the case in the U.S., where Hershey's (HSY) - Get Hershey Company Report has made a stateside version of Creme Eggs with a different formula.
Companies routinely labor under the impression that such changes are minor and that public outcry will be minimal as they minimize costs and maximize profits. They are routinely mistaken. In this case, loyal Cadbury customers are furious, which seems to be the exact opposite mood you'd want them to experience in the weeks leading up to Easter and peak Creme Egg season.
But this is the nightmare scenario the Cadbury faithful envisioned when Kraft (KRFT) snatched up Cadbury for $16.2 billion in 2010 and proceeded to spin it off into a snack food company -- Mondelez (MDLZ) - Get Mondelez International, Inc. Class A Report -- a year later. Mondelez has blamed "a range of economic factors" for the change to Creme Eggs, but hasn't specifically mentioned commodities prices, labor costs or other factors for the decision.
It may want to fill out its explanation a bit if it wants to avoid further repercussions. History hasn't been kind to companies that just go messing with their core products after years of building a loyal consumer base. The following are just five examples of products that made consumers revolt just by changing their recipes:

New Coke
The cola wars made people do strange things.
Coca-Cola's (KO) - Get Coca-Cola Company Report share of the soft drink market had fallen from nearly 60% after World War II to less than 25% by 1983. Pepsi's (PEP) - Get PepsiCo, Inc. Report "Choice of a New Generation" was making Coca-Cola look old and staid by comparison. So what was Coca-Cola Chief Executive Robert Goizueta's reaction when he took over in 1980? Start messing with Coca-Cola itself.
On April 23, 1985, Coca-Cola announced that it was introducing a sweeter version of Coca-Cola and ditching the old formula altogether. PepsiCo, in response, laughed right in Coca-Cola's face and took out a full page ad in The Wall Street Journal declaring it had won the cola wars. The public freaked out. Coca-Cola had to set up a hotline at its Atlanta headquarters just to deal with the complaints. New Coke was booed at the Astrodome in Texas, slurred by Fidel Castro in Cuba and emptied into the streets.
With bottlers infuriated and threatening to reveal that "New" Coke was just Diet Coke sweetened with high fructose corn syrup, Coca-Cola executives relented. On July 11, 1985, ABC interrupted its soap opera broadcast to deliver news that the old Coca-Cola formula was returning as Coca-Cola Classic. New Coke hung around as Coca-Cola until 1992, when it became Coke II. That disappeared from U.S. markets entirely by 2002.
Coca-Cola went on to dominate soft drink sales and eventually dropped the "classic" in 2009, but it took an angry public getting results from a seemingly indifferent corporation to make that the case.

Maker's Mark bourbon
Bourbon die-hards don't fool around.
Federal Standards of Identity for Distilled Spirits say bourbon has to be made in the United States from a grain mixture that is at least 51% corn, aged in new, charred oak barrels, distilled to no more than 160 proof (80% alcohol by volume), placed into the barrel for aging at no more than 125 proof (62.5% ABV) and bottled at 80 proof (40% ABV) or more. But to fans, if you're calling it "bourbon" it should come from Kentucky and if you've historically made it at a specific alcohol volume, it should stay there.
For less than two weeks in 2013, Loretto, Ky.-based Maker's Mark couldn't hit that alcohol mark. On Feb. 9, 2013, Maker's Mark sent a mass email announcing a plan to reduce the alcohol strength from 90 proof (45% ABV) to 84 proof (42% ABV). They claimed distillers couldn't notice a difference in flavor, but that didn't prevent consumers from absolutely freaking out.
If this was solely about alcohol content and getting blitzed, consumers likely would have just switched to something a bit harder -- likely bought in a flask from a bodega -- and called it a day. In a bourbon drinker's world, however, consistency counts. Brown-Forman's flagship Jack Daniel's brand whiskey has repeatedly angered loyal customers by lowering the alcohol content of its "Tennessee whiskey" (which would be "bourbon" if produced just across the border in Kentucky) from 45% ABV to 43% ABV in 1987 and then to 40% ABV in 2002.
Maker's Mark decided not to test its customers' patience and, by Feb. 17, 2013, boosted its bourbon back to its original strength. Was it all a stunt? Maker's Mark head Rob Samuels says no and, for the sake of a man who has to deal with easily irritated bourbon drinkers on a regular basis, let's hope not.

Frito-Lay WOW chips
Once the words "anal leakage" are associated with your products, there's no going back.
The folks at Procter & Gamble developed Olestra as a fat substitute in 1974, but it wasn't until 1996 that the Food and Drug Administration cleared it for use as a food additive. The consumer public was excited by the prospect of reducing fats and oils in their foods and Frito-Lay was stoked to have a product that could mitigate one of the primary nutritional complaints against their products.
Unfortunately, when Frito-Lay launched its Olestra-laced WOW variation on its Lay's, Ruffles, Doritos and Tostitos brands, it was forced to include the following warning label: "This Product Contains Olestra. Olestra may cause abdominal cramping and loose stools (anal leakage). Olestra inhibits the absorption of some vitamins and other nutrients. Vitamins A, D, E, and K have been added."
That second sentence was a $200 million buzzkill for Frito-Lay, which saw sales of its WOW chips drop from $400 million in their first year to half of that by 2000. By 2006, Frito-Lay was being sued by a consumer and the Center For Science in the Public Interest for not including that label on its since-renamed "light" chips containing Olestra.
Olestra still lingers in the snack aisle, but the gross implications of fat that can't be absorbed has placed Olestra products somewhere near or below laxatives on the Super Bowl shopping list.

Necco wafers
The little flavored chalk circles that were first produced by the New England Confectionery Co. during the Civil War may be a bit dated, but it's way too late to make wholesale changes to them now.
First made in 1847 by English immigrant Oliver chase and his lozenge cutter, the Necco Wafer headed South in the pockets of Union soldiers during the Civil War and first appeared on candy counters under that name in 1910. They're crisp, they're powdery and they're a bit bland, but they were produced by the Union under federal decree and garnered a strong following among veterans.
Though the company still makes Clark bars, Sweethearts and Mary Jane peanut chews, Necco Wafers are the only candy that still carries the company name and still has enough loyalists to appear in Halloween bags each year. That's a problem when some newbie in the company wants to ditch artificial flavors and completely change the makeup of the product, as Necco did in 2009. We don't mean that they repackaged some new flavors as Necco Smoothies or Necco Chocolates, we mean that they softened up original Necco Wafers with glycerine, switched to "all-natural" flavors, dropped the lime flavor completely and left everything tasting like the candy at the counter of one of those toy stores that only sells Scandanavian wooden blocks and obscure games that looks as if they were smuggled off a European freighter in the mid-'80s. For the record, the Revere, Mass.-based company wasn't even this particular about its product when it was based in the notoriously left-leaning People's Republic of Cambridge.
Necco die-hards, who've earned the right to be surly after spending years eating the equivalent of flavored classroom chalk, deluged the company with hate mail accusing it of ruining Necco Wafers. Despite the marketing department's assertions to the contrary, fans believe cinnamon Necco Wafers aren't supposed to taste like Red Hots, lemon wafers aren't supposed to taste like lemon merengue pie and the chocolate flavor should taste absolutely nothing like cocoa. But because Necco execs, in typical Massachusetts fashion, would rather be right than helpful, the company stood by the new formula for two years as Necco Wafer sales plummeted 35%. Yes, there are still enough Necco Wafers sold that sales can drop 35%.
Necco finally went back to the original formula in 2011 and a good harumph was had by all. Necco Wafers may not be as popular as they were when this nation was engaged in its great Civil War, but their fans aren't about to let them perish from the Earth.

Qwikster
It wasn't a formula or recipe, but Netflix's (NFLX) - Get Netflix, Inc. Report all-in-one streaming and DVD delivery service was once the core of its business.
That all changed in October 2011, when Netflix Chief Executive Reed Hastings announced that Netflix would be spinning off its DVD-by-mail service into a separate entity called Qwikster. Suddenly, the $8 a month customers were paying for DVD and streaming services combined turned into $8 a month for each. There is no good way to double the price of a service, but that announcement was among the worse ideas for doing so.
Netflix watched its U.S. subscriber base fall from more than 34 million just before the change was announced in October 2011 to little more than 31 million by December. Nine months later, as higher revenue DVD subscribers fled, profits had dropped 90%.
Hastings backtracked and held on to the DVD service, but the move cost Netflix dearly. To grow revenue and attract subscribers, it had to invest heavily in third-party content and in-house programming. The value of its content library has since skyrocketed from roughly $500 million to just below $2 billion. Netflix subscriber numbers are back up, with 39.1 million U.S. subscribers by the end of 2014, but it raised subscription prices by $1 a month in May.
Netflix is still growing both here and abroad, but as Amazon and Time Warner's HBO mount streaming challenges of their own and cable and satellite providers begin offering streaming and a la carte options, the initial shock of Netflix's Qwikster plan looks even more costly in hindsight.
-- Written by Jason Notte in Portland, Ore.
>To contact the writer of this article, click here: Jason Notte.
>To follow the writer on Twitter, go to http://twitter.com/notteham.
>To submit a news tip, send an email to: tips@thestreet.com.
RELATED STORIES:
>>Yahoo's 'Community' Revival Means The End Of Cancellations
>>Netflix Is The TV Content War's Next Battleground
>>How Amazon Shredded The Netflix Red Envelope
This article is commentary by an independent contributor. At the time of publication, the author held TK positions in the stocks mentioned.