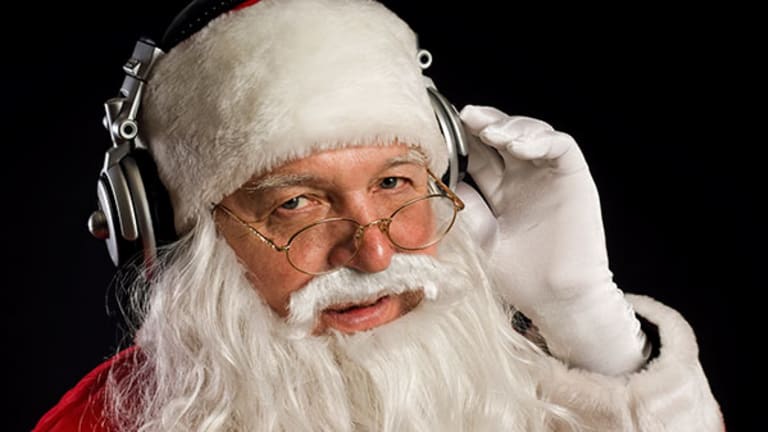 5 Reasons to Just Surrender to Holiday Radio Now
Never mind that all-holiday radio arrives in October now. The truth is it's out there year-round, and people love it.
PORTLAND, Ore. (TheStreet) -- We can argue until Christmas that it's too early for holiday music to be on the airwaves, but those complaints are starting to sound eerily like someone yelling at kids to get off his or her lawn.
We've been writing about radio's holiday creep since at least 2009 and have noticed one clear pattern in each year's coverage: Each year the songs come earlier and the volume of the complaints against them gets a little softer. At one point, we could rely on the folks at
MediaBase
to keep track of just how many times radio stations across the country would play a particular holiday song. In 2011, they just stopped doing it.
We can't blame them. The Top 10 never really changes and, regardless of where they place, you just know that each year Burl Ives'
Holly Jolly Christmas
, Brenda Lee's
Rockin' Around The Christmas Tree
, Mariah Carey's
All I Want For Christmas Is You
, Nat King Cole's
The Christmas Song
, Bobby Helms'
Jingle Bell Rock
, Andy Williams'
Most Wonderful Time of the Year
and John Lennon and Yoko Ono's
Happy Xmas/War Is Over
are going to be played 18,000 to 20,000 times on stations across the U.S. between Dec. 1-25 alone. That's more than 30 times per hour, which means a whole lot of overlap for songs of this length.
Last year, KYXE-FM 104.9 in Yakima, Wash., started decking the halls on Oct. 10 by launching its "North Pole Radio" on a new FM signal. This year, Syracuse's HOLLY-FM 95.3 and 103.9 went on the air with 24/7 Christmas music on Oct. 5.
"I went into Target, actually in August, looking for stuff for my daughter to go away for college and I look over and there's a section of Christmas stuff," station manager Sam Furco told
Newhouse Communications Center News
. "I thought of the idea if
Target
(TGT) - Get Target Corporation Report
can do it, if
Wal-Mart
(WMT) - Get Walmart Inc. Report
can do it, if
Syracuse-area mall Destiny USA can do it, why can't you do it on the radio?"
Why not, indeed? The entire reason Furco is hearing Christmas songs in those retail outlets so early is because radio research firm
Arbitron
(ARB)
switched to its Personal People Meter method of ratings data collection in 2007. Arbitron's ratings team began carrying around cellphone-sized monitors that could pick up broadcasts its carriers were hearing and detect the watermark of the station playing in the background, so when a listener is at the toy store getting shoved to the ground for the last Monster High playset to the tune of Jose Feliciano's
Feliz Navidad
, it counts toward the ratings. If other stations can pick up a ratings boost this way, why not Furco's?
Does it get a bit repetitive? Yes. Andrew Forsyth, a consultant for
Nielsen
(NLSN) - Get Nielsen Holdings Plc Report
, says the average playlist size for all-holiday stations in New York, Chicago, San Francisco, Dallas/Fort Worth and Los Angeles shrunk from 752 songs in 2009 to 694 in 2010, while the average number of times each song was played during the holiday season rose to 33.4 from 30.5. Those numbers are only tightening as the years progress, but there's no need to blame these holiday-only stations just for existing.
In fact, we came up with five reasons why you should not only stop complaining about all-holiday radio, but realize that the actions of you and everyone around you make it possible:
Also see: 5 Ways It's Already Black Friday>>
5. You're already in the holiday spirit
The reason Furco is hearing holiday music in Target and Wal-Mart and seeing holiday items on shelves and displays is because U.S. shoppers have already begun shopping.
According to
Google
(GOOG) - Get Alphabet Inc. Class C Report
Consumer Surveys and the National Retail Federation, roughly 9% of all holiday shoppers started chipping away at their gift lists in September. Another 21% began playing Santa in October. That put nearly a third of all holiday shoppers in stores before November.
That's with good reason. The 2013 calendar has six fewer days between Thanksgiving and Christmas than last year. If you held off until November to do Christmas shopping last year and employed the same strategy this year, you're already a week behind.
4. It's not "radio" you're hearing
The local broadcasters aren't the ones pumping Paul McCartney's
Wonderful Christmastime
into your local
California Pizza Kitchen
in August. That duty falls to companies such as Los Angeles-based
Prescriptive Music
-- whose clients include
Marriott Hotels
(MAR) - Get Marriott International, Inc. Class A Report
,
The Cheesecake Factory
(CAKE) - Get Cheesecake Factory Incorporated Report
and a number of hotel, restaurant and retail chains. Chief Executive Allen Klevens explained his company's holiday strategy to
Inc.
magazine a few years back.
"In August, we start at approximately 20% to 25% of holiday music," he said. "Then, as it gets closer to December, we raise it up to 40%. Closer to Christmas, we raise it up to 60%. On Christmas, we're at 100%."
There are any number of companies, including
Soundreef
,
MoodMixes
and
Custom Channels
employing similar tactics around this time of year to help retail outlets goose customers into some early holiday spending. We hate to break this to you, but ...
Also see: How Seasonal Beer Could Boost Holiday Shopping>>
3. It's working
Combine early holiday displays with the right playlist, and the customers will follow.
In radio alone, going to the all-holiday format is a great way to snare a larger audience. A 33-market study conducted by
Arbitron
in 2009 found that the average market share for radio stations that switched to the all-holiday format rose 91%.
Throw it into a retail setting and throw around a bit of cinnamon, however, and you have a recipe for early holiday sales. A decade-old study by researcher
concluded that combining the aroma of cinnamon, mulled cider or pine with holiday music puts customers in a giving mood. "Our results suggest that wise retailers can act upon this lesson by blessing their customers with synchronized sound systems and scent diffusers, and in turn receive the blessing of strong holiday sales," Spangenberg said.
2. It's not really that early
Most all-holiday radio stations hold off on the format change until November at the earliest, with even
Sirius-XM
(SIRI) - Get Sirius XM Holdings, Inc. Report
holding off on introducing the first of its seven holiday-themed stations until Nov. 13 last year.
Internet radio doesn't have these hangups.
Pandora
(P)
, for example, has nearly two dozen holiday music stations available year-round. In a survey conducted by the music site last year, listeners 35 to 44 made up 94% of Pandora's holiday music channel listeners. Meanwhile, Midwest states were the stations' earliest adopters, making the switch by early November.
Spotify
, meanwhile, had musicians including
Ellie Goulding, Rob Thomas, Mariah Carey, Kelly Clarkson, Lady Antebellum and Fun.
cobble together year-round holiday playlists. Not to be outdone,
Rdio
got
Rolling Stone, Complex Media, The AV Club, retailer Free People and musicians Y La Bamba, DeVotchKa, The Hush Sound and No Doubt guitarist Tom Dumont
to contribute holiday playlists that are still up.
Listeners aren't on a radio station's clock anymore. If someone wants to hear a playlist based on Run DMC's
Christmas In Hollis
in September because that's when they're knocking out some early holiday shopping, that's happening.
1. Early beginning = abrupt ending
The fringe benefit of broadcasting holiday music so early is that once Christmas night is over, so is the all-holiday format.
In the earliest days of all-holiday radio, there were broadcasters that kept it going into the day after Christmas or even into January. Those daring stations are far more rare now, knowing full well they've tested the public's patience and worn out holiday music's welcome even a second after Christmas ends.
It's little consolation, we know, but it's at least a light at the end of one holly, jolly, months-long tunnel.
-- Written by Jason Notte in Portland, Ore.
>To contact the writer of this article, click here:
Jason Notte
.
>To follow the writer on Twitter, go to
.
>To submit a news tip, send an email to:
.
RELATED STORIES:
>>Halloween Novelty Tunes Don't Wear Off
>>How America Killed The Live Event
>>Miley Cyrus: A Child Star's Rite Of Passage
Jason Notte is a reporter for TheStreet. His writing has appeared in The New York Times, The Huffington Post, Esquire.com, Time Out New York, the Boston Herald, the Boston Phoenix, the Metro newspaper and the Colorado Springs Independent. He previously served as the political and global affairs editor for Metro U.S., layout editor for Boston Now, assistant news editor for the Herald News of West Paterson, N.J., editor of Go Out! Magazine in Hoboken, N.J., and copy editor and lifestyle editor at the Jersey Journal in Jersey City, N.J.