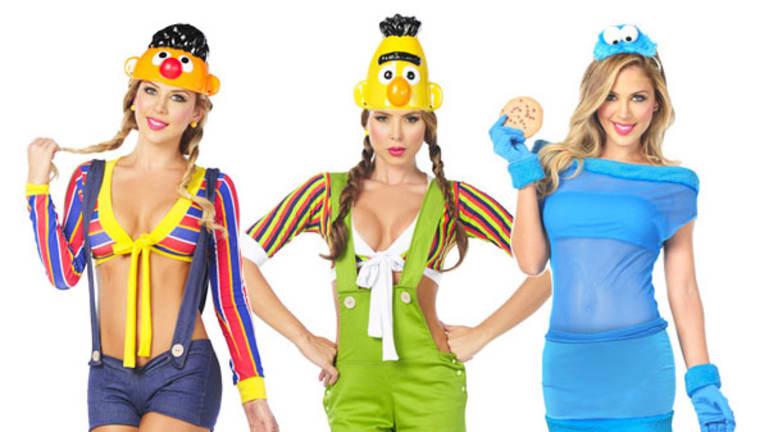 5 Reasons Halloween Isn't for Kids Anymore
It's almost scary how many Halloween restrictions kids now face, while adults' holiday options seem to be multiplying.
PORTLAND, Ore. (TheStreet) -- If you settle down and watch It's The Great Pumpkin, Charlie Brown this year, it may be the best way to get a glimpse of the rarest of holiday sights: children enjoying Halloween.
We're not implying that the streets will somehow be devoid of kids in costume carrying their pillowcases from door to door and collecting treats. We're just saying that it's a safe bet that for every kid you see dressed as a
Disney
(DIS)
princess or as a comic book hero, you're going to see one or more adults dressed as a twerking Miley Cyrus,
Breaking Bad
chemistry teacher-turned-meth-dealer Walter White or a sexy version of something fairly benign.
This isn't exactly a revelation. For the past few decades, parents have been more likely to see photos of their college-aged dressed up for the holiday that to see their elementary schooler making monster-face cookies or carving up a pumpkin. It's just a fact of life, and one U.S. businesses have been more than happy to adapt to.
As Halloween's popularity has grown among adults, an expanding number of adult-oriented events, costumes and treats have made their way onto the market and shifted the nation's attention to the hours after most of the holiday's former core audience is asleep. This means a whole lot more revenue for not only retailers, but for beer and liquor companies and tourist destinations as well.
As kids see more restrictions on where they can go, what they can do, what treats they can eat and how late they can stay out, their parents and their grown-up friends are watching their options expand. We've found five reasons why kids should be ranting like Charlie Brown's sister Sally about the injustice of a Halloween industry that's increasingly passing them over like the mythical Great Pumpkin. Sit back, grab a pumpkin ale and see how what was once a kids holiday has grown up:
Kids bounced from the costume shop
Though the National Retail Federation's Halloween spending survey is geared toward consumer intentions and in no way indicates what they'll actually buy, those Halloween plans indicate that children and parents aren't retailers' target holiday audience anymore.
This year, the NRF says that U.S. shoppers plan to spend only $1.2 billion on adult Halloween costumes, compared with only $1.04 billion on children's costumes. Granted, children's costumes tend to be less elaborate and less expensive, but that in itself should be some indication of where things stand. A full 43% of adults plan to dress in costume this year, up from 34% in 2006.
And Halloween is considered amateur hour. For more than two decades, the most dedicated adult costume designers and exhibitors have been found wandering the halls of comic/sci-fi/fantasy/video game/sex/insert-geek-category-here conventions. Cosplay isn't cheap, and requires hundreds to thousands of dollars to pull off with any degree of authenticity. Conservative estimates say it can generate nearly
in spending in the U.S. alone. That's way beyond the budget of the guy phoning it in by taping single-serve boxes of Apple Jacks to himself, stabbing them with plastic utensils and calling himself a cereal killer, but it also provides some idea of how much of the costume world lies outside the
in your old Blockbuster.
Trick-or-treating the liquor store
How important has Halloween become to the beer industry? Important enough that Jack-O-Lantern-clad, pumpkin-based seasonal beers such as Southern Tier Pumking, Midnight Sun T.R.E.A.T. and New Belgium Pumpkick can be seen on shelves
.
According to market research group
Symphony IRI
, seasonal beer sales have jumped between 15% and 26% since 2009, even as overall shipments declined. Big brewers
Anheuser-Busch InBev
(BUD)
and
MolsonCoors
(TAP)
/SABMiller joint venture MillerCoors have started offering pumpkin selections as part of their Michelob and Blue Moon lines, while
Boston Beer
(SAM)
offers a couple of pumpkin beers under its Samuel Adams brand.
Meanwhile, the overall wine, beer and spirits industry views Halloween as second only to New Year's Day or the Super Bowl -- depending on which company representative you ask.
Diageo
(DEO)
, maker of Captain Morgan rum, has had no problem pairing its pirate pitchman with Halloween promotions.
costumes are in high supply on
eBay
(EBAY)
, while fans of
Dos Equis' "Most Interesting Man In The World"
are left to their own devices to make their booze-soaked Halloween costume wish come true.
Exclusive parties
A few years back we peeked into Halloween parties in
Greenwich Village, New Orleans, Key West, Maui and Salem, Mass.
What did we find? A whole lot of hedonism, debauchery and generally fun times, but a noticeable absence of kids.
The Greenwich Village Halloween Parade is comparably tame by the standards of the events listed above, but even that event counts children as less than 10% of last year's estimated 2 million attendees. Maui's Lahina Halloween has a children's parade before sundown, but the big draw is blocked-off Front Street and the scantily clad, bead-throwing crowd that gathers when the sun goes down.
Diageo just outright sponsors Key West's Fantasy Fest, which brings 60,000 to 70,000 unrestrained revelers into town for parades, burlesque shows, wet T-shirt contests, fetish parties and costume balls hosted by porn stars. According to Fantasy Fest producer
The Market Share Co.
, Monroe County's revenue jumps to $5 million during Fantasy Fest as more than 60 events fill Key West's bars, hotels and restaurants.
Adults will pay big money to kick back, act slightly less than their age and do so without kids present. As a result, sponsors and cities will do just about everything they can to put together an adult-oriented event no one would dare drag a kid to.
Everybody's just way too scared
We're not going to go into the slew of food allergies today's kids have to endure, the anti-obesity measures that keep candies and decorated cookies and cupcakes out of classrooms or the general unease that makes products such as
kid-tracking, GPS enabled apps
not only a reality, but a sought-after holiday item.
Nope, we're just going to let everybody else explain why you should keep your kid locked in their room in front of a television or mobile device all night and away from the world outside. Both the National Highway Traffic Safety Administration and AAA point out frequently that Oct. 31 is the most dangerous night of the year for child pedestrians. More than twice as many children are killed in pedestrian/car accidents on Halloween between 4 and 10 p.m. than during the same hours on any other day of the year.
As a results, one in three parents is petrified by the possibility that their child will be involved in an accident, with a full 77% of parents afraid for their kids' well being on Halloween in general, according to the children's advocacy group
. That group wishes that more than 18% of parents would put reflective tape on their kids' costumes before sending them into the darkness, but thinks that the 24% who fear their child will be poisoned should realize that their level of fear is disproportionate to the
actual number of reported incidents
.
Another 15% fear their child will be abducted on Halloween night, even though the National Center For Missing and Exploited Children says there are no data to suggest that more kids are reported missing on Halloween night than on any other.
You can't tell a parent to calm down about any of this, because it's just not going to happen. Worry is a natural, functional part of the parental response. Focusing on more imminent danger such as oncoming traffic and low visibility, though, will go a long way toward keeping a kid safe and ensuring that they'll build a childhood full of Halloween memories similar to the ones their parents have -- doing things that undoubtedly made their own parents nervous.
Scary sells
Dreamworks Animation
(DWA)
might throw parents a Shrek Halloween special every so often,
Laika
likes to pitch out a seasonally appropriate story such as
Paranorman
or
Coraline
and even
Disney
(DIS)
gave kids
The Nightmare Before Christmas
.
But you know what Hollywood really loves around Halloween? A movie kids under 13 can't go to. The
Saw
franchise made nearly $416 million by releasing seven films before Halloween from 2004 through 2010 -- all rated R. Adjusted for inflation, the entire
Halloween
series of slasher films brought in more than $600 million from pre-Halloween releases from 1978 through 2007. Again, it's an R-rated franchise.
The horror genre and its many incarnations have helped shift pop culture's Halloween sensibilities from the relatively harmless Universal monsters and cartoonish depictions of ghouls, ghosts and witches to a bloody, scream-filled chamber of fear. For roughly 35 years, it's paid off.
Since the release of the original
Halloween
in 1978, slasher films alone have made more than $2.3 billion in the U.S. alone, according to
BoxOfficeMojo
. That's not adjusting for inflation, either. Michael Meyers, Freddy, Jason, Leatherface and the creepy girls from
The Ring
and
The Grudge
have firmly planted their stake -- among other pointy, bloodied implements -- on Halloween, and they and their ilk are going to require parental guidance and dollars for the foreseeable future.
-- Written by Jason Notte in Portland, Ore.
>To contact the writer of this article, click here:
Jason Notte
.
>To follow the writer on Twitter, go to
.
>To submit a news tip, send an email to:
.
RELATED STORIES:
>>Why Tampa Bay Bucked NFL Blackouts
>>Hip-Hop's Golden Age Is A Moving Target
>>The United Playlist Of America
Jason Notte is a reporter for TheStreet. His writing has appeared in The New York Times, The Huffington Post, Esquire.com, Time Out New York, the Boston Herald, the Boston Phoenix, the Metro newspaper and the Colorado Springs Independent. He previously served as the political and global affairs editor for Metro U.S., layout editor for Boston Now, assistant news editor for the Herald News of West Paterson, N.J., editor of Go Out! Magazine in Hoboken, N.J., and copy editor and lifestyle editor at the Jersey Journal in Jersey City, N.J.