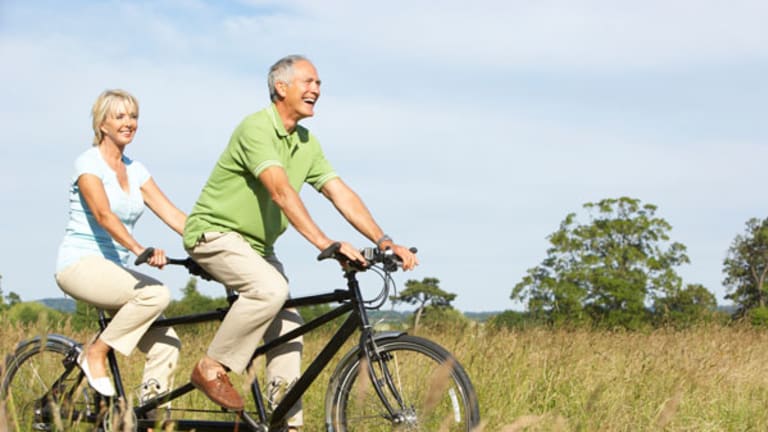 Publish date:
5 Crucial Questions to Ask About Your Retirement
Many Americans are on a journey toward retirement with no idea what they're riding to get there.
Many Americans are on a journey toward retirement with no idea what they're riding to get there.
NEW YORK (
) -- There's little doubt Americans are struggling to
save for retirement
.
About 49% of U.S. adults express serious reservations about saving enough for their post-career years, according to a
study by the Employee Benefits Research Institute
.
What's more, 46% of Americans are so disenchanted about their lack of long-term savings that they haven't bothered to calculate how much they'll need to live on in retirement.
That's like taking your car on a long vacation and not bothering to check the fuel gauge before you pull out -- and you don't know how much money you have in your pocket for gas along the way.
John Bucsek, CFP and managing director at
MetLife
(MET) - Get Report
Solutions Group
, has an interesting take on the retirement anxiety dilemma -- particularly on how the financial journey toward your golden years changes, and how your retirement savings
strategy
should change, too.
Read: Take Some Tips From Retirement 'Power Planners'
Bucsek urges Americans to ask (and answer) five key questions about their retirements:
1: Do your accumulated savings and other sources of income replace about 80% of your pre-retirement income?
Bucsek:
When determining sources of income you want to look at Social Security and pension funds in addition to 401(k) and IA funds you may have in place. For example, if your pre-retirement income is $100,000, your goal is to have $80,000 of retirement income per year. This number assumes retirees may be able to maintain their standard of living with less income because their taxes could be lower, there would be no need for retirement salary deferrals, their mortgages would be paid off before or soon after they retire and they would no longer have work-related expenses.
2: Will you be in a high Social Security bracket?
Read: Half of U.S. Seniors One 'Shock' Away From Poverty, Report Warns
Bucsek:
Social Security may replace a lower proportion of your pre-retirement income if you had high earnings over your career. From the example above, one should subtract
Social Security
, which would be $21,600 -- leaving $58,400 to come from other sources. For those with lifetime "high" annual earnings, Social Security will replace a lower percentage as compared with someone who had a lifetime of "medium" earnings, in which case they will get a higher percentage.
3: What is the degree of risk in your portfolio?
Bucsek:
Market fluctuations, interest rate changes and inflation can have a significant impact on retirement, especially if there are substantial losses before and at retirement. It might be a good idea to use a moderate return rate for your long-term projections, which involves a lower degree of risk and helps prevent your retirement funds taking a big hit while you're in or close to retirement. Work with your financial adviser and recalculate every year to be sure you are on track.
4: What age did you begin saving?
Bucsek:
There is no better time to save for retirement than today. The longer your money has to work and grow for you, the easier it is to reach the desired level of retirement income. If you started to save early in life, you may need to save less out of each paycheck because compounding should enhance your overall savings. If, on the other hand, you started later in life, you may need to take out more from each paycheck to reach your desired retirement income.
Read: Kodak: The End of an American Moment
5: What age do you want to retire?
Bucsek:
Nowadays, people are having children later in life, the cost of college is on the rise and the burden of saving for retirement has been shifted to the employee. The good news is that people are living longer, healthier lives. Folks may need to work a couple of additional years to provide their desired retirement fund level; but by keeping an open dialogue with their adviser, they will be better prepared for this outcome.