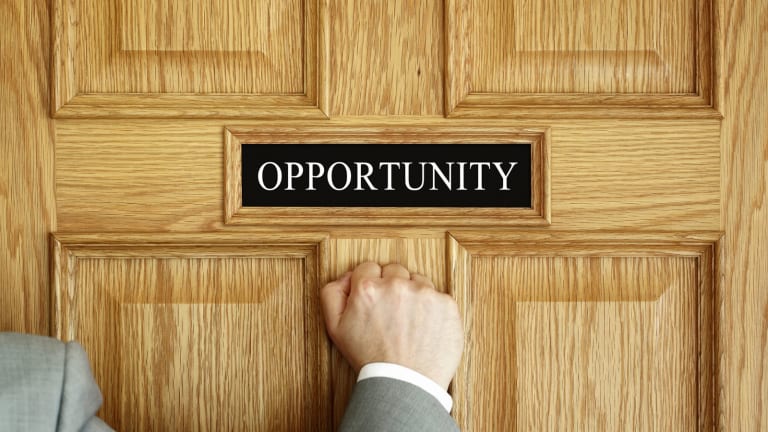 5 Questions to Ask Before You Take the Plunge and Quit Your Day Job
Are you ready to take a chance on a new job or a new industry?
Are you ready to take a chance on a new job or a new industry?
NEW YORK (MainStreet) — Are you ready to make a career change? Here are five questions to ask yourself before you quit your day job.
1. What do I want to be doing, and what am I good at?
Before you make a move, ask yourself, "Is it possible for me to do what I want to do in my current situation?" If the answer is "absolutely not," you should start looking for other opportunities, says Jesse Siegal, senior managing director of The Execu|Search Group, a professional recruitment and staffing firm.
"At that point you need to start looking at the nitty-gritty of it. What skills do you need to obtain, and what skills do you already have that will help you make the transition?" he asks.
If you're not sure where you excel, ask a close friend, partner or a trusted peer "What do you think I'm best at?," suggests Pete Davis, founder and CEO of HR consultancy and recruitment firm Impact Management Services.
"What kinds of projects have you done well on, that helped to move the needle forward? What kind of projects do you love to work on, and could envision yourself doing whether or not you're getting the pay and benefits for it?" Davis says. "Take time to yourself to reflect — on your likes and dislikes, strengths and weaknesses, and biggest accomplishments."
2. Am I fulfilled in my current position?
When you are no longer challenged in your position, or when your every-morning attitude is one of, "Oh god, I have to go to work today" instead of "I get to go to work today," that's an indication it's time to make a change, says Jodi Chavez, senior vice president at recruitment firm Accounting Principals.
"If you get home from work at night and you don't want to talk about work, or you aren't excited to tell your partner about the projects you're working on, that's an indication that you're no longer feeling fulfilled," Chavez says.
It may be that you want to stay in your current industry, but you want to take on a different role or move up a level or two to really challenge yourself, Davis says.
"If this is the case, look for opportunities to take on more responsibility, or to dabble in whatever it is you want to move into in that industry. Say you're a project coordinator looking to move into a managerial role. Look for ways each day you can take ownership of new projects and really drive that."
3. How will my current background and experience help me in a new endeavor?
Ask yourself, "How am I going to be able to apply my current background and experience in this new field?" Siegal says.
Before you make your move, think about the relevance between the two industries and the "overlap skills" that you bring to the table.
"What are your transferable skills, and how will they apply? It's important for you to think about [this] on a personal level, but it's also going to come up in the interview process," he explains.
Start by thinking about your "natural strengths" as well as your personality strengths and hard skills you've learned in your current job.
4. Have I accomplished what I want in my current position?
You want to build your career on a series of accomplishments, says Joe Weinlick, vice president of marketing at career network Beyond.com.
"Companies are often hesitant to hire 'job hoppers' who continually move from one job to the next in search of higher salary or better opportunity. Instead, you want to demonstrate to potential employers — and yourself — that you have a history of bringing value to every position you hold," he explains.
Of course, sometimes taking a risk is the only way to move forward.
"You may have risen as far as you can in your current company and need to find a company with greater opportunity. Or perhaps the industry or career you are in is limiting, in which case you'll want to evaluate skills and experience you have that is transferable to other industries or careers," Weinlick says.
5. What have I got to lose?
Take the time to write out the pros and cons associated with leaving your current role and accepting a new one, compared with staying in your existing role, says DeLynn Senna, executive director of staffing agency Robert Half Finance & Accounting. 
"They say there's no time like the present, but nobody likes the person who leaves their team in a lurch as they depart for another company. Make sure the timing is right before making your exit," Senna cautions.
Consider the monetary consequence should the opportunity not pan out as planned. Are you saddled with excessive overhead such as a house, credit card debt or loans? What are your obligations to your family? asks Stu Coleman, partner and senior managing director at recruitment firm WinterWyman.
"Do you have enough of a financial cushion to get back on your feet should the worst-case scenario come to pass? If your answer is, 'Yes, I have enough to bounce back,' then you are in a much better position to go for it," Coleman says.
The question "What's the worst that could happen?" should be answered at least once before you make any big decisions. 
"If at worst you end up working hard, throwing yourself into your venture, ultimately giving up and coming out financially the same or even a little worse than when you went in, it will likely still be worth it," Coleman says. "What you will have learned and the people you'll meet through the experience will be invaluable in helping to shape the rest of your life."
— Written by Kathryn Tuggle for MainStreet
Follow Kathryn on Twitter @KathrynTuggle
null