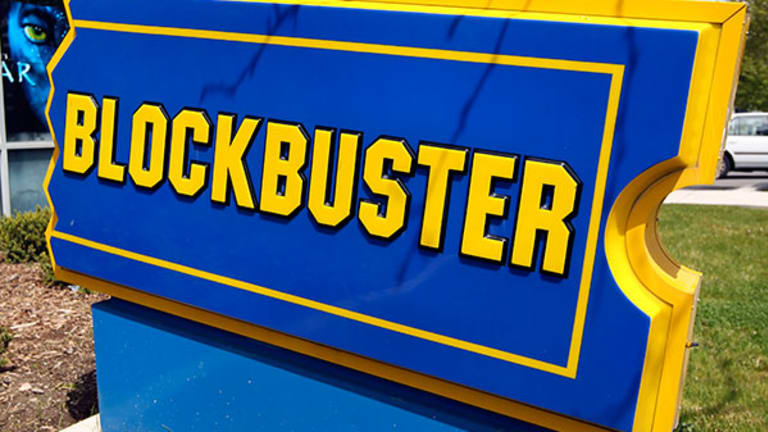 5 Once-Great Retailers That Are Now Halloween Pop-Up Shops
These chains do serve a purpose: Their empty storefronts provide a home for your once-a-year costume needs.
PORTLAND, Ore. (TheStreet) -- Take a good look at the strip malls and "lifestyle centers" where U.S. consumers will be doing much of the Halloween shopping this year. Chances are you'll see the names of their dead inhabitants still burned onto the tombstone storefronts that house Halloween pop-up shops.
Halloween is about as good a time as any to take U.S. retail's pre-holiday temperature, and the storefront corpses littering retail vacancy rates across the nation tend to chill things a bit. Even as the National Association of Realtors predicts retail vacancy rates will improve from 12% last year to 10% by the third quarter of 2014, some stores are still flatlining.
We took a look around the nation's strip malls and the dying indoor shopping plazas once known as "the mall" to find the companies most likely to have logos labels scarred onto Halloween pop-up stores. There are plenty of ghosts, cobwebs and Sexy Fry Cook costumes in the windows now, but those stores are still haunted by the ghosts of a more lively economic past:
5. The Gap
Stores closed:
189
The carnage started last year, but the clothing retailer of waning relevance closed the last of its surplus shops in 2013. It's hard to believe that consumers once cared about The Gap enough to protest a proposed logo change a few years back, considering they haven't been picking up the bags emblazoned with those logos in great numbers for a number of years.
It's not that the company itself is doing so poorly. It's just that consumers have been leaving the brand steadily since just after its khakis-and-swing-dancing days of the '90s and flocking increasingly to sister shops such as Old Navy, Banana Republic and Athleta. With many of this year's Halloween revelers too young to remember or care about Brian Setzer's version of
Jump, Jive an' Wail
, it's little surprise they keep passing up a store that hasn't changed with the times -- despite its best efforts.
Also see: Halloween Keeps Ringing the Bell, But No One's Answering>>
4. Barnes & Noble
(BKS) - Get Barnes & Noble, Inc. Report
Stores closed:
189
Nook? What's a Nook? Revenue from the once promising e-reader plummeted 20% this year, sales of the readers dropped 23% and digital book sales fell 15.8%. Overall store revenue also dropped 10% as competition from independent booksellers,
Amazon
(AMZN) - Get Amazon.com, Inc. Report
and
Apple
(AAPL) - Get Apple Inc. Report
all continued to pressure the shop toward its increasingly frightening final chapter. The good news? Once you rip out all the shelves and that in-store
Starbucks
(SBUX) - Get Starbucks Corporation Report
, there's a whole lot of floor space for costumes.
3. Gamestop
(GME) - Get GameStop Corp. Class A Report
Stores closed:
250
Game companies are increasingly moving their lucrative content online. The discs they do issue are becoming even more worthless in the secondary market, forcing Gamestop to turn to digital download codes and Apple and
Google
(GOOG) - Get Alphabet Inc. Class C Report
Android devices for increased income. The growth of mobile gaming coupled with the decline of the last generation of game consoles forced Gamestop to trim some of the fat. The company may stabilize a bit once Sony releases its PlayStation4 and
Microsoft
(MSFT) - Get Microsoft Corporation Report
pushes out its Xbox One next month, but the emphasis on streaming and non-gaming functions by both companies made it clear that a whole bunch of stores had to go. If physical copies of video games matter less, why wouldn't the bricks-and-mortar stores buying and selling them?
Also see: Is All That Halloween Candy and Pumpkin Beer Going To Keep?>>
Blockbuster
Stores closed or closing this year:
300
Expect to see old Blockbusters as Halloween shops for a while. Thanks to
Dish Network
(DISH) - Get DISH Network Corporation Class A Report
and its takeover of the brand and shutdown of the overwhelming majority of its stores, they'll be a prime location for costume and lawn-ornament sales for a while. Blockbuster was already just about streamed out of existence by
Netflix
(NFLX) - Get Netflix, Inc. Report
, iTunes, Amazon, RedBox, on-demand cable and several other more convenient options, but it's now down to fewer than 1,000 locations and has left thousands of empty storefronts and "Used: Fair Condition" DVDs in its wake. We'd suggest dressing up as a video store clerk this year in the chain's memory, but it may be a more obscure reference than Betamax at this point.
1. Fashion Bug
(CHRS) - Get Coherus BioSciences, Inc. Report
Stores closed or closing this year:
482
DressBarn continues to trim the plus-sized garment stores of its former competitor after a merger last year. While similar shops including Lane Bryant and Catherines Plus survived, Fashion Bug continues to be squashed by the merger. That's left a whole lot of storefronts empty and a whole lot of costumes hanging in what was once a thriving corner of the retail clothing trade.
-- Written by Jason Notte in Portland, Ore.
>To contact the writer of this article, click here:
Jason Notte
.
>To follow the writer on Twitter, go to
.
>To submit a news tip, send an email to:
.
RELATED STORIES:
>>Why Tampa Bay Bucked NFL Blackouts
>>Hip-Hop's Golden Age Is A Moving Target
>>The United Playlist Of America
Jason Notte is a reporter for TheStreet. His writing has appeared in The New York Times, The Huffington Post, Esquire.com, Time Out New York, the Boston Herald, the Boston Phoenix, the Metro newspaper and the Colorado Springs Independent. He previously served as the political and global affairs editor for Metro U.S., layout editor for Boston Now, assistant news editor for the Herald News of West Paterson, N.J., editor of Go Out! Magazine in Hoboken, N.J., and copy editor and lifestyle editor at the Jersey Journal in Jersey City, N.J.