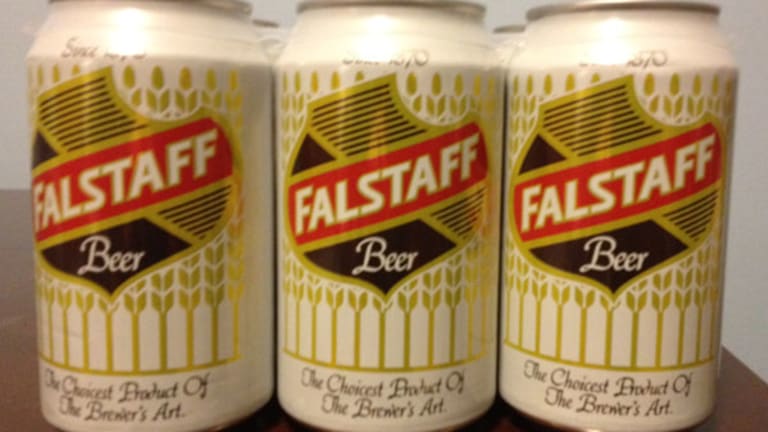 5 Old-School Beers We Wish They'd Bring Back
We loved them and now we'd love to have them back in full -- even those we're drinking under other names.
PORTLAND, Ore. (TheStreet) -- Just because a beer drinker hasn't jumped headlong into the growing craft beer industry or the small brewers that bolster it doesn't mean they prefer "bad" beer. It may just be that the good beer they remember doesn't exist anymore, and no "craft" brewer wants to take the time to revive that beer's legacy.
Contrary to popular belief within the craft community, America's love of beer didn't begin when President Jimmy Carter lifted the national ban on homebrewing during the 1970s and breweries such as New Albion and
Sierra Nevada
started springing up and dumping trailer loads of hops into their kettles. While it's true there were only 80 breweries in America in 1983, and six of them accounted for 96% of the beer Americans consumed, it wasn't as if everyone was happy about that fact.
Despite Prohibition cutting the number of working breweries in America from more than 2,000 in the late 1800s to zero from the 1920s into the early 1930s, there were 750 breweries in operation across the country by 1936. Regional brewers were everywhere and breweries such as Ballantine and Sons in Newark even produced porter, stout and a product it called India Pale Ale, which was somewhat less hoppy than today's IPAs but bitter enough to serve as a direct ancestor.
When we wrote in April about
4 Beers We Wish They'd Bring Back
, we ended up hearing from a lot of long-time beer drinkers out there who still lament the loss of their beloved labels. While our story singled out more recent departures such as New Albion and Pete's Wicked Ale, the names that popped up in the comments field were some of the pillars of American beer history.
The one that caught our eye, and inspired us to look into what happened to some of the favorites mentioned, was Ballantine. In full disclosure, I'll let it be known that my family's ties to the beer industry begin and end with my great-grandfather, who worked at the Ballantine brewery in Newark, N.J., for several years. Newark was a center of regional brewing activity when my grandfather was with Ballantine, with Newark's Gottfried Kruger Brewing giving America its first beer can on Jan. 24, 1935. Ballantine was Newark's biggest name of all, however, serving as the nation's fourth-largest brewery at its peak -- eventually buying Kruger's brewery after its brand was sold to Rhode Island-based Narragansett in 1961. The Borromean rings of the company's logo were a fixture in my grandparents' basement bar and original promotional items such as steel serving trays and lighted, moving signs still serve as family heirlooms.
As it turned out, there were more than a few folks out there who remembered Ballantine from its heyday from the 1940s through 1960s, when its partnership with the New York Yankees led to famed announcer Mel Allen calling home runs "Ballantine blasts." It also turned out that there were more than a few of these stories from around the country. The overwhelming majority of them, however, end with
Pabst Brewing
. During the 1970s and 1980s, brewing magnate Paul Kalmanovitz made a habit of buying up struggling breweries, slashing them to the bone and selling off just about everything but the brand name. It's how he came into possession of Ballantine, Stroh's, Pabst, National Bohemian, Rainier, Olympia, Pearl, Lone Star, Schlitz, Old Milwaukee, Blatz, Stag, Schmidt's, Schaefer, Old Style and a host of malt beverage brands.
Pabst has since been producing most of those brands in cans and bottles that resemble the originals but in styles that bear little likeness to the beers those labels' owners once produced. In recent years, however, the company has been slowly undoing some of the damage. In 2005, it sold the Narragansett brand to a Rhode Island-based group that not only returned to
the namesake lager's original recipe
, but got it back in the stands at Fenway Park for Red Sox games and expanded its lineup to include more crafty selections, including a porter, bock and summer blonde ale. In 2007, Pabst reformulated Schlitz to its original, slightly maltier "Gusto" formula and trotted out some of Schlitz's old marketing items, such as lawn chairs and nudie pens, for the occasion. Since being bought by the Metropoulos family of owners in 2010, Pabst has begun building fan pages for regional brews including "Natty Boh" and Olympia and making commercials with Will Ferrell for Old Milwaukee.
While this opens the door for Narragansett-style revivals for Ballantine and the rest of the brands in Pabst's portfolio, there are more than a few legacy beers out there that may not get as lucky. We sorted through your beer stories and found a five-pack of great old brews that we agree should find their way back to taps and beer coolers soon:
Falstaff
The last time most of America heard from Falstaff, some platinum canary was drinking it in Sheryl Crow's
A Change Would Do You Good
in 1996.
By then, Falstaff was already a shadow of its once-corpulent self. This is a brewery that rode out Prohibition in St. Louis by selling near-beer and ham. It's a brewery that flew out cases of beer to the governors of Missouri and Illinois at the end of prohibition. It's a brewery that, at its peak, had facilities in St. Louis, Omaha, Neb., New Orleans, Galveston and El Paso, Texas, and Fort Wayne, Ind., and pushed out more than 7 million barrels of beer in 1965. For perspective, that's a brewery roughly three times the size of Samuel Adams maker
Boston Beer
(SAM) - Get Boston Beer Company, Inc. Class A Report
today.
So what happened? Its brewers' heads swelled right along with sales. The fat cans of Falstaff suddenly weren't good enough and in 1965, it bought Narragansett for $19 million in cash and stock. That didn't sit well with Rhode Island, which dragged Falstaff into a multiyear antitrust case that bled a great deal of the brewer's money into the courtrooms. Though the Supreme Court eventually ruled for Falstaff in 1973, the cost was so great that the company was sold to Paul Kalmanovitz just two years later.
Kalmanovitz did what any good corporate raider does and started cutting jobs and closing facilities. Falstaff's St. Louis brewery was the first to fall, with the rest going down in succession until the Fort Wayne facility closed in 1990. Though Pabst kept the brand afloat by contracting out its brewing to other companies such as
MolsonCoors
(TAP) - Get Molson Coors Brewing Company Class B (TAP) Report
, Falstaff's sales eventually sank so low that the label was discontinued altogether. It doesn't even show up on Pabst's portfolio site, where
Champale
is showcased with pride.
Want Falstaff back? The Metropoulos family awaits your offer.
Meister Brau
Depending on how you look at it, this beer is either still very much alive or in absolute purgatory.
Meister Brau beer has had a long journey since it was first brewed by Prussian immigrant Peter Hand on Chicago's North Avenue in the 1890s. In 1965, the Hand Brewery was bought by a group led by businessman James Howard and renamed Meister Brau. It expanded production, reaching 1 million barrels at the end of the 1960s, which is still impressive considering that only four brewers in the U.S. --
Anheuser-Busch InBev
(BUD) - Get Anheuser-Busch InBev SA/NV Sponsored ADR Report
, MolsonCoors, Boston Beer and
D.G. Yuengling & Son
-- make that much beer or more.
Meister Brau's best days were still ahead of it. Joseph L. Owades, a biochemist with Rheingold in New York, brought the company a formula he'd first sold in 1967 as "Gablinger's Diet Beer." That formula became Meister Brau Lite in the late 1960s, but couldn't stop Meister Brau from hemorrhaging money. By 1972 Meister Brau had sold its labels to Miller Brewing, which relaunched Meister Brau Lite as "Lite Beer from Miller" in 1973 and packed its commercials with athletes to get men to drink it. Miller Lite was born, but Meister Brau was dead.
Miller eventually let go of the Meister Brau name, which was picked up as intellectual property by a holding company called
Brands USA
. In 2010, Brands USA held an auction for some of its defunct labels and let Meister Brau go for
to an unnamed buyer. While even the folks at
SABMiller
were shocked
the name sold for that little, all the buyer got in return were the name and marketing rights. No beer formula, no brewing partner, not even so much as an indication of how he or she is going to use the name.
If a drinker isn't that attached to Meister Brau, a Miller Lite will do in a pinch. If the name and the original formula matter, however,
, learning to brew, reverse engineering the original recipe and teaming up to revive the brand is the only way "The Custom Brew" is coming back.
Rheingold
If people don't know you're back, are you really "back"?
This has been the main issue with the great Rheingold revival of the past decade or so. Rheingold's original incarnation stretched from 1883 through 1976 and was a staple of the New York metropolitan area.
It sponsored Nat King Cole's television show. It hosted the Miss Rheingold pageant each year through the '40s and '50s and featured the winner in its ads. For many years, it also served as the official beer of the New York Mets. And it had a cameo in
The Godfather
when a Rheingold truck pulls into view just as James Caan's Sonny Corleone starts beating his abusive brother-in-law into the gutter.
Rheingold faded from view until 1998, when a small business concern bought the brand and relaunched it with an eye toward the tattooed young creative folk who were just starting to populate the beer's old home in Brooklyn. They brought back Miss Rheingold complete with Brooklyn-approved piercings and tattoos and all seemed right with the world.
Until it wasn't.
Drinks Americas
(DKAM)
bought the brand in 2005 and threw it into a stable that included Donald Trump's self-branded vodka line, Dr. Dre cognac and other novelty liquors. They expanded Rheingold's reach beyond the New York area, put the beer in retro cans and teamed with The Lion Brewery in Scranton, Pa., on production. Rheingold news has slowed to a trickle in recent years, though, as Drinks Americas focuses on its Rio Bravo Mexican craft beers and a "consumer beverage consulting" division. Rheingold's website, meanwhile, has started looking
in its own right.
Rheingold's here, but it's tough to call it "back."
Dixie Beer
We touched on the tragedy of Dixie Brewing in a story about
"craft" beer and what that name means
, but there's a lot more to bringing back Dixie than just having it exist.
A New Orleans institution since 1907, Dixie survived prohibition but was laid low by Hurricane Katrina in 2005. The brewery was storm-damaged and stripped of its equipment by looters, and its fate is still in the air. But with a new Veteran Affairs hospital under construction around its Mid-City site, it doesn't look good for an old building that now exists primarily as a
ruin for urban explorers.
The craft beer industry group The Brewers Association recently knocked Dixie for using adjunct such as corn in its brew, taking the ever-so-brave step of hitting the brewery while it is down and saying it isn't craft. Maybe not, but the generous breweries that have been brewing it under contract certainly are.
in Monroe, Wis., took on the task of brewing its pale light lager and its Blackened Voodoo dark lager, but the beer is a bit harder to find than it was pre-Katrina. Kudos to Minhas and others for keeping Dixie afloat, but only when its kettles are boiling in New Orleans again and it returns to every store and bar that wants it will Dixie be "back."
George Wiedemann Brewing
What motivates a Cincinnati kid such as Jim Koch to help start a beer revolution with Samuel Adams Boston Lager? Great Cincinnati beers such as those George Wiedemann used to make.
Wiedemann founded his Cincinnati brewery in Newport, Ky., just outside of Cincinnati in the late 1870s. It made a crisp, clear brew known as Wiedemann Fine Beer and, by the time Wiedemann died in 1890, was the largest brewer in Kentucky.
Prohibition shut its doors in 1927, but by 1933 it was revived and well on its way to the 1 million barrels it would produce by 1967. Wiedemann's success eventually led to its sale to G. Heileman Brewing Co. of LaCrosse, Wis. Heileman shut down the Wiedemann brewery in 1983 and sold off the rights to the Wiedemann name. The beer bounced from a brewery in Evansville, Ind., in the late '80s and early '90s to Iron City maker
Pittsburgh Brewing
in the 2000s. When Pittsburgh Brewing filed for bankruptcy and reorganized in 2006, it jettisoned Wiedemann beer.
Fortunately, some beer lovers in Newport with a great sense of history picked up the brand and revived it as the
just last year. While they're producing only Wiedemann's Special Lager and not a whole lot of it, Wiedemann has at least found its way back to the Cincinnati drinkers who've loved it all along. It's not back to 1 million barrels, but it's not dead and gone, either.
-- Written by Jason Notte in Portland, Ore.
>To contact the writer of this article, click here:
Jason Notte
.
>To follow the writer on Twitter, go to
.
>To submit a news tip, send an email to:
.
RELATED STORIES:
>>How Tapping The Jewish Beer Market Begat A Plan
>>Sierra Nevada CEO Makes East Coast Beer Run
>>Craft Brew Founder Widmer Savors Results
Jason Notte is a reporter for TheStreet. His writing has appeared in The New York Times, The Huffington Post, Esquire.com, Time Out New York, the Boston Herald, the Boston Phoenix, the Metro newspaper and the Colorado Springs Independent. He previously served as the political and global affairs editor for Metro U.S., layout editor for Boston Now, assistant news editor for the Herald News of West Paterson, N.J., editor of Go Out! Magazine in Hoboken, N.J., and copy editor and lifestyle editor at the Jersey Journal in Jersey City, N.J.