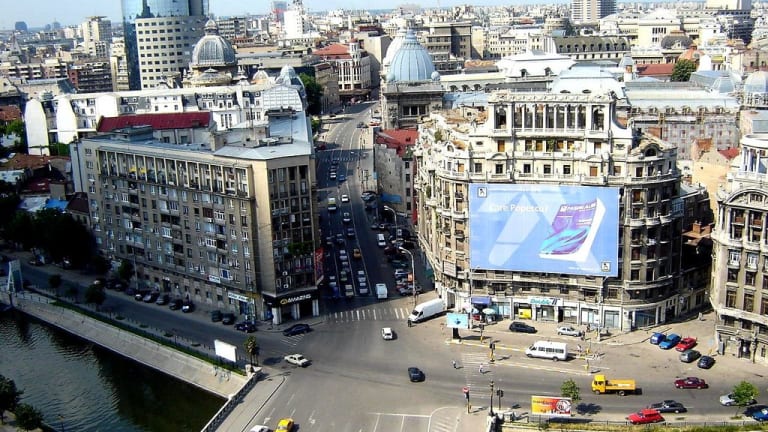 5 Off-Peak Travel Presents to Give Yourself This Christmas
Your packed holiday household will be a lot more bearable when you're relaxing in a European spa a few weeks later.
NEW YORK (MainStreet) — If the house seems a little too hectic this Christmas, it might help to daydream about the comforting silence of an airport in early January.
The last three weeks of January and first few weeks of February are "dark weeks" for the travel industry, but bright spots for travelers whose savings haven't been sucked dry by holiday trips.
It's at time many potential vacationers have been scared off of travel by the holiday crush they endured. A full 43% of travelers surveyed by TripAdvisor (TRIP) - Get TripAdvisor, Inc. Report said they expected to be stressed out by their winter holiday trips. That doesn't include the 31% of travelers who were already reduced to emotional rubble by thanksgiving travel. Combine that stress with the cost of those trips — estimated at an average $436 per person, up from $401 last year, according to TripAdvisor — and the lack of vacation days accrued by many American workers this early in the year and you get a population of travelers willing to tether themselves to home and hearth for a while.
Empty hotel rooms, vacant airports and general lack of tourists are strong anecdotal evidence, but the numbers do a better job of telling the whole story. About 48 million passengers took trips aboard U.S. airlines last January, according to the Department of Transportation's Bureau of Transportation Statistics. That's up almost 1 million passengers from January 2013, but still well below the 54.3 million passengers who caught holiday flights a month earlier in December and woefully shy of the 61.7 million who fly during peak season in July.
There is only one month in which travelers get around less, and the 45.5 million brave souls who hit the skies in February 2014 paid for their cheap trips in terrible weather and lengthy delays.
If travelers can shake off the holiday trauma and emerge from their winter shelters, there's a chance to save big and stretch out while no one's around. We consulted with the folks at TripAdvisor's travel deals site SmarterTravel and found five places that make for great "dark week" travel destinations:

Iceland
We've actually taken this trip from Boston, which is closer to Reykjavik than it is to Seattle, and it's impressive.
Granted, the average temperature is just above freezing and there aren't a whole lot of daylight hours to throw around, but what better excuse to pop into one of the coffee houses or bars along the city's Laugavegur main drag. If visitors stop in on the weekend, they're free to stay until closing time - which doesn't come until 6 a.m.
Besides, that makes travel here incredibly cheap around this time of year. Icelandair flies from eight U.S. cities and has a New York to Reykjavik fare for as low as $622 round-trip, via a "Hacker Fare" on Kayak (combining flights on Icelandair and Norwegian Air). Compare that to June and July fares starting at $837 round-trip.
Icelandair also tends to offer package deals that include rooms in the hotel that was once the nation's main airport — and still serves as a stop for domestic flights - and tours of Iceland's "Golden Circle" of waterfalls, geysers, glaciers, tectonic plate divides, volcanoes and the Thingvellier valley that became the site of the world's first parliament in 930 A.D. Be prepared for just about every cabbie, bartender and hotel concierge to ask you if you've been to the Blue Lagoon natural hot springs and spa just outside Iceland's Keflavik Airport, but also be prepared to actually pop in and take a warm dip — which we can't advise enough around this time of year.
If you need a little warmer during your Reykjavik walkabout, stop into Baejarins Beztu Pylsur, a hot dog stand near the harbor that serves a spicy red frank topped with sweet mustard, fried onion and a mayonnaise-based sauce with sweet relish. In a town that serves whale as a dinner entree, a pylsa is easily one of the best things a tourist will eat during his or her trip.

Philadelphia
Exotic Philly? With its wintry scenes of opposing football teams being pelted with snowballs and Santa being booed?
Yes, we're absolutely serious about coming here during a Northeast winter.
Honestly, it's the best time to do this town right. When it's too cold to stand at Pat's, Geno's or Tony Luke's cheesesteak stands with the tourists, head inside Reading Terminal Market for a roast pork, provolone and broccoli rabe sandwich (Philly's more authentically official sandwich) at Dinic's. When the tourists have been frozen off of the mall in Center City, that's when you hit Independence Hall, the U.S. Mint, the Constitution Center and all the other nearby sights.
Hit the Matisse exhibit at the Barnes, get cozy inside the renovated Benjamin Franklin Museum or take a tour of the Philadelphia Brewing facilities in Kenzinger: Philly is a much more pleasant, and pleasant-smelling, town when the weather gets chilly. Its hotels get a bit friendlier with the pricing as well, with SmarterTravel finding rates as low as $135 per night at the Hotel Monaco Philadelphia, compared with a similar June rate of $189. At Rittenhouse 1715, nightly room rates start at $219 during January before bumping up to $239 in spring. Our pick? A $139-a-night online early January rate at the historic 1828 Penn's View Hotel near Penn's Landing and right in the middle of Old City's bars and restaurants. Not only does that rate come with free breakfast, but it jumps to $209 a night by late June.

Bucharest
Welcome to Romania, which is so notoriously inexpensive that it placed Bucharest on SmarterTravel's
10 Places to Go While They're Still Cheap
 list in 2014. During winter, it's even more affordable. This winter, a flight from New York's JFK to Bucharest on Turkish Airlines goes for as little as $724 round trip, with a stop in Istanbul.
Hotels get a lot cheaper, too. At Hotel Christina, the No. 1 rated Bucharest hotel according to SmarterTravel parent company TripAdvisor, prices are the lowest during winter months. In February, for example, nightly rates come to €50 (about $63). In June, though, rates jump to €70 (about $87) per night. At Hotel Epoque, the best available rate in June came to €170 (about $212). In January, you can grab a room at this historical and luxurious property for as little as €128 (about $159) per night.
So what is there to see? Well just an entire city of medieval architecture, the National Museum of Art of Romania, The Zambaccian Museum (the former home of an art collector featuring works by Paul Cezanne, Henri Matisse and Pablo Picasso, some imposing Communist-era leftovers and, when it gets cold enough, some of the strongest plum wine on Earth.

Banff National Park
Winter in Alberta is gorgeous, but nowhere more so that Banff National Park. When you can get around by sleigh, snowshoe or dogsled by day and still see the frosty mountains and turquoise lake of glacial silt before sunset, thst's just good living.
Unlike some of the other stops on our list, though, Banff is only a bargain in the relative sense around this time of year. Banff's lodges and luxury properties are playgrounds for the well-heeled and fetch exorbitant prices in spring and summer. Rates drop by almost half during winter, but that's like chipping half the ice mass off a glacier. Some of the most reasonable offerings are the Fairmont resort, with the much-lauded Fairmont Banff Spring going for roughly $317 U.S. per night. By July, that jumps to $539. It's a similar situation at Fairmont Chateau Lake Louise, where January rates start at $265 a night. By June, those rates hit $495 nightly.

Denver
Huh. Right in the middle of ski country, we're supposed to believe that there are deals to be had in winter?
Yep. It's close to Winter Park Resort and Loveland Ski Area, but Denver isn't exactly adjacent to Vail, Breckenridge and Snowmass. Feel free to bust out the cross-country skis and snowshoes in Rocky Mountain National Park if you'd like, but it's an hour away and you still have to drag your sore, sorry self back to the city.
You might just be better off catching a show or an Avalanche/Nuggets game, finding a warm plate of mole and settling in with a pint of stout for the evening. If you can go high end, the Four Seasons Denver's weekday winter rates start at $525 per night in January. That's not cheap, but it's better than the $100 more you'll pay in June. Meanwhile, Denver's Magnolia Hotel offers weekday January rates from $215 per night. In June, those rates rise to $242.
— By Jason Notte for MainStreet
>To contact the writer of this article, click here: Jason Notte.
>To follow the writer on Twitter, go to http://twitter.com/notteham.
>To submit a news tip, send an email to: tips@thestreet.com.
RELATED STORIES:
>>Why The Best Holiday Travel Comes Before The Holidays
>>5 Strategies For Holiday Travel Procrastinators