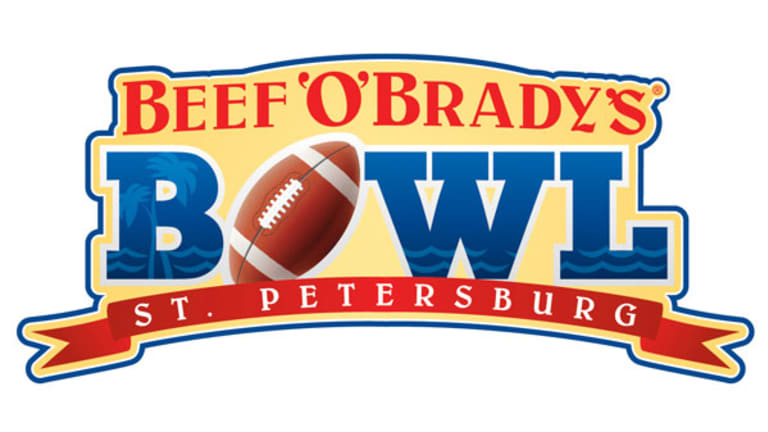 5 Odd College Bowl Game Sponsors
Holding companies and supplemental fruit chews have managed to slap their names on some of college football's lower-tier postseason matchups.
PORTLAND, Ore. (TheStreet) -- With college football preparing to ditch its Bowl Championship Series before the 2014 season, the divide between the bowl haves and have-nots is about to get a lot wider.
As its stands, the January BCS bowls and their big-money sponsors such as PepsiCo's (PEP) - Get PepsiCo, Inc. Report Tostitos (Fiesta Bowl), Allstate  (ALL) - Get Allstate Corporation Report (Sugar Bowl), Vizio (Rose Bowl) and Discover (DFS) - Get Discover Financial Services Report (Orange Bowl) already pay out $17 million to $18 million apiece. Toward the bottom of the pile are the low-budget, mid-December bowls with lesser-know sponsors such as Gildan (GIL) - Get Gildan Activewear Inc. Report athleticwear for the Dec. 21 New Mexico Bowl ($456,000), the Idaho Potato Commission for the Famous Idaho Potato Bowl ($325,000) the same day and the San Diego County Credit Union for the Dec. 26 Poinsettia Bowl ($500,000).
It's a simple matter of supply and demand. When bowls such as the Cotton Bowl and former Citrus Bowl have decades of history and roughly $4 million to pay out to high-ranked teams, it's a whole lot easier to draw high-rolling sponsors including AT&T (T) - Get AT&T Inc. Report and Capital One (COF) - Get Capital One Financial Corporation Report. When you're the New Orleans Bowl with only $500,000 to give teams and a legacy that started in 2001, it's Ohio shipping company R+L Carriers or just about no one
In the middle, however, is a stewpot of companies trying to keep their names and products in fans' minds and little guys looking for their big break. Every so often, this yields a head-scratching bowl name that leaves fans wondering how it happened. Here are just five that continue to perplex us:
Gator Bowl
Jan. 1
Sponsor: Taxslayer.com
Location: Jacksonville, Fla.
Matchup: Nebraska vs. Georgia
Payout: $3.5 million
Wow, a dot-com sponsor. Will the halftime bands enter the field in giant SUVs and play Nelly songs, too?
We understand that "Taxslayer" and its nu-metal neck-tattoo name have to do something to differentiate themselves from the rest of the market, but this is the bowl-game equivalent of the Ask Jeeves balloon in the Macy's Thanksgiving Day parade. Has this sponsorship done anything to make folks stop thinking of Intuit's (INTU) - Get Intuit Inc. Report TurboTax when they consider filing online? Do NASCAR sponsorships and Dale Earnhardt Jr. driving his sticker-laden car out to the 50-yard-line for the coin toss reassure taxpayers that they can trust you with their finances?
There are two dot-com sponsors among the bowls this year, and GoDaddy has done just about everything it can to tie its domain service to football and fleshy ads in game broadcasts. Taxslayer still isn't a household name years into this sponsorship and may have succeeded only in keeping a bowl game alive.
Beef O'Brady's Bowl
Dec. 21
Sponsor: Beef O'Brady's
Location: St. Petersburg, Fla.
Matchup: East Carolina vs. Ohio
Payout: $537,500 million
Despite the relative anonymity of Beef O'Brady's in the rest of the country, this bowl has been a huge boost for the company sponsoring it.
The Tampa, Fla.-based restaurant chain with the Irish pub theme is just carrying on a bowl tradition. Chick-fil-A, Little Caesar's, Buffalo Wild Wings (BWLD)  and Bloomin Brands' (BLMN) - Get Bloomin' Brands, Inc. Report Outback Steakhouse all host their own bowls, but pay a whole lot more than the $400,000 Beef O'Brady's shelled out for a four-year deal that includes eight commercials during each national broadcast.
Does it pay off? Consider that roughly 45 of Beef O'Brady's more than 200 locations are in the Tampa/St. Pete area. About 60% of its locations are in Florida. Even if it doesn't get fans to come in for the bowl, it definitely draws interest at home and elsewhere.
"Our website normally gets 21,000 hit a week. We got 21,000 the day of the Beef Bowl -- so we get a whole week's worth of hits in a night," Beef O'Brady's chief executive, Chris Elliott, said last year.
BBVA Compass Bowl
Jan. 4
Sponsor: BBVA Compass
Location: Birmingham, Ala.
Matchup: Vanderbilt vs. Houston
Payout: $1.9 million
The former Birmingham Bowl and PapaJohns.com bowl -- that's right, it was an ad for Papa John's pizza delivery site at one point -- is just a bit of a mess.
Its current sponsor is a Birmingham-based holding company owned by Banco Bilbao Vizcaya Argentaria of Spain. It's decided that this is going to be the last year of slapping its name on this event, which may be to the benefit of everyone involved but still leaves this bowl adrift.
Its newest sponsor will be the fourth since the bowl debuted in 2006. That isn't a tremendous vote of confidence, but ESPN (DIS) - Get Walt Disney Company Report needs to fill hours and promoted this bowl from ESPN2 to original-recipe ESPN way back in 2007. It'll survive, but it could use a name that doesn't involve a URL or an acronym.
AdvoCare V100 Bowl
Dec. 31
Sponsor: AdvoCare
Location: Shreveport, La.
Matchup: Arizona vs. Boston College
Payout: $1.15 million
It's a great matchup with a nice time slot, but the former Independence Bowl is now saddled with a product-specific name that's going to elicit a shoulder shrug from all but a niche audience.
Fortunately for AdvoCare, the company picked that niche perfectly. AdvoCare produces nutritional and performance supplements and isn't exactly unknown in the sports world. The product they're pushing in this bowl -- the V100 vitamin and mineral supplement -- is geared toward a far broader audience, but a sporting event isn't such a bad place to plug it.
This bowl may regain its independence in name and spirit in 2014, though, as AdvoCare has announced this will be the last season of its sponsorship. While just about any sponsor money helps, turning a bowl with nearly 40 years of history into an ad for a $35 bag of supplemental fruit chews isn't a sustainable answer.
Holiday Bowl
Dec. 30
Sponsor: National University
Location: San Diego
Matchup: Texas Tech vs. Arizona State
Payout: $2.1 million
It seems just a bit odd that a bowl ostensibly featuring competing universities would be sponsored by another university, but at least the Holiday Bowl's organizers are learning how to make that work.
Last year, this bowl was sponsored by publicly traded Bridgepoint Education (BPI) - Get Zovio, Inc. Report and its for-profit Ashford University and University of the Rockies. That institution was audited by the Department of Education in 2008 and drew heavy scrutiny for how it was paying recruiters and the amount of federal funding it was taking. U.S. Sen. Tom Harkin, D-Iowa, used the term "absolute scam" to describe Bridgepoint's operation. For its part, Bridgepoint notes that Ashford University was accredited by the Western Association of Schools and Colleges earlier this year.
The Holiday Bowl opted to bypass that debate this year by signing the private, nonprofit National University as a sponsor. The La Jolla, Calif.-based school has been in operation since 1971, has campuses throughout California and at least six other states and helps adults and members of the military pursue or finish up their undergraduate degrees and take postgraduate courses. With multiple accreditations and a whole lot of accolades from state education departments and branches of the military, National University has made itself a viable alternative for those who couldn't or wouldn't attend the universities on the field.
Their sponsorship places the focus squarely on the "scholar" portion of the scholar-athlete equation. For the Holiday Bowl, that's about as positive as a sponsorship gets.
-- Written by Jason Notte in Portland, Ore.
>To contact the writer of this article, click here: Jason Notte.
>To follow the writer on Twitter, go to http://twitter.com/notteham.
>To submit a news tip, send an email to: tips@thestreet.com.
RELATED STORIES:
>>What Is Blue Moon Doing In The Holiday Beer Section?
>>What Is The New Deadline For Christmas Delivery?
>>5 Things To Buy Between Now and Christmas
Jason Notte is a reporter for TheStreet. His writing has appeared in The New York Times, The Huffington Post, Esquire.com, Time Out New York, the Boston Herald, the Boston Phoenix, the Metro newspaper and the Colorado Springs Independent. He previously served as the political and global affairs editor for Metro U.S., layout editor for Boston Now, assistant news editor for the Herald News of West Paterson, N.J., editor of Go Out! Magazine in Hoboken, N.J., and copy editor and lifestyle editor at the Jersey Journal in Jersey City, N.J.