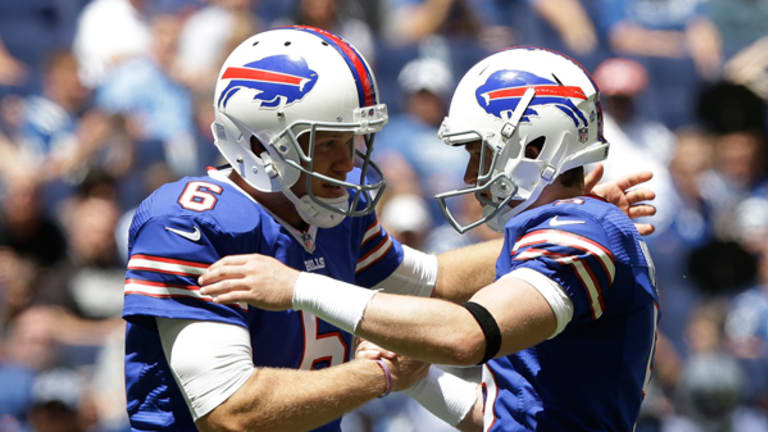 5 NFL Teams Most Likely To Be Blacked Out In 2013
Political bluster and NFL posturing won't stop the league from keeping home teams off TV in some markets.
PORTLAND, Ore. (TheStreet) -- Politicians will bluster and the National Football League will posture, but it's just about guaranteed the league will keep the home team off television screens in some markets this year.
The NFL blacked out 15 games last year. That's down from 16 in 2011 and 26 in 2010, but is still impressive after the NFL tweaked its blackout policy last summer to allow teams to declare a sellout and keep games on the air once ticket sales hit 85% of their home stadium's capacity. Under the old rule, which dates back to an act of Congress in 1961, home games couldn't be shown on TV stations that broadcast within a 75-mile radius of the stadium if non-premium tickets weren't completely sold out 72 hours before kickoff.
That switch wasn't mandatory, however, and it was up to the teams' owners to decide if they want to adopt that 85% threshold and pay a greater percentage of ticket revenue to opposing teams as a result. The Tampa Bay Buccaneers jumped at the chance in July and lowered ticket prices after blacking out 13 of their past 15 home games. The Oakland Raiders, Miami Dolphins and Minnesota Vikings also joined in, but that didn't prevent two of those four teams from blacking out games in 2012.
Those who vow that things will be different this year point to a bill introduced by former presidential nominee and Arizona Republican Sen. John McCain. McCain's legislation would require the NFL to broadcast all home games locally in markets where teams have used public financing to build stadiums, which is almost everywhere.
"Now, if that stadium is not taxpayer-financed, then that owner can do anything they want to," McCain said. "But if the taxpayers paid for them, then, by God, I think the taxpayers ought to be able to see the game whether they sell out the stadium or not."
Other politicians, including Sen. Sherrod Brown, D-Ohio, have called for the end of NFL blackouts, citing the public money involved and the league's staggering TV revenue. NFL games accounted for 31 out 32 of the most-watched TV broadcasts last fall and more than doubled the prime-time viewership of Fox, ABC, CBS and NBC.
21st Century Fox
(FOXA) - Get Fox Corporation Report
(formerly
News Corp.
),
CBS
(CBS) - Get CBS Corporation Class B Report
and
Comcast's
(CMCSA) - Get Comcast Corporation Class A Common Stock Report
NBC agreed to pay the NFL $28 billion for broadcast rights through 2022.
Walt Disney's
(DIS) - Get The Walt Disney Company Report
ESPN has a separate $1.9 billion annual deal for Monday night football, while
DirecTV
(DTV)
has a $1 billion per season agreement for the
NFL Sunday Ticket
package that is set to become even more lucrative once the current contract expires in 2015.
Also see: 5 NFL Teams That Should Just Move Already>>
Of the $9.5 billion in revenue produced by the NFL last year, nearly $4 billion of it came from its television deals alone. Game attendance jumped from a post-recession low of 17.14 million in 2010 to 17.3 million last year, but was still well short of the record 17.6 million that came out in 2006 and 2007. There were nearly 1 million empty seats at regular season games last year, up 50% from just four years earlier. Meanwhile ticket revenue has stagnated from increases of 7.2% annually from 2004 through 2008 to just 2.1% from 2008 through 2012, according to
Team Marketing Report
.
The official NFL line is that the blackouts are in place to boost attendance and generate hometown revenue. NFL Commissioner Roger Goodell did his best to bolster that claim in November, blaming high-definition broadcasts of games for the league's attendance woes in certain markets.
"One of our biggest challenges in the league is the experience at home," Goodell said. "HD is only going to get better."
The context of that comment, though, was a private meeting with 550 Atlanta Falcons fans discussing whether the team needed to
. The Georgia Dome, mind you, was built only 21 years ago with $214 million in taxpayer money and just got $300 million in renovations in 2007 and 2008.
Not only is owner Arthur Blank asking for a new stadium to replace one he admits is
, but
Village Voice
writer and FieldofSchemes.com editor Neil DeMause says he's looking for another
in public funding for it. Nearly two-thirds of fans surveyed think it's a
.
Extortion usually is a bad idea, but it works. New stadiums are coming to Minnesota and Silicon Valley, while small markets in Buffalo and Jacksonville are shelling out for renovations as their owners schedule "home" games in Toronto and London, respectively -- with no guarantees that those teams won't relocate there or elsewhere a decade from now. Television blackouts don't make all of this possible, but they certainly help the owners' cause at the taxpayers' expense.
Also see: 5 Ways the NFL Is Just Going to Mess With Fans' Emotions in 2013>>
We've been covering NFL blackouts and stadium politics for the better part of four years and didn't have to scan the standings for too long to determine which teams were most likely to have home games blacked out this year. We'd apologize for making fans in these cities even more irate, but we're not telling them anything they don't know:
Buffalo Bills
Number of blackouts in 2012:
Two
The new coach was last seen on the Syracuse Orangemen's sideline during the Pinstripe Bowl. Recently acquired quarterback Kevin Kolb -- brought in to help close the woeful Ryan Fitzpatrick era -- nearly handed the starting job to rookie E.J. Manuel after tweaking his knee by slipping on a mat. Manuel thanked him by having his knee swell up so badly that he had to sit out the rest of the preseason. Bills offensive coordinator Nathan Hackett, meanwhile, says the team will keep handing running back C.J. Spiller the ball "until he throws up."
In Buffalo, these all rate as minor concerns compared with questions about the Bills' future.
The team just concluded the latest in a string of non-playoff seasons dating back to 1999 -- during which it had only one winning season, a 9-7 campaign in 2004 -- and finished at the bottom of the AFC East. One of its "home" games has been played in Toronto for each of the past four years and last year's game couldn't draw more than 40,000 people, even with Psy singing
Gangnam Style
at halftime.
The Bills declined the NFL's offer to lift blackouts at 85% capacity, largely because doing so would require it to pay $90,000 per home game into the league's anti-blackout revenue pool. They needed a local restaurant owner to buy up remaining tickets to prevent a third blackout. Yet, despite all of this, folks in Erie County and New York State are going to shell out $226 million in tax dollars combined to renovate the Bills' Ralph Wilson Stadium. The Bills will kick in a scant $44 million.
This is a team that regularly asks Buffalo to fill its 73,000-seat-stadium with nearly a third of its population -- a tough task in late winter by Lake Erie -- just to keep games on television; the Chicago Bears require just 62,000 of that city's 2.7 million residents to do the same. It's a team that wouldn't commit to a future in the city beyond 94-year-old owner Ralph Wilson's lifespan. It's a team that celebrated its new stadium deal by blacking out the Bills' last home game of the season.
It's a team that's giving Buffalo only eight more years for its investment.
That's $28.3 million a year for a team paying only $800,000 a year in rent on its stadium. Oh, and the new deal
still
allows the team to play one home game a year in Toronto, which means the issue of a possible move there still isn't settled. We held off on calling the Bills a team that should just move already because its fans and the surrounding community are putting so much into keeping them around. Still, the Bills' relationship with Buffalo remains as shaky as Kolb's knee and Spiller's stomach.
Tampa Bay Buccaneers
Number of blackouts in 2012:
Six
Second-year coach Greg Schiano's decision to have his defense dive at the New York Giants' offensive line during a late-game kneeldown was the team's biggest
SportsCenter
highlight of the year in 2012. It was also one of the few 2012 highlights Bucs fans got to watch live.
Six out of eight home game were blacked out in the 2012 season. That's 25 out of the past 29 overall.
The only games the team sold out last year were a home loss to the New Orleans Saints, their division rivals, and a random matchup with the Philadelphia Eagles -- one of the few teams in the league worse than the Buccaneers this year. The fan base just suffered through its second straight losing season after the Buccaneers went 10-6 in 2010, but the problems run much deeper than the on-field product.
Attendance for a majority of the team's blacked-out home games in the two seasons before this fell below the new 85% mark, but all the better for deflecting blame to the NFL itself. Besides, that keeps the heat off the Glazer family of owners that not only moved a Bucs home game to London in 2009 and 2011, but has been more mentally invested in England than in Tampa thanks to its ownership of Manchester United.
That could be a big reason why management hasn't bought up tickets for a third of the price and given them to charity -- a loophole exploited by several other NFL squads. It may just be blissfully unaware that its $69.72 average ticket price, which
Team Marketing Report
's
Fan Cost Index
says is nearly $10 below the league average, is still the costliest NFL ticket in Florida. By comparison, Seattle Seahawks fans in a far more economically stable city paid $2 less to see their team play each Sunday this year. That team made the playoffs last year.
There's a culture of apathy surrounding this team, and it keeps fans out of Raymond James Stadium and games off of television screens all over Tampa.
San Diego Chargers
Number of blackouts in 2012:
Four
Ownership wants a new stadium, taxpayers don't want to pay for it. Ordinarily, this quarrel is restricted to the front office, news pages and the halls of government, but last year the Chargers responded to taxpayer complaints with something they haven't seen since 2003 -- a losing season.
The Chargers franchise that sold out 48 straight games through 2010 and made the playoffs in five out of six years between 2004 and 2009 now blacks out home games annually. The Spanos family of owners, meanwhile, have noted that the Chargers have played Qualcomm Stadium under each of its various names since 1967. The stadium got its last facelift in 1997 just in time to host the Super Bowl in 1998 and hosted yet another Super Bowl in 2003, but the NFL has stated bluntly that San Diego will need a new stadium if it wants to host another Super Bowl any time soon.
Those pulling for the Chargers to stay have suggested
redeveloping the Qualcomm Stadium site
at no cost to taxpayers, but the Spanos clan is fielding better offers. Chula Vista and Escondido have made pitches, but the Chargers have been linked to at least two Los Angeles stadium proposals and spent a season there in 1960 before moving to San Diego a year later.
In the meantime, the Spanos family has treated its home town less than warmly, shunning the reduced-capacity blackout policy. The Spanos' trump card is that its current stadium deal gives them the option to leave on a yearly basis, which forced the NFL to issue an announcement this year that the Chargers would, in fact,
.
San Diego taxpayers, refusing to be batted around by NFL owners, responded by electing former U.S. Rep. Bob Filner as the city's mayor after he vowed not to publicly subsidize a new Chargers stadium. He's referred to ownership's demands as "extortion" and vowed to be "the toughest negotiator the Chargers have ever faced."
The team hasn't done a whole lot to combat Filner's "extortion" claims. Just before their last blacked-out game, it tried to sell tickets on
Groupon
(GRPN) - Get Groupon Inc. Report
for a whopping $8 less than their $72 face value. Now that this cycle of mutual hostility has a losing team at the center of it, expect Chargers-related discussion to get a whole lot uglier this season if the on-field misery continues.
Oakland Raiders
Number of blackouts in 2012:
One
By Raiders standards, having only one home game blackout blackout in a season borders on miraculous.
The Raiders' O.co Coliseum is absolutely awful, as fans and the team can attest. There are only three stadiums in the NFL older than the 1966-vintage Coliseum. San Francisco's Candlestick Park, built in 1960, is being vacated by the 49ers after this season. Chicago's Soldier Field bears almost no resemblance to the stadium built in 1924 after getting a facelift in 2003. The Green Bay Packers' Lambeau Field, meanwhile, is the cathedral of the game that's been renovated several times since opening in 1957 and was paid for by selling shares of the team.
The Coliseum's age wouldn't be so bad if it wasn't an outright disaster. Its full capacity is 64,000, but has trouble reaching even a reduced capacity of 53,000. Raiders fans have dealt with dozens of home-game blackouts since the team returned, while the Raiders themselves have to deal with a building in which
occasionally backs up into the locker rooms.
Blackouts have been a fairly standard affair since the team returned from Los Angeles in the mid-1990s, and even kindly owner Mark Davis has a tough time putting a positive spin on the state of things. He's invested in Oakland and even accepted the 85% attendance threshold for lockouts, but his team hasn't had a winning season since 2002, when they lost to Tampa Bay in Super Bowl XXXVII.
The team has instead proposed building a new
56,500-seat, $800 million stadium
in Oakland. It's cheaper than the $1.3 billion stadium the 49ers are building, but the Raiders want $300 million in public funding to get it going.
With baseball's A's considering a move to San Jose and basketball's Golden State Warriors already planning a move to San Francisco, Oakland doesn't want to see the Raiders bolt for Los Angeles or some other willing host city. But it also hasn't secured funding for its proposed sports complex at a time lenders are loath to shell out for such projects.
Fans will endure a little more misery if it's clear there's a payoff waiting. With former quarterback Carson Palmer taking snaps in Arizona, career backups Matt Flynn and Terrelle Pryor fighting for the job and Darren McFadden still trying to prove he's not one of the most fragile running backs in the game, fans might be better off rooting for a new stadium.
Cincinnati Bengals
Number of blackouts in 2012:
Two
Even with two playoff appearances in the past two years, quarterback Andy Dalton hasn't quite convinced fans that his team is just as worthy of their investment as the Carson Palmer/Chad Johnson teams of the recent past.
The Bengals have blacked out a dozen games over the past three years. Though the product on the field hasn't exactly motivated a buying spree, issues with Bengals management and owner Mike Brown have played a role in keeping seats empty.
The team threatened to move in 1995 if it didn't get a new stadium, which ended up costing Hamilton County, Ohio, $540 million. That debt climbed as the recession deepened, expanding to a $30 million budget deficit last year alone. Add annual stadium costs to taxpayers that rose from $29.9 million in 2008 to $34.6 million in 2010 and sales tax revenue that's declined steadily since 2000 and you get crushing debt that eliminates funding for programs such as a juvenile court and rolls back the property tax cut promised as part of the stadium deal.
Ownership continues to discuss renovations and more potential tax-sucking projects, and winning doesn't always solve that. Just ask Atlanta Falcons fans who watched their team walk through the regular season to a spot in the NFC Championship game, only to have ownership hit them up for a few hundred million dollars and a new building.
-- Written by Jason Notte in Portland, Ore.
>To contact the writer of this article, click here:
Jason Notte
.
>To follow the writer on Twitter, go to
.
>To submit a news tip, send an email to:
.
RELATED STORIES:
>>5 Major League Soccer Teams That Outdraw Baseball
>>5 Great Stadiums Making Up For Bad Baseball Teams
>>5 Ways The All-Star Game Is Baseball's Super Bowl
Jason Notte is a reporter for TheStreet. His writing has appeared in The New York Times, The Huffington Post, Esquire.com, Time Out New York, the Boston Herald, the Boston Phoenix, the Metro newspaper and the Colorado Springs Independent. He previously served as the political and global affairs editor for Metro U.S., layout editor for Boston Now, assistant news editor for the Herald News of West Paterson, N.J., editor of Go Out! Magazine in Hoboken, N.J., and copy editor and lifestyle editor at the Jersey Journal in Jersey City, N.J.