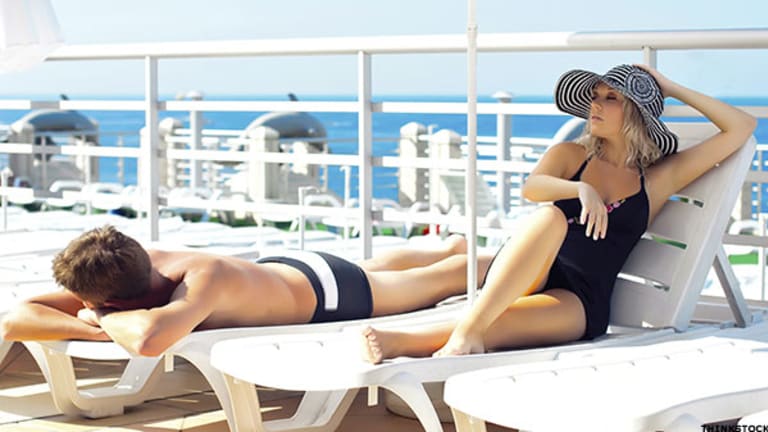 5 New Year's Resolutions to Jump-Start Your Career in 2015
With tomorrow being the new year, there's no time like the present to decide to jump-start your career.
NEW YORK (MainStreet) — Are you resolved to make 2015 the year you get a promotion, take on exciting projects and earn the respect of your boss and colleagues? Here's a look at five of the most effective professional New Year's resolutions guaranteed to jump-start your career.
1. Don't wait for opportunities to come to you
"People sit and belabor the decision as to whether or not they should make a New Year's resolution and what they should do, but I don't believe in giving your power up to this idea. If you're going to make a change in your life, you've just got to reach out and do it," says Pete Davis, founder and CEO of Southfield, Mich.-based commercial staffing firm Impact Management Services.
If you're looking to improve your career, don't wait for the opportunity to land in your lap — just take the initiative and do it.
"Volunteer for a new task. It may be something as simple as speaking up in a team meeting and offering an alternative point of view, or offering to pitch in on a project," he says. "There is no such thing as a dumb question. Simply asking a question can give you a whole other layer of empowerment that you need to move on to great things. It's all about stretching yourself outside of your comfort zone."
2. Lean into the pushback
Growth only happens outside your comfort zone, Davis says.
"Whenever you are feeling that slight internal pushback of 'This might be tough,' or 'I'm not sure I can do this,' that's when you know you can really grow. If you can push through and succeed, the sky's the limit."
"Slow down for a minute and get above the noise. People are so busy in the day-to-day whirlwind of daily activities, they don't take the time to figure out what's going on emotionally — what are you great at, and what are you afraid of?" Davis says.
Don't forget that it's your actions that create results, says Joe Weinlick, vice president of marketing at career network Beyond.com. 
"Set a realistic goal, and then every day remind yourself of your goal and do something that takes you a step closer to achieving it," he says. "If you want to make more money, don't go barging in to ask for a raise on Jan. 5. Instead, look for opportunities to take on more responsibility, and build your case for a promotion throughout the year."
3. Make goal-setting its own priority
A lot of people struggle with setting clear, accomplishable goals, Davis says. If you're having that problem, ask yourself, 'What does the end result need to look like?' That way you'll know it when you cross the finish line.
Most all career-related New Year's resolutions include setting and re-evaluating goals such as getting a job or landing a raise or promotion, says Bill Driscoll, district president of Accountemps, an accounting staffing firm. Goals that are broken down into smaller "action items" have a greater chance of success, while those that aren't clearly defined may get "lost in the shuffle among the other work priorities," Driscoll says.
If your goal is to change positions in 2015, don't just write 'Get a new job' on your to-do list. Instead, schedule time each week to revise your resume, research job opportunities and set up meetings with business contacts, Driscoll recommends. If you're shooting for a promotion or a raise in your current job, set up a meeting with your manager to discuss your career objectives and the ways in which you can bring more value to your firm in an advanced position.
"Research salary trends to determine average pay rates for someone in your position," Driscoll says. "Then present a business case to your supervisor for why you deserve a boost in pay."
4. Unplug, just not from your network
"Today, work and life blend together. We shop on Amazon while in the office and check email from home. As a result, we are often 'on' all the time," Weinlick says. "Resolve to spend time every year with no digital electronics. Read a book. Or better yet, talk to your family. Your brain will get a much-needed change of pace and you'll be more productive throughout your day."
By the same token, networking is one of the most important things a hungry job-seeker can do. In your efforts to focus a bit more on yourself, don't forget to communicate with those who may be able to help big things happen for your career.
"Make a New Year's resolution to reconnect or interact with at least one person every week," Weinlick says. "The time to build your network is before you need something, so build connections by exchanging emails, commenting through social media, meeting people for coffee or attending networking events. Commit to making one connection a week, and soon you'll have a robust network of people that you can turn to when you need advice, support, or recommendations."
5. Re-prioritize everything — including exercise.
"Forget the perennial failed resolution to go to the gym. Habit requires daily commitment," Weinlick says. "Resolve to exercise every day, if only for 20 minutes. Run, lift, do pushups or run around the backyard with the dog. But do something that gets your heart racing every day. Do this for a month, and you'll have a habit."
Making a New Year's resolution requires us to reflect on what is most important, and set an intention that will have lasting impact, he says.
"Rather than entering the new year with a long and overwhelming to-do list, enter the year focused on two or three things that will have the biggest impact. Resolve to change yourself, change your company or change the world — not to check off a list of 50 tasks no one will remember."
If exercise isn't at the top of your list, that's OK. Formally assess what your definition of success is, both today and in the future, and establish a career goal for 2015, says Cyndi Sax, senior vice president of consulting cervices at employment and hiring consultancy Caliper.
"Look for ways that you can spend more of your time doing the things that you are most passionate about in your life and your job, and go do them," Sax says.
— By Kathryn Tuggle for MainStreet