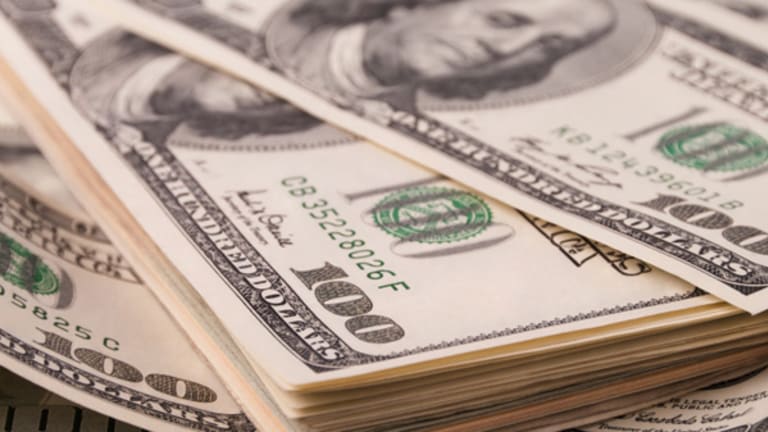 5 Movie Golf Courses Actually Worth Playing
<I>Caddyshack</I>, <I>Happy Gilmore</I> and <I>Tin Cup</I> featured links not to be passed up.
NEW YORK (TheStreet) -- Golf movies have no problem getting generations of fraternity brothers, businesspeople and barflies to quote them, but these revered staples of pop culture don't always result in more rounds being played.
The golf movie has left a mark on the American lexicon completely disproportionate to the number of films produced. Including documentaries and made-for-TV movies, fewer than 60 golf films have been made since the 1920s, yet the galleries of every PGA event are stocked with would-be Carl Spacklers shouting "It's in the hole" from
Caddyshack
after each drive and putt.
At miniature-golf courses across the country this summer, vacationers with close games will be channeling
Happy Gilmore
and asking their ball just inches from the cup "Why you don't you just go
home
? That's your
home
! Are you too good for your
home
?"
Fewer will be recreating those scenes on actual golf courses than they have in recent years. Rounds of golf played in the U.S. last year dropped 2.3% from 2009, according to the National Golf Foundation. A combination of rising unemployment and lower discretionary spending hits private clubs hardest and led to a 3.2% drop in business.
It's far worse in some of golf's biggest markets. The economy in the Pacific and South Atlantic regions has trimmed golf rounds by 4.3%. Big retirement and recreation destinations hurt by the recession are too busy staving off foreclosure to go golfing. Tampa's golf rounds dropped 8.4% last year, Las Vegas is playing 8.2% fewer holes, Sarasota slumped 8.1% and West Palm Beach golf has waned 7.3%. Seemingly recession-proof cities aren't immune, with San Francisco golf rounds receding by 9.4% last year and Oklahoma City suffering the biggest drop in the country, at 10.9%.
Perhaps wayward duffers just need some inspiration.
TheStreet
took a look at five of the most popular golf movies of all time and the courses they were filmed on and found a handful of fairways worth playing.
Tin Cup,
1996
Courses:
Tubac Golf Resort
in Tubac, Ariz., and
in Kingswood, Texas
There are Americans who've never watched a round of a major PGA golf in their lives, but have seen
Kevin Costner's Roy McAvoy hit a 12 while stubbornly trying to clear a water hazard
on the last hole of the fictional U.S. Open dozens of times during lazy weekends watching TBS or TNT.
Never considered among the great Costner sports movies like
Bull Durham
or
Field of Dreams,
Tin Cup
is still far more watchable than
For the Love of the Game
and fits in nicely with a beloved second tier of sports comedies like
The Replacements
,
Dodgeball
and
The Longest Yard
. Surrounded by a strong supporting cast including Cheech Marin's wisecracking caddy, Rene Russo's psychiatrist love interest and Don Johnson's almost note-perfect sports movie villain David Toms, Costner's Roy "Tin Cup" McAvoy is a case study in stubbornness and self-sabotage that derives greatness from a little bit of each.
Golfers feeling similarly set in their ways can head to Tubac and play the greens that McAvoy played using a golf bag full of garden equipment after hocking his clubs. The desert course was devoid of water hazards before the movie was filmed there and a fountain-laden body of water with a plaque on its shore marking it as "Tin Cup Lake" is still the only water its players need to be wary of on Tubac's Rancho Nine course.
Feel like breaking every club in your bag except the 7-iron and trying to qualify for a tournament the way Costner's character did? Try it at the No. 3 tee box, where the scene was filmed, or spare your clubs and try to trick a friend into going on to the green on No. 5 in two shots like McAvoy did in the film just before he was fired by Toms.
If you want to recreate that epic 12 at the movie's climax, however, you're going to have to carry your bag all the way to Kingwood, Texas, and the fourth hole on Kingwood's Deerwood course. A plaque still sits at the par-four hole on the spot where McAvoy continually drove shots that either rolled off the green and into the water hazard in front of it or dropped directly into the drink. It's 224 yards from that spot to the pin and modern pros can get there with a five-iron, but as long as you've got a decent long game and a good wood in your bag, it's pretty tough to make it in more than 12.
Tubac's tee times are open to the public, but you're going to have to buy a membership or enter a tournament to get a shot at Deerwood's No. 4.
Happy Gilmore,
1996
Courses:
The Swan-e-set Bay Resort and Country Club
in Pitt Meadow, B.C., and
Furry Creek Golf and Country Club
in Furry Creek, B.C.
It's a shame that these two Pacific Northwest courses are best known for Adam Sandler taking to their fairways in a Boston Bruins jersey and getting a running start on hockey player-turned-golf pro Happy Gilmore's monster drives. Their waterfront locations and mountain views are gorgeous on their own.
Swan-e-set Bay Resort and Country Club doesn't have alligators with a taste for Carl Weathers' hand living in its water hazards or crazed fans chasing down golfers on its fairways in beat-up Volkswagen Bugs, but it does have evergreens in what is otherwise a meadow, views of the foothills and a lovely location along the Pitt River. Its Resort Course is open to the public for a $125 green fee and was designed by World Golf Hall of Famer and two-time U.S. Open and PGA Tournament winner Lee Trevino, whose cameos in
Happy Gilmore
consist largely of him shaking his head at Sandler's character.
If that sounds fun, but not as fun as duking it out with an elderly game-show host and animal advocate, then head over to Furry Creek. Located just north of Vancouver on Howe Sound along the Sea to Sky Highway to Whistler, the Furry Creek Golf and Country Club was the site of
Happy Gilmore's pro-am brawl with former Price Is Right host Bob Barker
.
The folks at Furry Creek prefer to emphasize the course's views of the Coast Mountains, its signature 14th hole that juts out on to the water with mountain peaks in the background, the Sea to Sky Grill overlooking the sound, and readily available tee times. However, Bob Barker's beatdown of Adam Sandler casts a shadow nearly as great as the surrounding mountains, and we're guessing each birdie on this course offers players an opportunity to tell their golf buddies
The Greatest Game Ever Played,
(2005)
Course:
in Brookline, Mass., or the
in Kahnawake, Quebec
World Golf Hall of Famer Francis Ouimet's story didn't need much of a script by the time
Disney
(DIS) - Get Walt Disney Company Report
decided to turn it into a movie.
The son of French-Canadian and Irish immigrants, Ouimet grew up poor in Brookline, Mass., during a time when golf was exclusively for the rich. He worked his way up from caddying at The Country Club in Brookline to a Massachusetts Amateur title in 1913. He stunned the golf world that same year by beating British pros Harry Vardon and Ted Ray in a playoff to win the U.S. Open at The Country Club and to become the first amateur to win the U.S. Open.
Disney put some polish on the tale as only it could by casting a pre-
Transformers
Shia LeBeouf as Ouimet and having him recreate "The Greatest Game Ever Played" at a private club just outside of Montreal. The Kanawaki Golf Club has fine courses of its own, but it makes no sense whatsoever to emulate a movie based on actual events by playing on a course that's only a stand-in for those events.
There's no real substitute for The Country Club in Brookline, which was the case when it was founded in 1882. It's not named The Country Club out of hubris, but because it was the only one of its kind when the golf course was added in 1893. The club has since hosted the U.S. Open three times, the Ryder Cup in 1999 and numerous U.S. Amateur championships.
Getting a taste of Ouimet's amateur dreams isn't so easy, however. Unless you're an invited guest or are playing in a tournament, The Country Club is notoriously stringent about whom it allows to stroll the fairways. Massachusetts Gov. Deval Patrick and his wife, Diane, for example, were denied membership.
The Legend of Bagger Vance,
(2000)
Courses:
on the Colleton River Plantation Club in Bluffton, S.C., and the
at the Kiawah Island Golf Resort in Kiawah Island, S.C.
The movie had some of the best courses ever filmed, but received easily the worst marks from critics of any of the films on this list.
Not even Robert Redford's spot in the director's seat and a Will Smith/Matt Damon box-office dream team could save this mystical, yet flawed, post-Depression golf yarn from recouping less than half its budget. Perhaps it was too much to ask for Redford to condense a revered Hindu text like the Bhagavad Gita into a golf drama, but not even Jack Lemmon's last role could save this film from bombing at the box office and being beaten down by every critic shy of Roger Ebert.
That said,
Bagger Vance
still has more than its share of fans who could be pleasantly surprised by its courses. Pete Dye designed the Colleton River Plantation Club course used in the film and is also responsible for PGA Tour stops including the TPC at Sawgrass, Whistling Straits in Wisconsin and Crooked Stick in Indiana. Colleton River likes to tout Dye's quote that the 6,900-yard course with its forest-encircled river holes is the "best course I've ever built," but they're not exactly a neutral party. In fact, they're still trying to sell plots of land around the course starting at $10,000. That doesn't count annual dues exceeding $18,000 and a $15,000 initiation fee before a player even sets a tee.
If that's too big of a commitment for golfers looking for some movie magic or even just looking to play a Pete Dye-designed course, the Ocean Course at the Kiawah Island Golf Resort is just a bit more open. The course has hosted the 1991 Ryder Cup and the 2007 Senior PGA Championship and, next year, is set to bring a major PGA tournament to South Carolina for the first time when it hosts the PGA Championship. It's open to the public with rates starting at $189 per person per night for both golf and accommodations, though a surcharge applies for the Ocean Course. Early birds can even help the course do a dry run of the 2012 PGA Championship from Aug. 1 through 7 by playing through 7,600 yards of Ocean Course under championship conditions. It's $205 per person per night for the privilege, but it's either that or sit through
Bagger Vance
again.
Caddyshack,
(1980)
Course:
in Fort Lauderdale-Davie, Fla.
"Cinderella story. Outta nowhere. A former greenskeeper now about to become the Masters champion. It looks like a mirac- ... It's in the hole! It's in the hole! It's in the hole!"
You can quote the movie until you're basically reciting the script, you can visit the
Caddyshack restaurant
Bill Murray and his brothers opened at the World Golf Village in St. Augustine, Fla., but you can't "be the ball" unless you've actually played a round at Bushwood. Just don't call it that around Grande Oaks Country Club members too often.
The club, which has already changed its name from Rolling Hills Golf Club since the film was released, has come to embrace its
Caddyshack
past. Its previous unease may have something to do with lingering resentment from the use of explosives in the film's gopher-flushing grand finale. It could have stemmed from generations of weekend golfers who made a "banananananana" sound every time they attempted a putt or who used phrases like "How about a Fresca?", "How would you like to come over and mow my lawn" or "Don't you people have homes?" as non-sequitrs in everyday conversation. Maybe they just didn't like people cranking up the Journey on the fairways.
Grande Oaks is far more laid-back about
Caddyshack
, touting its 6,680-yard, par-71 Raymond Floyd-designed course and modernized clubhouse, but making the film's gopher its mascot, putting it on gift shop items from buttoned-up golf shirts to gopher-shaped club covers.
Playing the course itself is another story. The club's not into novelty memberships and, thus, you have to be a member or a guest if you want to tear up the course Al Czervik-style. The good news is that Grande View has chopped the price of a golf membership from $15,000 to $7,500 ...
so you've got that going for you, which is nice
.
-- Written by Jason Notte in Boston.
>To contact the writer of this article, click here:
Jason Notte
.
>To follow the writer on Twitter, go to
.
>To submit a news tip, send an email to:
.
RELATED STORIES:
>>Downsides To Living on a Golf Course
>>Green Lantern Takes On Captain America
>>5 Most Overpriced Golf Courses
Follow TheStreet.com on
and become a fan on
Jason Notte is a reporter for TheStreet. His writing has appeared in The New York Times, The Huffington Post, Esquire.com, Time Out New York, the Boston Herald, the Boston Phoenix, the Metro newspaper and the Colorado Springs Independent. He previously served as the political and global affairs editor for Metro U.S., layout editor for Boston Now, assistant news editor for the Herald News of West Paterson, N.J., editor of Go Out! Magazine in Hoboken, N.J., and copy editor and lifestyle editor at the Jersey Journal in Jersey City, N.J.