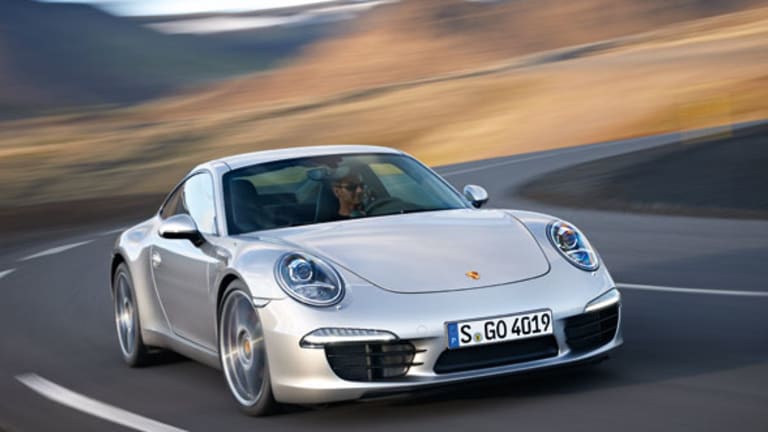 5 Most Infamous Cars Of 2012
Most of us remember cars for their pop culture cameos, which puts Psy and Walter White in the driver's seat.
PORTLAND, Ore. (TheStreet) -- Most of us don't remember cars by how well they sold, how many days they spent on the lot or by what percentage point this year's model outsold or undersold last year's. A car is memorable for reasons far more esoteric than that.
For Generation X, the Pontiac Trans-Am is the phoenix-painted hellwagon Burt Reynolds and Sally Field took bootlegging in
Smokey and the Bandit
, that David Hasslehoff spoke to in
Knight Rider
and that Dwight Schrute commuted in during
The Office
.
Ford
(F) - Get Ford Motor Company Report
doesn't sell Broncos anymore because it's the car Los Angeles police chased Al Cowlings and O.J. Simpson in after the latter put a gun to his head and refused to turn himself in after being charged with the murder of his ex-wife and her boyfriend. There's a connection to these vehicles that doesn't get made in a showroom or during a commercial.
Hundreds to thousands of cars fly by the average person each day. Why should any of them be memorable unless their driver left grille marks on your hip as you were crossing an intersection or flipped you off while crossing five lanes of traffic to reach an exit?
Only because it somehow slipped into the garage of your subconscious. Parked there next to the van from
The A-Team,
Ryan Gosling's 1973
Chevy
(GM) - Get General Motors Company (GM) Report
Malibu from
Drive
and Will Ferrell's much-defended Dodge Stratus from
Saturday Night Live
are a fleet of vehicles pop culture has planted there. Space got a little tighter this year, as the folks at used car pricing site CarGurus pointed out. With their help, we came up with five of the most notorious and well-placed vehicles of 2012:
5. The 2012 Mercedes-Benz SLK from Gangnam Style
Before South Korea's Psy sang during halftime at a sparsely attended
in Toronto, apologized for singing
before performing for President Barack Obama and danced with
on
Ellen
, he
.
That video was stocked with horses, explosions, yoga and Lego-style bowl cuts and made its way from every dorm room to every dentist's waiting room in this land. To a U.S. viewing audience largely unfamiliar with the Korean language, the clip and its horse-riding dance were just insane. Nearly 1.1 billion YouTube views later, Psy looks like the lone sane character in a 1970s sitcom surrounded by a crowd of insane co-stars trying desperately to throw the whole thing off the rails. Remember when MC Hammer was Psy's backup dancer at the
and not a semi-retired rapper who had a Saturday-morning cartoon nearly two decades ago? That's the kind of ride it's been for Psy.
In the middle of all of this, as we're reminded by CarGurus, is the red Mercedes SLK-Class convertible parked in an underground garage as Psy has a dance-off with someone in a canary-yellow suit. It doesn't play a huge role in the clip, but the ketchup-and-mustard aesthetic and amateur-night dance moves drill the vehicle into memory. Unlike
Gangnam Style
and its "Aaaaaaay sex-y lay-day" refrain, though, memories of the Mercedes don't linger for long.
4. The 1966 Ford Mustang from the Call Me Maybe video
Damn you, Carly Rae Jepsen.
Her saccharine-laced pop earworm declared aural warfare on 2012. It was fine when it was sweeping Canada last winter, but Justin Bieber and Selena Gomez just had to bring it over the border and make their own
for it in time for spring. Then
made one. Then the
made one. Then the
. Then
"sang" it. Then the
weighed in. It digressed from there.
Even if Americans missed those, their kids were watching
parody it on
Sesame Street
. They faced it after the kids went to bed as Jepsen, Jimmy Fallon, The Roots and a few classroom instruments did a version of it on
. Eventually it trickled down to Fox's high school karaoke show and iTunes infomercial
and CBS' second-to-lowest-common-denominator catch-all sitcom
(P.S. If it's network-mandated, it's not a flash mob).
If it didn't wriggle into listeners' heads through any of those channels, it likely embedded itself there after one of the nearly 370 million plays of the song's
on YouTube. In the clip's loosely cobbled narrative, Jepsen catches a glimpse of her shirtless neighbor doing a bit of midsummer lawn maintenance. In a bid to draw his attention away from his iPhone, Camaro and other distractions, Jepsen tries washing the powder blue 1966 Mustang in her driveway. Because she graduated from the Taylor Swift School of Pretty, Unpopular Girls In Pop Music, she pratfalls her way through the fairly simple task before the cute rube-next-door takes pity on her and lets her play a song for him before she inflicts any further sponge-related bodily harm.
It's a painful experience involving Jepsen and her guy posing for the cover of a fake romance novel and Jepsen failing to consider his feelings on matters of sexual orientation, but it's not nearly as painful as trying to dislodge this song from memory once it's in there.
3. The 2012 Chrysler 300 from Breaking Bad
Back when meth-making Walter White (Bryan Cranston) was at least trying to fight cancer and teach chemistry to somebody other than the folks cooking up the next batch in his lab, his brutalist, beige
seemed appropriate.
Now that he's a meth kingpin, a killer and
Heisenberg needs a set of wheels befitting his position. A 2012 Chrysler 300 is a bit closer to the mark, though still a bit understated for someone of his stature. Walt took away a bright red Chevy Camaro from his son during an earlier season because it seemed too flashy for a teacher's salary and may be using his Chrysler 300 to get a little luxury without giving himself away through a Mercedes-Benz or BMW logo.
Though getting rid of the Aztek was a big deal, fans likely shouldn't get too attached to his new ride. With a handful episodes left in the season and the law catching up to him, Mr. White may not put enough miles on that Chrysler to nullify a lease.
2. The 1997 Ford Escort from Ted
Mark Wahlberg plays an undergrown slacker,
Family Guy
creator and voiceover man Seth MacFarlane plays his teddy bear come to life using the same voice as the dog Brian from
Family Guy
, Mila Kunis steps in as the love interest and the whole thing is set in Boston.
This movie was an aging bro's wildest dream come true, and the more than $500 million it made at the box office worldwide backed that up. It's the highest-grossing R-rated comedy in history and made all that cash while characters shilled for
.
It's going to end up being one of those movies that guys in dorm rooms, bars and country clubs stand around in circles quoting for decades, and it seems fitting that the most memorable car in the film is itself a punch line. The film's title teddy bear slams the beater Escort into a 2008 Chevy Malibu while driving Wahlberg to work, but the fact that man-child Wahlberg still drives the econobox just piles on the film's beer-soaked Neverland theme. A sequel is forthcoming.
1. The 2012 Porsche 911 Carrera that Lindsay Lohan crashed
We are not here to talk about Lindsay Lohan's life. We're not going to critique her performance in that Lifetime movie about Elizabeth Taylor, we're not going to talk about court appearances or intoxicants. We're not even going to discus
Freaky Friday
,
Mean Girls
or whether she'll ever work with Tina Fey again.
We're here to talk cars, and Lohan picked a hell of a rental to plow into a garbage truck back in June. The base price of a 2012 model was nearly $106,000. As a used car, CarGurus says the 911 Carrera still fetches upward of $80,000.
It's a costly accident, but one that could get a whole lot costlier after prosecutors in Santa Monica, Calif., discovered evidence that Lohan lied when she told police she wasn't behind the wheel, despite eyewitness accounts to the contrary. In early November, she backed out of an interview on ABC's
20/20
to avoid discussing the situation. If prosecutors can support their claim, Lohan will return to jail for violating parole from her 2011 shoplifting conviction.
Again, we're not going to go into Lohan's 2007 conviction for driving under the influence. We're not going to cast judgment on what occurred in this case. All we're going to say is at least the talking teddy bear didn't have any priors and had the good sense to crash a 15-year-old Ford.
-- Written by Jason Notte in Portland, Ore.
>To contact the writer of this article, click here:
Jason Notte
.
>To follow the writer on Twitter, go to
.
>To submit a news tip, send an email to:
.
RELATED STORIES:
>>How To Handle Holiday Returns Without The Hassle
>>Craft Beer's 10 Best Seasonal Porters and Stouts
Jason Notte is a reporter for TheStreet. His writing has appeared in The New York Times, The Huffington Post, Esquire.com, Time Out New York, the Boston Herald, the Boston Phoenix, the Metro newspaper and the Colorado Springs Independent. He previously served as the political and global affairs editor for Metro U.S., layout editor for Boston Now, assistant news editor for the Herald News of West Paterson, N.J., editor of Go Out! Magazine in Hoboken, N.J., and copy editor and lifestyle editor at the Jersey Journal in Jersey City, N.J.