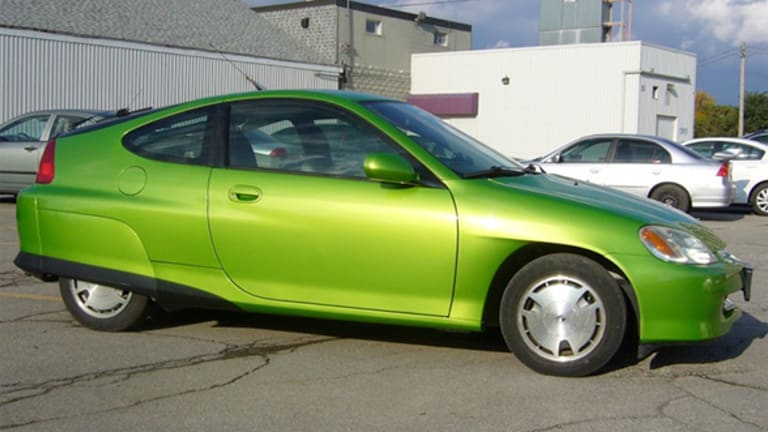 5 Most Fuel Efficient Vehicles You've Ever Driven
The EPA has its own ideas about which cars have put up the most miles per gallon, but U.S. drivers have pushed certain vehicles to amazing mileage.
The EPA has its own ideas about which cars have put up the most miles per gallon, but U.S. drivers have pushed certain vehicles to amazing mileage.
NEW YORK (MainStreet) -- The Environmental Protection Agency can estimate your car's mileage, but only you know how often you have to fill the tank.
When it comes time for "efficient" cars to prove themselves on U.S. roads, let's just say some are doing better than others. The revived Mitsubishi (MMTOF) Mirage and its 44 miles per gallon on the highway and combined 40.5 miles per gallon are a throwback to the fuel-sipping Geo Metro, the Hyundai (HYMLF) Excel, the Ford (F) - Get Report Fiesta and the oldest incarnations of the Honda (HMC) - Get Report Civic we once knew as "econoboxes." Unfortunately for automakers, many of those econoboxes are still putting up better numbers than their modern counterparts.
When gas prices spiked beyond $4 a gallon in 2008, suddenly the Geo Metro and its ilk were in high demand despite their dearth of amenities. Find even a 26-year-old model from 1989 and you'd still have one of the most fuel-efficient gas-powered vehicles on the road at a combined 47 miles per gallon. It's a big reason some of the most fuel-efficient vehicles on the road that aren't all-electric are coming off of used car lots.
That's kind of unfortunate for buyers. Manheim Consulting's Used Vehicle Index finds that prices are up more than 2% from a year ago. In January, that index finished the year at its highest rate since 2012, when a combination of recession-driven cuts in rental fleet purchases and post-bankruptcy lease abandonment by General Motors (GM) - Get Report and Chrysler dried up used car inventory and set prices soaring.
With help from the EPA's FuelEconomy.gov site and drivers surveyed by the EPA, we compiled a list of the most fuel-efficient gas-powered vehicles ever driven here. We consulted with Kelley Blue Book and AskPatty analysts and found that the idea of fuel efficiency is far older than automakers would lead you to believe:
5. 2002-03 Volkswagen (VLKAY) Jetta Wagon
Miles per gallon: 48 combined
EPA estimated miles per gallon: 39 combined
A wagon? Really?
Yep? Though not much to look at, this little four-cylinder, 1.9-liter grocery getter was incredibly efficient. Even the EPA's estimate would be incredibly high today for any wagon or SUV that isn't Toyota's (TM) - Get Report Prius v, and that's working with a hybrid engine. The Jetta Wagon's mileage gets a slight boost from being diesel powered but, as we'll find as this list continues, it's what's not in the car that sometimes makes the biggest difference.
"Crash mitigation and safety features like high-tensile steel frames, ABS and airbags on modern cars make them safer, but add to the vehicle's weight, reducing fuel economy," says Brandy Schaffels, chief editor at AskPatty.com. "These safety items – which are so important nowadays – and luxury items like heated leather seats and power windows with anti-pinch mechanisms do add enough incremental weight to subtract from fuel economy."
4. 1990-91 Honda Civic CRX
Miles per gallon: 49.8 combined
EPA estimated miles per gallon: 43 combined
Speaking of small, lightweight vehicles unencumbered by modern amenities, the Honda Civic earned its reputation for efficiency by being the poster child for the "econobox." Drivers the EPA surveyed lauded the 1992-95 Civic hatchback for getting a whopping 47.4 miles per gallon when the EPA said it could only get 43.
Meanwhile, both of those fuel-only Civics do a fine job of keeping pace with the 2003-05 Civic Hybrid, which the EPA certified at a combined 41 mph. Fans say it was capable of a combined 48, which still puts it beneath the four-cylinder, 1.5-liter CRX. Why? Because this car weighed only about 2,000 pounds. For perspective, that's about what the current Smart Fortwo model (made by Daimler (DDAIY) ) weighs in a far more compact footprint. Remarkably, this wasn't exactly groundbreaking at the time. Nor was its original starting price of roughly $11,000.
"I drove a 1988 Ford Festiva for about seven years, and that car got 40 mpg on the highway without even trying," Schaffels said. "I paid less than $10,000 for that car and and I could fill its tank for about $12. It was the epitome of inexpensive transportation."
3. 1990-94 Geo Metro XFI
Miles per gallon: 50.4 combined
EPA estimated miles per gallon: 47 combined
This car is impossible by today's standards. But it isn't as if automakers aren't trying to replicate its efficiency. Mitsubishi made an attempt with its Mirage, but only got to a combined 40.5 mpg.
"These cars utilized a small engine in a lightweight body, the latter of which faded away as more safety equipment was added to vehicles in the late 1990s and 2000s," says Karl Brauer, senior analyst for Kelley Blue Book. "Now, with [Corporate Average Fuel Economy] standards steadily rising, we're seeing a shift back to lighter vehicles featuring advanced materials like high-strength steel, aluminum and even carbon fiber. Advances in production technology are lowering the cost of these high-tech materials, making them viable for high-volume vehicles like compact and cars, midsize SUVs and even full-size trucks."
Just about every incarnation of this car ever produced was great on gas, but this one's three-cylinder, 1-liter engine was particularly efficient. It was originally made by Suzuki and known as the Suzuki Cultus in Japan and the Geo or Chevrolet Metro and Chevy Sprint here in the states. We featured the Sprint as one of the EPA's most fuel efficient vehicles of all times, and drivers the EPA surveyed said the 1999 Chevy Metro was capable of nearly 49 miles per gallon combined (compared with an EPA estimate of 37).
"If memory serves me, the Chevy Sprint's EPA numbers reflect a procedure that was altered subsequently, so they are a bit optimistic," says Jack Nerad, executive editorial director for Kelley Blue Book. "At the same time, one has to marvel that a conventional gas car of 30 years ago nearly rivals the current mileage champs."
2. 2012-14 Toyota Prius c
Miles per gallon: 51 combined
EPA estimated miles per gallon: 50 combined
Wow, you really showed us, compact Prius owners.
Who ever would have guessed that making an already-efficient Prius smaller would give it more miles to the gallon? That relatively cavernous 21.6 cubic feet of cargo space that turns into 40 cubic feet with the seats down turns into just 87 cubic feet of total seating capacity and 17 cubic feet of cargo room in the downsized c. But its 53 miles per gallon in the city is a big selling point among urban owners who get a whole lot more toys to play with than the owners of the gas-powered subcompacts that came before. Thank that hybrid motor for your heads-up display, cooling fan and other gadgets.
"The fact that hybrids dominate the most fuel-efficient gasoline cars of all time is appropriate because it acknowledges that hybrids are essentially gasoline-powered cars that occasionally get an assist from the battery-powered electric motor – or motors," Nerad says. "Hybrids are not electric cars, as they are sometime portrayed."
1. 2004-06 Honda Insight
Miles per gallon: 71 combined 
EPA estimated miles per gallon: 52 combined
Shed no tears for the underloved, underpowered Insight. To its owners, it is the hybrid king.
The Insight once reigned among hybrids in size with 85 cubic feet of passenger space and 35 cubic feet of cargo room with the rear seats down and was stacked with tech features at a bare-bones price. At the end of its first generation, however, it was mocked for its sealed rear wheel wells, its unfortunate color palate and its three-cylinder, 1-liter engine.
What fools those critics were. Admittedly, it wasn't such a great pickup when its first battery died and cost roughly $3,000 to replace. But as replacement batteries became less expensive, more efficient and were covered by better warranties, the original Insight's efficiency became the stuff of legend, especially among urban drivers. Even as automakers shift to plug-in hybrids and electric models, Insight owners continue to find value in the cheap hybrid that keeps on giving.
"The most fuel-efficient cars tend to combine an internal combustion engine with an electric motor and plug-in battery pack," Brauer says, "though the Toyota Prius, original Honda Insight and older cars like the Chevrolet Sprint accomplish similar mileage without the hassle of plugging them in."
— Written by Jason Notte in Portland, Ore.
To follow the writer on Twitter, go to http://twitter.com/notteham.
This article is commentary by an independent contributor. At the time of publication, the author held no positions in the stocks mentioned.