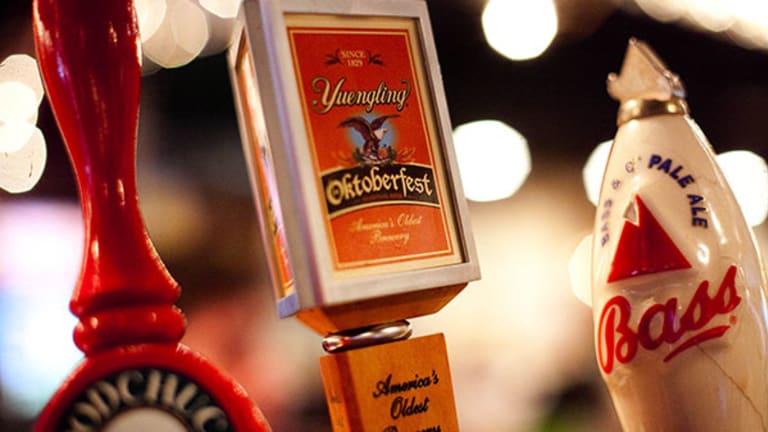 5 Most American Beer Brewers
Beer lovers know a red, white and blue can or a 'craft' label doesn't make a beer American. Keeping beer's multinational flavor close to home does.
PORTLAND, Ore. (TheStreet) -- You can wrap your beer in red, white and blue cans, tout your "American" roots and call your entire line of beers "part of the American experience."
None of that makes a beer "American." Milwaukee's Miller Brewing was acquired by U.K.-via-South Africa's SAB in 2002, placing it firmly under foreign control. Denver-based Coors merged with Canada's Molson in 2005, splitting the brewery between the two countries. Though the term "American" still applies -- Canadians will remind U.S. drinkers that both are in North America -- it's tough to call MolsonCoors a U.S. company when one of its headquarters is in Montreal. SABMiller and MolsonCoors still have operations here, but much of it falls under their joint venture MillerCoors. That operation brews and distributes not only MolsonCoors and SABMiller brands, but it also brews beer for Pabst Brewing, including its Pabst Blue Ribbon.
All of St. Louis can attest that Budweiser is no longer an All-American beer, which already a stretch for a beer whose name and formula have Czech origins and are routinely the subject of legal battles in Europe. Belgium's InBev bought A-B for $52 billion in 2008 and the resulting Anheuser-Busch InBev has a figurehead headquarters in Leuven, Belgium, but Chief Executive Carlos Britto and much of A-B InBev's operations are in Sao Paulo, Brazil.
Don't look to regional brewers or small "craft" brewers for easy answers. Mendocino Brewing of Ukiah, Calif., has been in business for more than 30 years and bought most of its equipment from pioneering brewer Jack McAuliffe and his New Albion Brewing, but has been owned by UB Group of Bangalore, India, since 1997. Burlington, Vt.-based craft brewer Magic Hat (founded in 1994) and Seattle-based Pyramid Breweries (1984) have been linked since the former bought the latter back in 2008, but both were swallowed up by KPS Capital Partners and its North American Breweries in 2010 and added to a portfolio that already included regional breweries Genesee and Dundee. In 2012, North American Breweries was sold to Florida Ice and Farm, which is based in Heredia, Costa Rica. Genesee, Dundee, Magic Hat and Pyramid all still work fairly autonomously -- with Genesee still releasing American Flag cans around this time of year -- but they still answer to an ownership group well south of the Lower 48 states.
Also see: What Fourth Of July Weekend Will Cost You
Also see: What Fourth Of July Weekend Will Cost You>>
With Boulevard Brewing in Kansas City, Mo., and Brewery Ommegang owned by Belgian brewer Duvel Moortgat and Berkley, Calif.-based Trumer Pils owing much of its existence and credibility to its Austrian co-owners, even some of the best craft beer produced in the U.S. doesn't quite pass the "All-American" test.
So what can a patriot put in his or her beer cooler that will have stronger ties to the U.S. than the flag-draped impostors in the beer aisle? We took a look at the best-selling beers in the U.S. and came up with five that are not only brewed and based here, but drunk here in large quantities. Granted, these brewers all take their cues from the German, Czech and Belgian brewers who came before them, but this is more about home addresses than it is about history:

5. Craft Brew Alliance
Locations: Portland, Ore.; Woodinville, Wash.; Kona, Hawaii; Portsmouth, N.H.
Production in 2013: 723,600 barrels
The Alliance itself has existed only since 2007, but it's the members that hold a special place in American brewing history. Redhook was one of the earliest American craft brewers and among the first in the Pacific Northwest when it opened in Seattle back in 1981. Brothers Kurt and Rob Widmer helped turn Portland, Ore., into Beervana when they opened their Widmer Brothers brewery in 1984. Father and son duo Cameron Healy and Spoon Khalsa used the Kona Brewing they opened in 1994 to transform Hawaiian beer from a local novelty to a commercial success.
There are a lot of great milestones in there, including Redhook becoming the first bicoastal craft brewer by opening its Portsmouth brewery in 1996, but some of the more recent include building the Omission label of gluten-free beers and breaking into the lucrative cider industry with the regional Square Mile Hard Cider brand. Perhaps the most ingenious, however, was forming the alliance in the first place and using a 32.2% investment from Anheuser-Busch InBev to secure access to that brewer's nationwide distribution system. That cost CBA its "craft" status with the Brewers Association craft beer industry group, but it gave the breweries the security they needed to grow, expand and avoid distribution issues that plague other, smaller craft breweries.
There have been a whole lot of changes -- Redhook partnering with Fox Sports host Dan Patrick and Buffalo Wild Wings, Kona watching its share of the business skyrocket and Widmer Brothers' shift from Hefeweizen-heavy brewhouse to CBA's creative epicenter -- but CBA's sales jumped 7.6% last year and have been rising since the recession. CBA's reach and variety make it an excellent microcosm of the current state of American brewing.
4. New Belgium Brewing
Locations: Fort Collins, Colo.; Asheville, N.C. (starting 2015)
Production in 2013: 792,292 barrels
New Belgium founder and Chief Executive Kim Jordan has been at this since 1991, but is still in the midst of transforming her on-time basement operation into a U.S. beer powerhouse.
New Belgium was started in 1991 by Jordan and then-husband Jeff Lebesch after a bicycle brewery tour through Belgium. Since those humble beginnings in a Colorado basement, New Belgium has seen its flagship Fat Tire Amber Ale, its Explorer series of hoppy India Pale Ales including Ranger IPA and its traditional Belgian brews such as its Abbey, Trippel and La Folie make their way to 36 states. That new brewery in North Carolina will not only increase availability to all 50 states, but should add enough capacity to push New Belgium over the 1 million-barrel mark.
Also see: 10 Best-Selling Beer Brands in The World
Also see: 10 Best-Selling Beer Brands in The World>>
All that growth hasn't been just about the beer. The new canning lines, hoppier varieties and increased collaboration with other brewers are just part of a culture that includes using its Fort Collins brewery as a testing site for Colorado State University environmental studies and as a mode for employee ownership -- the facility's workers now own 100% of the company's stock. Combine that with the bike races, scavenger hunts and independent film festivals, and you have a brewery that will be marketing its beer and Colorado-bred lifestyle to all U.S. beer buyers by 2018.

3. Sierra Nevada Brewing
Locations: Chico, Calif.; Mills River, N.C. (opening in August)
Production in 2013: 985,000 barrels
It wasn't called "craft beer" when Sierra Nevada founder Ken Grossman started building his brewery in 1979. It wasn't "microbrew" he was selling when he poured his first pint in 1980. It was just beer -- hoppier, more flavorful beer, but "beer" nonetheless.
When Grossman started Sierra Nevada, there were fewer than 50 breweries in the United States. Small brewers such as craft beer pioneer New Albion were closing and newcomers including Grossman and Anchor Brewing owner Fritz Maytag were up against some long odds. About 35 years later, Grossman saw his brewery just miss the 1 million-barrel mark last year and is about to watch it open an East Coast facility (with his son, Brian, at the helm) and offer a 12-pack of beers brewed with an all-star cast of coast-to-coast collaborator breweries including Oskar Blues, Victory, New Glarus, Firestone Walker, Ninkasi, Allagash, Bell's, 3 Floyds, Russian River, Ballast Point and Cigar City.
Sierra Nevada has watched its flagship beer shift from the hoppy but mild Pale Ale to the bold and bitter Torpedo IPA and has watched demand for its beers fluctuate with changing tastes. That it still commands such loyalty and respect from brewers and drinkers across the country is a testament to Grossman's contribution to American beer.

2. D.G. Yuengling & Sons Brewing
Locations: Boston; Pottsville, Pa.; Port Carbon, Pa.; Tampa, Fla.
Production in 2013: 2.7 million barrels
When you've survived prohibition, being declared a craft beer must seem so precious.
Yuengling has not only been making its beers since before the first craft brewers and microbrewers began scraping together their equipment, it's been succeeding with them since long before most craft brewers' great grandparents considered coming to this country.
Yuengling was founded in 1829 and is the oldest operational brewery in the United States. It survived prohibition as a dairy and just re-released its ice cream last year as a nod to that portion of its history. Its original Yuengling Lager wasn't always the brewery's flagship beer, but it has led the way through a period of astonishing growth. Consider that Yuengling's nearly 3 million barrels of production are sold only in Pennsylvania, Ohio, New Jersey, New York, Delaware, Maryland, Washington, D.C., Virginia, West Virginia, Tennessee, North Carolina, South Carolina, Georgia, Florida, Alabama and Massachusetts. Consider also that Yuengling's foray into Massachusetts and the Boston market is still a fairly new development, and one that had the craft-saturated region a bit nervous as the low-priced, higher-quality lager elbowed its way onto taps and into packaged goods stores.
Though Yuengling has big plans to expand capacity at its Tampa facility, it right now has no publicly acknowledged plans to expand west. While the craft beer club was sneering in its general direction and big brewers were ignoring it, Yuengling solidified core markets and built a following that's made it the go-to lager in some corners of the East Coast. It's the beer world's equivalent of American exceptionalism, and not giving a damn what anyone but the drinkers think has brought Yuengling some exceptional success.

1. Boston Beer
Locations: Boston; Cincinnati, Ohio; Breinigsville, Pa.; Burlington, Vt.
Production in 2013: 3.4 million barrels
Forget about the brewer/patriot on the label and the research and development brewery just a T ride from the Freedom Trail in Boston. Forget about founder Jim Koch's family brewing history in Cincinnati and the first batch of beer he made in his kitchen about 30 years ago.
The Boston Beer products beyond Samuel Adams have made the company an American brewing monster and have made Harvard Business graduate Koch a billionaire. Angry Orchard cidermaster David Sipes isn't nearly as well-known as Koch, but his line of ciders is the most popular in the country after being released only two years ago. Alan Newman is better known as the founder of Magic Hat Brewing than he is as a Boston Beer employee, but his Alchemy and Science subsidiary in Vermont has not only helped Boston Beer develop the Traveler Beer line of shandy to compete with Leinenkugel's, but has also bought up smaller breweries including Los Angeles-based Angel City and New York's Coney Island Craft Lagers.
Boston Beer's product line also includes Twisted Tea malt beverages that help fill out its beer aisle and barroom presence and make it look like a micro version of a macro brewer. It's a big, red-white-and-blue approach to beer capitalism that not only keeps Boston Beer's business centered in the U.S., but wraps all of its success in the smirking image of Samuel Adams. It's hard to get more American than that.
-- Written by Jason Notte in Portland, Ore.
>To contact the writer of this article, click here: Jason Notte.
>To follow the writer on Twitter, go to http://twitter.com/notteham.
>To submit a news tip, send an email to: tips@thestreet.com.
RELATED STORIES:
>>What You're Really Paying For That Beer
>>Glass Half Empty? The Great Craft Beer Selloff
>>Is It Still A Craft Beer After The Brewery Sells?
Jason Notte is a reporter for TheStreet. His writing has appeared in The New York Times, The Huffington Post, Esquire.com, Time Out New York, the Boston Herald, the Boston Phoenix, the Metro newspaper and the Colorado Springs Independent. He previously served as the political and global affairs editor for Metro U.S., layout editor for Boston Now, assistant news editor for the Herald News of West Paterson, N.J., editor of Go Out! Magazine in Hoboken, N.J., and copy editor and lifestyle editor at the Jersey Journal in Jersey City, N.J.