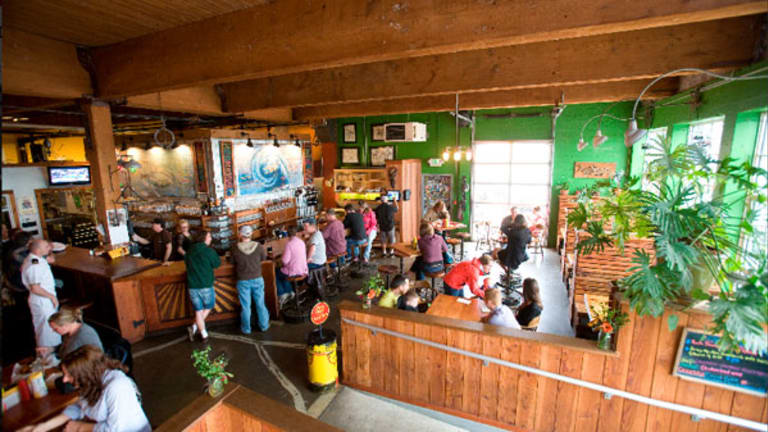 Publish date:
5 More Hidden Craft Beer Vacation Destinations
Here are a final five spots where the brews are down by the lake or possibly even lurking in old bourbon barrels.
Here are a final five spots where the brews are down by the lake or possibly even lurking in old bourbon barrels.
NEW YORK (TheStreet) -- If the folks who love beer didn't seek out new styles and new places to enjoy them, the craft beer movement of the past few decades just wouldn't exist.
We knew this when we pointed out
five hidden craft beer vacation destinations
in June and just waited for more suggestions to pour in from across the country. In less than a day, readers and beer fans had given us enough for another list.
In a country with more than 2,500 breweries, according to the Brewers Association craft beer industry group, there are bound to be more than a few far-flung gems. Even the fairly obvious locations have been enough to fill up not one list of
craft beer vacation destinations
, but follow-up lists of both
and
where vacationing craft beer drinkers could grab some sampling flights. Besides, why limit yourself to the
when there are
brewpubs in all 50 states
and Washington, D.C., worth visiting?
This is going to be the last such travelogue we put together for a while, as the results are getting just a bit esoteric. While we'd love to feature every brewery, brewpub and beer festival around, the following five spots are places where either the beer or the location itself is fairly tucked away. We're still open to suggestion, but these five should be able to tide you over until next summer:
Astoria, Ore.
From the banks of the Columbia River just down the slope from
, you can see the huge steel-span bridge into Washington, hear the sea lions on the docks just beyond the old canneries and nearly smell the hops the neighbors are growing.
The house that served as the kids' home in
The Goonies
sits just up the hill. the Astoria Riverfront Trolley now runs along the old Cannery Row that's now lined with shops and hotels. The Astoria Column and the Astoria-Megler Bridge still tower above it all.
Also see: A Summer Six-Pack for Beer Haters>>
For these reasons -- along with the great museums, record stores, restaurants, head shops and general funkiness that makes Astoria what it is -- Astoria is worth visiting all on its own. The stories about drunken sailors being kidnapped and finding themselves aboard other vessels somewhere in the middle of the Pacific, a practice once commonly known as Shanghaiing, would be enough of a lure by themselves.
The beer is really just a nice throw-in, but it's not a bad way to cap off a day checking out the ruins at Fort Stevens Park or clambering through a recreation of Fort Clatsop. The
Fort George Brewery
, for example, sits in a former gas station and body shop on the site where the city was originally settled by Pacific Fur Co. Capt. Jonathan Thorn in 1811. Its name is the moniker the British gave the city after the fur company failed and it fell briefly into British hands.
The Fort George brewery, meanwhile, has taken off in relatively little time, opening in 2007 and expanding distribution of its tallboy cans of Vortex IPA, 1811 Lager and Quick Wit throughout the Pacific Northwest. This year, it released its first canned seasonal beer -- the Tender Loving Empire Northwest Pale Ale -- and expanded its first-floor brewpub to a second-floor taproom and pizza kitchen. With its outdoor deck still offering one of the best views of the Columbia in the city and its rotating occasional taps offering such locally flavored fare as its Truffle Shuffle brew, Fort George makes either a great launching point or an ideal place to meet up and start the day.
If you go with the latter approach, hit the marooned boat that is Bowpicker Fish & Chips on the way down the hill, turn left and head to
home of
Astoria Brewing
, on 11th Street. Originally founded as Pacific Rim Brewing in 1997, the Wet Dog changed the brewery's name in 2005 as a nod to the city's original brewery that first opened in 1872. With an up-close view of both the Columbia and the trolley from its back deck, the Wet Dog serves up mild blondes and Hefeweizens to the tourists beside far more potent offerings for big beer fans. Its Bitter Bitch Imperial IPA, with 8.2% alcohol by volume, is one of the most bitter beers on the coast, while its Stone Cold Strong Ale is a formidable toffee-tinged English ale at 7.9% ABV.
Finally, if you want to finish your walk along the water and don't mind hitting a brewery from out of town, Newport, Ore.-based
Rogue
has a restaurant and brewpub on Pier 39 in an old Bumble Bee tuna cannery. With more than 30 beers including Dead Guy Ale, Shakespeare Oatmeal Stout and Brutal IPA on tap and three
available, it's an excellent stopping point.
If you summer is all booked up, no worries. The best time to visit town is at the end of August or early September during the hop harvest, when these breweries get hops from their neighbors and blend them into fresh-hop beers. Finding good fresh/wet-hop beer is basically the grown-up equivalent of the Goonies finding One-Eyed Willy's treasure.
Petaluma, Calif.
So why are we dumping beer lovers into a region known primarily for wine?
Part of it has to do with Petaluma itself. Located right in the heart of Sonoma County, Petaluma is surrounded by such treasures as the more than 180-year old Rancho Petaluma Adobe, the Sonoma Coast, the extremely boat-friendly Petaluma River and a gorgeous downtown and waterfront. It's not too far from the Bay Area or Redwoods State Park and, yes, it's right in the middle of wine country.
Also see: Why Craft Beer at the Ballgame Is a Big Deal>>
It's also home to a small bunch of breweries that should keep beer lovers occupied for much of their stay. The heaviest hitter is
, which founder Tony Magee opened in 1993 in Lagunitas, Calif., before outgrowing his pastoral Marin County surroundings. He moved the whole works to Petaluma in 1994 and watched production increase from 27,000 barrels in 2004 to nearly 260,000 last year. He's expanding the current brewery to 600,000 barrels of capacity and is opening a similar-sized brewery in Chicago. Still, the Petaluma taproom and "beer sanctuary" is the best place to sample wares such as Lagunitas' chronic-flavored Censored Copper Ale, its excessively bitter Hop Stoopid imperial IPA or its powerful, seasonal Little Sumpin' Wild wild-yeast ale. The experimental ales flow, the live music plays and the imperial stout ice cream floats are in abundance. The view from the concert law isn't bad, either.
Still, Lagunitas is a young buck compared with its brewing comrades across town at
. With some prime real estate along the Petaluma river and 21 years of history behind its taps, this mainstay brewpub could just phone it in and serve up standard chain brewpub beers and pub grub. Instead, a rotating seasonal menu is paired with powerful brews including Dempsey's Tank 9 Barleywine, its 7.1% ABV Petaluma Strong Ale, the 6.7% ABV Ugly Dog Stout and the citrusy, nearly 9% ABV Boneshaker Double IPA. It feels like a lived-in neighborhood pub, but its quality far exceeds its distribution radius.
While Dempsey's and Lagunitas are the only breweries that beer lovers in Petaluma can visit, they aren't the only ones producing quality brews in this town. If beer vacationers haven't already bolted out of town in an attempt to visit
about a half-hour up the road in Santa Rosa and sample some Pliny the Elder straight from the tap, stop by a local bottle shop or beer bar and pick up a Heroine IPA, Golden Naked Al or Stigmata Red Rye from
101 North Brewing
It has all the quirks of a garage startup brewer with one big exception: brewmaster Joel J. Johnson, who's been brewing since 1997 and was head brewer at
Bear Republic Brewing
in Healdsburg, Calif. This is the man who gave the world Racer 5 and Racer X IPA , as well as Hop Rod Rye. He knows his way around a hop like few others in the industry and makes a beer worth sampling for any bitter, hop-minded Petaluma beer vacationer.
McCall, Idaho
Nobody's ever needed a beer to go vacationing in McCall, but it sure doesn't hurt.
To call McCall hidden is understating things a bit. Two hours from Boise, four hours from Walla Walla and nowhere close to the interstate, this little town by the Oregon border is hiding like it doesn't want to be found. The folks who come here for a dip in Payette Lake and a hike around Ponderosa State Park or the Payette National Forest don't seem to mind the tranquillity at all. Nor did well-heeled ski enthusiasts such as President George W. Bush or tennis stars Andre Agassi and Steffi Graf, who invested in a now-bankrupt ski resort nearby.
For beer lovers, however, there's only one stop that makes a trek out here worthwhile:
. This small, lodge-style spot by the Salmon River gives tourists plenty of live music, happy hour specials and elk burgers to liven up their trip, but bold rotating brews such as the 6.2% ABV Chunder Chocolate Stout, 7.5% ABV Big Double IPA and 9.1% ABV Terra Incognita Barley Wine make them stick around a while -- if only to work them off. Even if none of those are on tap, flagship beers such as the Buzz Buzz Coffee Porter used in the brewpub's chocolate cake are consistent favorites among locals and newcomers alike.
For a place like this to survive, even along the lovely Salmon River, there has to be more to it than just beer. From the great use of its surroundings through its outdoor seating to the bar touches such as blown glass tap handles made by local artisans, Salmon River takes a lot of the surrounding area's quirks in for every pint it pours out. When the band's playing, the barflies are dancing and the moon is giving everything a lovely glow, there are few better places to be hidden.
Louisville, Ky.
Louisville is a tough place to consider "hidden" in any regard.
This is the home of the Kentucky Derby, the riverboats along the Ohio River, Louisville Slugger, the Forecastle Festival, one of the most thriving indie rock scenes in the country, the Hot Brown sandwich, Derby pie, pit barbecue, chili con carne and nearly 250 years of history. Even with all that working in its favor, there's just one problem: It's not really a beer town.
This is Kentucky and it's firmly bourbon country. One third of all bourbon made in the world comes from this town, and a bit of that charred oak flavor seeps into just about everything here. Drink a standard light lager here and you may as well be drinking water.
With only 16 breweries in the state, the deck is stacked against beer fans here. That's why the better Louisville breweries, such as the three-outpost
, have learned to use that bourbon culture to their advantage. Bluegrass Brewing's three locations take it a step further by procuring its barrels from the Four Roses distillery in Lawrenceburg and serving four barrel-aged brews at a clip.
BBC's Dark Star and Bourbon Barrel Rye porters are perhaps the best reasons for walking through the door and pair nicely with the brewpub's Bourbon Peach Pork Chop Taste Of Kentucky Platter of fried green tomatoes, Benedictine cucumber-and-cream-cheese dip and country ham.
takes a somewhat more subtle approach, throwing in the occasional small batch of bourbon barrel-aged brews with its more standard lineup of wits, porters and IPA.
Perhaps nobody in town, however, uses the bourbon barrel better than
. The brewery uses Redemption Rye barrels from Strong's Spirits to add just a bit of bourbon to its Kentucky Ryed Chiquen and includes the barley, rye and corn found found in bourbon, combines them with smoked cherry wood to brew its Bo & Luke imperial stout and ages it in Pappy VanWinkle bourbon barrels. With visitors enjoying all of the above alongside pulled pork, brisket, ribs, tacos carnitas and beer-can chicken in an old train station that's now part of Louisville Slugger Field, they may even find room to sample one of the nine other brews on Against the Grain's constantly rotating taps.
Billings, Mont.
With roughly a brewery for every 36,600 residents, Montana trails only Oregon and Vermont in capita per brewery. Considering Billings is home to seven of those breweries, it's well worth it to get off Interstate 90 and spend a night or two.
We'd love to go into why you should visit the Little Bighorn battlefield site, Pompey's Pillar, Pictograph Cave, the Beartooth Mountains and all of the other great sites around Billings, but that would leave little time for the beer.
is perhaps the best example of how a Montana brewer can make a brewpub work for it. An eight-burger menu with available bison patties, a selection of five mac and cheese dishes and fried enchilada bite appetizers don't make a great brewery, but they can fund great brews if enough folks have some with their pints. The smooth, chocolate-layered Custer's Last Stout oatmeal stout won gold at the Great American Beer Festival, while its Hooligan's Red Ale took gold at the North American Brewers Association beer awards.
The remainder of Billings' offerings are the small, cheap and quirky variety that tend to crop up when a city's brewing community is just starting to grow.
, for example, is little more than a converted three-bay oil-change shop converted into a brewery and taproom. With solid offerings such as the 8.5% ABV Massive Head Trauma IPA and far more easy drinking 4% ABV Anger Management Belgian Wheat, it's hard to turn down at its $3 price. Relative newcomer
, which just opened its doors last year, stacks the deck with German-style sausages, Chipotle burgers and pale ale pub cheese before unleashing big brews like its 7.7% Conehead IPA and 9% ABV Screwtape Belgian Strong Ale.
That's kind of the story in Billings. Either you're a fairly large operation like
Yellowstone Valley Brewing
that can host bands, make small batch cask-conditioned beers good enough to open on Firkin Fridays and host games of darts and
Asteroids
in the garage, or you're a small operation such as
Carter's Brewing
with no real frills to speak of, but a few Great American Beer Festival medals for your Abbey Ale and Black Magic Porter.
Is it the most bustling beer town in America? No, but it's way more hidden than a town with five taprooms and a few other small breweries should be. Billings may have its moment down the road, but for now enjoy the grand experiment and the cheap beer.
-- Written by Jason Notte in Portland, Ore.
>To contact the writer of this article, click here:
Jason Notte
.
>To follow the writer on Twitter, go to
.
>To submit a news tip, send an email to:
.
RELATED STORIES:
>>10 Best 40-MPG-Or-Better Cars of 2013
>>5 Vehicles You Want To Drive In A Rainstorm
>>Top 10 Cities For Car Sharing
Jason Notte is a reporter for TheStreet. His writing has appeared in The New York Times, The Huffington Post, Esquire.com, Time Out New York, the Boston Herald, the Boston Phoenix, the Metro newspaper and the Colorado Springs Independent. He previously served as the political and global affairs editor for Metro U.S., layout editor for Boston Now, assistant news editor for the Herald News of West Paterson, N.J., editor of Go Out! Magazine in Hoboken, N.J., and copy editor and lifestyle editor at the Jersey Journal in Jersey City, N.J.