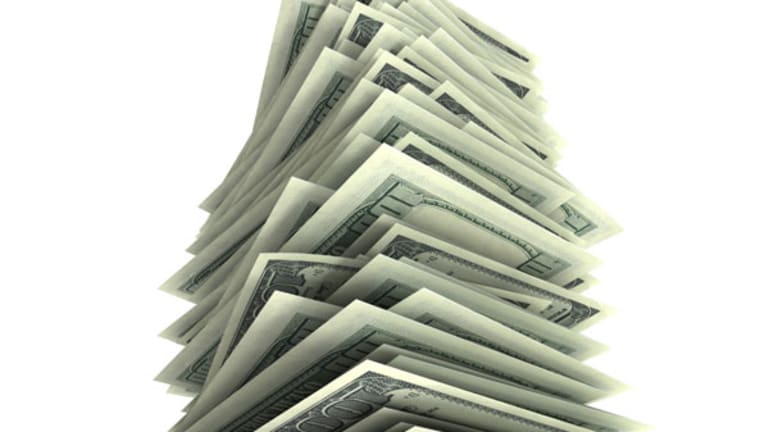 5 More Craft Beer Vacation Destinations
Colorado, Vermont, Washington, Virginia and Michigan all deserve a brewery-based visit.
Colorado, Vermont, Washington, Virginia and Michigan all deserve a brewery-based visit.
NEW YORK (TheStreet) -- Beer lovers know there's no list big enough to contain the number of breweries in the U.S. worth planning a vacation around.
Boy, did they let
us
know it.
Back in May, we published a list of
10 best craft beer vacation destinations
. While well-received in certain well-covered corners of the map, it elicited considerable consternation from jilted areas not only for what was included, but what wasn't.
Such things are to be expected in a growing industry. Craft brewing was up 11% by volume and 12% in sales last year, to $7.6 billion, according to the Brewers Association. More than 1,750 breweries operated for some or all of that year, giving the U.S. its largest pool of breweries since the late 1800s. Paul Gatza, director of the Brewers Association, estimates that the majority of Americans live less than 10 miles from a brewery.
That's a lot of folks who feel their regions and breweries were wrongly left on the cutting-room floor and a lot of fans of the little guys -- including the 55 brewpubs and 97 microbreweries that opened last year -- who don't like seeing craft brewing big boys such as Sam Adams maker
Boston Beer
(SAM) - Get Report
, Magic Hat owner North American Breweries and the much-debated Yuengling hog the spotlight while states with solid craft beer credentials get skipped.
In many cases, they had a point. Our list left out some of the states with the most craft brewers per capita in America and some breweries that not only bolstered the craft beer movement, but built themselves into vacation destinations where games, outdoor movies and bike events are as big of a community contribution as the beer they brew. To help make amends, we've complied a list of five craft beer vacation destinations we either left out or overlooked. While we realize this may never be enough and that there's always more exploring to do when it comes to local beer, the conversation couldn't continue without at least acknowledging these extremely worthy destinations:
Vermont
It's a small state, but Vermont has a big thirst for craft beer.
By the end of 2010, Vermont had 21 breweries for more than 625,000 residents. That's the most breweries per capita of any state in the country, according to the Brewers Association.
Even with such a high concentration, the state's premier breweries are spread pretty evenly and require seeing a whole lot of Vermont before taking a sip. When your location is as gorgeous as the Bridgewater Corners home of
, taking a little time to enjoy the elements isn't such a bad idea.
Long Trail sits along the junction of Vermont's routes 4 and 100A between Rutland and Woodstock amid rolling hills and rustic homes, town squares and farmhouses. The lure of the brewery likely should involve its Blackberry Wheat, Double Bag strong ale and Belgian White witbier and the brewing and packing process behind them, but the brewery tour consists of a small catwalk over the brewing and bottling facility with signs spelling out each part of the process. It's minimal compared with the sprawling brewpub with each of Long Trail's offerings on tap and the large deck outside laden with picnic tables that overlook the Ottauquechee River just behind the brewery. The whole facility is based on the Hofbrau House in Munich,but adds distinct Vermont touches during the fall when the brewpub's cast-iron woodstove first heats up and the surrounding foliage wraps the area in a gold and copper quilt.
The autumn trips are nice, but summer is an opportune time to head east from Long Trail on Route 4 through Woodstock, pull a quick right turn onto Interstate 91 South and stop into
Harpoon Brewery's Windsor facility
. The brewery has a location in Boston along the harbor, but it lacks the Windsor's guided tours, beer garden with outdoor views and live music during the summer and a roaring fire to complement the food during the winter. If you're dead set on seeing both breweries, the best way to do so is during the Harpoon-sponsored 140-mile brewery-to-brewery bike ride in June. That tall glass of Raspberry or White UFO hefeweizen or can of IPA tastes much better when you've earned it.
If you're a bigger fan of one-stop shopping, head west and then just north on Route 7 to Middlebury for a minimalist tour and tasting at
, where the Copper Ale, Solstice Ale, Stovepipe Porter and Wolaver's IPA and Witbiers steal the show.
While you're in the western part of the state, you may as well head up Route 7 and drop in on Vermont brewing powerhouse
in South Burlington. The tour itself is well worth the time for a peek at the manufacturing process and a growler full of apricot-laden No. 9, light Circus Boy hefeweizen, hop-heavy Blind Faith and its low-alcohol summer seasonal English ale Wacko. The tour and beer are great and all, but events including free beer and cheese nights, graffiti art festivals and jammy music fests help set Magic Hat apart and assure fans that their buyout by North American Brewing has done little to the brewery's indie spirit.
It's admittedly challenging to hit every great brewery in Vermont when you're either driving or pedaling to each place, but Burlington makes it slightly easier by clustering great brewers such as
Switchback Brewing
, Three Needs Taproom and the
around Magic Hat. That collection only gets broader in late July, when some of the state's more far-flung brewers, including Morrisville's
, Lyndonville's
and Bennington's Madison and
breweries descend on Burlington for the annual Vermont Brewers Festival. Lake Champlain is lovely, but the lake of craft beer beside it during a midsummer fest is just as beautiful.
Colorado
Fans of Colorado's craft breweries got angry when the state was left off the craft brewing vacation itinerary, and with good reason.
The state's 118 breweries last year not only made up the fourth-largest collection of craft breweries in America behind Oregon (121), Washington (123) and California (245), but gave the state the fourth-most breweries per capita in the U.S. A craft beer fan who doesn't vacation in Colorado is like a baseball fan who never visits Wrigley Field: They can live happy, contented lives, but will be much better off for making the trip.
Aside from hitting the Great American Beer Festival in Denver in September, there's almost no way to get to every brewery in this state without living there. For most, it has to come down to the highlights.
in Longmont is as good of a place to start as any, with a tasting room teeming with taps of its signature Milk Stout, BlackJack Porter and Wake Up Dead Stout, as well as more seasonally appropriate suds such as Polestar Pilsner and 400 Pound Monkey IPA. The tastings and weekend tours work out just fine during the colder months but are best appreciated out on the patios once the weather warms up.
From there, it's a quick skip to Longmont's
Pump House Brewery and Restaurant
for some pre-Rockies or Broncos brews, but the 16-year-old brewery and its Flashpoint IPA and Shockwave Scottish Ale are more of a pit stop en route to the main event. Back in 2002,
became the first craft brewer to can its beers when it started sealing up its Dale's Pale Ale and Old Chub Scottish ale at its brewery in nearby Lyons. Since then, the operations have expanded to include a 50-acre farm, a brewpub and music venue called Oskar Blues Home Made Liquids and Solids (with a giant replica can out front and Tasty Weasel Tap Room with live music, skee ball, small-batch brews and brewery tours). Lyons hasn't been left out, as the Oskar Blues Grill & Brew brewpub and live music venue still calls it home and the Old Chubway quick-serve eatery adds some fast-food flavor to the slow-drinking enjoyment of its beers.
Oskar Blues combines the best of all its worlds by starting tours in Lyons at the original restaurant with about 30 vintage arcade games in the bottom floor, where the first brewery used to be, a blues bar on the second floor and a brewpub with a patio and a restaurant for tastings up top. The tour then loads onto a 1959 hippie blues bus and heads to the Longmont Brewery's 40,000-square-foot production facility for a look at the fermentation cellars, can line and other production elements before heading to Homemade Liquids and Solids for a final tasting.
"A big part of the reason we canned beer was to help promote our brewpub that we opened in 1997 and help drive people into the Rocky Mountains and our small little town," Oskar Blues founder Dale Katechis says. "That marketing device worked, because restaurant sales have been up 30% to 60% since that time."
From Longmont, it's decision time. Do beer lovers head south to Boulder for a one-city circuit of breweries including
,
,
,
and heavy hitter
for its cans of White Rascal Witbier or Joe's American Pilsner? Do they head even farther down Interstate 25 to Denver for a Hercules Double IPA at
? It's a tough call, but if given the choice a true craft beer fan should head north to Fort Collins.
Home to brewers as benign as the
chain and as bold as the Belgian-inspired
Funkwerks
and its Saison or the prolific
and its Woodcut oak-aged ales and sublime 90 Shilling Scottish ale, there's one brewer here that turns Fort Collins into a beer-and-bike nirvana for visitors in love with both:
New Belgium Brewing
has been cranking out tasty brews such as its Fat Tire Amber Ale and Ranger IPA for 20 years, but its tastings and tours pale in comparison with the Tour de Fat bike festival, Bike-In Cinema summer film series for cyclists and its Urban Assault Ride bicycle scavenger hunts. The beer has built a big fan base all its own, judging from the 661,000 barrels produced last year that topped the
Anheuser-Busch
(BUD) - Get Report
-backed
Craft Brewers Alliance's
( HOOK) 590,000, but New Belgium's culture in Fort Collins trickles well beyond what's bubbling in its fermenters.
Michigan
As we discovered firsthand, the Big 10 rivalry between Michigan and Wisconsin expands well beyond the football field.
Michigan craft beer fans don't see any reason to schlep all the way across Lake Michigan for a craft beer vacation when its 85 craft breweries are diverse enough for a multiday beer tour through Wolverine and Spartan country. The roughly 50-mile stretch between Grand Rapids and Kalamazoo and its roughly eight to nine breweries (depending on the geographic leeway given by the person asked) constitute the heart of Michigan craft brewing, as do the two biggest breweries within it: Bell's and Founders.
Kalamazoo-based
has become a craft brewing beast by producing 154,000 barrels last year. That's more than Harpoon, A-B's Goose Island, Dogfish Head, Stone or Brooklyn. Its Third Coast Beer, Kalamzoo Porter and Oarsman Ale stand up fairly well on their own, while its wheat ale and Oracle double IPA grab a seasonal drinker's attention. Its brewery tour, Eccentric Cafe brewpub and live music venue and sponsorship of events, including the Ore to Shore mountain bike race after party and Bayview Mackinac sailing race earlier this month, keep a visitor's attention once that first pint is gone.
Bell's has some friendly craft brewing neighbors in Battle Creek's
and Kalamazoo's
, but there's a bigger payoff about an hour north on Route 131 in Grand Rapids.
isn't for the faint of heart or the closed-minded, and neither is its tap room, which is full of tasty concoctions such as the Devil Dancer Triple IPA with 12% alcohol by volume and enough hops to smack an unprepared drinker right in the nostrils. Even standards such as the Dirty Bastard Scottish-style ale and Centennial IPA are packed with 8.5% and 7.2% alcohol, respectively. If you want to keep your wits about you by the time the bands hit the taproom's stage, throttle it down by ordering a sandwich from the deli and nursing a lower ABV beverage such as the 6.5% Cerise Michigan cherry-fermented ale.
For greater extremes, however, beer lovers have to head either to Lake Michigan or the outskirts of Wolverine territory. In the Western Michigan town of Holland,
has been dry hopping, aging and experimenting with beers such as its oak barrel-aged Dragon's Milk strong ale, its barrel-soured Blue Sunday sour beer and its chile- and coffee-concocted El Mole Ocho experimental brew. The tours are just as unique, with participants getting a look inside the brew kettles, the storage rooms with towering stacks of barrels, the bottling line, the packing process and tasting room. New Holland also has a separate distillery where it makes rum, whiskey, "hopquila" and other stronger spirits.
A bit east in Dexter and Ann Arbor,
Jolly Pumpkin Brewing
concocts Belgian-style brews such as the spicy Oro de Calabaza golden ale, Calabaza Blanca witbier, La Roja sour red and Bam Biere farmhouse ale while serving guests vegetable pizzas, thick burgers and pumpkin whoopie pies in the sidewalk seats or roof deck of its Main Street Ann Arbor brew pub. There's no real tour to speak of and the Dexter outpost is really just a production facility, but a lakefront brewpub and restaurant in Traverse City is a huge payoff for those willing to travel well north. They've even put themselves close to
,
and
in Traverse City and the pub, deli and hyperlocal brews such as Pontius Road Pilsner and Bellaire Brown at
in Bellaire.
Virginia
Its brewer's guild site is
and its breweries fairly clustered, but Virginia's 37 breweries are enough to make beer fans stand up and take notice.
Even if a craft beer fan's only experience with Virginia beer comes from a visit to the Washington, D.C., area, that's not a bad start. The
brewpubs are a nice set of training wheels that don't offer time-consuming tours but pour workable brews such as Capitol Kolsch and Prohibition Porter while leaving time to see the sights. It gets slightly more labor intensive in historic Alexandria, where distractions such as the
chain can take precious time away from tours of the
that just opened in January.
If the D.C. area's going to be your only stop, though, there are two real must-sees.
has fine stouts and red ales and lets visiting brewers make their own beer on the premises. Falls Church's
brewpub/beer bar just opened this year, but has nine solid beers on tap including a wee heavy, belgian strong ale and saison that are complemented with a strong selection of local meads and ciders.
The sweetest reward is reserved for those willing to go far beyond the beltway. The Blue Ridge Mountains and the home of the Virginia Cavaliers, Thomas Jefferson and the Dave Matthews Band in Charlottesville are also home to a collective of some of the state's finest breweries, which have started referring to themselves as the Brew Ridge Trail. For adventurous craft brewers, there's no better trailhead than that marked by the giant, cabin-style brewery of Nelson County's
Devils Backbone Brewing
. In the middle of a sprawling field with the Blue Ridge Mountains in the background, Devil's Backbone could have gotten by on middling brews, live bands and a decent burger on the bar menu as long as it kept its outdoor seating and gorgeous view of the valley and big stands of Cascade hops for tourist photos. Instead, Devils Backbone went ahead and brewed a Gold Leaf Lager and a Baltic Coffee brew that took home gold medals from the Great American Beer Festival last year and got another bit of gold hardware for its Baltic-style Danzig Porter at the Brewers Association's World Beer Cup.
The brewer's World Beer Cup foray also earned a bronze for its Kollaborator dopplebock, made with the help of another great Blue Ridge brewer, Crozet's
. Originally right in Charlottesville, Star Hill moved to the mountains to increase production of such brews as its low-alcohol Lucy summer ale, its Festie lager and its upcoming pumpkin porter. Starr Hill's still incredibly active in Charlottesville, sponsoring concerts at the Charlottesville Pavillion and Jefferson Theater, but if you want a growler of its Jomo lager, a few sips from its tasting room, a glimpse of the bottling line or a taste of the full weekend of bands at the Starr Hill-sponsored
, you're going to have to take the hike.
Charlottesville isn't left out of the mix completely, as the
South Street Brewery
just off the Downtown Mall has a cozy brewpub and live music to match its selection of laid-back brews, including the hoppy Olde 420 Stout, but it's tough to compete with an outdoor patio at
in Afton, shaded in arbor and featuring mountain and farm views in almost every direction. The brewery's views, sprawling hops farm and upcoming August hop harvest detract only slightly from a broad selection of beers that start out as mild as its lager, beef up a bit in cans of Full Nelson Pale Ale and start packing a wallop with dubbels and a 10% alcohol by volume Mandolin artisinal ale. The brewpub also does a fine job on keeping beer lovers' eyes on the prize by rotating 20 draft-only varieties, including a wee heavy, imperial pumpkin and barrel-aged chocolate cherry bourbon stout on its taps and occasionally hosting "Steal The Glass" nights that allows visitors to keep the glass when they pay for a $5 pint.
Washington
Washington's 123 breweries outpace neighboring Oregon (121), pull ahead of craft-centric Colorado (118) and trail only California (245) in overall numbers. With the eighth-highest number of breweries per capita in the U.S., it's little wonder craft beers make up more than a quarter of the beers bought in Seattle while making up only 5% of beer bought in the U.S., according to
Beer Marketer's Insights
.
That's great for local beer drinkers, but really bad for the poor soul who has to pick a handful of spots for a beer tour of the state. Where do you even begin?
The big boys are the most obvious, and the Craft Brewers Alliance's
in Woodinville makes the biggest argument. Nestled in the Snohomish Valley after outgrowing facilities in Seattle's Ballard and Freemont neighborhoods, Red Hook's massive brewing facility hosts trivia nights in its brewpub, a full lineup of '80s movies including
Ferris Bueller's Day Off
,
Stripes
,
Revenge of the Nerds
and
Predator
on its outdoor screen and the brewery's 30th Anniversary party in September with appearances by Devo, The Psychedelic Furs and Tom Tom Club. The brews aren't bad, either, as the ESB, Copperhood and seasonal Wit are all worthy of attention -- even if you can get the same varieties across the country at Red Hook's Portsmouth, N.H., facility.
The other big brewer on the block is Seattle-based
, whose Seattle alehouse sits in the shadow of the Mariners' home at Safeco Field and is best known for its hefeweizen, apricot ale and Thunderhead IPA. The alehouse is nice enough and flights that include the Curve Ball Summer Ale, Live Wire Imperial hefeweizen, Uproar imperial red and Discord dark IPA are worth having, but it's not as if you can't sample them at the Pyramid alehouses in Portland, Berkeley, Sacramento or Walnut Creek, Calif., either. Pyramid's an institution, but it's one that was taken over by Magic Hat a few years back and by North American Breweries just last year. Combined with Magic Hat, Pyramid now produces more than 330,000 barrels a year and may be bigger than any one town can claim.
So what's a local to do? Blaze his or her own trail. Head west to Olympia and sample one of
Fish Brewing's
organic ales at its Fish Tale brewpub after walking the inlet or catching a film at the Capitol Theater. Head to Seattle's
and swap suds for Starbucks while taking in the sights and sounds of Pike Place Market.
Our gut instinct, however, says to stay in Seattle and check out
-- best known simply as Maritime -- and the dry-hopped Islander Pale Ale, Flagship Red or Black Porter in its Jolly Roger Taproom. That not only puts a beer lover in the middle of Seattle's funky Ballard neighborhood, but in striking distance of the Solstice tangerine flower ale and "Summer Is A State Of Mind" cask ale in the urban beer garden of
. If the artists, coffee shops and Troll in Freemont leave you thirsting for more, head to the halfway point between Ballard and Freemont for a few pints of Kolsch, Troll Porter or Mongoose IPA at
, which provides side-by-side tastings of its own brews and beers of the same variety from around the world.
-- Written by Jason Notte in Boston.
>To contact the writer of this article, click here:
Jason Notte
.
>To follow the writer on Twitter, go to
.
>To submit a news tip, send an email to:
.
RELATED STORIES:
>>Cans, Low Buzz? What's Up With Craft Beer?
>>Craft Brewers Taste Success As Team
>>Minnesota Budget Battle Hits Beer
Follow TheStreet.com on
and become a fan on
Jason Notte is a reporter for TheStreet. His writing has appeared in The New York Times, The Huffington Post, Esquire.com, Time Out New York, the Boston Herald, the Boston Phoenix, the Metro newspaper and the Colorado Springs Independent. He previously served as the political and global affairs editor for Metro U.S., layout editor for Boston Now, assistant news editor for the Herald News of West Paterson, N.J., editor of Go Out! Magazine in Hoboken, N.J., and copy editor and lifestyle editor at the Jersey Journal in Jersey City, N.J.