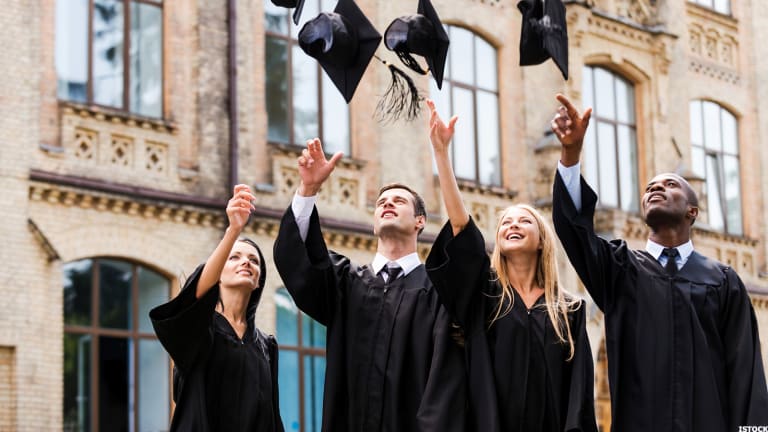 5 Money-Saving Questions to Ask Your College Financial Aid Officer
Chip away at college costs with questions that every parent should ask a college financial aid officer.
NEW YORK (MainStreet) — Just how high has the cost of college tuition risen?
Way high.
In fact, the cost of college tuition has soared 20 times faster than the typical college grad's annual income. That has fueled skyrocketing college loan burdens, to the tune of $33,000 for the average college graduate.
If those figures make college students, and most likely their moms and dads, get a serious case of the vapors, who could blame them? Yet once they clear their heads, and get a grip on the situation, families grappling with college costs would do well to look for savings via college financial aid packages.
Pamela Yellen, a money management expert, says "maximizing financial aid" is a good way to cut college financial costs - if you know the right questions to ask. "Paying for college without spending your life's savings is one of the biggest challenges faced by families today," Yellen says. "Families today must look outside conventional methods of paying for college, most of which come with hidden drawbacks and many strings attached."
To make the unconventional "conventional," college finance experts contacted by MainStreet advise asking the following questions of a college financial aid officer:

1. What's the 'true cost' of attending your college? – "That's a question that should be asked," says Michelle Schroeder-Gardner, founder of the financial advice blog MakingSenseofCents.com, and a college graduate who paid off $38,000 in student loans in just seven months. The true cost of college isn't the 'sticker price' colleges advertise, she says. Above and beyond tuition, the true cost of college also includes housing, meals, books, fees, and transportation, among other costs. Knowing the true cost of a college (and that figure will definitely change among different schools) gives students and parents a realistic, and necessary platform for budgeting for college.
2. What ACT/SAT score or GPA does my son/daughter need to achieve in order to receive the next level merit scholarship? – This question, from Thomas Jaworski, an independent educational consultant, specializing in college and founder of Quest College Consulting, allows college-bound families to "incentivize" their college savings experience, based on the student's achievement getting good grades, which can lead directly to more scholarship and financing money.

3. Does financial need affect financial aid offered by the college? - Again from Jaworski, this question ties ability to pay (based on household income and savings) to the amount of financial aid the student receives. Colleges routinely amp up financial aid contributions, based on family income, although that formula varies from school to school. Knowing what financial aid you can expect based on family need, and asking for it, can save big bucks in the college spending process.
4. What would you do to save money if you were in my situation? – Lior Krolewicz, founder of Yael Consulting in Los Angeles, Ca., says this is a question he asked his financial aid officer while in college. It's a good one, as college financial aid staffers and managers often have inside knowledge of where costs can be curbed on college spending. And most aren't shy about helping out. "They're used to issuing standard answers, but this question will get them thinking, to your benefit," Krolewicz says.

5. What's your school's "net price"? - The net price is a discounted sticker price, the amount of money the family will have to pay from savings, income and loans to cover college costs, says Mark Kantrowitz, senior vice president and publisher at Las Vegas-based Edvisors.com. "It's important for families to use a college's net price calculator to calculate the net price after the student receives a financial aid award letter, since that is the best measure of the real cost of college," he says. There are two ways in which college policies can affect the net price, he says. About half of colleges practice front-loading of grants, which yields a higher net price in subsequent years. Also, if a student has won a lot of college scholarships, each college's practices with regard to scholarship displacement can affect whether the private scholarship reduces the net price or not. 
When you sit down for a chat with your school's financial aid officer, make sure you ask all of the above five questions – it could wind up saving you a bundle on one of the most expensive bills you'll ever see in your life.