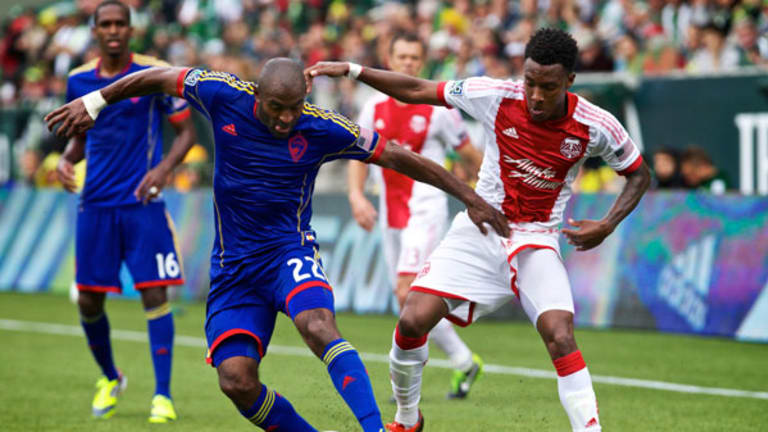 5 Major League Soccer Teams That Outdraw Baseball
MLS teams can draw more fans per game than big-league ballclubs -- including teams in the same city.
PORTLAND, Ore. (TheStreet) -- When comparing the two professional summer sports in the U.S., it helps to keep Major League Baseball and Major League Soccer's scale in mind.
Last season, Major League Baseball's 30 teams drew 74.9 million fans to their ballparks and pulled in more than 30,000 per game. Major League Soccer's 19 clubs had 6 million fans come through the turnstiles and 18,800 show up on average for each match. Baseball has its own network that it built with
DirecTV
(DTV)
and still has
Fox
(NWS) - Get News Corporation Class B Report
,
TBS
(TWX)
and
ESPN
(DIS) - Get Walt Disney Company Report
paying for game rights, while MLS makes do with its deals with ESPN,
NBC SPORTS
(CMCSA) - Get Comcast Corporation Class A Report
and
Univision
and a fan base that's growing in all the right demographics.
As baseball gears up for its All-Star Game at the Mets'
Citi
(C) - Get Citigroup Inc. Report
Field in New York, MLS' biggest recent announcement was that it would be holding its 2014 All-Star Game in Portland, Ore. So why should the MLS feel good about next year's summer classic in what's not even the biggest city in the Pacific Northwest as baseball prepares to show off its best players in one of the biggest cities in the world? Again, it's all a matter of perspective.
When it comes to average attendance pro baseball and soccer rank No. 2 and 3, respectively, behind the National Football League. In some cases, MLS teams even draw more fans per game than big-league ballclubs -- including teams that happen to share the same city. The Portland Timbers are one of the MLS organizations putting MLB teams to shame, and they've been around in their current MLS incarnation for only three years.
Also see: Is The NHL Really Still the No. 4 Sport?>>
In all, 11 MLS teams are putting together a better average attendance than the least popular big-league baseball team -- the Miami Marlins (17,718 per game). True, the soccer teams play fewer games, but only four MLS teams play in a stadium with capacity of 27,000 or greater (New England, Seattle, Vancouver and Washington, D.C., all play in facilities built for American and Canadian football).
Also, baseball has an enormous head start on Major League Soccer, adding its last expansion teams in 1998 just as MLS was entering its third season of play. As recently as 2001, MLS had contracted its counterparts to baseball's Marlins and Rays -- the Miami Fusion and Tampa Bay Mutiny -- had no television contract and shrunk to 10 teams playing mostly in outsized football stadiums. Now, it has a growing fan base of millennials who've never known U.S. sports without MLS.
While there are certainly more teams than can make similar claims, we're just going to point out the Top 5 teams in MLS that not only outdraw baseball's bottom-dwellers, but in some cases do so in MLB's own backyard. All attendance figures are through June, the last full month available, and may have fluctuated since:
5. Sporting Kansas City
Entered MLS:
1996
Average 2013 attendance:
19,504
Baseball teams it outdraws:
Miami Marlins (17,168), Tampa Bay Rays (17,718), Houston Astros (18,271), Cleveland Indians (18,995)
And the Indians and Rays aren't playing shabby baseball this year, either.
As one of MLS' founding clubs and one that put an MLS Cup in its trophy case in 2000, Sporting KC uses a whole lot of history and good will to keep fans coming through the gates of Sporting Park. Those are fans who remember this team as the Wizards or, simply, The Wiz, before MLS decided to get more soccer-specific in 2010.
They remember going to games in cavernous Arrowhead Stadium, rooting on U.S. Men's National Team veterans such as Alexi Lalas and Tony Meola. They also remember, as Sporting reminded them last year when it defeated every U.S. soccer team in its path en route to winning the the U.S. Open Cup, that their soccer team is the closest thing their town has had to an elite professional sports franchise in some time.
Also see: 5 Great Stadiums Making Up for Bad Baseball Teams>>
Back in 2011, Sporting on average outdrew the hometown Kansas City Royals. Those same Royals haven't made the playoffs since they won the World Series in 1985 and have had exactly five winning seasons since then.
Since moving to their new home at soccer-specific LiveStrong Sporting Park this year, Sporting Kansas City has drawn nearly 19,200 fans to every home game. The same can't be said for the Royals, who struggle to bring roughly 18,600 fans out to games. The NFL's Kansas City Chiefs, meanwhile, have had four winning seasons in the past decade, haven't made it out of the first round of the playoffs since 1993 and haven't won a Super Bowl since 1969.
4. Portland Timbers
Entered MLS:
2011
Average 2013 attendance:
20,674
Baseball teams it outdraws:
Miami Marlins (17,168), Tampa Bay Rays (17,718), Houston Astros (18,271), Cleveland Indians (18,995)
To understand just how big soccer is in this town, keep in mind that next year's MLS All-Star Game will be the first major-league All-Star Game in this town of any kind. The NBA played its star-studded even in Vegas without so much as sniffing the TrailBlazers' home court at the Rose Garden, but MLS is all in.
Never mind that the University of Portland churns out men's and women's national team players such as Conor Casey, Megan Rapinoe, Steve Cherundolo, Stephanie Lopez and Kasey Keller as if they're the region's biggest exports. Never mind that Portland alum Christine Sinclair and women's national team star Alex Morgan helped the Portland Thorns women's team set a U.S. women's soccer record by drawing nearly 16,500 fans to the team's first game.
It's the Timbers and their long, circuitous roots that keep this a soccer town. The team got its start in the North American Soccer League from 1975 through 1982, hung on as F.C. Portland in the Western Soccer League from 1985 through 1990 and re-emerged as the Timbers in the USL from 2000 through last year. The team was bought by Merritt Paulson and his father, former Treasury secretary Henry Paulson, and has been selling out every match since joining MLS three years ago.
Thank the several thousand members of the Timbers Army supporters group for much of that enthusiasm. They've backed the team for nearly a decade and carry on Timbers traditions such as former mascot Timber Jim's chainsawing of a log each time the team scores a goal. The giant signs, the songs and chants, the reasonably priced (read: face value) resale tickets to just about every Timbers game -- that's all them. They can seem cultish, nerdy and downright pedantic to outsiders, but once fans have been on their feet in their section for the full 90, it's clear who willed this team into being.
3. Montreal Impact
Entered MLS:
2012
Average 2013 attendance:
21,283
Baseball teams it outdraws:
Miami Marlins (17,168), Tampa Bay Rays (17,718), Houston Astros (18,271), Cleveland Indians (18,995)
This team came into the league just last year and it's already beating MLB in the one place that counts.
Just take a look at that Miami Marlins attendance number. That's the team run by Jeffrey Loria, who ran baseball's Montreal Expos into the ground, sold the team to the league, hustled the desiccated corpse of its front office down to Florida when he took ownership of the Florida Marlins and left the Expos name and floundering team to wither. Eventually, in 2005, the team was moved to Washington, D.C., and became the Washington Nationals.
That said, it's been a while since Montreal's had a hankering for summertime pro sports. That its MLS squad is not only succeeding, but outdrawing Loria's Miami franchise, is already a big win for Montreal. For Miami, not so much. Sure, the town got a World Series out of the deal in 2003, but the fire sale that followed, the threats that led to a taxpayer-funded stadium and the subsequent repeat fire sale that followed the team's first playoff-free season in that new stadium just left that town with Montreal's mess.
2. Los Angeles Galaxy
Entered MLS:
1996
Average 2013 attendance:
21,948
Baseball teams it outdraws:
Miami Marlins (17,168), Tampa Bay Rays (17,718), Houston Astros (18,271), Cleveland Indians (18,995), Seattle Mariners (21,537), Kansas City Royals (21,908)
This is the closest thing the MLS has to the New York Yankees. David Beckham played here, Landon Donovan plays here, Robbie Keane plays here and legendary U.S. coach Bruce Arena is still guiding the whole works.
The result? Four MLS Cup titles and one of only two U.S. wins in the CONCACAF Champions Cup. That's how you have to compete in a town where the Dodgers pull in an MLB-leading 43,576 fans a game and the Angels draw another 37,000 more for each contest.
It has a great rivalry with the San Jose Earthquakes, it gets a Yankees-style reception wherever it goes (lots of attendance and hate) and it's become the de facto ambassador for the MLS. For a league built more on regional pride and development than on its early fading-superstar model, the Galaxy are a throwback that's still pushing the league ahead.
1. Seattle Sounders FC
Entered MLS:
2009
Average 2013 attendance:
41,501
Baseball teams it outdraws:
All but the Los Angeles Dodgers, St. Louis Cardinals and San Francisco Giants
Forget for a moment that the Sounders are nearly doubling the attendance of MLB's Mariners, who play right next door to the Sounders' CenturyLink Field in Safeco Field. Even the Houston Dynamo and their 19,465 fans per game outdraw the 18,271 that baseball's Houston Astros bring in every night.
This year, on average, the Sounders are outdrawing the Yankees, the Mets, the Angels, the Nationals, the Boston Red Sox, the Texas Rangers, Philadelphia Phillies, the Chicago Cubs and White Sox and the Detroit Tigers.
Those are marquee baseball clubs and, in many cases, storied franchises that the Sounders and their Emerald City Supporters and Gorilla FC backers can outdraw with ease this year. Let's put it this way: When the Sounders played their Cascadia Cup rivals the Vancouver Whitecaps earlier this season, they packed the place with more than 50,000 fans. When the U.S. men's national team came into town for a World Cup qualifier against Panama, they struggled to sell 42,000 tickets.
Soccer culture in the Seattle area runs deeper than outsiders can possibly imagine. Yes, star women's national team goalkeeper Hope Solo and longtime men's national team keeper Kasey Keller are from around here, along with dozens of other professional players and coaches. Yes, Marymoor Park just outside the city teems with leagues and active soccer fields are a common sight in much of the rest of Washington as well.
There's a simple explanation for this: Unlike other thin-skinned U.S. sports, soccer doesn't stop everything and run for the hills once a little rain falls. In the Seattle area's case, that rain's falling more often than not. If you want to play here, you have to play through it.
That fuels a passion for soccer -- specifically Pacific Northwest soccer -- that's unparalleled elsewhere in the league. Like their Pacific Northwest rivals in Portland and Vancouver, the Sounders' NASL tradition (1974-83) and longstanding lower-level rivalries gave the club a bit of a head start when it joined MLS in 2009. The ties run so deep that Sounders fans joined Vancouver and Portland fan groups to keep the
-- awarded each year to the team with the best record in games between the three franchises -- out of the hands of MLS and maintain it as an independent entity.
It's a town and region that's seen soccer leagues come and go over the past 40 years, but has enough passion to keep its beloved teams constant -- an enduring reminder of soccer's bond with a region unafraid to hit the pitch beneath a gray pall.
-- Written by Jason Notte in Portland, Ore.
>To contact the writer of this article, click here:
Jason Notte
.
>To follow the writer on Twitter, go to
.
>To submit a news tip, send an email to:
.
RELATED STORIES:
>>How Tapping The Jewish Beer Market Begat A Plan
>>Sierra Nevada CEO Makes East Coast Beer Run
>>Craft Brew Founder Widmer Savors Results
Jason Notte is a reporter for TheStreet. His writing has appeared in The New York Times, The Huffington Post, Esquire.com, Time Out New York, the Boston Herald, the Boston Phoenix, the Metro newspaper and the Colorado Springs Independent. He previously served as the political and global affairs editor for Metro U.S., layout editor for Boston Now, assistant news editor for the Herald News of West Paterson, N.J., editor of Go Out! Magazine in Hoboken, N.J., and copy editor and lifestyle editor at the Jersey Journal in Jersey City, N.J.