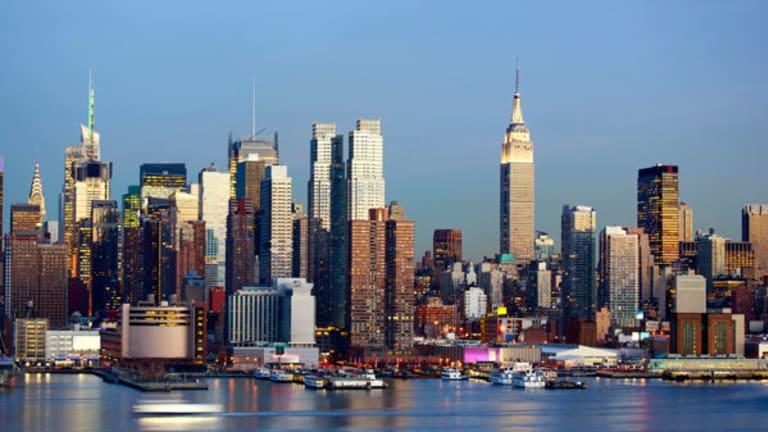 5 Least Sinful Cities in America
Lots of U.S. cities get their names from saints, but research finds only a few living up to saintly standards.
BOSTON (
) -- St. Louis, San Francisco and lots of other U.S. cities get their names from saints, but recent research finds that only a select few communities really live up to saintly standards.
"These 'saintly' cities might have residents who are more genuine, more altruistic and generally nicer," says Randy Nelson of property-listing site
, which analyzed dozens of U.S. communities to name America's Most Saintly Cities.
To gauge saintly behavior, Movoto studied 95 of the nation's 100 most-populous cities (the site couldn't get complete data for the other five) to see how often locals commit the Catholic Church's Seven Deadly Sins.
Codified by Pope Gregory I in 590, the Seven Deadly Sins include envy, gluttony, greed, lust, pride, sloth and wrath.
Movoto estimated the prevalence of each transgression in different communities by using modern measures to assess the sixth-century list. For instance, Movoto gauged lust by looking at how many strip clubs a given city has, using
Yelp.com
listings as a guide.
Also see: 5 Housing Markets Where You'll Break Even Fast When You Buy>>
Based on its findings, Movoto recently chose both America's
and its most saintly ones.
The site quantified saintliness by analyzing how well different communities follow a list of good behaviors that roughly parallels the church's Seven Heavenly Virtues -- the opposite of the Seven Deadly Sins.
Movoto measured the virtues of:
Charity. Charity involves giving stuff away instead of taking it -- the antithesis of envy, where you covet something that someone else owns. Movoto measured charity by looking at cities with low FBI property-crime rates.
Chastity. The study gauged chastity (the opposite of lust) by ranking communities for low levels of strip clubs within city limits.
Diligence. Diligence is the flipside of sloth. Movoto measured this virtue by looking at U.S. Centers for Disease Control estimates of each city's inactivity rate, the percent of the local population that's not physically active. The lower the inactivity rate, the higher a city's diligence ranking.
Generosity. Movoto calculated generosity (the antithesis of greed) by using Philanthropy.com figures of how much the average resident in each locale donates to charity in a given year. The higher the percentage of disposable income contributed, the greater a city's generosity.
Humility. The study quantified humility -- the opposite of pride -- by looking at each city's ratio of plastic surgeons to residents, based on Yelp.com listings. The lower the ratio, the higher the community's humility.
Kindness. Kindness is virtue's answer to wrath. Movoto measured kindness by focusing on cities with low FBI violent-crime rates.
Temperance. Movoto assessed temperance (the opposite of gluttony) by looking for communities with low CDC obesity rates.
If you want to move to a city where virtue beats vice, click below to check out the five communities that top Movoto's Most Saintly Cities list.
Also see: 5 Cities Offering Homes From Your Favorite Decade>>
America's fifth-most-saintly city: Chula Vista, Calif.
Chula Vista's name means "beautiful view" in Spanish, and you can move there and admire nearby San Diego Bay without worrying about someone stealing your stuff.
That's because the FBI estimates 244,000-population Chula Vista has just 18 property crimes a year for every 1,000 residents, placing it eighth for charity among communities studied.
The city also ranks 11th for kindness, 13th for humility, 15th for diligence, 18th for chastity and 20th for temperance.
But Chula Vista isn't quite so saintly when it comes to generosity, ranking just 91st among the 95 cities that Movoto analyzed. Locals there only give 3.6% of disposable income on average to charity.
America's fourth-most-saintly city: Glendale, Calif.
Perhaps it's not surprising that a suburb of Los Angeles (the "City of Angels") makes Movoto's list of America's Most Saintly Cities.
Glendale did well in the site's study primarily because the 192,000-population community ranks highly for charity and kindness, two measures of low crime. "The big thing in Glendale is really its low theft and violent-crime rates," Nelson says.
The community places No. 2 in the study for charity, with just 13 property crimes a year per 1,000 residents. Glendale also comes in third for kindness, with just one violent crime per year for every 1,000 citizens.
As for the study's other measures, the city ranks 13th for temperance, 20th for diligence, 30th for generosity and 38th for chastity.
But Glendale only places 55th for humility because it has one plastic surgeon for every 9,219 residents -- a relatively high rate.
America's third-most-saintly city: Fremont, Calif.
The expression "You can never be too rich or thin" seems to apply to Fremont, a San Francisco suburb that has low rates of both thefts and obesity.
Located on San Francisco Bay just north of San Jose, Fremont ranks fourth on Movoto's list for charity, with just 15 property crimes per 1,000 residents. The community also places fifth for temperance, as the CDC estimates only 20.1% of Fremont's 214,000 residents are obese.
The city likewise comes in fifth for chastity, ninth for both diligence and kindness and 24th for humility.
On the downside, Fremont ranks a poor 94th out of a possible 95 for generosity. On average, residents donate just 3.2% of their disposable income to charity.
America's second-most-saintly city: Gilbert, Ariz.
This Phoenix-area community ranks second only to Irvine, Calif., for kindness, with a violent-crime rate of just one incident per year for every 1,000 residents. (Glendale, Calif., also has one violent crime per 1,000 people, but rates third because it's larger and has more incidents in absolute terms.)
Gilbert also comes in sixth place for charity, 13th place for chastity and 17th place for humility.
And although it doesn't do quite as well on other measures of virtue, 212,000-population Gilbert does manage to place 26th for temperance, 27th for diligence and 41st for generosity.
America's most-saintly city: New York
Taxi Driver
,
Law & Order
and other movies and TV shows set in New York make the Big Apple look like a separate ring in Hell, but Movoto's study concluded that Gotham is actually America's Most Saintly City.
"People assume there's a lot more crime in New York than everywhere else, but it turns out that's just in movies and on TV," Nelson says. "When you sit down and look at the statistics, you see that the city has over 8 million people -- so the incidence of these things is very low on a per-capita basis."
For instance, Movoto found that New York ranks third among cities studied for Charity, with just 15 property crimes for every 1,000 residents. The Big Apple doesn't do quite as well for kindness -- ringing up six violent crimes per 1,000 people -- but still ranks just 42nd out of a possible 95 on that measure.
New York also rates third for diligence (with just a 16.4% obesity rate) and sixth for generosity. Movoto found that the average New Yorker gives 7.4% of disposable income to charity.
Finally, New York places 14th for humility and 40th for chastity.