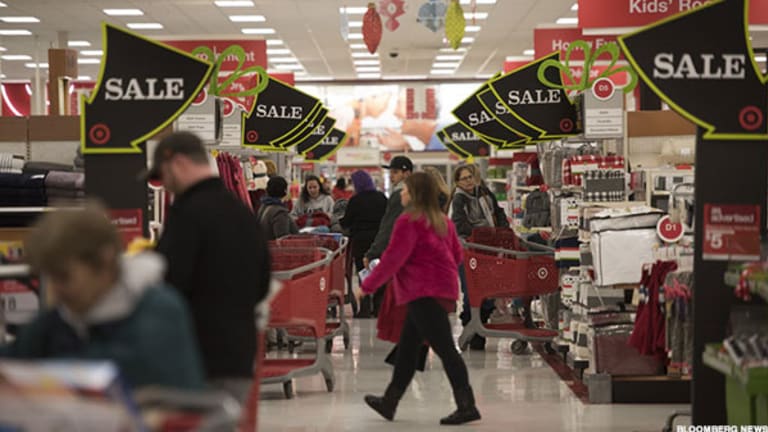 5 Last-Minute Holiday Shopping Solutions for Desperate Buyers
Nobody's judging you for putting off holiday shopping this long, especially big-box stores, health and beauty chains and convenience marts.
NEW YORK (MainStreet) – If you're reading this, you either actually need help finding gifts or are here for a hardy chuckle at those who do. In either case, welcome.
Since the first Christmas decorations started showing up in department stores and home-and-garden chains in September, it's been a slow trudge toward the holiday itself. By October, candy canes had appeared in supermarkets and retailers held their first sales. In November, shoppers were in Target (TGT) - Get Target Corporation Report, Wal-Mart (WMT) - Get Walmart Inc. Report and other stores as early as Thanksgiving night taking advantage of holiday sales. What nobody tells retailers who frantically push Cyber Monday, Green Monday and Free Shipping Day deals is that shoppers' lives don't stop just because it's the holiday shopping season.
According to the National Retail Federation's survey of holiday shoppers conducted this season, only 3% of people shopping for Christmas presents planned to start during the last weeks of December. In fact, more than a third started well before November. Though there are folks who hold off on gift exchanges until just after Christmas, New Year's or the Feast of the Epiphany – the traditional end of the 12 days of Christmas on the Christian calendar – there are some who've just been preoccupied for the past few months or so and had the holidays sneak up on them.
Again, life doesn't stop just because some publicly traded retailer decided to have a sale.
The discounts aren't great this time of year, shipping isn't an option and many stores are already closed, tbut here are still a few ways for procrastinators to finish up their holiday shopping today or even tomorrow. We took one last look around the pre-holiday landscape and found five options for the most desperate holiday shoppers. For the rest of you, just consider them five strong examples of why you were wise to finish early:

Cash-hungry retail chains
Big box stores that were cool with hosting Black Friday sales in July and tempting shoppers into missing much of their Thanksgiving are definitely going after those last-minute holiday purchases. The kind elves at the blog Offers.com put together a list of all the stores open on Christmas Eve, and it's not exactly short.
Costco (COST) - Get Costco Wholesale Corporation Report deserves credit just for opening the doors, but if you're working today you may want to consider a long lunch break or a hasty exit to avoid its 5 p.m. closing time. Best Buy (BBY) - Get Best Buy Co. Inc. Report, Nordstrom (JWN) - Get Nordstrom Inc. Report, JCPenney (JCP) - Get J. C. Penney Company, Inc. Report and Office Depot (ODP) - Get The ODP Corporation Report give commuters a fighting chance by staying open until 6 p.m., while Wal-Mart locations will be open until 8.
Kmart woos latecomers by keeping doors open until 10 p.m., but Kohl's is digging deep and keeping its stores open for 24 hours on Christmas Eve, as it has for this whole week.

Digital gift cards
Oh, you can run out to a supermarket and pick up a gift card to just about any store or restaurant of your choosing, but why would you do that? Digital gift cards offer your last chance to finish up your shopping without leaving the house and dealing with the equally frazzled holiday hordes.
The NRF says gift card giving overall has increased 83% since 2003. This year, the average person buying gift cards will spend $172.74, up from $163.16 last year. Total gift-card spending is expected to reach $31.74 billion, with 62% of those surveyed saying they'd like to get a gift card this year. A 2011 white paper conducted by Aberdeen Group with Transaction Wireless found 76% of consumers surveyed planned to adopt digital gift cards in the near future. Transaction Wireless found that, a year later, the majority of gift card purchases have switched to digital. They're emailed to you or your recipient immediately, easy to personalize with text, audio or video, can be used on a store's website and are a great option if that last person on your list lives nowhere near you.
They've also come a long way in the past few years. According to rankings by gift card ratings site ScripSmart, companies including Gap, Nordstrom, Macy's, Home Depot and even Yum Brands' Pizza Hut have made their e-cards simple to get, easy to redeem in stores or online and easy to use across multiple brands such as Gap's Old Navy, Athleta or Banana Republic.
With the NRF noting that more than 80% of shoppers planned on buying a gift card this year anyway, it's the simplest last-minute option — even if 25% of NRF survey respondents find them impersonal.

Health and beauty stores
Thanksgiving? Black Friday? Cyber Monday? These days mean nothing to health and beauty stores. Christmas Eve and Christmas Day are their moments in the holiday spotlight.
This isn't CVS, Rite Aid and Walgreens' first time at the reindeer games, and each is pretty cutthroat about making sure the other doesn't hog all of the holiday fun. Each has 24-hour locations open Christmas Eve and Christmas Day. Both have regular hours on Christmas Eve at stores that aren't open 24 hours and have something resembling normal hours on Christmas Day.
You're not going to find an iWatch or FitBit at these places, but if you think you can sneak a third-party Bluetooth activity tracker past an unsuspecting relative, CVS touts one for $45. You won't find that iPad or Samsung Galaxy Note here, either, but Walgreens offers Android tablets for as little as $50. Admittedly, if you're coming here for anything more than some candy, magazines, razors or beauty supplies to stuff a stocking with, you're courting disappointment.
If you can find those elusive two-for-$10 bad movies your sibling loves in the bargain bin or that pair of Pajama Jeans your mom is too embarrassed to buy on her own, though, these stores can make that last-minute trip count.

7-Eleven
Insert your Slurpee and lottery ticket jokes here, but 7-Eleven has been the last refuge of holiday scoundrels for years.
The Slurpee machine has since become self-aware and began stocking gift cards available for Zynga games on Facebook, iTunes music, Google Play and, yes, 7-Eleven. There are also movies, headphones, DVDs and, most importantly, batteries. It's great to have a stocking-candy nirvana open Christmas Day just in case, but knowing they stock batteries on the one day parents invariably forget that their child's favorite Christmas toy needs them earns 7-Eleven some seldom-received respect.

Travel sites
The folks at Priceline, Orbitz, Expedia and just about every airline in the world will be more than happy to book you a vacation this Christmas Eve. They'll take your money, they'll send you an itinerary quickly and, if you happen to book a trip for either those post-holiday "dark weeks" in January or the non-Valentines weeks in February just before spring break, you may just get a deal out of it, too.
— By Jason Notte for MainStreet.
>To contact the writer of this article, click here: Jason Notte.
>To follow the writer on Twitter, go to http://twitter.com/notteham.
>To submit a news tip, send an email to: tips@thestreet.com.
RELATED STORIES:
>>Things To Shop For In December When Everyone Else Is Holiday Shopping
>>5 Craft Beer Variety Packs To Liven Up Any Holiday Party