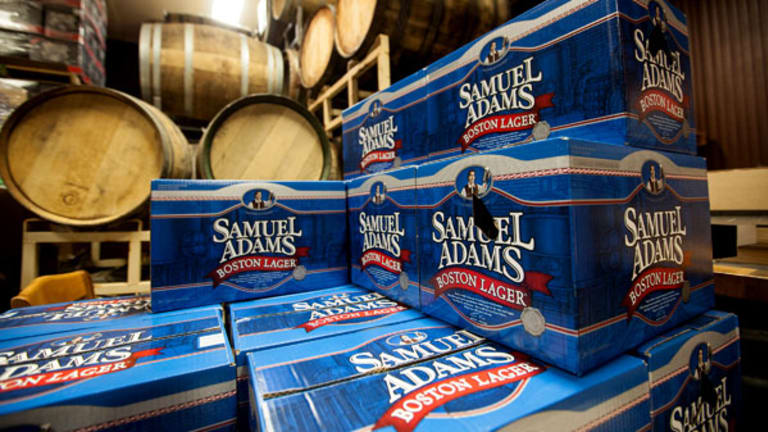 5 Industries That May Never Have a Super Bowl Ad
CBS may want ad revenue bad, but not enough to justify sponsors in the marijuana or adult entertainment biz.
PORTLAND, Ore. (TheStreet) -- Despite what the receipts may indicate, the NFL and its Super Bowl broadcast partners don't just take every dollar and ad thrown their way.
This isn't recession-era 2010, when
CBS
(CBS) - Get CBS Corporation Class B Report
aired 104 commercials from 39 different companies and still fell short of the $213 million spent the year before, according to
Kantar Media
. Only 78 spots aired during the big game last year, while only 29 companies got into the game back in 2011.
While first-time advertisers accounted for nearly a third of all Super Bowl ads last year, networks and the NFL are still pretty particular about who gets airtime during the biggest televised event of the year. There are plenty of rookies this year, but
Soda Stream International
,
Paramount Farms
pistachios,
Mondelez's
(MDLZ) - Get Mondelez International, Inc. Class A Report
Oreo Cookies and
Gildan Activewear
(GIL) - Get Gildan Activewear Inc. Report
are all fairly safe bets for the NFL, its existing sponsor base and network executives looking to keep things family friendly.
Last year's Super Bowl drew an average of 111.3 million viewers for
NBC
(CMCSA) - Get Comcast Corporation Class A Report
and attracted 166.8 million U.S. viewers -- or more than half the country -- throughout the broadcast. NBC came away with $262.5 million in ad money after charging a record $3.5 million per 30-minute spot and opened the door for CBS to charge upward of $4 million for half a minute of commercial time this year.
Just because those big ratings mean big money doesn't mean there isn't cash being left on the table. We took a look through the Super Bowl commercial list and found five industries that haven't made the cut and possibly never will:
Craft beer
The craft beer industry and its relatively small, upstart brewers are still only 5.7% of the overall beer market's volume and 9.1% of its sales, but craft beer production jumped 13% in 2011 while sales increased 15%. Still, even larger craft brewers such as
Boston Beer
(SAM) - Get Boston Beer Company, Inc. Class A Report
, which makes the Samuel Adams line, either can't or won't splurge on a Super Bowl ad.
"Are you kidding? The big brewers are 80 times our size," Jim Koch, president and founder of Boston Beer, told us
. "Our money is better spent on hops."
That's from a guy whose brewery produced nearly 2.5 million barrels of beer in 2011, more than double that produced by the next largest craft brewer,
Sierra Nevada
. Pottsville, Pa.-based
D.G. Yuengling & Son
, which is the largest American brewer, with more than 2.5 million barrels produced in 2011, is available in little more than a dozen states and swears off Super Bowl ads that would cost the company more per viewer than competing ads from larger breweries.
Not that those big brewhouses want to give the craft breweries or even their big corporate competitors a shot at the title.
Anheuser-Busch InBev
(BUD) - Get Anheuser-Busch InBev SA/NV Report
paid the NFL $1 billion a couple years ago to wrest the league's official beer sponsorship away from
MolsonCoors
(TAP) - Get Molson Coors Beverage Company Class B Report
. It's also spent $248.6 million during the past decade to not only air ads for Budweiser and other brands during the Super Bowl, but to buy exclusivity deals from CBS, NBC,
Fox
(NWS) - Get News Corporation Class B Report
and
ABC
(DIS) - Get Walt Disney Company Report
that prevent all other beer companies from buying big-game airtime. It's had those deals in place since 1989 and has spent the past 24 years using them to fortify its position by setting up a Bud Light hotel in the game's host city and slapping its logo all over Super Bowl parties.
Marijuana
On the federal level, nothing about marijuana policy has changed. It's still illegal for medical and recreational use.
On the state level, however, medical and not-so-medical marijuana are becoming voter-supported growth industries. Eighteen states and the District of Columbia have legalized the use of medical marijuana and turned it into a
. In November, Colorado and Washington voters helped legalize recreational pot use in their states.
Supporters of the ballot measures in those states say legalized marijuana will bring in tens of millions of dollars in revenue for state and local governments, with Colorado scheduled to open its first marijuana stores in January 2014. Publicly traded marijuana companies such as
Medical Marijuana Inc.
(MJNA)
,
GrowLife Inc.
(PHOT)
and
Hemp Inc.
(HEMP)
have already seen share prices surge.
Just one problem: The federal government still has a whole lot to say about regulation and taxation of weed and doesn't make it easy on dispensaries, shops and growers. Those folks have a tough time opening bank accounts for their businesses and would have an even tougher time keeping the feds off their back by taking out nationally televised ads. Especially during the Super Bowl, the biggest event for a sport with a weed history so cloudy that
ESPN Magazine
dedicated some serious real estate to discussing the topic in its
last year.
Besides, even if weed was legal, it wouldn't be guaranteed air time. Just ask the Marlboro Man or Joe Camel what their Super Bowl Sunday plans are this year.
Liquor distillers
Liquor is enjoying quite the post-recession renaissance here in the U.S.
The U.S. Distilled Sprits Council says sales increased 4% to nearly $20 billion in 2011, with sales by volume increasing by 2.7% in that same span. That puts both figures at pre-crisis levels and leaves companies such as
Diageo
,
Beam
(BEAM)
,
Brown-Forman
(BF.A) - Get Brown-Forman Corporation Class A Report
and
Constellation Brands
(STRZ)
flush with cash to spare.
Not that Super Bowl broadcasters will let them spend it. While liquor ads have found a happy home on cable, they're still restricted to late-night on broadcast networks and only during shows such as ABC's
Jimmy Kimmel Live!
, for which 72% of the audience or more is at least 21 years old. While the Super Bowl can run fairly late on the East Coast, the networks' 11 p.m. cutoff is still a stretch for liquor companies. They aren't likely to cough up $4 million for ads that may or may not air.
According to Kantar, Liquor companies spent $114 million on television ads in 2011. That's some serious expendable income, but just a shot compared with the $922 million beer companies poured into TV ads that year. With one Super Bowl ad equalling roughly 3.5% of the liquor industry's TV ad spending for the entire year, don't expect sprits companies to get in the game anytime soon.
Adult entertainment
It's an event where a slight glimpse of Janet Jackson's breast in 2004 led to a Federal Communications Commission clampdown on just about every aspect of broadcast television that even hinted at sexuality or naughty words. Still, when
GoDaddy
and its horrendous soft-core teaser ads for its Web hosting service are a Super Bowl staple, there has to be a chance, right?
Wrong. Like "you don't know America at all" wrong.
After Janet and Justin Timberlake, America wasn't even allowed to look at a woman onstage during a halftime show until Fergie blended in with the robo-suited Black Eyed Peas in 2011. CBS just finished dealing with the legal repercussions of Jackson's flash last year, when the Supreme Court refused to hear an appeal of a lower court's 2011 decision to repeal an FCC fine against the network.
Meanwhile, if well-clothed Danica Patrick and Jillian Michaels aren't enticing pubescent youth and lonely cubicle drones into checking out domain names and client costs with "see the rest" video ploys, sex isn't selling at the Super Bowl. Companies including
Private Media Group
(PRVT)
and
Rick's Cabaret
(RICK) - Get RCI Hospitality Holdings, Inc. Report
that actually have some adult material to sell have no prayer of getting an ad aired so long as companies such as adulterous dating site AshleyMadison.com have ads rejected just for featuring
.
Gun manufacturers
CBS had just about enough of controversy in 2010, when it ran ads from religious organization Focus On The Family featuring quarterback Tim Tebow and a link to a pro-life message on the organization's website.
Smith & Wesson
(SWHC)
,
Cerberus
' Freedom Group,
Colt Manufacturing
and other gun makers haven't been particularly active on Super Bowl Sunday in the past and likely didn't get an engraved invitation from CBS this year. Like liquor, beer and adult entertainment, those companies' products and the right to use them are protected under the constitution. Like those products, however, they have plenty of detractors who wouldn't mind seeing some increased regulation of their industry.
The big difference is that, in light of grave recent events, their industry is under heavy federal scrutiny right now and is one of those hot-button topics you just can't seem to discuss in polite company anymore. There's some pretty strong argument coming at the gun industry from both sides, and that's exactly the type of thing networks and broad-based organizations such as the NFL usually love to avoid.
That didn't stop NBC from running a gun-control ad during last year's Super Bowl featuring
New York City Mayor Michael Bloomberg and Boston Mayor Tom Menino
, but CBS seems to agree that the stakes have risen in the past few months.
-- Written by Jason Notte in Portland, Ore.
>To contact the writer of this article, click here:
Jason Notte
.
>To follow the writer on Twitter, go to
.
>To submit a news tip, send an email to:
.
RELATED STORIES:
>>5 Big CES Products That Tanked
>>10 Cities Poised For Greatness In 2013
>>5 Most Infamous Cars Of 2012
Jason Notte is a reporter for TheStreet. His writing has appeared in The New York Times, The Huffington Post, Esquire.com, Time Out New York, the Boston Herald, the Boston Phoenix, the Metro newspaper and the Colorado Springs Independent. He previously served as the political and global affairs editor for Metro U.S., layout editor for Boston Now, assistant news editor for the Herald News of West Paterson, N.J., editor of Go Out! Magazine in Hoboken, N.J., and copy editor and lifestyle editor at the Jersey Journal in Jersey City, N.J.