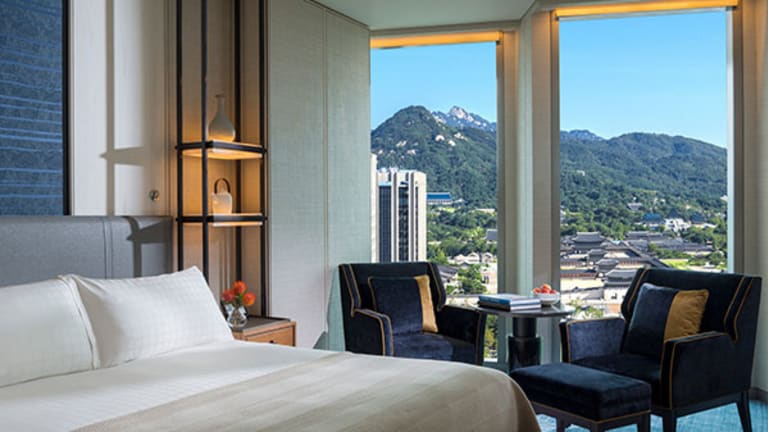 5 Hotels Opening in 2015 That Embody Latest Travel Trends
Brass is back, embracing technology is in and overindulgence is very, very out at these beautiful new hotels around the world.
NEW YORK (MainStreet) — Brass is back, embracing technology is in and overindulgence is very, very out.
Those are highlights of the trends that will be seen around the globe among luxury hotels opening in 2015 (and in some existing luxury hotels as well).
Hotel industry experts say use of bold colors, a focus on health — in building and room design and in service offerings — will also be major themes in the coming year.
"The wellness travel economy is quite robust and very trending," says Susie Ellis, president of Spafinder Wellness, which for the past dozen years has produced a Wellness Trends Report that includes detailed research about the latest in hospitality and travel. "Instead of the idea 'Here is your hotel and you can go to the spa or to the gym,' wellness is infused throughout the entire hotel."
One vivid example, says Ellis, is Las Vegas' MGM Grand. While not a new property, the Grand is on the cutting edge with an entire floor of Stay Well suites with air purification to reduce allergens, toxins, smoke and microbes from the air; healthy energizing lighting designed to reduce jet lag and regulate circadian rhythm; and vitamin C-infused water in showers to neutralize chlorine, keeping skin and hair soft and smooth.
Another element of the trend taking shape will be hotel rooms that include such things as exercise equipment and space to practice yoga.
"People are just very stressed and don't have a lot of time," Ellis says. "Twenty-four/seven connectivity is ratcheting up the stress level, so the need to de-stress and improve wellness is fueling this trend."
Technology, for all the stress it may cause with constant connectivity, will also improve hotel experiences — through such things as elimination of a formal, time-consuming check-in at a hotel's front desk and customization of your entire stay. Tech-savvy travelers will be provided new ways of booking various options and treatments before arrival, such as dining experiences or personal trainers, and guests can order food or drinks from a hotel's restaurants and bars on their own devices.
In some areas, however, the tech may still need to be perfected.
"There is a little something missing [with the elimination of front desk check-in], because when you go into to someone's home to stay, you don't go immediately to the bedroom," Ellis says. "I think the very thoughtful properties will eliminate front desk check-in but add some kind of thoughtful welcome ritual."
Meanwhile, overindulgence is out.
The excess of cruise ships' overflowing, all-you-can-eat buffets and restaurants' heavy meals and large portions is being replaced by the health-oriented farm-to-table movement. Even children's menus, long dominated by staples such as macaroni and cheese and chicken nuggets, are changing, Ellis says.
In terms of interior design of luxury hotels, few are ahead of Hirsch Bedner Associates — named the world's leading hospitality interior design firm by Interior Design magazine.
Kathleen Dauber, a partner with HBA, says the hotels the firm designs these days have more fluid spaces, developed to cater to custom requests.
"In luxury, what you're going to be seeing is a multitude of service offerings and the opportunity to have a very personal experience when you get to the hotel, as well as hotels creating environments that are transformable to guest's needs," Dauber says.
Dauber affirms that the next generation of luxury is much different than what we've long come to expect. Rather than emphasizing opulence of materials and finishes, the focus will be on service and convenience.
Technology will appear at communal tables and lounge chairs throughout hotels, with integrated outlets and USB ports a becoming the norm. Integration of wireless technology with hotel television systems will allow guests to put their own entertainment on the guest room TV. 
But some technology will be eliminated in subtle ways to adapt to the times, Dauber says.
For instance, at some St. Regis hotels there will be a return to classic clocks on the bedside table.
"The iPod docking station is going away. They are going back to a charming timepiece with an hour hand and minute hand, because who uses that iPod alarm clock? Everyone uses their phones for alarms," Dauber says.
Also, brass is back.
"Chrome has been used and used to death," Dauber says. "But this is not greenish-tinge brass we've grown up with. It's warmer and friendlier, a little cooler and more of a rose tone … the warmth of brass is fresh again. It's not your 1980s brass." (While the new brass is basically a chrome alternate, Dauber says chrome "is not going to go away.")
If you're planning to do some globetrotting in 2015, here are some hotel openings worth noting that capture a few of these trends or create their own.
The Beaumont, London
This is the first hotel from the well-known London restaurateurs Chris Corbin and Jeremy King. The property is a restored Art Deco building with 73 rooms and suites inspired by 1920s Manhattan. 
The hotel is also home to a towering, one-bedroom "inhabitable sculpture." Made from stainless steel by Antony Gormley, guests are able to spend the night in the sculpture, which protrudes from the building's facade. Designed to be a quiet, uninterrupted retreat, the Gormley-designed room is furnished by a single white-linen bed. The walls are made of fumed oak planks that come together at exposed joints to create built-in ledges and nooks for seating.
All rooms have large, walk-in showers, heated bathroom floors and bath amenities from D.R. Harris — chemists to His Royal Highness, the Prince of Wales.
NUO Beijing
With its dedication to being a low-carbon intelligent hotel, as well as promising to use only ingredients from its own organic farms and a commitment to energy conservation, this hotel is among those leading the eco-conscious trend.
NUO, the first Chinese international luxury brand, will open its flagship hotel in Beijing in January.
Taking cues from the prosperous Ming dynasty and combining a modern approach to hospitality with Chinese tradition and heritage, the hotel's design is dubbed "New Ming." The resulting property's design is made up of grandiose spaces as well as more intimate and indulging areas. It was designed to be a cultured, art-minded environment while also having such details as private gardens and water ponds.
Four Seasons Hotel Casablanca, Morocco
With its location on the beachfront in Morocco's largest city, this Four Seasons property combines sweeping views of the Atlantic with progressive western and local wellness therapies and dining and recreation options that blend French and Arabic traditions.
Slated to open in mid-2015, the hotel will have 186 rooms. It will be part of Anfa Place, a luxury mixed-use development near the upscale Corniche District.
The hotel's top floor is being transformed into a French brasserie and bar. In a nod to Morocco's fabulous year-round warmth, the hotel includes many outdoor terraces.
Four Seasons Hotel Bahrain Bay, Kingdom of Bahrain
If a private island stay turns out to be a trend, Four Seasons has it covered.
Scheduled to open its doors in early 2015, the Four Seasons Hotel Bahrain Bay is not only on a private island, but also offers panoramic views by towering over the Arabian Gulf and Manama city skyline. (Another way to enjoy the property's views: its two-story skybridge.)
Michelin-starred Chef Wolfgang Puck will be opening not one, but two restaurants and a new bar and lounge on the property.
La Reserve, Paris
Michel Reybier's La Reserve hotels, like Paris itself, epitomize classical notions of luxury.
The Paris property's 25 suites (all with butler service) and 15 rooms pay homage to the chic style of the Belle Epoque. They feature muted lighting, antique furniture and incorporate lush fabrics. The hotel oozes a familial, cloistered atmosphere, says Raouf Finan, managing director of La Reserve Hospitality.
Location is the other luxury at this property. La Reserve occupies a Haussmannian mansion off the Champs-Elysees, a stone's throw from the Palais d'Elysee and Place de la Concorde and has views of the Eiffel Tower, Grand Palais, Pantheon and Luxor Obelisk.
Amenities include a private library for guests, a 52-foot indoor pool, spa and sauna.
La Reserve is scheduled to open in January.
— By Mia Taylor for MainStreet