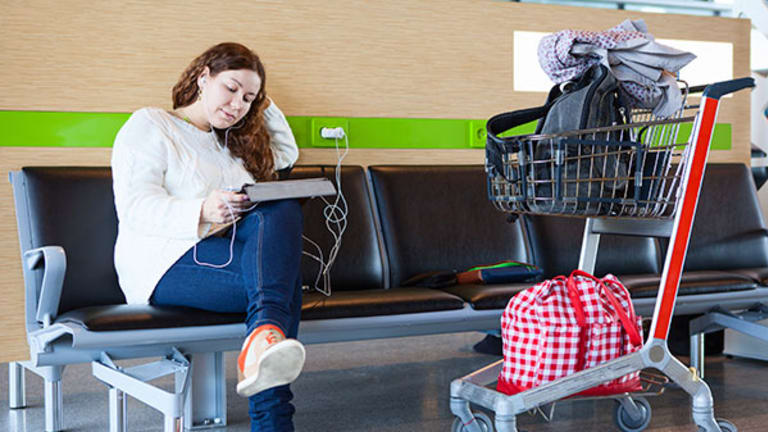 5 Holiday Travel Tips to Take Care of Before You Board a Plane  
Since you'll have some 5.5 million fellow air travelers for the holidays, you should plan now how to make the trip as good as possible.
NEW YORK (MainStreet) — More than 35 million Americans took to the roads, rails and skies on Labor Day weekend, but that's nothing compared with how many travelers will travel for the upcoming holiday season.
According to AAA, about 94.5 million Americans went 50 miles or more from home during 2013 year-end holidays, with 5.5 million going by air.
Flying is especially frustrating during the holiday season, due in large part to crowds of tired travelers, understaffed check-in counters and invasive security checkpoints.
But do not fret — the good people at PromotionalCodes.com have tips for more pleasurable holiday air travel, all dedicated to helping save time, money and peace of mind:
Get ship-shape. There's really no point to bringing holiday presents on an airplane. They can be cumbersome and add to your flight cost if you're on a "pay by the pound" flight. Instead, ship ahead and save time, effort and money. "To take advantage of the cheapest shipping rate, plan this step early and use ground shipping," PromotionalCodes.com says. "The longer shipping period will be inconsequential as long as they show up before the big day, and you can save a few dollars and have one less thing to worry about." (This works for online purchases, too.)
Bring your own inflight entertainment. You are the master of your own entertainment destiny 30,000 feet up, so why not take advantage and load your own laptop or tablet device with books, movies, videos and television shows to enjoy? It's bound to be cheaper than whatever the airline is offering for entertainment, and sure to be closer to your standards.
Check your apps. Smartphone apps are a huge benefit when you travel, PromotionalCodes.com says. "Download travel apps to your smartphone to help navigate problematic travel tasks like airport parking, TSA checkpoints and unfamiliar terminals," the firm suggests. Use apps such as FlightStatus to make sure your plane's on time and go to GateGuru to find the best airport meals.
Be prepared to charge. No, not with a credit card, but with a cellphone battery charger. Your mobile phone is your most important technology ally in the air, and at the airport and you can't afford to have it go dark on a long-distance trip. So remember to bring a charging case or portable battery charger so you can charge your phone "on the fly," as PromotionalCodes.com puts it.
Check in by phone. Save time at the airline counter by checking in to your flight via smartphone. Most airlines allow you to do so and print out a boarding pass from the comfort of your own office or living room. Better yet, scan your phone as a boarding pass at the gate, and take the worry out of losing your pass during hectic holiday travel.
Additionally, avoid wearing too much jewelry and accessories in the airport security line — they'll just slow you down.
Perhaps the most important step is the very first step: "Buy early, fly early." That means booking flights well in advance - 54 days in advance gets you the best rates, the company says — and flying early in the day to avoid crowds.
— By Brian O'Connell for MainStreet