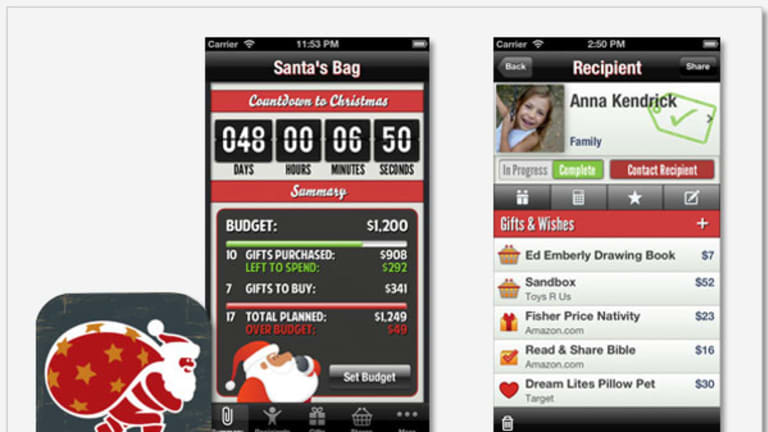 5 Holiday Shopping Apps You May As Well Download Now
If you think you have plenty of time to get apps loaded and your shopping list sorted out, guess again.
PORTLAND, Ore. (TheStreet) -- If retailers aren't waiting until Halloween to prepare for the holiday shopping season, what makes you think your fellow shoppers will?
A holiday survey by the National Retail Federation found that more than half (56.3%) of holiday shoppers say they own a smartphone, while more than one-third (34.0%) own a tablet -- both significant leaps from the same time last year. Of those who own a smartphone, 53.8% will use their device to look up store hours, compare prices and buy products, while six in 10 (63.2%) tablet owners will use their device to do the same.
Also, according to
Google's
(GOOG) - Get Alphabet Inc. Class C Report
research, shopping-related searches from mobile devices were up 59% year over year in July. A full 84% of shoppers use their smartphones in-store as shopping companions, while one in three shoppers turn to their phones instead of asking store employees for help. Last year, shopping-related searches on mobile devices skyrocketed during key sale days, with Black Friday, Thanksgiving and the day after Christmas serving as the three most popular mobile search days for shoppers.
If that makes you think you have plenty of time to get apps loaded and your shopping list sorted out, guess again. Google notes that 49% of holiday shoppers already know what they're buying, with 30% of that group starting their holiday shopping before Halloween.
We've already told you that Halloween and Thanksgiving
don't provide much of a buffer from Black Friday
, never mind its savvy, smartphone-wielding holiday shoppers. If you're looking to catch up or just finish holiday shopping early, here are some apps that can help you through:
ReturnGuru
Price:
Free
Available for:
Apple (AAPL) - Get Apple Inc. (AAPL) Report iOS, Microsoft (MSFT) - Get Microsoft Corporation (MSFT) Report Windows Phone
When you start holiday shopping this early, store return policies are an essential part of the equation. Will someone still be able to return your gift after the holidays? How do you keep return deadlines straight if you shopped dozens of places?
ReturnGuru answers all of those questions for you. Users can take pictures of their receipts, store and track those receipts by store return policy and get alerts before those receipts expire. ReturnGuru founder Erica Oesterreich designed the system as a convenient household helper for a working mom and launched the service back last year. The app fared well last holiday season, which only makes it more of a must for this year's shoppers.
RedLaser
Price:
Free
Available for:
Apple iOS, Google Android, Microsoft Windows Phone
Also see: 5 Ways It's Already Black Friday>>
In the blissful, utopian days of only a year ago, holiday shoppers had just about everything they needed in Google's Shopper app. Want offers and coupons? Done. Having trouble finding an item? Just speak its name into your phone. Not sure if a product has all the features you want? Scan in its barcode and get more information and reviews. Not sure if you're picking up the right book or movie? Just scan the cover. Want to buy it immediately? Make an online purchase.
For reasons still unknown -- Google says consolidation -- Google wiped out Shopper on Aug. 30 without offering any other mobile alternatives. Fortunately, Redlaser has been performing nearly the exact same functions for years. It lets you scan items, compare the prices at nearby retailers, buy items directly from your phone and even helps you avoid buying items containing specific allergens.
The
eBay
-owned app also houses all of your store loyalty cards, so your
Walgreens
(WAG)
and
Kroger
(KR) - Get Kroger Co. (KR) Report
tags no longer need to take up precious real estate in your wallet or on your key ring.
Santa's Bag
Price:
Free
Available for:
It's a bit too easy to get carried away with holiday spending, and even the most budget-minded folks can be flexed beyond their limit by a sudden burst of sentimentality.
Don't let it happen to you. With this app, users can list each person they're giving gifts to, the exact gifts they're giving each person, the total they're looking to spend per person and their grand total for the holiday season. Meters beside each person's name monitor how close gift buyers are to their budget and go from green to red if a user decides to splurge.
The app also keeps a running countdown of the days until Christmas. The cartoon Santa that keeps you informed of your diminishing time and cash seems cute enough, but you're going to want to clock him right in his broad face and round belly when it gets down to crunch time.
Delivery Status
Price:
$4.99
Available for:
According to Google, online shopping increased 26% on Black Friday last year, while in-store shopping decreased 2%. Nearly half of those who replied to the Google Consumer Survey in July said they planned to do their holiday shopping online this year.
Also see: 9 Holiday Beers Already On Shelves>>
With six fewer days between Thanksgiving and Christmas this year, do you really want to be the poor sap that just watches a stream of packages come to the door and loses track of what's arrived and what hasn't? This app's $5 price is steep, but it's going to be worth it as online shopping increases over the next few years.
With free shipping now so central to the holiday shopping experience that it has its own day and Cyber Monday dependent on shipping, it gets a bit tough to keep track of all those gifts and packages even if they're just going to the person who bought them. This app tracks packages from
UPS
(UPS) - Get United Parcel Service, Inc. Class B Report
,
FedEx
(FDX) - Get FedEx Corporation Report
, DHL, the U.S. Postal Service,
Amazon
(AMZN) - Get Amazon.com, Inc. Report
, Amazon Prime's Lazership partner,
Apple
(AAPL) - Get Apple Inc. (AAPL) Report
, Google Checkout and other services to help you keep track of what's arriving when and what's been delayed. It even provides a package's location via Google Maps so you know how close a package is to being on your doorstep. When all those plain cardboard boxes start piling up, Delivery Status is just what you need to help sort them out.
Fastmall
Price:
Free
Available for:
Apple iOS, Google Android, Windows Phone, Nokia
The indoor mall isn't dead, it
for every other day of the year that doesn't fall into the holiday shopping season.
Mall stores are hiring fewer teens. Those teens have less to no money. That basically means those teens aren't going to the mall and that indoor malls that were already dying a slow death are suddenly in imminent peril. Conservative estimates say 10% of indoor malls will fail within the next decade, while malls that aren't switching to an outlet format or fake urban "lifestyle centers" are seeing vacancy rates of 10% or more.
But you shouldn't trouble yourself with any of that bother on one of the few times this year some of you will actually head to a mall. FastMall has mapped out more than 1,200 malls of all varieties on its site to get you in and out of the jam-packed cauldrons of commerce that are the nation's outlet malls and the decorated retail mausoleums of the remaining malls of yesteryear.
The Chess King has long since abdicated, the arcade exists only on your smartphone and the Orange Julius stand merged with the
Dairy Queen
and got kicked out of the food court to make room for a
Buffalo Wild Wings
(BWLD)
. FastMall can speed you past all of those depressing scenes and remind you that, next year, maybe you'll try that online shopping all the kids have been talking about.
-- Written by Jason Notte in Portland, Ore.
>To contact the writer of this article, click here:
Jason Notte
.
>To follow the writer on Twitter, go to
.
>To submit a news tip, send an email to:
.
RELATED STORIES:
>>5 Ways It's Already Black Friday
>>9 Holiday Beers Already On Shelves
>>What It Means When The Mall Goes Away
Jason Notte is a reporter for TheStreet. His writing has appeared in The New York Times, The Huffington Post, Esquire.com, Time Out New York, the Boston Herald, the Boston Phoenix, the Metro newspaper and the Colorado Springs Independent. He previously served as the political and global affairs editor for Metro U.S., layout editor for Boston Now, assistant news editor for the Herald News of West Paterson, N.J., editor of Go Out! Magazine in Hoboken, N.J., and copy editor and lifestyle editor at the Jersey Journal in Jersey City, N.J.