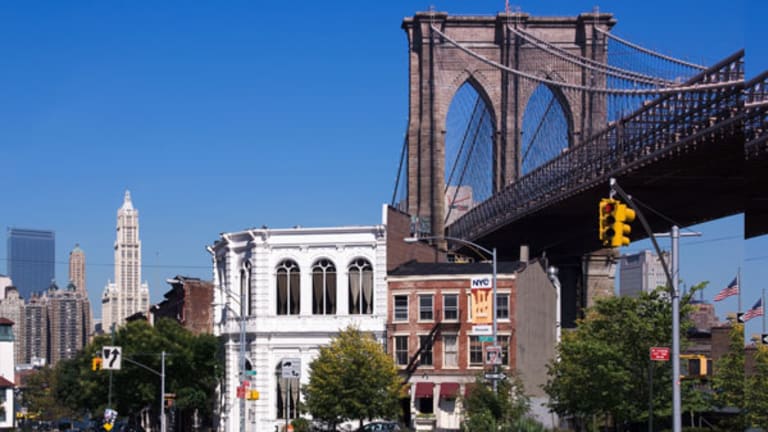 Publish date:
5 Hidden Craft Beer Vacation Destinations
Beer lovers could go again to Denver, Seattle, Boston and Portland, Ore., but why not get creative?
Beer lovers could go again to Denver, Seattle, Boston and Portland, Ore., but why not get creative?
NEW YORK (TheStreet) -- When you make a habit of incorporating beer into vacations, you start to realize that breweries, brewpubs and craft brewers pop up just about everywhere you can imagine.
We've been writing about beer and vacations for three years now and have come to realize that no list we put together is comprehensive enough. Our first list of
craft beer vacation destinations
had some glaring omissions, most notably the entire states of Michigan and Colorado. Our
only left folks thirsty for more and our list of the
from last summer seemed pretty small at 10. Even when we boiled it down to
, we eventually had to expand our scope to
brewpubs in all 50 states
and Washington, D.C.
With more than 2,400 breweries and brewpubs in the U.S., according to the Brewers Association craft beer industry group, just about any vacation destination in the U.S. is going to have one. So what should the 86% of Americans travel site
TripAdvisor
(TRIP) - Get TripAdvisor, Inc. Report
says are taking vacation trips this summer do to find the best beer-soaked spots?
We advise getting creative. We've already pointed you toward all the low-hanging fruit and advised craft beer jaunts to Denver, Seattle, Boston and Portland, Ore., but there are cozy little corners of America where some of the best craft beer spots are still fairly well-hidden. They're not the places known for being beer towns and, in some cases, sit in the shadow of beer destinations content to hog the spotlight.
We've dug though our past picks and our extended travel itinerary and found five craft beer vacation destinations that aren't known primarily for their beer just yet. We're not going to plan your entire itinerary for you, but we can give you the beer specifics and let you figure out the rest. If you have any gems we're not covering here, feel free to share:
Brooklyn
No, we didn't say "New York City," we said Brooklyn, and there's a reason for it. Brooklyn has a nice little brewing heritage dating back to the days of Rheingold, but the past 15 years or so have done as many wonders for the borough's beer as they've done for the borough itself. A decade or so ago, you were lucky if you could get your hands on a pizza, a deck of playing cards and a table in
Brooklyn Brewery
to sample some of brewmaster Garrett Oliver's wares.
Today,
floods the East Coast with tallboys of its experimental brews (though renovations have temporarily closed it to tours), Greenpoint's
is keeping it more traditional and local and
has been converting beer lovers at the
and elsewhere to home brewing one $40 beer-making kit at a time. It's not a bad place to knock a few back, either.
Brooklyn's put together an awe-inspiring collection of craft beer bars in a relatively short span. The beer garden, cask and scant six drafts at Williamsburg's
have only been around since 2003, but it's the grand old haunt of Brooklyn's beer scene compared with what's opened since.
is not only moving its vintage beers and food pairings to a larger location, but doling out beers in 64-ounce growlers at its retail outpost across the river at Grand Central Station. Meanwhile, bottle shop/taproom/cheese shop/chocolatier/sandwich shops
was not only the first in New York to fill growlers, but its 18 taps flow even more freely during its free beer and food tastings on Tuesdays.
New Glarus, Wis.
We've mentioned this one before, but we're just going to keep mentioning it until we find another place quite like it.
New Glarus Brewing itself was founded in 1993 with copper kettles bought from a German brewery and has since growing into a sprawling
hilltop brewing facility
crafted to look like an Alpine village. While that would seem just a bit odd in any other context, the brewery and its Spotted Cow ale, Raspberry Tart ale and wide assortment of fruit beers seem right at home in New Glarus.
The little town of 2,300 was founded in 1845 by immigrants from Glarus, Switzerland, and has been unmistakably Swiss ever since. The town's flag is a version of the Swiss flag and flies everywhere; Swiss chalet-style businesses and homes line the streets; a Swiss bakery is still in operation; Swiss meat and cheese shops abound; and dishes such as roschti, kalberwurst, spaetzle and cheese and meat fondue are still the fare of the day.
While brewery co-founder Deb Carey was invited to the White House last year to talk to President Barack Obama about her success and the future of the country's small businesses, New Glarus strikes us as a pretty difficult place to leave. The brewery tour and a few samples of Edel-Pils and Dancing Man Wheat sound lovely and all, but spending a weekend in a tiny patch of Wisconsin that functions as if it's an extension of Switzerland has an appeal all its own.
Brevard, N.C.
Author's note: Updated with a big hand from NCBeerGuys
Asheville gets all of the craft beer accolades and all of the credit for drawing bigger brewers such as
Sierra Nevada
and
New Belgium
to North Carolina, but there's a whole lot to be said for nearby Brevard. If you don't believe us, just ask
Oskar Blues
founder Dale Katechis, who opened his company's first East Coast brewery there late last year.
"I've been traveling there and mountain biking for over 20 years and it's a place that I go to frequently because it's some of the most pristine mountain biking in the country ... my mom has even moved out to Brevard. She fell in love with it. It's just one of those places."
Incredible mountain biking, long stretches for road biking,
,
and
all make strong arguments for a few days in Brevard, but what about the beer?
Well, about that.
The Oskar Blues Brewery Brevard
is open, hosting tours and pouring pints, but until it expands into a brewpub, smokehouse, concert venue or arcade like Oskar Blues facilities in Colorado, there are still plenty of options in the area to keep beer lovers occupied.
in downtown Brevard has been open for little more than a year and lets visitors shop Main Street and finish up with a Munich Dunkel, Bohemian Pilsner or Red Ale. Meanwhile, just up the road in Hendersonville,
, hosts bands in the tap room, beers from local brewers on its taps, and its own citrusy Belgian Blonde and potently bitter (95 IBU) IPA in its kegs.
If that's not enough, there's always Asheville. The city's lengthy brewery and pub crawl includes stops at at
Highland Brewery
's
tasting room
,
,
Wedge Brewing
,
,
,
,
The Lexington Avenue Brewery
,
,
Altamont Brewing Co.
and
to keep beer lovers occupied. The city's only adding to that list, with
set to join the ranks soon.
If you can extend your vacation a few days, the NCBeerGuys recommend taking Route 276 right out of Brevard and enjoying the winding road and incredible views of the Blue Ridge Mountains. While that trek sounds like its own reward, a stop in Waynesville at the end for visits to
,
Tipping Point Tavern and Brewery
and
is some nice incentive.
Greensboro, Vt.
OK, we acknowledge that you're going to want to stop in Burlington if you're up this way. That's understandable.
Burlington keeps
,
Switchback Brewing
, Three Needs Taproom and the
all within close proximity. It also wrangles the state's more far-flung brewers, including Morrisville's
, Lyndonville's
and Bennington's Madison and
breweries in July for the annual Vermont Brewers Festival.
But if you want to taste some of the hands-down best beers in the country and see why
know who a brewer like Shaun Hill is, head out to Greensboro Bend to
. Hill views his brewing as an extension of the brewing heritage his family began on that very farm 220 years ago. Beers such as Everett Porter, Abner Double IPA and Ephraim Imperial Pale Ale are all named after founder Shaun Hill's ancestors and all sit in
BeerAdvocate
's Top 50. The European-trained brewer and philosophy student also named product after
. We can't promise you'll be able to hold your own in a conversation with Hill, but we can promise that his Double Citra IPA will be one of the best beers you'll ever be fortunate enough to experience.
If the Farmstead visit gets too intense, head just a bit down Interstate 89 to Waterbury and pop into
for a few cans of its brutally bitter Heady Topper Double IPA. It's produced in limited quantities after Hurricane Irene wrecked the brewer's facilities a few years back, but it's arguably the best IPA produced in America. That you can tell beer geeks they can find such a thing on a trip to Vermont and not get laughed out of the room is perhaps the clearest indication of how far Vermont brewers have come in the past few years.
Anchorage, Alaska
Just because you folks in the lower 48 have to make the long haul to get there doesn't mean Anchorage is a place beer lovers should skip. Between
or
,
,
Broken Tooth Brewing and Theatrepub
,
Moose's Tooth Pub and Pizzeria
,
and
Snowgoose Restaurant and Sleeping Lady Brewing
, beer lovers can piece together a better brewery crawl here than in any location we've named so far.
Its also one of the best pure vacations as well, as the summer months are a great time to check out the glaciers, fjords, waterfalls, orcas and eagles of Prince William Sound or grab a beer at Glacier Brewhouse during the beautiful summer months. Anchorage's ports are just loaded with cruise ships full of folks like yourself who'll be booking horseback trips through the mountains, trying to catch a peek at caribou, lynx and grizzlies during various trail hikes and packing the Alaska Native Heritage Center and the Anchorage Museum.
So what can you do to keep from missing out on the last table at the WildRide Sled Dog Rodeo dinner theater or the kite flying at Delaney Park Strip? Grab an
coupon booklet, book early and get half-price deals on Mount McKinley sightseeing, glacier cruises, remote wilderness lodges, Denali National Park train rides and glacier/wildlife/sightseeing packages.
-- Written by Jason Notte in Portland, Ore.
>To contact the writer of this article, click here:
Jason Notte
.
>To follow the writer on Twitter, go to
.
>To submit a news tip, send an email to:
.
RELATED STORIES:
>>10 Best 40-MPG-Or-Better Cars of 2013
>>5 Vehicles You Want To Drive In A Rainstorm
>>Top 10 Cities For Car Sharing
Jason Notte is a reporter for TheStreet. His writing has appeared in The New York Times, The Huffington Post, Esquire.com, Time Out New York, the Boston Herald, the Boston Phoenix, the Metro newspaper and the Colorado Springs Independent. He previously served as the political and global affairs editor for Metro U.S., layout editor for Boston Now, assistant news editor for the Herald News of West Paterson, N.J., editor of Go Out! Magazine in Hoboken, N.J., and copy editor and lifestyle editor at the Jersey Journal in Jersey City, N.J.