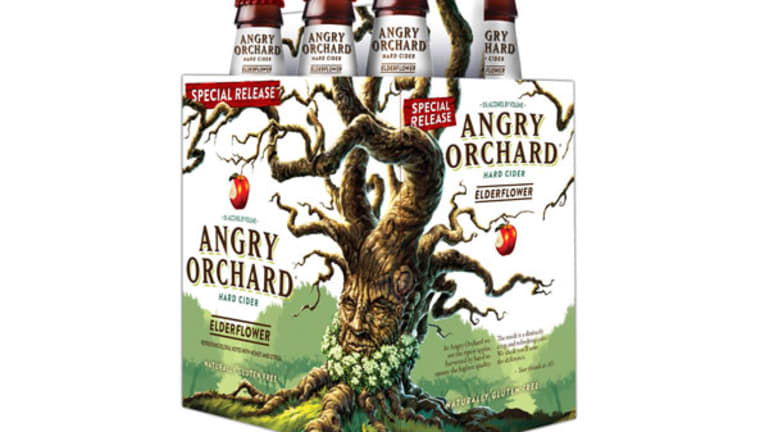 5 Hard Cider Brands Pressuring Beer
Hard cider has growing sales and a presence that's expanding at beer and wine's expense. A handful of brands are looking to change the game and the tap list with even more growth in 2014.
PORTLAND, Ore. (TheStreet) -- Unless you were on the East Coast, in a dart league or reading an Irish newspaper at a pub, chances are you weren't drinking hard cider five to 10 years ago.
Apart from Northeast college seniors sipping Woodchuck and Boston locals having Magners on ice, there weren't a whole lot of folks drinking hard cider instead of beer, wine or spirits until just recently. In 2009, cider was a $35 million market in the U.S. that wasn't spreading past core markets in the Northeast, Northwest and Great Lakes. Last year, it exploded into a $172 million industry, according to market research firm SymphonyIRI Group.
That's up from $90 million a year before and is way ahead of the 15% growth of the craft beer segment and the 0.9% uptick overall beer sales just a year earlier. With SymphonyIRI's research excluding sales at liquor stores and discount stores such as Wal-Mart, even that impressive growth may be underestimating cider's impact. GuestMetrics, which measures drink sales in bars and restaurants, notes that cider sales in those establishments rose 49% from 2012.
Part of cider's appeal is that it has roughly the same low alcohol content of beer, but a sweeter flavor for those put off by hop or grain bitterness. Hard cider makers press apples for their juice, add yeast and let the mixture ferment in a process similar to winemaking. The yeast chows down on the sugars in the juice and produces a concoction with 6% or more alcohol by volume. That's similar to craft beer and, like beer, can have its alcohol levels reduced to a more drinkable brew below 4% ABV or a potent, wine-like concoction closer to 12% ABV.
Nonetheless, hard cider sales still get tossed into the overall beer market and account for less than 1% of sales, according to a report by Nomura Research, which doesn't even keep pace with the 1.3% market share held by Samuel Adams brewer Boston Beer. Yet Americans are developing a taste for sweeter alcohol such as Mike's Hard Lemonade, which helped parent company Mark AnthonyGroup's sales grow 1.8% in 2012.
It helps that cider's sweetness doesn't discriminate. Roughly half of cider's consumer base is made up of women, compared with about 28% for beer, according to Nielsen. It's also gaining momentum with younger drinkers. While baby boomers and World War II-era beer drinkers are 41% to 69% less likely to pick a cider than the average drinker, Generation X is 1% more likely to choose a cider and drinking-age millennials are more than twice as likely to go with a cider. Women have no problem picking up cider but are 38% to 46% less likely to pick up domestic, imported or craft beers than their male counterparts.
Cider not only invites everyone to the party, but it gets them to shell out a lot more for the privilege. As Nomura points out, cider sells for an average $35 a case. That's a impressive jump from the $29 per case paid for imported beers and $33 for craft beer.
In the past few years, brewers such as Anheuser-Busch InBev, MolsonCoors, SABMiller and the Craft Brew Alliance have taken on big cider brewers such as Ireland's C&C and even Boston Beer by producing cider lines of their own. While locally based cider producers still thrive and places such as Portland boast cider bars, brewpubs and happy hours, here are the five ciders that are changing the way cider is sold to the U.S. and the world.

Angry Orchard Cider
Owner: Boston Beer
The makers of Samuel Adams have been cranking out their Crisp, Apple Ginger and Traditional Dry versions of this cider since fall of 2011 and have the nation's best-selling cider as a result. It accounts for 47.3% of the U.S. cider market and is expected to rise to 20% of Boston Beer's overall output by next year.
Boston Beer had tried its hand at cider once before, introducing HardCore Cider in the late '90s, but decided to give it another stab with a more craft spin. We had the great fortune to speak to Boston Beer cider maker David Sipes last year, not only about how his time studying ciders and apples from around the world -- and culling fruit from France and Italy for a new line of ciders -- influenced the product, but how the novelty of cider and its similarity to wine caught U.S. drinkers' imaginations at just the right time.
Boston Beer's gamble paid off, as Nielsen ranked Angry Orchard among its Top 10 beer growth brands at the end of 2012. But its real step forward this year came in the form of its creative new styles. The popularity of its core styles allowed Angry Orchard to branch of into small batches such as its sweeter, wine-like Iceman variety and its Cinnful cinnamon-spiced seasonal. Just as most mainstream U.S. bars or restaurants still have Budweiser or Coors as their default beers, Angry Orchard has established a presence as a default cider. If an establishment has just one cider on tap and has an appetizer special and waitstaff in logo-laden uniforms, there's a strong chance Angry Orchard is their cider of choice.

Crispin Hard Cider
Owner: MolsonCoors and SABMiller join venture MillerCoors
Can a cider have a gender or genre?
As MillerCoors has discovered with recent acquisition Crispin, the answer is an unfortunate yes. When MillerCoors bought the formerly Minnesota-based hard cider makers for a reported $40 million in February, it moved all of Crispin's brands into the company's Tenth & Blake craft division with the Blue Moon and Leinenkugel's craft beer brands.
While 22-ounce bombers of its its 5.8% ABV Browns Lane Imported Classic English Dry Cider were a nod to European ciders with from the Malvern Hills of Worcestershire and a whiskey-barrel-aged 6.9% ABV cider had a craft feel to it, it was the line's "blue" line of thinner, more wine-like ciders that served as the flagship. Crispin racked up $5 million in sales in 2012 and was looking like a coup for its new parent company, especially when sales jumped 200% last year, according to Nielsen.
The Kansas City, Mo.-based Crispin, however, turned out to be only one part of the equation. It seems Crispin came across as a little too aloof and girly for MillerCoors' liking and was failing to draw the male light-lager drinkers abandoning the company's big beer brands. According to Beer Marketers' Insights, MillerCoors was on track to lose 3% of its sales last year after losing ground steadily since the recession. Most MillerCoors brands not named Coors Light or Blue Moon lost market share in the past five years, and the company really needs its relatively strong Tenth & Blake division to step up.
As a result, Crispin is getting a more manly stablemate in 2014. The highly unsubtle Smith & Forge cider brand that MillerCoors plans to launch in March conjures images of blast furnaces and sweat, comes in a can and has a potent 6% alcohol by volume. It's going to get a lot of ad time and is getting the Axe Body Spray and Maxim magazine "bro" treatment usually reserved for second-tier sitcoms and pre-bailout Dodge commercials. Apparently, MillerCoors feels there's a "massive unmet need" for ciders that target males. Since men and women drink cider in about the same numbers and plenty of men drink Magners and Angry Orchard without the "for men" label, this looks more like a case of a mismanaged Crispin brand and less of a gaping hole in the market.
But hey, what would guys who make and love cider know?

Stella Artois Cidre
Owner: Anheuser-Busch InBev
Cidre sells only four to a pack. Its handlers at A-B InBev say it's shooting for white wine drinkers, not beer lovers, and is playing in much more luxurious ends of the market than its beers typically reach.
It's apparently succeeding. After releasing in May as a limited offering, Cidre went nationwide in January. It got a big push at the Stella Artois-sponsored Sundance Film Festival that month and continues to butt its way into higher society.
But it's not being as helpful as it could be. A-B's share of the U.S. beer market rose less than a percent in 2013 after stumbling since the recession. Major brands Budweiser and Bud Light continue to lose sales and market share while their parent company pushes higher-end offerings including Budweiser Black Crown and Bud Light Platinum.
The company's last attempt at cider, a Michelob Ultra offering, didn't resonate. Cidre, meanwhile, will get a national ad push in March and some reinforcements in the near future. A-B is planning to launch a more downmarket cider called Johnny Appleseed this year that's targeted toward drinkers ages 21 through 27. In development since 2011, Johnny Appleseed is being introduced with the sole purpose of taking on Angry Orchard and snagging a portion of its market share.
That gives A-B a stable of three separate cider brands and a formidable foray into the cider market. A-B is now deeply invested in this, which takes cider one huge, lumbering step toward the mainstream.

Square Mile Cider
Owner: Craft Brew Alliance
The Pacific Northwest has been way ahead of the cider game for years. Cider producers such as Liberty, Wandering Aengus, Tieton 2 Towns and Carlton Cyderworks are among the more than 30 members of the Northwest Cider Association that call the region home. That doesn't even include California cider works such as Ace that include the area in their broad distribution circles.
Last year, the Craft Brew Alliance that includes Portland, Ore.-based Widmer Brothers and Woodinville, Wash.-based Redhook entered the fray with Square Mile Cider. Made with help from Eastern Oregon apple growers and named after the square-mile claims staked by settlers who arrived at the end of the Oregon Trail in the 1850s, Square Mile is aiming directly at craft beer drinkers. Former Widmer Brothers brewmaster Joe Casey was named cider chief and produced not only a traditional recipe with Red Delicious, Yellow Delicious and Jonagold apples with lager yeast, but dumped a hefty portion of Galaxy hops to its Spur & Vine variety.
Smaller cider producers have made hop ciders before, but Square Mile made its formula less grassy and more citrusy to make the hops a bite at the end of a apple-laden sip rather than the main attraction. The result is pure genius and the closest thing the cider community has to a beer gateway.
Craft Brew Alliance's sales saw a modest increase last year, but Square Mile didn't see much light outside of specific Western markets. If CBA takes this broader and elbows its way into craftier beer bars, this could be the start of something big.

Woodchuck Cider
Owner: C&C Group
This company has spent a lot of money to come in second in the U.S. market. It's not used to taking second place anywhere it calls home.
The owner of the Magners and Bulmers brands threw $25 million at the California-based Hornsby's brand in 2011 and took a 20% stake of the U.S. market.
Hornsby's sure looked like a little craft cider back in 2011, when it was still sporting a mustard yellow label, some retro rhino art and a brown bottle. Then C&C Group came in. It followed that up by buying Vermont Hard Cider and its Woodchuck brand for $350 million in 2012, which gave it another 60% of the U.S. cider market.
The cider game's changed quickly, however, and C&C unwittingly stuck itself with two brands that U.S. drinkers knew either as '90s craft holdovers or the saccharine-sweet ciders of their youth. Woodchuck lost the lead to Angry Orchard and had to pivot quickly. The answer involved going back to the company's craftier roots.
Woodchuck's brewers surrounded their flagship amber cider with varieties including pear, raspberry, Granny Smith apple and the darker, drier 802 apple flavor. They also produced seasonal varieties including a spring flavor with maple and brown sugar and a fall version spiced with cinnamon, nutmeg and white oak. Woodchuck even produced 750-milliliter bottles of limited release ciders for the discriminating bottle shop buyers, including a Cellar Series that features a chocolate flavor for Valentine's Day.
Woodchuck has a whole lot of beer folks gunning for its market share, which shrunk significantly when Vermont Hard Cider sold off its rights to the Strongbow cider brand to Heineken USA. The cider market is expanding, though, and there's still plenty of time for a reinvented Woodchuck to stake out a large, crafty corner for itself. Vermont Hard Cider CEO Bret Williams once predicted that the cider market could take up as much as 10% of beer sales. For Woodchuck and C&C to survive what's coming, they need to hope Williams is right.
-- Written by Jason Notte in Portland, Ore.
>To contact the writer of this article, click here: Jason Notte.
>To follow the writer on Twitter, go to http://twitter.com/notteham.
>To submit a news tip, send an email to: tips@thestreet.com.
RELATED STORIES:
>>5 Craft Brewers Who Need A Super Bowl Ad
>>Wait, We Weren't Finished With Dark Holiday Beers Yet!
>>Some Craft Beer Resolutions for 2014
Jason Notte is a reporter for TheStreet. His writing has appeared in The New York Times, The Huffington Post, Esquire.com, Time Out New York, the Boston Herald, the Boston Phoenix, the Metro newspaper and the Colorado Springs Independent. He previously served as the political and global affairs editor for Metro U.S., layout editor for Boston Now, assistant news editor for the Herald News of West Paterson, N.J., editor of Go Out! Magazine in Hoboken, N.J., and copy editor and lifestyle editor at the Jersey Journal in Jersey City, N.J.