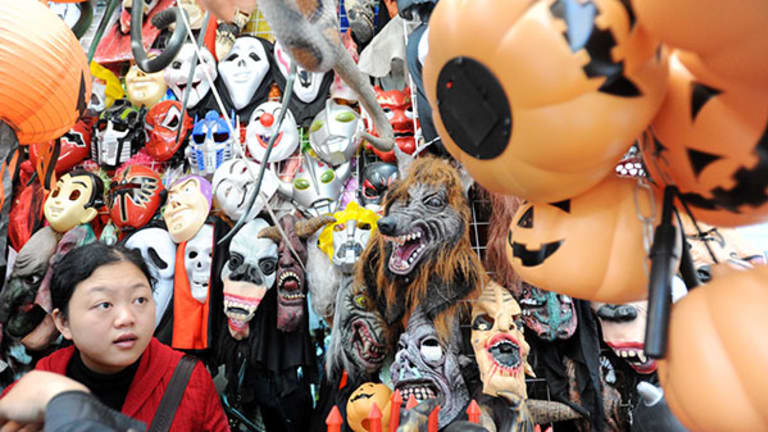 5 Halloween Myths That Cost Everyone Money
Razor blades in candy? Child abductions? They just taking a little candy out of everyone's mouths.
PORTLAND, Ore. (TheStreet) -- Some of Halloween's spooky mythology only helps the spirit of the holiday. When those myths and legends start taking cash out of the till, however, it's time to end the tricks for the sake of saving the treats.
If you want to repeat "Bloody Mary" into a mirror 13 times to see if a ghost appears, go ahead. Want to say the word "Candyman" five times into that same mirror and see if Tony Todd or Chicago's Cabrini-Green housing projects reappear? Knock yourself out. Want to wake up Michael Keaton by chanting "Beetlejuice" three times? It's your holiday and you can annoy people with repetition all you'd like.
You'll find, as with just about every Halloween myth, that repeating something doesn't in any way make it so.
Right now, Halloween doesn't really need any more scary rumors or bad press. The National Retail Federation, which represents the nation's retailer, found that 158 million consumers say they plan to celebrate Halloween this year. That's down from 170 million last year and is indicative of just how tight-fisted consumers have become in the current economy. In total, Halloween shopper plan to spend about $75 each on Halloween, down from an average of nearly $80 per shopper in 2012.
Though that NRF Halloween spending estimate is still 54.7% higher than in 2005, a quarter of U.S. consumers (25.2%) say the state of the economy will affect their Halloween spending plans. Nearly nine in 10 (86.1%) will spend less overall, up slightly from 83.5% last year. Additionally, 32.7% will buy less candy and 18.1% will make a costume instead of buying one. That already bodes poorly for retailers from
Wal-Mart
(WMT) - Get Walmart Inc. Report
and
Target
(TGT) - Get Target Corporation Report
to
Kroger
(KR) - Get Kroger Company (The) Report
and
Safeway
(SFY) - Get SoFi Select 500 ETF Report
.
At a time the balance of Halloween spending is shifting toward adults -- with the $1.2 billion U.S. consumers plan to spend on adult costumes overshadowing the $1 billion they'll spend on kids' outfits -- there is still a whole lot of spending to be done. The NRF anticipates that spooked shoppers will still spend upward of $6 billion this Halloween.
They just don't
need
to spend a whole lot more than that, nor do retailers need them completely spooked off. We looked at some of the more potent Halloween myths out there and found five that are costly to shoppers and stores alike:
Also see: 5 Halloween Apps Changing Trick-Or-Treating Forever>>
Myth 1: Halloween is basically second Christmas
While it's true the recession put a crimp in holiday spending and ensuing economic woes have made Halloween of greater importance to retailers, there's nowhere near enough demand to warrant a dramatic boost in holiday supply.
According to market research firm
IBISWorld
, Halloween spending in the United States is expected to grow to $7.63 billion this year from $7.41 billion in 2010. That would be lovely and far more than the $5.8 billion U.S. consumers spent on Halloween at the beginning of the recession in 2008, but it's still just less than half of the $13.2 billion spent on Fathers Day this year.
Not only does Halloween spending come nowhere near that of Christmas ($69.2 billion by IBISWorld estimates), it's also overshadowed by Valentines Day ($20.8 billion), Mothers Day ($17.1 billion), Fathers Day and Thanksgiving ($7.8 billion). For those who think Black Friday encroachment is killing Thanksgiving, just consider that Halloween's 3% year-over-year growth lagged well behind Thanksgiving's 6.4% growth in 2012.
So does that mean shoppers might get a reprieve from the holiday creep that already puts candy and costumes in the seasonal aisle by Labor Day? Perhaps. Spending on decorations is expected to jump 6.7%, to $2.2 billion, this year. Costume spending, however, will only increase by a relatively flat $40 million, or 1.5% from the $2.7 billion spent last year on the holiday's biggest category.
Hershey
(HSY) - Get The Hershey Company Report
,
Tootsie Roll
(TR) - Get Tootsie Roll Industries Inc. Report
,
Mondelez
(MDLZ) - Get Mondelez International Inc. Report
and other confectioners won't see much of a boost from candy sales, either, as last year's $2.19 billion in spending crawls to $2.25 this year -- a change of less than 3%.
Halloween can give sagging holiday sales a bit of a boost, but placing too much faith in the underpowered holiday only results in loads of clearance candy corn and racks full of unworn Sexy Ophthalmologist outfits.
Myth 2: Sickos are poisoning candy and embedding razor blades in treats
No.
Every year, parents parrot this little bit of "wisdom" like gospel and, every year, it gets knocked down as patently false.
"Yeah, well I know a guy who had a kid who had a cousin who this happened to." Great, produce that kid and have him or her tell the world of this horror so it never takes place again. In the meantime, the only quantifiable case of a child being poisoned by Halloween candy is that of Timothy Marc O'Bryan of Houston, Texas, who died on Halloween night after eating cyanide-laced Pixie Stix. That candy was tainted by Robert Clark O'Bryan, Timothy's father, and given to Timothy and his siblings, who hadn't eaten it. Robert Clark O'Bryan was executed for that crime back in 1984.
As
makes clear, however, reports of candy poisonings before or since have been largely bogus. While there are
of people shoving foreign objects into treats, the razor-blade-in-the-apple bit died out more than 50 years ago, while the more recent accounts of numbskulls putting pins into candy involve no serious injuries and no deaths. Beyond that, you have a lot of hoaxes that a rash of Tylenol poisonings in 1982 did little to help.
Still, this doesn't prevent parents from tossing pounds of candy and other treats every year on specious grounds. A razor blade isn't exactly the easiest thing to hide in a piece of candy -- fun size or otherwise -- while a tampered wrapper is just as obvious. Unless you're using this tactic to continue the fine tradition of eating some of your child's Halloween stash in the name of "safety," just use some common sense and stop throwing other people's money away.
Also see: 5 Reasons Halloween Isn't for Kids Anymore>>
Myth 3: Your child will be abducted Halloween night
Software companies spend untold amounts developing apps that turn your child's mobile phone into trackable homing devices. The government used to charge nearly $200 for a GPS device you could attach to your child to connect him or her to its Amber Alert system.
A full 15% of parents told children's advocacy group SafeKids that they fear their child will be abducted this Halloween. Everybody knows this, and everyone tries to make a buck off of that fear.
It's unwarranted. Not only are there more parents out on the streets and neighbors in doorways on Halloween than on any other cold night of the year, but the National Center for Missing and Exploited Children's has said that there are no more child abductions on Halloween than on any other night. In fact, a 2009 study in
Sexual Abuse: A Journal of Research and Treatment
examined 67,307 non-family sex offenses reported to law enforcement in 30 states over nine years and found that children faced no greater risk for sexual assault around Halloween than at any other time.
Not only does this force parents to spend exorbitant sums to track their kids electronically -- with
a Pew Research Study
indicating that two out of three U.S. parents do so regardless of the family friction that creates when those kids grow into teens -- but it deflects spending away from a far more imminent Halloween danger.
Both the National Highway Traffic Safety Administration and AAA point out frequently that Oct. 31 is the most dangerous night of the year for child pedestrians. More than twice as many children are killed in pedestrian/car accidents on Halloween between 4 and 10 p.m. than during the same hours on any other day of the year.
A combined 39% of parents will worry about their kids being abducted or poisoned this halloween, but only 18% will put some reflective tape on that same kid to prevent them from being injured or killed by an oncoming car. Just 37% will send their child out into the dark with a flashlight. At some point, parents need to do fear triage, play the odds and redistribute that Halloween safety spending accordingly
Myth 4: Halloween is linked to the devil
Halloween spending would be a lot greater if large swaths of the population didn't think the holiday was pure evil.
Eternal damnation is a strong spending deterrent, but linking Halloween to Satan or any other supreme evil being in any form other than costume is a fundamental misunderstanding of the holiday's origins -- not to mention a vast overestimate of the spiritual power of Reese's Peanut Butter Cups and plastic Jack 'O' Lantern buckets.
Halloween traces its roots back to the harvest celebration of Samhain first celebrated in Celtic countries. Samhain marked the end of the summer, the reaping of that year's crop and a remembrance of the dead. By the Ninth Century, however, Pope Gregory IV saw fit to plant Christianity's All Hallows' Eve, All Hallows' Day (All Saints Day) and All Souls Day around the Nov. 1 date once occupied solely by Samhain.
As yet another step in the uneasy marriage of Celtic and Christian tradition, modern Ireland, Scotland, Mann and Wales celebrated Samhain with "mumming and guising" as early as the 16th century. That tradition involved people going house-to-house in disguise reciting poems and song in exchange for food. In England, meanwhile, the practice of "souling" began in the 15th Century and involved baking "soul cakes" and sharing them with the poor who went door to door collecting them.
To this day in countries including Italy, France, Mexico and Spain, the days surrounding what is known here as Halloween are still dedicated primarily to remembering the dead and are marked with the visiting and decoration of relatives' graves. Even in the U.S., Dia De Los Muertos celebrations are focused on remembering those who have died.
In fact, the only folks who really had a problem with Halloween, until recently, were the Puritans. The influx of Irish and Scottish immigrants in the 19th and 20th centuries brought Halloween into mainstream consciousness and began the celebration that we know today. There are still outliers who consider it "Satan's Birthday" -- though Satan isn't mortal and predated our current calendar by a long stretch -- and spread rumors such as those published on Alex Jones' conspiracy website
InfoWars
, which claims that Satanic groups in the U.S. breed children to sacrifice on Halloween. That the
felt compelled to dispel that claim only further suggests that those boycotting Halloween and its sweet rewards as an affront to Christianity remain blissfully ignorant of the holiday's Christian past and present.
Myth 5: Black cats are ritually sacrificed on Halloween
Not only is this ridiculously false, but it's a baseless myth that flat-out results in more dead cats.
The folks at
hedged so much on this one that the grown-ups at
National Geographic
had to step in and dispel this myth once and for all:
No, there are no cat-killing cults or groups of Satanists (whatever people think that means) collecting black cats for mutilation or slaughter around Halloween.
What
National Geographic
did find, however, was that veterinary professionals throughout the United States would routinely suspend black cat adoptions on Halloween based solely on hearsay. While they were motivated by the well-being of the animals, their unfounded fears are preventing cats from being adopted and demonizing the black cats themselves.
By worrying about the largely fictional slaughter of black cats, these same vets are unwittingly sending hundreds to thousands of black cats to their execution.
by the University of California at Berkeley last year found that black cats are already far less likely to be adopted from shelters than their siblings of other colors. A 2002 study in the
Journal of Applied Animal Welfare Science
looked into nine months of adoptions at a California pound and found that black cats were about half as likely to be adopted as tabby cats and two-thirds less likely than white cats. Of the 3,000 cats of all colors that came into the pound during that time, only around 600 (20%) found homes. The rest were euthanized.
Cats have it tough enough as it is. The Humane Society estimates that 3 million to 4 million cats enter shelters each year, and only half are adopted. The rest, including disproportionate numbers of black cats, are euthanized.
We're going to put this as simply as we can: Unless a black cat is in a no-kill shelter such as
in Boston, its chances for post-Halloween survival aren't good. Halloween is just about the only time of year that the general population is thinking about black cats in anything other than the most superstitious light. If a shelter is preventing them from being adopted on that day, it's throwing away the cost of caring for them up to that point and, potentially, throwing away their lives. Help a kitty out, will ya?
-- Written by Jason Notte in Portland, Ore.
>To contact the writer of this article, click here:
Jason Notte
.
>To follow the writer on Twitter, go to
.
>To submit a news tip, send an email to:
.
RELATED STORIES:
>>5 Ways It's Already Black Friday
>>9 Holiday Beers Already On Shelves
>>What It Means When The Mall Goes Away
Jason Notte is a reporter for TheStreet. His writing has appeared in The New York Times, The Huffington Post, Esquire.com, Time Out New York, the Boston Herald, the Boston Phoenix, the Metro newspaper and the Colorado Springs Independent. He previously served as the political and global affairs editor for Metro U.S., layout editor for Boston Now, assistant news editor for the Herald News of West Paterson, N.J., editor of Go Out! Magazine in Hoboken, N.J., and copy editor and lifestyle editor at the Jersey Journal in Jersey City, N.J.