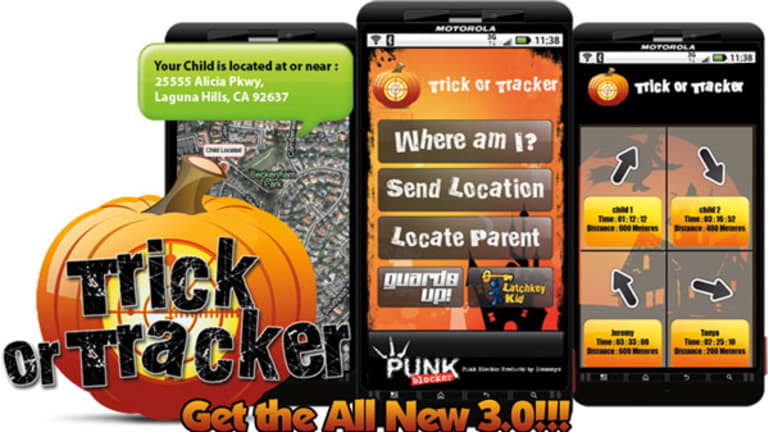 Publish date:
5 Halloween Apps Designed to Make the Holiday a Bit Less Scary
Halloween means carving pumpkins, finding costumes, keeping track of the kids and finding the best candy. There are apps for all of the these.
Halloween means carving pumpkins, finding costumes, keeping track of the kids and finding the best candy. There are apps for all of the these.
NEW YORK (MainStreet) – Halloween is fairly tech-savvy once you get behind all of those costumes, carved pumpkins and bale-sized bags of candy.
The National Retail Federation expects total Halloween spending to top $7.4 billion this year as individual spending increases from $75 in 2013 to $77.50. All of that shopping will get a boost from online sources. While the bulk of Americans will look for costume inspiration online (34.2%) or in a retail store or costume shop (33%), Pinterest is becoming a Halloween staple. The NRF's annual Halloween survey found 11.4% of Americans will turn to the site for costume ideas, up from 9.3% last year. Young adults will drive the most Pinterest traffic: 21.2% of 18- to 24-year-olds will turn there for ideas, as will 21% percent of 25- to 34-year-olds.
Cloud-based tech company Soasta, meanwhile, has released the results of its online Halloween study conducted by Harris among 2,026 adults ages 18 and older and found that that one-third of all Americans plan on using apps or websites for Halloween. Nearly one in 10 American parents (8%) will use an app to track their children during trick-or-treating. Another 5% will use apps to find the best neighborhood to trick-or-treat. While some Americans say they will use apps and websites to buy a costume (13%), others (15%) revealed that they will use websites and apps themselves as inspiration for costumes, lamely dressing up as Facebook, Instagram or Snapchat.
That's helpful to retailers only if they've managed to keep up with their connected consumers. A large majority of Americans (71%) say that if they had a bad experience shopping for Halloween on a store's website or app it would decrease their interest in shopping at the same store or mobile app when it comes to Cyber Monday. Two in five (40%) said they would avoid a store during Cyber Monday if they had a bad experience during Halloween. Nearly a third (29%) said bad Web or app performance from a store would knock it off as their first shopping choice during Cyber Monday. Slightly over one in 10 Americans (11%) said they would wait to see what their friends would say about the site before using it for Cyber Monday if there were problems during Halloween.
Altogether, 66% of Americans are increasingly using websites or mobile apps to make purchases during the holidays. Christmas shopping sees the most action (59% of all online or mobile holiday shopping) followed by Valentines Day (9%), Halloween (7%), Thanksgiving (7%) New Year's Eve (4%) and Independence Day (3%).
Software developers see it a bit differently. Before mobile devices, Halloween was full of unknowns: People had no idea how many trick-or-treaters to expect, trick-or-treating families had no idea what houses had candy and the only way to know where kids were trick-or-treating for certain was to follow them around. None of that is true anymore, thanks largely to mobile apps.
We scanned the app offerings and found a handful that will not only help parents and kids get through Halloween quickly and safely this year, but could help retailers and manufacturers get a better idea of Halloween demand. Some of these advances are a little creepy, but they take some of the scarier mysteries out of this increasingly money-minded holiday:

Trick or Tracker
Price: Free for Halloween night, $4.99 for a lifetime license
Available for:Google Android
There are a lot of similarly paranoid kid-tracking apps out there, but this one still takes a place at the top of the list as long as parental fear/laziness outweighs reality and effort.
The National Center for Missing and Exploited Children repeats each year that there are no more child abductions or Halloween than on any other night of the year. They note that it's actually somewhat more difficult to pull off such a crime on Halloween, given the number of parents out with children and lots of neighbors looking out the front door with a cautious eye. None of that calms the 15% of parents who told children's advocacy group SafeKids that they fear their child will be abducted on Halloween.
Because fear often breed opportunity, frightened parents have spawned an entire niche industry of GPS-enabled, smartphone-based apps that parents can use to track their child's every move throughout the neighborhood. The government's Amber Alert system once had one, but it used a nearly $200 GPS device. Many other generic models exist, but mobile customers with a Google Android device have a strong and, for one night, free Halloween option in Trick Or Tracker.
The app pairs a parent's phone with their child's phone and allows the parent to get frequent text updates about their child's whereabouts and pull up those updates on demand. It also lets a kid find a parent if he or she somehow got separated from the trick-or-treating herd.
The app contains supplementary features including Guards Up, which sets a boundary for the kid in question and notifies parents if it's been breached. There's also a LatchKey feature that notifies a working or otherwise busy parent if a child has arrived home safely.
If planting a homing device on a child seems like a bit of an extreme measure, just keep in mind that such measures are the rule rather than the exception when a Pew Research Study indicates that two out three 3 U.S. parents track their children through technology – regardless of the family friction that creates when those kids grow into teens. When neither chaperoning a trick-or-treat outing nor verbal agreements are feasible but parental fears remain, mobile tracking moves from a last resort to an immediate convenience.
Nextdoor Trick Or Treat Map
Price: Free
Available for:Google Android and Apple iOS
There are a whole lot of issues that prevent a great trick-or-treating app from happening, but the key problem is broadcasting to the world where you live and what you have in your house, even if it's only candy.
Many have tried to develop one, but only the mobile version of the local condo association or neighborhood watch group could make it happen.
Founded in 2010, San Francisco-based NextDoor built its service around closed, neighborhood networks where folks could sign in with real names, post onto neighborhood bulletin boards, report crimes, update traffic and utility conditions and basically do the things neighborhoods did when people actually spoke with each other. Last year, NextDoor made some space among its babysitter, garage sale, barbecue, lost cat and "welcome, neighbor" listings for a map that indicates which neighbors in the online circle are handing out candy this year.
NextDoor already has your neighborhood mapped out. All you have to do is click on your property and mark it with a candy corn icon if you're giving out "treats" this year. It's the first year this app is in operation, so neighbors won't be able to specify exactly what those treats are. This still requires trick-or-treaters to roll the dice a bit and trust that their neighbors won't stick them with pennies, stale raisins, toothbrushes, "informative literature" or any other nonsense that isn't candy.
Still, it saves kids and parents the hassle of ringing the doorbells of people who aren't home or, for some reason, didn't stock up on candy for this one night of the year. Daylight is a precious commodity on Halloween night, and there's no sense in wasting it on candy-free houses. It also saves adults the hassle of having their doorbell rung relentlessly by neighborhood kids who just won't leave you alone and don't understand your reluctance to cave in to the sugar and high-fructose corn syrup cartels.
Since NextDoor communities are transparent little groups with finite boundaries, parents get the added benefit of knowing exactly whose houses their kids are going to. It isn't a perfect safety feature, but it beats sending kids out to do a bunch of cold calls on strangers' front doorsteps.
Though NextDoor assures its communities that all such information will remain private, we'd imagine that this would be privileged information for grocery chains trying to determine Halloween demand in various corners of the country. If NextDoor won't sell, the next enterprising candy map developer just might.
GoblinCount
Price: 99 cents 
Available for:Apple iOS
You don't have to hide from the neighbors when the candy runs out or gorge yourself when there's way too much left.
Simple math can help.
GoblinCount helps a meticulous candy shopper count the number of trick-or-treaters that come to the door, determine an adequate number of candy pieces for each recipient and buy accordingly. You could just take a notepad, mark the number of trick-or-treaters and use that as a reference, but this is rotisserie-league baseball in 1987.
The GoblinCount app has helped Apple device users track trick-or-treat traffic since 2009. Not only will it make a difference by Year 2, but it can help you determine a multi-year trick-or-treater average that will give you an idea of just how much candy to buy each year.
Disgruntled trick or treaters can get annoying, but those fun-size pounds are far more difficult to get rid of. If you honestly don't want to spend the next few weeks snacking on Mr. Goodbars, Milky Ways, Skittles and Snickers – though the latter candy never really makes it past Oct. 31 – embrace technology and get counting.
¿
Zombify
Price: Free
Available for:Apple iOS
The National Retail Federation says that the amount spent on adult Halloween costumes this year will outpace that spent on children's costumes by nearly $200 million. If you feel you're beyond this and that the rest of the U.S. really needs to grow up, the tech world has a simple solution for party poopers just like yourself.
Without applying so much as a dab of costume make-up, you can make yourself look like a reanimated corpse that Daryl just killed on last week's episode of The Walking Dead. Just snap a picture of yourself, pinpoint where your eyes and mouth are for the Zombify app, and watch as your face contorts into a bare-toothed pile of rotting flesh dotted with empty eye sockets. Use different backgrounds, props, and filters and just whip out your smartphone and show the photo to your Halloween hosts. If books, movies and music can all find a home on the cloud, your Halloween costume can live there too.
Combine Zombify with Wolfify and Vampify and you'll have a virtual stockpile of costumes that should last you until you either outgrow your friends completely or they catch up.
¿
Carve-A-Pumpkin
Price: free
Available for: iOS
Much as the U.S. forgot how to take its kids trick-or-treating without installing a smartphone LoJack somewhere on their person, it also forgot how to pierce a gourd with a knife and carve a face into it.
There are seemingly limitless amounts of Android and iOS app space dedicated to pumpkin carving, seemingly developed by people who believe the average American's knuckles are too scraped up from being dragged around the pumpkin patch to handle a bread knife. This app from Parents magazine is simple enough for kids to use, but smart enough to cut to the chase for adults.
This isn't a some 20-minute pumpkin-carving tutorial, but just a template of five different pumpkin types, 18 eye shapes, 15 mouth shapes and seven nose shapes. Let the kids mix and match as they'd like and use the final result as a guide for carving the real deal. If you're just looking for patterns different from the ones you're carving each year, this app is perfect. If you've managed to make it into adulthood with all of your physical abilities intact and still can't figure out how to carve a pumpkin, there's no app that can help you.
— By Jason Notte for MainStreet
>To contact the writer of this article, click here: Jason Notte.
>To follow the writer on Twitter, go to http://twitter.com/notteham.
>To submit a news tip, send an email to: tips@thestreet.com.
RELATED STORIES:
>>10 Winter Seasonal Beers Available Well Before The Holidays
>>Frightening Financial Future Scares Investors Just Before Halloween
>>Why You Should Book Holiday Travel If You Haven't Already