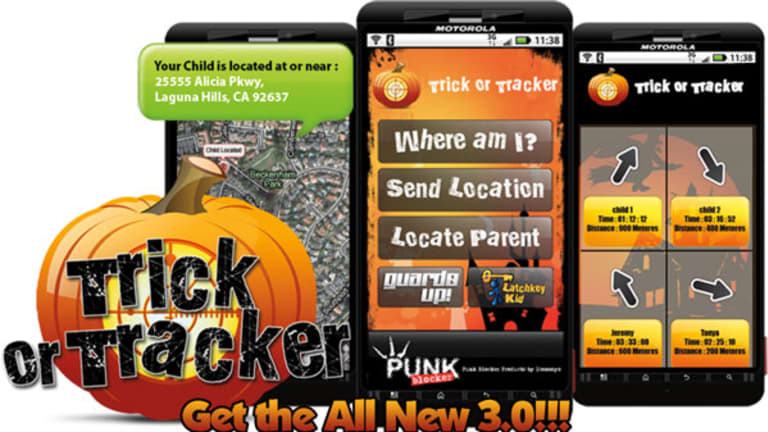 5 Halloween Apps Changing Trick-Or-Treating Forever
Among your smartphone app offerings are a handful that will actually help keep you safe and happy on Halloween.
PORTLAND, Ore. (TheStreet) -- If you build a pop-up shop for costumes and decorations, throw some candy at the kids and get the adults in sexy costumes laden with pop-culture references, is that enough to scare up some Halloween business?
In recent years, the retail world hasn't thought so and has been using an increasing array of tricks to get U.S. consumers to buy its treats. Mobile apps are just one tool they use to pry time and cash out of the nation's goodie bags.
With other holidays suffering after the recession, retailers need Halloween sales more than ever. According to the folks at market research firm
IBISWorld
, Halloween spending in the United States is expected to grow to $7.63 billion this year from $7.41 billion in 2010. That's far more than the $5.77 billion U.S. consumers spent on Halloween at the beginning of the recession in 2008, but just less than half of the $13.2 billion spent on Father's Day this year.
Halloween ranks dead last behind Christmas ($69.2 billion by IBISWorld estimates), Valentine's Day ($20.8 billion), Mothers Day ($17.1 billion), Fathers Day and Thanksgiving ($7.8 billion). Even with a turbulent economy trimming Turkey Day spending, Halloween's 3% year-over-year growth lags well behind Thanksgiving's 6.4% growth in 2012.
Even this year's Halloween uptick is a mixed bag. Spending on decorations is expected to jump 6.7%, to $2.23 billion. Costume spending, however, will increase only by a relatively flat $40 million, or 1.5% from the $2.72 billion spent last year on the holiday's biggest category.
Hershey
(HSY)
,
Tootsie Roll
(TR)
,
Mondelez
(MDLZ)
and other confectioners won't see much of a boost from candy sales, either, as last year's $2.19 billion in spending crawls to $2.25 billion this year -- a change of less than 3%.
The news from the National Retail Federation, which represents the nation's retailers and tries to find the positive aspects of even the toughest economic situations, is wearing its gloomiest mask for this Halloween shopping season. The NRF found that 158 million consumers say they plan to celebrate Halloween this year, down from 170 last year. In total, they plan to spend about $75 each on Halloween, down from an average of nearly $80 per shopper last year.
Even the NRF's estimated Halloween spending total is relatively modest at $6.1 billion, trailing IBISWorld's figure by more than $1.5 billion. It's not even certain that they'll spend that much, but conservative expectations are rarely exceeded. The NRF places the blame for this year's slump with "cooler fall weather," but political and economic insecurity is a little too scary for consumers and retailers in 2010.
Though that NRF Halloween spending estimate is still 54.7% higher than it was in 2005, a quarter of U.S. consumers (25.2%) say the state of the economy will affect their Halloween spending plans. Nearly nine in 10 (86.1%) will spend less overall, up slightly from 83.5% last year. Additionally, 32.7% will buy less candy and 18.1% will make a costume instead of buying one. That affects retailers from
Wal-Mart
(WMT)
and
Target
(TGT)
to
Kroger
(KR)
and
Safeway
(SFY)
. At a time when the balance of Halloween spending is shifting toward adults -- with the $1.2 billion U.S. consumers plan to spend on adult costumes overshadowing the $1 billion they'll spend on kids' outfits -- retailers know their Halloween haul should be much larger. They're just not sure how to capitalize on it.
Software developers see it a bit differently. Before mobile devices, Halloween was full of unknowns: People had no idea how many trick-or-treaters to expect, trick-or-treating families had no idea what houses had candy and the only way to know where kids were trick-or-treating for certain was to follow them around. None of that is true anymore, thanks largely to mobile apps.
Also see: Halloween Novelty Tunes Don't Wear Off>>
We scanned the app offerings and found a handful that will not only help parents and kids get through Halloween quickly and safely this year, but could help retailers and manufacturers get a better idea of Halloween demand. Some of these advances are a little creepy, but they take some of the scarier mysteries out of this increasingly money-minded holiday:
Price:
Free for Halloween night, $4.99 for a lifetime license
Available for:
Google
(GOOG)
Android (
Apple
(AAPL)
iOS version coming soon)
We can repeat the National Center for Missing and Exploited Children's assertion that there are no more child abductions or Halloween than on any other night of the year until we lose our voices. We can point out that there are tons of parents out with children on Halloween and lots of neighbors looking out the front door with a cautious eye. None of that will calm the 15% of parents who told children's advocacy group SafeKids that they fear their child will be abducted this Halloween.
This has spawned an entire niche industry of GPS-enabled, smartphone-based apps that parents can use to track their child's every move throughout the neighborhood. The government's Amber Alert system once had one, but it used a nearly $200 GPS device. Many other generic models exist, but mobile customers with a Google Android device have a strong and, for one night, free Halloween option in Trick Or Tracker.
The app pairs a parent's phone with their child's phone and allows the parent to get frequent text updates about their child's whereabouts and lets them pull those updates on demand. It also lets a kid find a parent if he or she somehow got separated from the trick-or-treating herd.
The app also contains supplementary features including Guards Up, which sets a boundary for the kid in question and notifies parents if it's been breached. There's also a LatchKey feature that notifies a working or otherwise busy parent if a child has arrived home safely.
If planting a homing device on a child seems like a bit of an extreme measure, just keep in mind that such measures are the rule rather than the exception when
a Pew Research Study
indicates that two out of three U.S. parents track their children through technology -- regardless of the family friction that creates when those kids grow into teens. When neither chaperoning a trick-or-treat outing nor verbal agreements are feasible, but parental fears still remain, mobile tracking moves from a last resort to an immediate convenience.
Price:
Free
Available for:
Google Android and Apple iOS
Many
have tried
to develop something like this, but only the mobile version of the local condo association or neighborhood watch group could make it happen.
Founded in 2010, San Francisco-based NextDoor built its service around closed neighborhood networks where folks could sign in with real names, post onto neighborhood bulletin boards, report crimes, update traffic and utility conditions and basically do the things neighborhoods did when people actually spoke with each other. This year, NextDoor made some space among its babysitter, garage sale, barbecue, lost cat and "welcome, neighbor" listings for a map that indicates which neighbors in the online circle are handing out candy this year.
Also see: 5 Holiday Shopping Apps You May As Well Download Now>>
NextDoor already has your neighborhood mapped out. All you have to do is click on your property and mark it with
if you're giving out "treats" this year. It's the first year this app is in operation, so neighbors won't be able to specify exactly what those treats are just yet. This still requires trick-or-treaters to roll the dice a bit and trust that their neighbors won't stick them with pennies, stale raisins, toothbrushes, "informative literature" or any other weasely adult nonsense that isn't candy.
Still, it saves kids and parents the hassle of ringing the doorbells of people who aren't home or, for some reason, didn't stock up on candy for this one night of the year. Daylight is a precious commodity on Halloween night, and there's no sense in wasting it on candy-free houses. It also saves adults the hassle of having their doorbell rung relentlessly by neighborhood kids who just won't leave you alone and don't understand your reluctance to cave in to the sugar and high fructose corn syrup cartels.
Since NextDoor communities are transparent little groups with finite boundaries, parents get the added benefit of knowing exactly whose houses their kids are going to. It isn't a perfect safety feature, but it beats sending kids out to do a bunch of cold calls on strangers' front doorsteps.
Though NextDoor assures its communities that all such information will remain private, we'd imagine that this would be privileged information for grocery chains trying to determine Halloween demand in various corners of the country. If NextDoor won't sell, the next enterprising candy map developer just might.
GoblinCount
Price:
99 cents
Available for:
Are you one of those trick-or-treat houses that runs out of candy by 7 p.m. or has so much left over that you end up bringing it to work for days afterward?
That's just poor planning.
A more meticulous candy shopper would count the number of trick-or-treaters that come to the door, determine an adequate number of candy pieces for each recipient and buy accordingly. You could just take a notepad, mark the number of trick-or-treaters and use that as a reference -- if this was 1958.
For the rest of us, the GoblinCount app has helped Apple device users track trick-or-treat traffic since 2009. Not only will it make a difference by Year 2, but it can help you determine a multi-year trick-or-treater average that will give you an idea of just how much candy to buy each year.
A ringing doorbell when the candy's run out is just annoying and stockpiles of unused sweets have gotten the better of people with more fortitude than yourself. If you honestly don't want to spend the next few weeks snacking on Mr. Goodbars, Milky Ways, Skittles and Snickers -- who are we kidding, Snickers never last through Halloween night -- embrace technology and get counting.
The Mask
Price:
Free
Available for:
Google Android
Plenty of people are into Halloween, but not everybody digs getting into costume and pretending it's as much of a thrill as when they were in grade school.
These people are usually identified by their absolute bare-minimum efforts: a plastic bottle hung around their neck by a string (bottleneck, get it?), a name tag with someone else's name on it, an old sports jersey. But even that required some effort and even a little cash at some point.
Now Halloween's reluctant revelers can piece together a better and more smarmy costume for free. Dreamer Bros' free app The Mask puts a number of ready-made eyes and mouths on a smartphone and leaves them at the user's disposal. When the nearest joker walks up and inevitably asks what that seemingly costume-free person is supposed to be, the harassed party can respond by holding a blinking set of doll eyes in front of their real ones or placing snarling monster fangs in front of their mouth that move when he or she makes a noise.
It's not a great costume, but we're guessing the folks that use The Mask will get out of it roughly what they put into it. When you're putting zero effort into a costume, this is about the best result you can hope for.
Flashlight apps
Price:
Varies, but any free one will do
Available for:
iOS, Google Android,
Windows Phone
(MSFT)
,
BlackBerry
undefined
They're among the first apps people download and among the simplest to use, but this time of year is when they are at their most effective.
Both the National Highway Traffic Safety Administration and AAA point out frequently that Oct. 31 is the most dangerous night of the year for child pedestrians. More than twice as many children are killed in pedestrian/car accidents on Halloween between 4 and 10 p.m. than during the same hours on any other day of the year. As it is, one in three parents tell SafeKids they're afraid their child will be involved in a traffic accident on Halloween.
That makes visibility a top priority, which makes any kind of reflector or illumination a must. Parents have sent kids out with flashlights and wands for years, but bulk and battery life make each of those options less desirable. If kids is heading out with a phone anyway, a flashlight app will make sure they can light their way and, in some cases, can use the LED light of a phone's camera flash to extend that light time even further.
The flashlight app removed the excuse to not carry a flashlight around on Halloween and gave kids an easy option for staying safe. If parents haven't installed them by the time Halloween rolls around, they should take the opportunity to do so before their costumed clan steps out.
-- Written by Jason Notte in Portland, Ore.
>To contact the writer of this article, click here:
Jason Notte
.
>To follow the writer on Twitter, go to
.
>To submit a news tip, send an email to:
.
RELATED STORIES:
>>5 Ways It's Already Black Friday
>>9 Holiday Beers Already On Shelves
>>What It Means When The Mall Goes Away
Jason Notte is a reporter for TheStreet. His writing has appeared in The New York Times, The Huffington Post, Esquire.com, Time Out New York, the Boston Herald, the Boston Phoenix, the Metro newspaper and the Colorado Springs Independent. He previously served as the political and global affairs editor for Metro U.S., layout editor for Boston Now, assistant news editor for the Herald News of West Paterson, N.J., editor of Go Out! Magazine in Hoboken, N.J., and copy editor and lifestyle editor at the Jersey Journal in Jersey City, N.J.