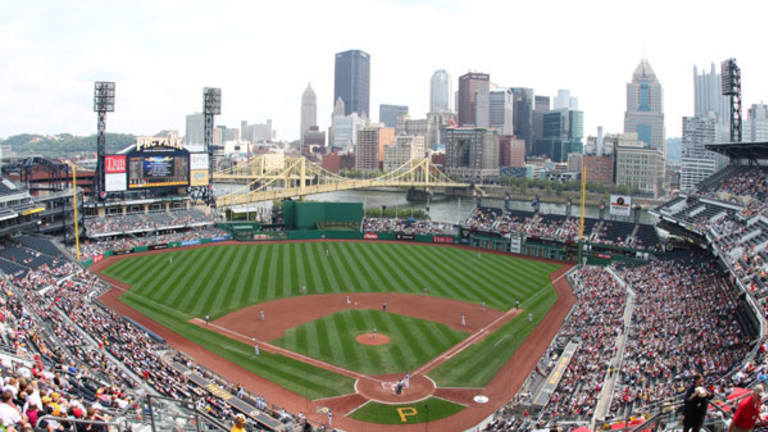 5 Great Stadiums Making Up for Bad Baseball Teams
The Royals, Mariners and Mets stink. But their stadiums are wonderful and often cheap to get in.
PORTLAND, Ore. (TheStreet) -- There's still a lot of baseball to be played, and we're not even at the All-Star Break, but some major league fans know when they're in for an especially long season.
Maybe the team has already spent the past few months under .500. Maybe half the lineup's hurt. Maybe the team's doing really well, but fans have seen enough late-season swoons in their time to know just what they're dealing with.
For fans of teams mired in the middle of the standings or somewhere just below, this is just about the time you wonder what your motivation is going to be to get out to the ballpark this year. There's the argument that baseball is a beautiful game and that there's nothing quite like watching it played at the highest level, but that's a tough argument to make when nothing your team has done lately has earned that "highest level" distinction.
Then there's the not-so-small matter of the cost. The average ticket jumped 1.8% from last season, according to
Team Marketing Report
. The average cost of bringing a family of four to the game and paying for parking, concessions and souvenirs rose 0.6%, to $207.80.
Those costs are still a fraction of what fans pay to see a National Football League, National Hockey League or National Basketball League game. In fact, that price for a full day at the ballgame for a family of four wouldn't even get them in the door at an NHL game (where tickets average $61.01 a pop) or an NFL matchup ($78.38). Baseball's still a steal and, on average, a beautiful day at the ballpark watching a terrible team isn't so bad.
We took a look around the league and found five stadiums whose aesthetics and amenities give fans more reason to come to the ballpark than the team inhabiting it:
PNC Park
We just want to acknowledge that the Pittsburgh Pirates have a winning record and are only a handful of games out of first place in the National League Central.
That said, Pirates fans know how fragile hope can be. The Pirates had a 67-54 on Aug. 19 last season and looked as if they were going to cruise to their first winning season in nearly two decades and their first playoff spot since Barry Bonds was on the team.
Nope. They ended the season with a 79-83 record and broke the Yinzers' hearts yet again. But at least Pittsburgh still has this small glimmer of early season hope -- and lovely PNC Park. With even the worst nosebleed seat only 88 feet from the field and featuring views of the Roberto Clemente Bridge, the Pittsburgh Skyline and the boats on the Allegheny River, the park is hands-down one of the most gorgeous in the league.
At a bargain-basement average of $17.21 per seat -- the third-lowest price in the league -- it's also incredibly cheap. That gives fans a little more pocket change for ordering a Primanti Brothers sandwich stacked with with steak, cheese, cole slaw and tomatoes. It'll also free up some cash for a pour from one of the most extensive craft beer tap lists in the majors. Brews in regular rotation include Pittsburgh's own Church Brew Works, Victory Brewing, East End Brewing, Penn Brewing, Troegs Brewing and Erie Brewing. Add to that Harpoon Brewery, Samuel Adams, Brooklyn Brewery, Dogfish Head Brewing, 21st Amendment Brewery, Flying Dog Brewing, Heavy Seas Beer, Lagunitas Brewing, Stone Brewing, Bell's Brewery and Anchor Brewing.
A beer passport discount ticket package provides a pre-game beer tasting for 90 minutes before the game and a $5 voucher for the concession area. It's the least a team with the longest season-to-season losing streak in professional sports can offer.
Kaufmann Stadium
The Royals are in the hunt in the American League Central and ahead of the Minnesota Twins and Chicago White Sox, but excitement is still at something less than a fever pitch. Even after making some uncharacteristic offseason noise and picking up pitchers Jeremy Guthrie, James Shields and Ervin Santana, their latest swoon and recent history suggests fans have reason to be wary.
This is a team that has had three winning seasons in the past 20 years and hasn't made the playoffs since 1985. Young talent such as stars Johnny Damon, Carlos Beltran and Zack Greinke have no qualms just leaving when it's time to collect a paycheck, and high-priced talent doesn't exactly beat down the Royals' door.
That said, the team's more than 40-year-old Kaufmann Stadium -- once a staid, cookie-cutter nightmare -- has benefited greatly from a $250 million renovation completed in 2009. The 322-foot fountain is still behind the right-field fence, but it's now surrounded by terraces, a kids' area, an outfield concourse, a right-field bar and restaurant and a Taste of KC food court. Kansas City barbecue abounds in concessions dishes such as sausage topped with pulled pork and macaroni and cheese, corn brisket nachos and bacon bleu cheese fries.
The best perk, however, is Kansas City's own Boulevard Beer everywhere. The brewer signed a major sponsorship deal with the team last year that plasters its name on a huge sign in left field as if it were Budweiser or Coors, puts two Boulevard Grill locations in the stadium and equips stadium beer vendors with backpack-mounted kegs of Unfiltered Wheat Beer that they pour when they get to your row.
Even better, the Royals lowered their average ticket price by more than 10% since last season to a manageable $19.83. Even if the Royals disappoint at that price, Kaufmann Stadium certainly won't.
Safeco Field
It's hard to believe the Seattle Mariners still hold the league record for most games won in a regular season. It's not so hard for this franchise's fans to believe it's been more than a decade since this team won those 116 games during the last year it made the playoffs.
It hasn't been pretty for the M's faithful since 2001. There have been only four winning seasons in that 11-year span, no playoff appearances and a steady departure of stars such as Ichiro Suzuki, Kazuhiro Sasaki, Freddy Garcia and others. The team has arguably the best pitcher in the American League in Felix Hernandez, but each losing season eats up another year of the 27-year-old's prime.
At least there's beautiful Safeco Field in the city's ever-developing Sodo neighborhood. With views of the Seattle skyline, Puget Sound and neighboring CenturyLink field, there's a lot to see on days when the marine layer clears out and the retractable roof opens. It's a nice distraction from the on-field mediocrity, but there's perhaps no better way to keep your mind off the game than by diving into Safeco's ample and diverse concourse offerings.
While the ballpark earned its reputation for sushi, teriyaki and egg rolls early on, juicy burgers, potent garlic fries and thick shakes from local chain Kidd Valley are some of the stoutest concessions in the majors. Local seafood chain Ivar's, meanwhile, puts a Pacific Northwest slant on a ballpark staple with Ivar Dogs -- slivers of fried cod topped with tartar sauce and cole slaw. The stadium's best-kept secret, however, is "The Man" sauce at Porter's BBQ, made with a closely guarded recipe loaded with spices. On most nights, it has more kick than the Mariners' lineup.
And since this is the Pacific Northwest, Safeco has also earned a reputation for having a beer list as diverse as the offerings of its brewery-heavy region. In putting it at the top of its list of baseball stadiums with the best craft beer selections,
rattled off an impressive list of local and national Safeco beer offerings, including Alaskan, Big Sky, BridgePort, Deschutes, Diamond Knot Craft, Dick's, Elysian, Fremont, Full Sail, Harmon, Mac & Jack's, Georgetown, Ninkasi, Pyramid, Red Hook, Skagit River, Snoqualmie Falls and Widmer Brothers.
The team's $28.45 average ticket price is still higher than the league's midrange, but one of the benefits to having a team with low expectations is that their ticket prices tend to soften in the secondary market.
Citi Field
It was bad enough when the bank in its name was the only thing collapsing; the Mets haven't had a winning season since their new stadium opened in 2009, the Wilpon family of owners was nearly cleaned out by Bernie Madoff, team chemistry has been unstable and stars such as Jose Reyes and R.A. Dickey ended up in Toronto, while high-priced ace Johan Santana went from pitching the franchise's first no-hitter last year to a potentially career-ending injury this year.
In short, the Mets stink and their prospects for getting better in the near future aren't great.
Fortunately for fans, that means there's nothing to distract them while waiting on line for a burger at Shake Shack. Citi Field's mock Ebbets Field entrance, its Jackie Robinson Rotunda inside, its
, Wiffle ball field for kids and Mets museum inside are all lovely, but it's really the food that steals the show.
Even before Citi Field moved in its fences in response to home-team hitters' complaints and painted those fences Met blue to soothe the die-hards, a whole different class of fan was coming to the ballpark just to get some Blue Smoke BBQ, fries from Box Frites or kimchi and Korean BBQ from Cafe Hanover. Even Mama's of Corona churned Italian sandwiches and blue-and-orange stuffed pastry tubes for folks who don't much care about obstructed views and pitchers' parks. As long as the pastrami was hot, piled high between slices of rye bread, packaged with a sour pickle and paired with a Brooklyn Brewery or Sixpoint beer, all was right with the world.
Those fans are even happier now that a 7% drop in ticket prices put the average cost of seeing the Mets at $25.30, or below the league average and less than half the price of going to a Yankee game ($51.55).
Petco Park
The Los Angeles Dodgers are doing a good job of making the Padres look good this year by occupying the cellar of the National League West, but make no mistake: The Padres are awful.
Far be it for us to turn down a $15.99 ticket -- the lowest average price in the league -- on a sun-drenched San Diego day, but the Padres have a nasty habit of ruining days like that. Management let players such as Cy Young winner Jake Peavy, slugger Adrian Gonzalez and closer Heath Bell walk without putting up much of a fight. Even a switch in ownership last year didn't exactly go as planned, as former owners John Moores and Jeff Moorad took a $200 million portion of the Padres' new TV deal with them. Rumors have swirled that the Padres are broke, but the new ownership group denies it despite making no offseason acquisitions.
Not surprisingly, even after moving in the fences for its hitters, the team finds itself in a familiar position in 2013: Under .500 until a recent six-game winning streak put them at .507 and just close enough to first place to toy with fans' emotions. Instead of staring blankly at the Western Metal Supply facade just beyond left field, however, Padres fans find consolation in shrimp tacos and Sonora dogs.
With apologies to Randy Jones' barbecue, Petco's best offerings originate south of the border. San Diego restaurant Rubio's brought its shrimp and fish tacos up from Baja nearly 30 years ago and loads them up with cabbage, salsa and garlic sauce. The ballpark versions are pricier, but no less perfect. If you're craving something a bit meatier, a Sonoran hot dog comes wrapped in bacon and jammed with onions, tomatoes and pinto beans. It's all served on a potato bun, then topped with mustard, ketchup, mayonnaise and jalapeno sauce.
Its beer list, meanwhile, reads like a who's who of California craft brewers. Hometown Stone Brewing is there, as is, Green Flash, Ballast Point, Karl Strauss, AleSmith, Pyramid, Anderson Valley, Firestone Walker, Sierra Nevada, and Knee Deep. Even if the home-run steam whistle hasn't sounded in a while, that slate offers plenty of good reasons to toast.
-- Written by Jason Notte in Portland, Ore.
>To contact the writer of this article, click here:
Jason Notte
.
>To follow the writer on Twitter, go to
.
>To submit a news tip, send an email to:
.
RELATED STORIES:
>>How Tapping The Jewish Beer Market Begat A Plan
>>Sierra Nevada CEO Makes East Coast Beer Run
>>Craft Brew Founder Widmer Savors Results
Jason Notte is a reporter for TheStreet. His writing has appeared in The New York Times, The Huffington Post, Esquire.com, Time Out New York, the Boston Herald, the Boston Phoenix, the Metro newspaper and the Colorado Springs Independent. He previously served as the political and global affairs editor for Metro U.S., layout editor for Boston Now, assistant news editor for the Herald News of West Paterson, N.J., editor of Go Out! Magazine in Hoboken, N.J., and copy editor and lifestyle editor at the Jersey Journal in Jersey City, N.J.