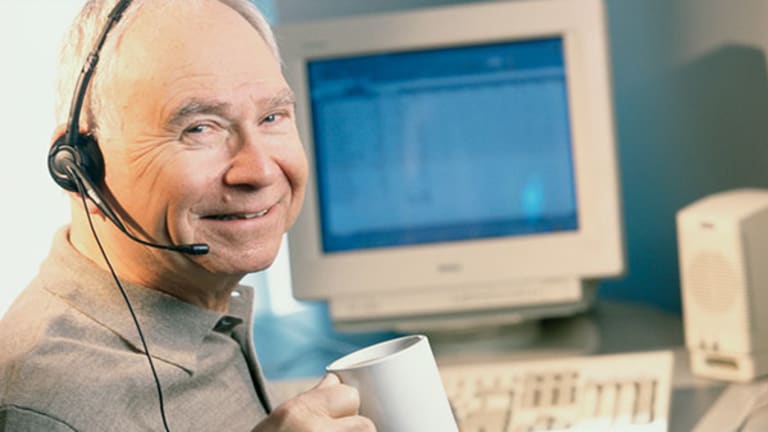 5 Great Jobs for Retirees
There is work beyond WalMart and McDonald's.
NEW YORK (MainStreet) — There are jobs beyond Walmart and McDonald's for retirees. That is good news, because the evidence is plentiful that many of us -- most of us, in some surveys -- lack a credible plan for a comfortable retirement and, for sure, lots of us lack the savings.
Enter the part-time job, and a loud grumble of many retirees is that all they can find is minimum wage work and, money aside, the jobs are boring. But know this: they just are not looking hard enough. In fact many retirees are working at exactly what they want and making decent money.
Doing what? Here are five jobs to covet.
Travel agent. When Lynn Lewis retired as a San Francisco school teacher, she knew she wanted to keep working, and she also knew she wanted to travel. So she now is a travel consultant with Expedia CruiseShipCenters in Petaluma, Calif. Her job boils down to helping callers pick the cruise product that works for them, and she works 18 hours a week. "I could work more hours, but 18 is right for me," she says. She did not offer her income but did say she makes more than she would at Walmart. (The Bureau of Labor Statistics says travel agents make on average $16+ per hour.) Oh, and there are perks: she just got back from a free 17-day cruise from England to Italy and back.
Real estate agent. Bruce Ailion, Realtor and attorney with RE/MAX Town and Country in Atlanta, said he's had a number of retirees in his office. He added: "As an agent when you list a property, you have every agent in the market working to sell it and generate a commission for you."
Different companies have different splits. But if a house sells for $200,000, there typically is $12,000 in commissions, divvied up between two agencies. Usually there's another split in each agency (where the agency and a broker get a cut). The realtor probably gets about $3,000. How many hours do you have to work at McDonald's to earn $3,000?
The job skills: knowing the neighborhoods, enjoying talking with people and driving from house to house. Said Aillon: "Working with buyers, you can pick the number of buyers to work with at a time. I had agents that worked full time part of the time. They would work with three  to six buyers over a two-month period, sell four to five homes and then take two to three months off traveling. Few other activities allow this much control over your time and income."
He added that the barrier to entry is low. Take a course - probably 75 to 125 hours (often they are heavily discounted on Groupon and LivingSocial). Then pass a state exam and you are in.

Creative selling through Fiverr. Fiverr bills itself as a creative services marketplace, and if you want a cartoon of yourself to dress up a Twitter feed, maybe a logo, definitely a custom short story, it's your mall. Prices are low, starting at - as the name implies - $5. But 67-year-old Fiverr seller Brooke Folk said he makes around $10,000 a year there, selling short stories. The money, he said, is in upcharges. $20 extra for a custom story. A longer story - $5 buys 500 words - is another $20. He said he typically gets $30 to $40 per story and he stressed he likes writing stories.
He admitted that "it took me a while to accept doing a job for $5." But now that he's gotten into the rhythm, he said he likes the work and the extra income.
Have a creative skill? Fiverr may be the way to monetize it.
Micro-jobbing. Ken Bodnar - author of eBook 55 And Scared - is on a similar page. At 55 he was out of work and broke. Now he is 59, and he still can't find a full-time job but is busy with a stream of high-tech project assignments, mainly from companies that probably wouldn't hire him because of his age. "They don't want to hire somebody they know already is planning retirement," he said. But companies are happy to have an experienced hand come in and help solve their IT problems.
He said he has helped a number of people do likewise. A restaurant owner-manager, for instance, has become a menu consultant.
Bodnar's point: in a lifetime of work, you have accumulated skills. Chunk them out, and sell them to companies that don't want the obligations of another employee but are happy to rent skills to solve problems.
"Fear is the obstacle," Bodnar said. "You have to knock on doors. The biggest obstacles: making yourself known and fighting your fears."

Winery tasting room assistant. If you want something different, this is it. At Three Sisters Vineyards in Lumpkin County, Ga., co-founder Doug Paul said he has hired folks in retirement.
"They are a great match for a small farm winery like us in a popular tourism area, especially if they have a sales or teaching or drama background," he said. 
As for pay, Paul said, "Three Sisters Vineyards pays between $12 and $15 an hour. Work is usually weekends and 10 to 20 hours a week for us."
And you get to talk about wine, pour small glasses to visitors and generally act as a genial host.
Note: there are 3,000 commercial wineries in the U.S., some in every state, and almost all have tasting rooms. You don't like wine? Think craft beer, also ciders, and small batch whiskies. They all have tasting rooms and they all want a steady, mature hand on the bottle.
This article is commentary by an independent contributor. At the time of publication, the author held TK positions in the stocks mentioned.