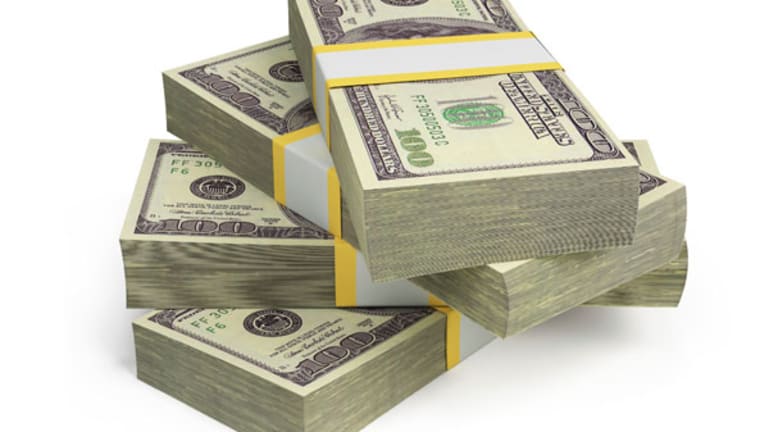 5 Great Holiday Gift Cards Stocking Stuffers
Holiday shopping gets a big hand from gift cards, the best of which can be used in more than one place.
BOSTON (MainStreet) -- When holiday shoppers care enough to give but not enough to put lots of thought into it, the trusty gift card always manages to save the season.
As long as it's not the wrong
.
According to the National Retail Federation's
Holiday Consumer Intentions and Actions
survey conducted by BIGresearch, holiday shoppers are expected to spend $27.8 billion on gift cards this year alone. That's an average of $155.43 per shopper, the highest amount since 2007 and up from $145.61 last year.
Roughly 80% of all holiday shoppers will buy gift cards this year, compared with 77.3% in 2010, and they'll be spending more with each purchase. The average amount going on gift cards this holiday season is $43.23, a slight increase from $41.48 last year.
Ask those same shoppers why they're going with the plastic or e-card gift rather than specific goods and 46.4% will say they will buy gift cards because it allows the recipient to choose exactly what he or she wants. That's a bit more thoughtful than the nearly 20% who say they will choose the cards because they are more convenient.
Holiday shoppers who aren't into handing a friend, co-worker or loved one a repackaged pile of cash make pretty decent points as well. About 9% say they'd rather buy an item on sale than a gift card with a fixed price, while 17.4% say they're leery of suddenly subjecting their gift to fees and expiration dates that wouldn't exist if they just handed the recipient a bunch of bills in a card. The biggest argument against gift cards, however, is that 26.1% of those who shun them think they seem impersonal no matter what card they're wrapped in or what trinkets they're bundled with.
That leaves out one larger point, however: Gift cards are only as good as the companies issuing them. Gift card monitoring site
assigns zero-to-100 scores to gift cards from retailers throughout the U.S. and has no qualms about calling out companies on shaky ground. Anyone holding a
Filene's Basement
gift card, for example, should unload it like nuclear waste after that discount chain declared Chapter 7 bankruptcy, liquidated and earned its card a goose egg rating for belonging to a soon-to-be defunct organization.
Health and beauty supply chain Rite-Aid's gift card scored the second-worst rating -- a lowly 15 -- by coupling its shaky financial footing with a card that can't be bought directly from
Rite-Aid
(RAD) - Get Report
, can't be redeemed online, can't be reloaded, can't be refunded and can't escape a 10-year expiration date that Rite-Aid doesn't even allude to on its Web site. Fortunately, there are far more stable and shopping-friendly choices out there.
Disney's
(DIS) - Get Report
gift card, for example, has no fees or expiration dates and can be redeemed through any of Disney's numerous brands.
Chili's
restaurant gift cards, meanwhile, don't expire or carry a fee and can also be used at
Brinker International's
(EAT) - Get Report
Maggiano's Little Italy. Interbrand use is also key to the
Williams-Sonoma
(WSM) - Get Report
e-gift card, which can also be redeemed at
Pottery Barn
or
West Elm
.
With help from ScripSmart, we came up with the best five gift cards to stuff a stocking with this holiday season:
Bass Pro Shops Gift Card
With a 99 ScripSmart rating and a ton of customer-friendly features, the Bass Pro Shops gift card and e-gift card are nearly flawless gifts for a fishing, boating, camping or hunting enthusiast.
As of 2010, the company's cards never expire and have no hidden fees, a written gift card replacement policy and free shipping. If a recipient gets multiple cards, they can be merged into one and used for purchases in-store, online and over the phone.
Even better, Bass Pro Shops Gift Cards may be redeemed at the company's Hemingway's Blue Water Cafe, Big Cedar Lodge, Top of the Rock restaurant and Islamorada Fish Company restaurants and at
Starbucks
(SBUX) - Get Report
outlets within the stores.
Granted, if you're not into outdoor sports or recreation this probably isn't such a great gift. To an avid hunter who finds him- or herself spending as much time in the woods as possible once the season rolls around, though, getting a big Bass Pro Shops gift card is akin to Ralphie from
A Christmas Story
finding a Red Ryder BB gun on Christmas morning.
Careful, kid, you'll shoot your eye out.
Whole Foods Market Gift Card
(WFM)
Go ahead, parrot, make some crack about "Whole Paycheck." Gift card holders will just keep snapping up cheap 365 Brand organic food while you grouse about the price of some ostrich meat you think you saw in the meat department once.
Scoring 99 out of 100, Whole Foods Market's gift offering is easily ScripSmart's highest-rated grocery card. It never expires, has no fees, spells out a replacement policy and is available either in the store or online with free shipping. It's reloadable, redeemable at all Whole Foods locations and usable at
Harry's
in Georgia and
Ideal Market
in Colorado, both part of the Whole Foods family.
The card's best feature, however, is its ability to help during a last-second or late-night grocery run. Even if the recipient needs milk and eggs but is tempted by Fair Trade coffee and drunken goat cheese, they don't have to feel guilty about splurging for the decadent-yet-divisive items. They're playing with house money, and only a gingerbread house is filled with more tasty treats this time of year.
American Express Gift Card
(AXP) - Get Report
American Express still charges a $3.95 purchase fee for the privilege of buying its gift cards, but that fee upfront spares users more fees down the road and opens up a ton of options for undecided shoppers. If buyers go with an e-card instead, even that $4 isn't an issue.
American Express dropped the expiration dates and monthly fees on its gift cards ahead of last year's CARD Act and allows users to replace lost, stolen or damaged cards for free and get full refunds for unused cards. For the average gift giver, it's like handing someone $25 to $3,000 at once -- or as much as $5,000 on two cards -- and sending them on a shopping spree anywhere in the U.S., Puerto Rico and the U.S. Virgin Islands that takes American Express (except cruise lines, casinos and ATMs).
The only problem is that a user can't redeem them outside the United States, which means no restaurant tours of Europe or meandering through Asian markets. Holiday shoppers in Hawaii and Vermont are out of luck as well, as American Express doesn't deliver gift cards to either state and won't allow potential e-card buyers in those places to make those purchases.
GiftCardMall.com Visa
(V) - Get Report
This is another card that works like cash, with just a few distinct differences.
Unlike cash, this Visa costs buyers $3.95 just for the purchase and another $1.95 for delivery. That's not great but, unlike cash, if it gets lost or stolen GiftCardMall.com can ship a new one complete with the remaining funds.
With that peace of mind, the card can be used at any store or online outlet that accepts Visa. It has no further fees, no expiration date and basically no restrictions on how to spend the $20 to $500 on it.
The Gap
(GPS) - Get Report
Buy a Gap,
Old Navy
,
Banana Republic
or
Piperlime
or
Athleta
card. It really doesn't matter. Any of those cards can be used at all the stores in the Gap family, which is a clever little bid for brand loyalty by Gap but a great coup for holiday shoppers facing a gift list with fickle fashion sense.
Whether you're a silk-shirted Banana Republic customer seeking some post-collegiate style or an Old Navy mom just looking for some cheap jeans, the policy on the $10 to $500 gift card you're using is the same: The card never expires, has no fees, ships for free if ordered online and can be used in stores or on the various brand Web sites.
Even with all those options, it's the little features that add up to a big draw for Gap cards. If there's less than $5 on the card, for example, the user has the option to either reload or get cash back. If that same user decides to shun the Gap brands altogether, Gap will give him or her a check for the value of the unused card.
-- Written by Jason Notte in Boston.
>To contact the writer of this article, click here:
Jason Notte
.
>To follow the writer on Twitter, go to
.
>To submit a news tip, send an email to:
.
RELATED STORIES:
>>5 Best Rewards Cards For Holiday Shopping
>>5 Gift Cards To Avoid For Holiday Shopping
>>10 Songs You Won't Hear On Holiday Radio
Follow TheStreet.com on
and become a fan on
Jason Notte is a reporter for TheStreet. His writing has appeared in The New York Times, The Huffington Post, Esquire.com, Time Out New York, the Boston Herald, the Boston Phoenix, the Metro newspaper and the Colorado Springs Independent. He previously served as the political and global affairs editor for Metro U.S., layout editor for Boston Now, assistant news editor for the Herald News of West Paterson, N.J., editor of Go Out! Magazine in Hoboken, N.J., and copy editor and lifestyle editor at the Jersey Journal in Jersey City, N.J.