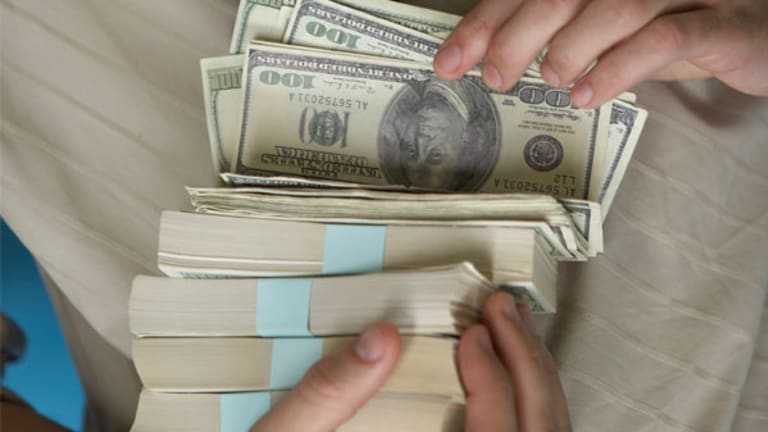 5 Good Signs for the Economy in 2013
U.S. Bankers foresee an incrementally improving housing market and stronger economy next year.
U.S. Bankers foresee an incrementally improving housing market and stronger economy next year.
NEW YORK (TheStreet) -- U.S. Bankers see an improving housing market, and a stronger economy in 2013, but only incrementally so.
Specifically, The Mortgage Bankers Association takes an across the board look at the U.S. housing market, and does so in a thorough and forward-looking
forecast
published on the MBA's web site.
There forecast has no shortage of insights. For instance, the U.S. has added 4.8 million renters since 2008, and has lost 1.7 million homeowners. The association also has a few predictions for 2013 related to the housing market -- predictions that suggest the housing market specifically, and the U.S. economy in general, should see more slivers of sunlight in 2013 than in 2012.
10 Ways to Make Halloween a Little Less Scary on the Budget
Here's a snapshot from the MBA:
There will be more U.S. mortgage originations.
The MBA expects $1.3 trillion in mortgage originations in 2013, mostly stemming from homeowner refinances in the first six months of the new year. It also has revised its 2012 mortgage origination estimate upward, to $1.8 trillion. "We expected 2012 originations to be front-loaded in the first half of the year, with refis falling off with rate increases," explains Jay Brinkmann, MBA's chief economist. "Instead we saw the refinance market grow during the year due to a combination of low rates, thanks to QE3 and slowing global growth because of continuing problems in Europe, and adjustments in the HARP and FHA refinance programs. We expect 2013 refinance originations to play out like our original expectations for 2012, with a long tail of refis extending through the first half of the year followed by a rapid drop-off in the second half."
There will be more home purchases.
The association sees more outright home purchases in 2013 than this year, a good sign for the economy. "We expect a 16% increase in purchase originations in 2013 over 2012, with every quarter in 2013 exceeding the same quarter of 2012," Brinkmann says. "The increase in purchase volumes will be driven by continued modest growth in the economy, an increase in owner-occupied sales financed with mortgages as opposed to cash purchases by investors, an increase in new home sales and a small increase in average home prices." Overall, the group sees new home purchases rise to $585 billion in 2013 up from $503 billion in 2012.
Mortgage rates will remain low.
Don't look for residential mortgage rates to rise in 2013, mostly due to continuing efforts by the Federal Reserve to stimulate the economy, the MBA says. "Mortgage rates are likely to stay below 4% through the middle of 2013, principally due to the announced ongoing purchases of mortgage-backed securities by the Federal Reserve under its QE3 program," Brinkmann says. "The Fed has committed to buying $40 billion of agency MBS per month until the labor market shows significant signs of improvement." Those purchases should help keep interest rates down, a big priority for the Federal Reserve in its effort to keep the credit pipeline primed as much as possible, Brinkmann adds.
The U.S. economy will grow, but only on a limited basis.
The MBA expects U.S. gross domestic product to grow a bit more in 2013 than in 2012. "
Our forecast is based on expectations of very modest increases in economic growth in 2013 relative to 2012, but growth nonetheless," Brinkmann says. "We expect gross domestic product to rise 2% in 2013 versus only 1.6% in 2012, about equal to the growth rate in 2011 but well below the 3.1% growth rate we saw in 2010." A stronger housing market, a "small" hike in consumer spending and stronger business investment should help push the U.S. economy forward, the MBA says.
6 Tech Toys Better Than What Apple Sells
The jobs picture will improve, but again, only moderately.
The MBA expects the U.S. economy http://www.bankingmyway.com/save/median-income-down-consumers-fleeing-banks to churn out about 125,000 to 150,000 jobs in 2013, with a projected upside of 1.8 million new jobs for the entire year. "
But that growth is well below what we need for a robust market in home sales, construction, and purchase originations," Brinkmann says.
The MBA adds all bets are off if the U.S. Congress ignores the imminent "fiscal cliff" coming Jan. 1, when large tax increases and spending cuts are scheduled to go into effect. If Congress fails to act, the MBA says it will affect the U.S. economy severely and likely cut up to 4% off its overall growth forecasts.
Overall, it's a moderately positive outlook from the nation's banking leaders. Considering what U.S. consumers have seen over the past few years, at least it beats falling back into recession.