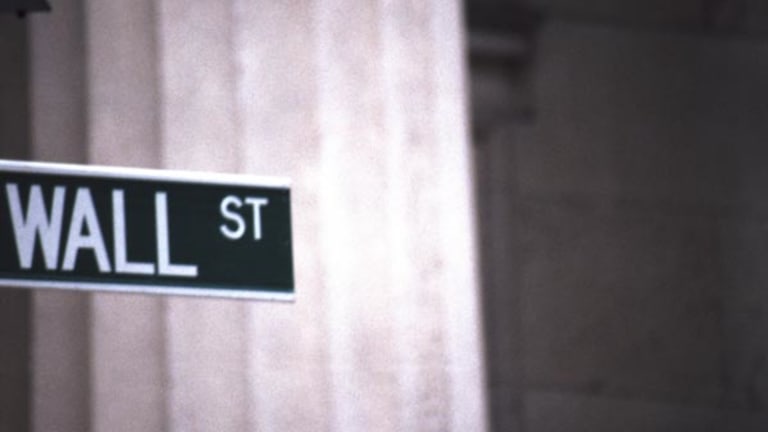 5 Gift Cards To Avoid For Holiday Shopping
Gift cards are a great present only if the stores issuing them stay solvent long enough to redeem them.
NEW YORK (TheStreet) -- A gift card can be a great holiday present, if you get a good one.
If you pick up just any old card from a company that's limping through bankruptcy and has a roughly 50% chance of making it to the new year, you're not just lazy and thoughtless, but a jerk to boot. How else do you describe someone who throws $25 to $500 into a "gift" that may never be redeemed for anything resembling that value.
According to market research firm
NPD Group
's recent study of consumer holiday buying intentions, 34% percent of consumers plan to buy gift cards or gift certificates this holiday. The study also found that women and upper-income households are more likely to dole out gift cards than any other consumer group.
Considering you gift recipient has about a one in three chance of getting a gift card at all this holiday season, spoiling the experience with a card for a shaky, dying retailer or restaurant probably isn't the best gift-buying strategy out there.
>>> Read More on Managing Your Credit
To protect holiday shoppers' investments and prevent them from basically giving out empty promises, we enlisted the help of the folks at
ScripSmart
and looked into the financial well-being of gift-card-giving retailers across the country. After plumbing the depths of ScripSmart's gift card rankings, we came up with five cards holiday consumers might want to avoid this season:
Sears
(SHLD)
This gift card made our list last year. Other than surviving this long, Sears has done nothing to instill much confidence in its gift card this year, either.
Back in February, it announced plans to spin off Sears Hometown and Outlet stores and sell 11 of its underperforming flagship stores to a real estate firm. In may, it decided to partially spin off its Sears Canada shops. Revenue has fallen every quarter this year and the Sears and
Kmart
brands themselves are just getting smoked by competitors such as
Amazon
(AMZN) - Get Amazon.com, Inc. Report
,
Target
(TGT) - Get Target Corporation Report
,
Wal-Mart
(WMT) - Get Walmart Inc. Report
and
Kohl's
(KSS) - Get Kohl's Corporation (KSS) Report
.
Sears and Kmart look and feel old, mostly because the company either doesn't care or doesn't have the cash to make them feel young again. While bricks-and-mortar competitors spend up to $8 per square foot painting, updating registers and replacing tiles, the
International Strategy and investment Group
says Sears spends only $1 to $2 per square foot updating its facilities. If a store looks and feels like the Sears or Kmart you or your family shopped at during the 1980s and 1990s, it's likely because it's changed little since.
This gift card warning applies to Sears,
Lands End
and Kmart cards, though the latter will likely be the last card in the deck, as Sears Holdings is closing Kmarts at a far slower rate than any of its other shops.
American Airlines
(AAMRQ)
The airline's mired in bankruptcy, embroiled in a labor dispute with pilots, saddled with an on-time arrival rate that dropped below 60% earlier this year and lodged in a holding pattern while U.S. Airways considers a merger or buyout.
With all those added benefits, who
wouldn't
want an American Airlines gift card?
The holiday travel experience can be nightmarish as it is, and while an airline gift card may seem like a great way to ease the burden on friends or loved ones, this card is a nightmare unto itself. It's nonrefundable, so you're wagering on the airline's future just by buying it. It also comes with a $5 shipping fee if you buy it online, which is about where you're going to buy it unless you're making a trip out to the airport for one.
FYE
(TWMC) - Get Trans World Entertainment Corporation Report
A store whose core business still centers around selling CDs, DVDs and Blu-ray discs in malls isn't such a safe bet in 2012? Stunning.
We know our ratings folks have just loved that FYE's parent company
closed 14% of its stores in the past year and cut net losses from $7 billion to $2 billion, but what's great for investors isn't always so great for consumers. Cut losses are still losses and sales at FYE and other Trans World stores were still down 15% during the first half of the year.
>>> The 60" TV Will Be Key This Holiday
It's a fundamentally different world than the one that existed when Trans World bought up music chains such as Camelot, Coconuts, Media Play, Sam Goody, Strawberries and Wherehouse Music and subsequently ground them into dust. Generation Y's penchant for stealing music online altered the marketplace, made it almost exclusively online and digital and pretty much ensured no one would pay $15 for a CD again. Meanwhile, on-demand and streaming services shut down Blockbuster and Suncoast outlets and changed the digitally downloaded movie from a combo pack's cheap throw-in to the main event on Amazon and
Apple
(AAPL) - Get Apple Inc. (AAPL) Report
iTunes sites.
But go ahead: Give someone you love an FYE gift certificate and unleash them on the mall. You'll also want to give them an instruction manual telling them what a mall is, where they can find one, where the FYE is, what CDs and DVDs are, how they should go about buying them and why they're doing all of this instead of just buying a downloaded copy and playing it right from their device of choice.
Rite Aid
(RAD) - Get Rite Aid Corporation Report
Health and beauty stores are usually a holiday staple, unless that health and beauty chain happens to be Rite Aid.
This group of stores has been unwell for some time. Its share price hovers below $1.50. Its debt stands at more than $6 billion. Its plan to remodel 500 existing shops into "wellness" stores is so cash-strapped it wouldn't be completed until 2020 at the earliest. Its shareholders not-so-secretly hoped
Walgreen
(WAG)
would buy it out and, barring that, rooted for Walgreens' fight with Express Scripts to continue so Rite Aid could pick up disgruntled customers.
Neither of those plans panned out, thanks largely to Walgreens and
Express Scripts
(ESRX)
making nice in July. That leaves Rite Aid as the health and pharmacy sector's zombie, nourished by whatever it can bite off of Walgreens and
CVS
(CVS) - Get CVS Health Corporation Report
but slowly starving to death. Buying someone a "gift" card to a Rite Aid is like buying them a ticket to a dim florescent purgatory where society's sad refuse picks through circular bins of pantyhose in plastic eggs and wanders aimlessly through tight, dark aisles stacked with metal shelving that's been in place since the Reagan years.
Rite Aid's gift card is similarly depressing. You can't buy it online, you can't use it online, the expiration date is a mystery, it can't be consolidated with another gift card when the balance gets low and it can't be redeemed for cash unless state law requires it. Basically, unless you can find an old stale piece of Bazooka that you just know Rite Aid has near the register somewhere, anything on the gift card that's less than $1 is going to be sentenced to life in Rite Aid limbo. It's a fate as sad as the store itself.
Dippin' Dots
We freaked out when we saw this on ScripSmart's list for several reasons:
1. Dippin' Dots have gift cards:
Seriously, the f'n "Ice Cream of the Future" that's you've walked by in multiplex lobbies and major league stadium concourses myriad times en route to a snack you stood a chance of identifying on sight. These things have been around 25 years, have billed themselves as a futuristic snack that whole time, went into bankruptcy and, somehow, still think they have a following that warrants a $5 to $500(!) gift card. The hubris.
2. Dippin' Dots are still around:
As we've mentioned, this product has spent a quarter-century billing itself as the ice cream of the future. Yet not only does ice cream still exist, but various incarnations of it have appeared and thrived on Dippin' Dots' watch. A year after Dippin' Dots came out, then-president Ronald Reagan named the founders of Vermont-based ice cream chain Ben & Jerry's U.S. Small Businesspersons of the Year. That same year, a couple in Tempe, Ariz., opened up an ice cream shop with smooth, high butterfat ice cream that they put on a cold granite stone and mixed with various ingredients.
By 2000, Ben & Jerry's had been sold to
Unilever
(UN) - Get Unilever NV ADR Report
and distributed worldwide. That Tempe shop became
Cold Stone Creamery
and expanded to more than 1,400 shops worldwide. Dippin' Dots, meanwhile, never patented its liquid nitrogen flash-freezing technology, had it used by competitors and eventually filed for bankruptcy last year. That's only noteworthy because:
>>>10 Top Twitter Users From Barack to Bieber
3. Somebody actually cared enough to save Dippin' Dots:
There was somebody out there in this great land of ours who not only had a soft spot for the Paducah, Ky.-based company, but thought there was still a legitimate business opportunity behind it. Mark and Scott Fisher, the father-and-son duo who founded Oklahoma-based
Chaparral Energy
, bought Dippin' Dots last year and made plans to expand sales to more locations. (So there's plenty of hope for
Hostess
.)
Good luck, Fishers. It's wonderful someone's giving new generations the same chance to ignore Dippin' Dots as their moviegoing and game-watching forbears.
-- Written by Jason Notte in Boston.
>To contact the writer of this article, click here:
Jason Notte
.
>To follow the writer on Twitter, go to
.
>To submit a news tip, send an email to:
.
RELATED STORIES:
>>10 Holiday Songs You Won't Hear On All-Holiday Radio
>>Why All-Christmas Radio Keeps Coming Early
>>15 NFL Teams That Should Just Move Already
>>How to Survive (and Enjoy) the 2012 Holiday Season
Jason Notte is a reporter for TheStreet. His writing has appeared in The New York Times, The Huffington Post, Esquire.com, Time Out New York, the Boston Herald, the Boston Phoenix, the Metro newspaper and the Colorado Springs Independent. He previously served as the political and global affairs editor for Metro U.S., layout editor for Boston Now, assistant news editor for the Herald News of West Paterson, N.J., editor of Go Out! Magazine in Hoboken, N.J., and copy editor and lifestyle editor at the Jersey Journal in Jersey City, N.J.