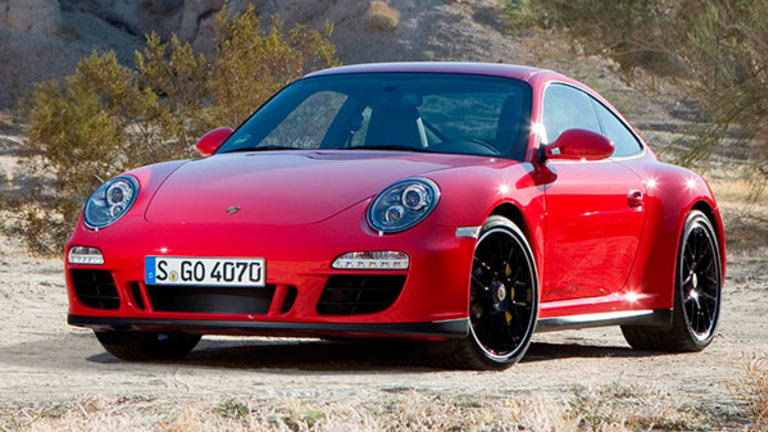 5 Favorite Porsche 911s of All Time
There have been countless variations of the 911, but some shine a little more brightly than the others.
BOSTON (
) -- The Porsche 911 turned 50 years old this fall, but the iconic sports car still boasts all of its youthful good looks -- and here's a rundown of five of the best 911s of all time.
"There have been countless variations of the 911, but some shine a little more brightly than the others," says Pete Stout of
Panorama
magazine, the official publication of the 109,000-member
.
Car fans have loved the 911 since Porsche unveiled the original in September 1963. (The German automaker initially called the model the "901," but
Peugeot
claimed it owned the trademark to car names consisting of three numbers with a zero in the middle.)
Stout, who serves as
Panorama
's editor, says the 911 won auto enthusiasts' hearts by combining great styling and performance with unusual features. For instance, 911s to this day have their engines in back and their trunks in the front -- a design rarely seen in America since
Volkswagen
discontinued widespread U.S. sales of the original Beetle in 1977.
Stout also believes many consumers see the 911 as a less-flashy, more "attainable" luxury sports car than rivals such as
Ferraris
or
Lamborghinis
. After all, the 2014 Porsche 911 starts at just $84,300 -- relatively modest for a fancy sports car -- and has a more-muted look than many rivals offer.
"People like the 911 because it's beautiful, but subtle," Stout says. "The car doesn't stand out the way a Ferrari does."
Click below to check out Stout's picks for five of the greatest 911s of all time.
The expert says the cars below aren't necessarily the absolute best 911s in history, but represent a range of significant models from the line's 50-year run. All vehicles appear in order of their model years.
1965-66 Porsche 911
"This is where the legend started," Stout says. "While these earliest 911s don't have the major improvements that came to the 911 over the next few years, they are exceedingly beautiful."
He adds 1965 and '66 911s also boast "a smooth and exotic-sounding 2-liter flat-six
engine that would redefine the 'Porsche sound' forever."
Also see: 5 Vehicles You Love and Car Thieves Hate>>
Collectors certainly love the early 911s.
Stout says that while good-quality 1965s and '66s sold for just $25,000 to $50,000 a few years ago, values have risen in recent years to $200,000 or more.
1973 Porsche 911 Carrera RS 2.7
This is a street-legal version of the Porsche Carrera RSR race car, which won three of 1973's top endurance-racing competitions: 24 Hours of Daytona, 12 Hours of Sebring and Targa Florio.
"The RS 2.7 was the first road-going 911 to show us where (the line) was headed -- with more displacement, wider rear wheels and aerodynamics that would tame some
earlier 911s' troubling tendencies," Stout says.
He says top-quality versions of the car sell for $500,000 and up today.
1984-89 Porsche 911 Carrera
Stout likes these models partly because they're cheap enough on today's collectors' market for novice Porsche enthusiasts to buy them.
"These Porsches were made in large numbers, so good ones can still be found for $20,000 to 30,000," he says.
The expert says the models are also "beautifully made cars, with strong though not perfect mechanicals and long-life parts throughout. Rust was no longer the issue it had been in the early 1970s, and the cars were fast and gained a strong reputation for reliability."
Also see: 5 Coolest 2013 Cars under $18,000>>
Cars built between 1984 and 1989 also feature an improved 3.2-liter flat-six engine and modern electronic fuel injection, while 1987-89 editions come with upgraded G50 gearboxes as well.
1995-98 911 Carrera (Type 993)
These 911s represent Porsche's final iteration of the original 1963 design -- models made more recently sport a different body shell, as well as water-cooled engines instead of the original air-cooled ones.
"Powerful, comfortable and nicely balanced,
the Type 993 is as far as the original 911 concept got," Stout says.
Good-condition Type 993s sell for less than $40,000 these days (
Kelley Blue Book
values some at around $15,500), although Stout says collectors prize the cars so much that models cost "considerably" more than the Type 996s that followed.
2011 911 Carrera GTS (Type 997)
Automakers typically attach the letters "GTS" (or "Gran Turismo Sport") to the sportiest version of a car model, and Stout says the 2011 Carrera GTS certainly lives up to that name.
"It's every bit as usable as a plain Carrera -- which is to say very, very useful -- but it's special enough to feel different," he says. "The handling and the changes they made to the (standard Carrera) suspension really transformed the car."
The 2011 Carrera GTS also has a back seat big enough to seat two people, a rarity in a segment where rear seats are often so small they're mostly just for show.
Perhaps best of all, the 2011 Carrera GTS is new enough that consumers can still find plenty of the vehicles in the used-car market rather than just in the collectors' world. Kelley Blue Book estimates the car's current price at around $66,000 to $88,000, depending on features and condition.