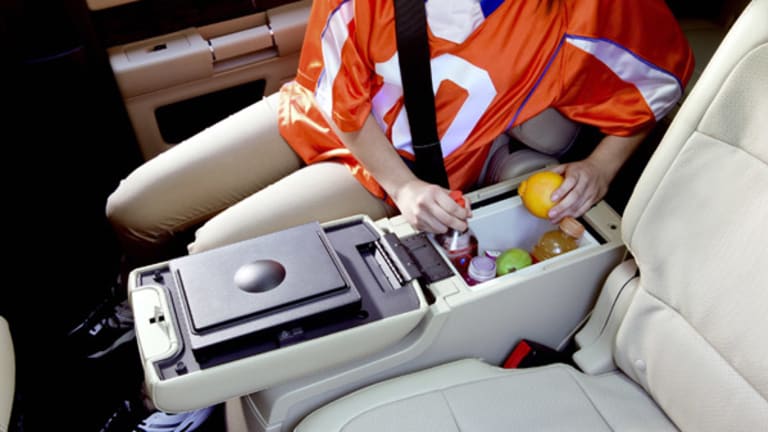 5 Family-Friendly Car Features
From special safety features to equipment that makes loading and unloading a vehicle a snap, here are some of the most family-friendly auto amenities of the 2014 model year.
NEW YORK (TheStreet) -- Automakers have been putting kid-proof locks and rear-seat DVD players on vehicles for years, but here's a look at some lesser-known car features that can make anyone's life a little easier.
From special safety features to equipment that makes loading and unloading a vehicle a snap, below are my picks for some of the most family-friendly auto amenities of the 2014 model year. 
Built-in refrigerator/cooler
Nothing can calm down a fussy child in a hot car better than a cold drink, which is partly why automakers offer built-in cold storage in certain models.
Some devices are merely insulated coolers that keep already-cold items from heating up (or cool them off a bit using cold air from the car's air conditioner). But other models come with full-blown mini-refrigerators that tap into a vehicle's electrical system for power.
Car cold-storage bins are usually only big enough to hold a few cans of soda, but that can mean the difference between a temper tantrum and a quiet ride when you're stuck in traffic on a summer driving vacation.
Some cars that offer cold storage as standard or optional equipment include the Ford Flex Limited, the Honda Odyssey's upper trim levels, the Lincoln MKT and the Mercedes-Benz S-Class.
Built-in vacuum cleaner
Why didn't anyone think of this before?
Also see: 5 Best 'Mom-Mobiles' for Parents Who Hate Minivans>>
Honda has given its popular Odyssey minivan a major refresh for 2014, and -- in an apparent first for the auto world -- included a built-in vacuum cleaner in the top-of-the-line Odyssey Touring Elite.
With two attachments and a hose long enough to reach the entire cabin, the "HondaVac" should help busy moms clean up dirt, crumbs and other junk that commonly build up in the family ride. (Sadly, a reputed "HondaHair" attachment that would allow moms to give kids and dogs in-car hair cuts turned out to be an April Fool's joke from the automaker's marketing department.)
The HondaVac comes at no extra charge on the Odyssey Touring Elite, although the model itself lists for $45,280 including destination fees. That's $15,625 more than a base Odyssey.
Collision-avoidance systems
A parent's first job is to keep their kids safe, and the advanced collision-avoidance systems that more and more cars offer are great for that.
These devices use a radar built into your car to detect when the vehicle in front of you has stopped or slowed down but you haven't. They'll generally sound a warning tone and flash big red lights on your dashboard or windshield -- perfect for when you've taken your eyes off of the road because the kids are fighting.
Some systems will even apply the brakes automatically if the warning lights fail to grab your attention and the radar detects a crash appears imminent. Click here to check out a video from Subaru explaining how crash-avoidance technology works.
Also see: Your 5 Best Cars for Tailgate Parties>>
A wide range of vehicles offer these systems, typically as part of broader optional safety-equipment packages. Devices that earned the Insurance Institute for Highway Safety's highest marks include those on the Cadillac ATS and SRX, Mercedes-Benz C-Class, Subaru Legacy and Outback and the Volvo S60 and XC60.
Foot-activated hatchback
Most cars come these days with radio-controlled key fobs that allow you to open trunks or hatchbacks with the push of a button, but even that can be tough if you've got an armload of groceries.
So some automakers have begun offering foot-activated hatchbacks that you open by simply kicking your foot under the rear bumper (assuming you've got the key fob in your purse or pocket). You can see a demonstration here.
Ford debuted this system last year as an option on the Escape compact sport utility vehicle and C-Max hybrid. But now, BMW is trying to get a leg up on the competition by offering a similar amenity as standard equipment on its new 3-Series Gran Turismo.
Stow 'n Go seating
Most minivans and SUVs allow you to fold down the back seats (and sometimes even the front passenger's chair) to increase storage capacity when needed, but Chrysler takes things the extra mile with its Stow 'n Go system.
Stow 'n Go seats drop down into special compartments built into a vehicle's floor, basically creating the same amount of space you'd get if you ripped them out and left them on the street.
You can even flip over the Stow 'n Go system's third-row seats so they face backward, allowing you to sit and look out of the vehicle's hatchback during tailgate parties. (Click here for a demonstration video.)
Stow 'n Go seats come standard on the Chrysler Town & Country minivans and all Dodge Grand Caravans except the entry-level American Value Package line. Upper trim levels of both minivans even come standard with electric-powered third-row seats that tuck themselves into a vehicle's floor with the press a button.