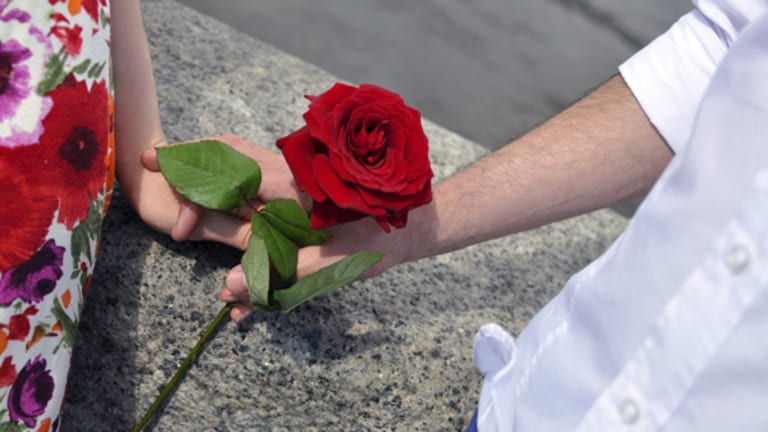 Publish date:
5 Dumbest Things to Buy For Valentine's Day
Roses, chocolates and dinners out are all staples of this greeting-card holiday ... and all much cheaper and more thoughtful when bought just about any other time of year.
Roses, chocolates and dinners out are all staples of this greeting-card holiday ... and all much cheaper and more thoughtful when bought just about any other time of year.
PORTLAND, Ore. (TheStreet) -- It's rarely easier to sell a product than it is around Valentine's Day.
The marketplace is filled with lovelorn suckers who don't want to acknowledge a retail holiday but know they're taking a gamble by not buying into the commodified notion of Love (TM). For those who aren't spreading their thoughtfulness around the rest of the calendar, Valentine's Day is amateur night with a very forgiving audience. For retailers, entertainers and the like, it's like fishing in a stocked swimming pool or hunting on a fenced reservation -- they can just name their price and take their pick of free-spending dopes.
This is the cycle of cynicism Esther Howland and her greeting card industry mafia began when they latched their blood-leeching tentacles onto Valentine's Day's in the late 19th Century. This is how DeBeers wrested two months' salary out of Americans' mitts when engagement rings were far less costly and glittery. This is the kind of monetized thinking that turned Valentine's Day into a $20 billion industry that trails only the $69.2 billion spent during the winter holidays, according to IBISWorld.
That's roughly $3 billion more than what's spent on Mother's Day. Seriously, you're spending more on future exes and spouses you should be appreciating more throughout the year than you're spending on your own mothers -- annually. The childbirth, the patience it takes to raise you, the sheer expense of it all and what do they get for it? You dropping a text and a card in the mail while someone you met at Buffalo Wild Wings during Week 4 of football season gets dinner and presents. Absolutely terrible.
Just about the only thing that prevents people from indulging in this marked-up, overblown, bloated cherub of a "holiday" is a shortfall in their own bank accounts. The National Retail Federation is predicting a modest uptick in spending this Valentine's Day after its consumer survey showed lovestruck shoppers shelling out $133.91 a pop this year, on average, just to keep up appearances. That's up from $130.97 last year, but it's among fewer overall spenders: Last year, 60% of those surveyed said they'd celebrate Valentine's Day. That dropped to 54% this year, with an impressive 46% of U.S. shopper taking a pass on those red boxes of candy and novelty stuffed animals they've been seeing in their supermarket's seasonal aisle since late December.
Those who are falling into the trap this year say they intend to spend $40 on flowers, $162 on jewelry and $74 for a night out. What they're not saying is that they're actually going to spend much of their Valentine's Day investment on whatever crap is left in their drug store's displays during their lunch break the week before the holiday. Market research firm NPD Group sniffed out that bit of ugly truth in its most recent research, which found that 78% of Valentine's Day shoppers wait until the last week to pick something up.
Bad decisions are in high supply around Valentine's Day, and demand for them only increases as they day draws nearer. For those already losing hold of their senses and considering making some ill-advised purchases just hours before the big day, here are the five most lunkheaded things you could possibly spend money on this close to Valentine's Day. You may as well take your significant other by the hand, lead him or her into the nearest rest room, hold a fistful of bills over the nearest toilet and make it rain while flushing at regular intervals. It'll be far more entertaining, or at least memorable, than any of the items listed below.
5. Flowers
Do you realize how far out of rose blooming season much of North America is? Here's a hint: If you're about a week or less away from the last time you shoveled snow, you're not seeing roses for a good, long while.
Only on this ridiculous holiday would consumers shell out a premium for a flower that's not only available for the overwhelming majority of the warm-weather months but, in several cases, blooms multiple times during that period. The Society of American Florists, which actually hands out talking points to its various florists to defend the near-indefensible sale of marked-up roses around this time of year, says more than three-quarters of flowers given on Valentine's Day are roses, with 233 million roses grown for Valentine's Day 2013 alone.
Flower prices feel enough pressure after Christmas, which sucks up 30% of the year's plant and flower purchases and gives growers only 50 to 70 days to work on the Valentine's Day supply. It doesn't help that Valentine's Day, which ranks third behind Christmas and Mother's Day with 20% of annual plant and flower volume and 25% of sales, vaults to No. 1 when it comes to sales of fresh flowers. Roughly 36% of all flower volume and 40% of flower revenue comes from Valentine's Day sales.
With 37.3% of Americans planning to buy flowers for Valentine's Day, according to the NRF, demand only increases for cut-flower supply that isn't great to begin with around this time of year. That cost only jumps when you have flowers delivered instead of picking them up on your own. Based on surveys of New York and California florists and input from the Society of American Florists conducted by Cheapism, the average cost of rose delivery in February hovers around $50. Services including FTD and Teleflora raise that rate to between $66 and $79 as the holiday draws closer, and even that's gambling that what you see online is what you'll get upon delivery. Consumerist's Garden of Discontent selection of flower delivery horror stories makes a strong case for spending locally if you're going to spend on out-of-season flowers at all.

4. Dining out
Valentine's Day is a terrible time to work in the restaurant industry and a similarly awful time to be a restaurant customer.
The crowds are relentless, the food is a hollow shell of what's usually served and the money is too good to end the madness anytime soon. The folks at Google-owned restaurant ratings guide Zagat say spending on a dinner out jumps from $70 for a typical dinner for two to more than $146 on Valentine's Day. It's rookie day at your favorite restaurant, and everybody wants the reservation you can make with ease just about any other day of the year.
Not that they'll enjoy your favorite dishes, mind you. Most restaurants ditch the full menu and specials for a short list of easily prepared entrees that encourage diners to turn over their tables quickly. If you've ever eaten at a banquet hall for any function, you'll have some idea of what Valentine's Day dinners will enjoy when the holiday rolls around. Mass-prepared trays of uninspired fare, pre-fixe menus of special dinners and prices approaching double the cost of a standard meal.
It's usually a great way to grift the rubes for some extra cash and balance the books a bit, but U.S. diners are starting to catch on. While National Retail Federation says the percentage of folks planning an evening out has jumped from 35.6% in 2010 to 37% this year, their average spending is dropping from roughly $28 in 2013 to $27.50 this year. That's during a year in which Valentine's Day falls on a Friday and Valentine's Day dinner is fair play for pretty much the entire weekend. The surprising drop in spending takes a whopping $450 million off the table for various eateries, but it's an encouraging sign when fewer people consider the dry chicken they had at their kid's school awards luncheon their most romantic meal of the year.

3. Jewelry
Jewelry prices really only fluctuate with their commodities, but the demand for specific items -- engagement rings, for example -- has only driven up prices in recent years. If you're one of the many folks who thinks a Valentine's Day proposal is the way to go and not-at-all cliched, prepare to pay dearly for your lack of originality.
According to the editors of engagement and wedding site TheKnot, August vacations make that month the most popular for proposals, but February comes in a close second during the Thanksgiving-through-Valentine's Day period her site considers engagement season. As a result, Jewelers of America reports that February makes up 8% of jewelers' annual sales -- lagging only behind the November and December holiday season's 32.3% and May's Mother's Day and bridal-driven 8.3%.
As a Valentine's Day investment, an engagement ring itself doesn't hold the value it once did. Jewelers of America placed the average value of an engagement ring last year at $4,000 -- significantly less than the $5,431 figure TheKnot gleaned from its more affluent readers. That's down 25% from pre-recession 2006, but up significantly from the $3,538 the same rings fetched in 2011. You missed your window, and now you're stuck with a costly investment that seldom appreciates. Good job.

2. Movies and theater
Movie and theater tickets generally cost the same on Valentine's Day and Valentine's Day weekend as they would any other time of the year. As with every other item on this list, however, demand just makes them much harder to get around this time of year.
As Comcast-owned movie ticket site Fandango found out two years ago, more than 60% of Valentine's Day moviegoers buy their tickets weeks in advance. Last year, when Valentine's Day fell on a Thursday, Hollywood brought in more than $32 million on that day alone, according to BoxOfficeMojo. That's all the more impressive when you consider that movie theaters took in $17.9 million on the other three Thursdays in February 2013 combined. The top-grossing movie last Valentine's Day? The utterly forgettable Julianne Hough/Josh Duhamel romance Safe Haven, an adaptation of a Nicholas Sparks novel that brought in almost half the day's take with $8.8 million in receipts.
We've already told you it's a terrible idea to go to the movies in winter, but Hollywood really wants to punish you for going out on Valentine's Day by unloading every bad-idea date film it can on that day. This year's lineup of new releases features comedian Kevin Hart filling the Rob Lowe role in a remake of the 1986 film About Last Night, Colin Farrell playing a burglar trying reincarnate the love of his life in Winter's Tale and a bunch of Gossip Girl alums behaving badly in a remake of the 1981 film Endless Love that gave the world the ham-fisted Lionel Richie tune of the same name.
Oh, and that RoboCop reboot comes out that night, too. If you're going to be unoriginal this Valentine's Day, you may as well let Hollywood phone it in, too.

1. Chocolates
It's not even about the markup on this particular product: It's that they have no holiday-specific merits other than the heart-shaped cardboard container that holds them.
The National Confectioners Association in Washington, D.C., put out a press release earlier this month saying that Americans prefer getting candy to flowers on Valentine's Day by a margin of 69% to 31%. The group also contends that U.S. confectionery sales for Valentine's Day 2014 are projected to hit $1.057 billion -- a 1.9% percent increase over last year -- while chocolate will make up about 75% of candy sales on Valentine's Day.
This doesn't say as much about the volume of chocolate that's being moved this holiday season as it does about how much you're about to get bilked for those same chocolates. The National Retail Federation -- whose entire job is to act as the mouthpiece of the nation's various retailers and put as rosy an outlook on sales as possible -- acknowledges that only 48.7% of those spending money on Valentine's Day items will do so on candy. That's down from 51% a year ago and is the lowest percentage since 2011. The $10.80 they plan to spend on that candy, on average, is also down from $11.64 last year and is about even with 2011 spending. All told, that's subtracting about $250 million in total holiday candy spending from last year's total and drops overall candy spending to just under $1.4 billion -- the lowest total since 2010.
That's from a survey conducted by people actively rooting for increased sales. Why, of all things, would candy take such a tremendous hit? Because Americans have learned a thing or two about frugality since the recession. If you're a really big fan of assorted chocolates or heart-shaped candy anything, you don't go running into your nearest health and beauty store on Valentine's Day week and stock up. You either hit it when most people are still trying to exchange Christmas gifts or wait until it hits the clearance aisle to make room for Easter Candy.
Sure, chocolates are a good way to show your affection toward someone who wants them. But isn't giving them twice the amount for the same price even more thoughtful?
-- Written by Jason Notte in Portland, Ore.
>To contact the writer of this article, click here: Jason Notte.
>To follow the writer on Twitter, go to http://twitter.com/notteham.
>To submit a news tip, send an email to: tips@thestreet.com.
RELATED STORIES:
>>Don't Bother Going To The Movies In Winter
>>The Annoying Thing That Will Make You Quit Facebook
>>5 Hard Cider Brands Pressuring Beer
Jason Notte is a reporter for TheStreet. His writing has appeared in The New York Times, The Huffington Post, Esquire.com, Time Out New York, the Boston Herald, the Boston Phoenix, the Metro newspaper and the Colorado Springs Independent. He previously served as the political and global affairs editor for Metro U.S., layout editor for Boston Now, assistant news editor for the Herald News of West Paterson, N.J., editor of Go Out! Magazine in Hoboken, N.J., and copy editor and lifestyle editor at the Jersey Journal in Jersey City, N.J.