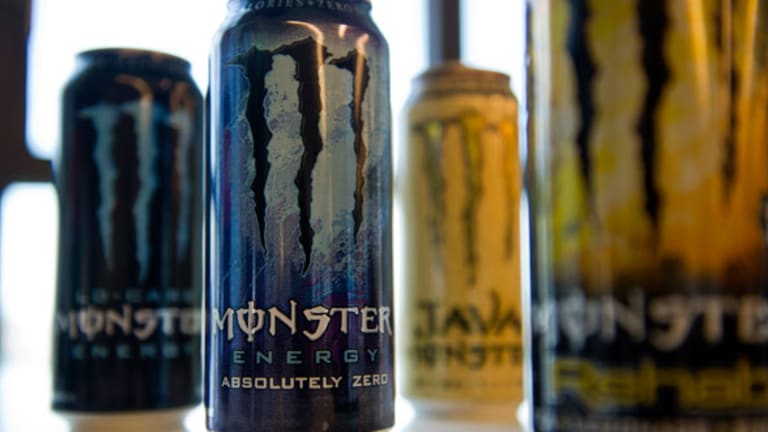 5 Companies That Could Use A Super Bowl Ad
Netflix, Amazon, Monster Energy, Mitsubishi and, well, anybody from video games needs to tell their story.
PORTLAND, Ore. (TheStreet) -- The Super Bowl commercial lineup is set, but some companies may need those big game ads far more desperately than the current field of big spenders.
Super Bowl XLVII broadcaster
CBS
(CBS) - Get CBS Corporation Class B Report
has just about sold out its inventory of commercial time for $3.7 million to $3.8 million per 30-second spot. Perennial NFL sponsors such as
Pepsi
(PEP) - Get PepsiCo, Inc. Report
,
General Motors
(GM) - Get General Motors Company Report
and
Anheuser-Busch InBev
(BUD) - Get Anheuser-Busch InBev SA/NV Report
are buying up huge blocks and mainstays such as
GoDaddy
and
Coca-Cola
(KO) - Get Coca-Cola Company Report
keep coming back for more.
The space for newcomers is shrinking, however, as commercials get longer and prices rise. The amount of Super Bowl commercial time has decreased from 83 ads at 40 minutes, 35 seconds, in 2003 to 78 ads at 47 minutes, 25 seconds, last year after peaking at 104 spots at 47 minutes, 50 seconds, in 2010, according to
Kantar Media
. Last year's commercial space also featured 15 ads of 60 seconds or more, which took up about 20% of all ad time and raised stakes on companies looking for a bit of the spotlight. Still, first-timers willing to take that expensive plunge has soared from four companies and 14% of Super Bowl commercial buyers in 2011 to 10 that made up 30% of big game ad sales last year.
Super Bowl newcomers have had surprisingly deep pockets in recent years, with only 15% of Super Bowl ad buyers during the past dedicating more than 10% of their annual advertising budget to spots aired during the game. The 30% of advertisers that wagered a big chunk of their media budget on Super Bowl commercials in 2010 and 2011 took a huge leap, but made it count.
Gildan Activewear
(GIL) - Get Gildan Activewear Inc. Report
,
Oreo Cookies
(MDLZ) - Get Mondelez International, Inc. Class A Report
,
Paramount Farms
and
Soda Stream International
are among the new arrivals to this year's Super Bowl party, but they should have far more company. We took a look around the marketplace and found five companies that could use a Super Bowl-sized boost in business:
Netflix
(NFLX) - Get Netflix, Inc. Report
Last year, Netflix Chief Executive Reed Hastings could have used a Super Bowl ad to apologize for splitting DVD and streaming services, jacking up prices, chasing away subscribers, driving down the company's share price and losing partners such as
Liberty Media
's Starz.
This year, he can point to revenue that's up 8% from last year, more than 2 million net streaming members added in the past quarter alone, exclusive content deals with
Disney
(DIS) - Get Walt Disney Company Report
and
Time Warner
(TWX)
and new content such as David Fincher's
House of Cards
and the revived Fox series
Arrested Development
coming to his streaming service this year. With all that good news, why put out a Super Bowl ad?
Because it may not last. As our Rocco Pendola notes, Netflix's content deals have put the company
up to its streaming-video-fried eyeballs. Sure, it has a stranglehold on streamed children's television content and accounts 33% of prime-time Web viewing based on Internet traffic, according to Sandvine's
"Global Internet Phenomena Report
. But it's tough to make that last when you have $5 billion in debt, with nearly half of it due immediately.
Netflix needs to build its lead and stockpile capital. It can't hold on to that $7.99-a-month, all-you-can-stream pricing structure forever if its wants to make more blockbuster content deals. If it doesn't show current users and potential converts its value soon, it'll face a much different challenge than it did in 2011. It's one thing to turn off customers with a price hike in an open market. It's another to do so when Carl Icahn has a 10% stake in your company and competitors such as
Redbox
,
Hulu
, HBO Go and
Amazon
(AMZN) - Get Amazon.com, Inc. Report
are closing in. Speaking of Amazon ...
Amazon
(AMZN) - Get Amazon.com, Inc. Report
Just last year, Amazon announced that it was changing the pricing structure of its Amazon Prime service from $79 a year to $7.99 a month. While the company sees it as a sign of its added value, consumers just saw their bill jump to $96 bucks a year.
What gives? Well, it's a matter of perception. To folks who use Amazon strictly as a marketplace to set up wish lists and do holiday, birthday and wedding shopping, it's a nice online store with a $79 upsell that ensures two-day delivery. To Prime customers with a Roku box or other device that allows them to stream Amazon Instant Video, it's a great supplement to cable or viable competitor for Netflix. For consumers with Kindle e-readers or tablets, prime is basically a free library for online books.
Unfortunately, Amazon and Prime are rarely all of these things to people at once, which is why the company reported its first quarterly loss since 2003 last year. It took a $169 million loss on its investment in flash-sale site
LivingSocial
alone, mostly because consumers don't know or care that Amazon owns it.
Say what you will about
Apple's
(AAPL) - Get Apple Inc. Report
iEcosystem, but at least Apple users know how each portion of it integrates with the other. Amazon has yet to make the clear connections between its Web services, marketplace, streaming and e-book services, devices and other offerings such as IMDB and Zappos.
A Super Bowl commercial and ensuing campaign tying all of Amazon's holdings into one happy mutually supported family would go a long way toward letting mainstream America know it's not just an online version of the
Sears
(SHLD)
catalog with user ratings. If Amazon wants to step losses, it has to help otherwise oblivious customers find some of its best features and incorporate them into the overall experience. Otherwise, you're just
Berkshire Hathaway
(BRK.A) - Get Berkshire Hathaway Inc. Class A Report
with an online store.
Monster Energy
(MNST) - Get Monster Beverage Corporation Report
More so than any other claim a company can make in a Super Bowl ad, an assurance that a product won't kill the consumers using it may be the most important.
That's especially true in the case of Monster Energy, which saw its stock plummet in October after the Food and Drug Association confirmed "adverse incident reports" of five deaths involving its energy drinks. Monster is being sued by the parents of a 14-year-old Maryland girl who suffered heart problems and died in December 2011 after drinking Monster Energy on two consecutive days.
A lawsuit filed by Anais Fournier's parents in California Superior Court on Oct. 17 alleges the girl drank two Monster Energy beverages that contained a combined 480 milligrams of caffeine, equivalent to about 21 8-oz. servings of Coca-Cola or 19 8-oz. servings of Pepsi.The Maryland medical examiner's office determined the girl's cause of death to be from "cardiac arrhythmia due to caffeine toxicity."
This isn't great for Monster, which has been the subject of 37 such FDA reports since 2004, but it's also bad news for the energy drink business overall. The FDA limits caffeine content in soda and considers 71 milligrams per 12 ounces safe for consumption. Energy drinks contain significantly more caffeine, but exploit a loophole in the FDA's caffeine guidelines, labeling themselves "diet supplements" to avoid the limit. For example, 24-ounce Monster drinks contain almost seven times as much caffeine as the most caffeinated sodas.
Monster isn't the only one being scrutinized, as caffeine shot 5-Hour Energy has also been the target of FDA reports in recent years linking it to 13 deaths. Monster could go a long way toward helping the cause by putting out a hearts-and-minds ad touting the benefits and safety of its product, but its relative silence suggests it's a bit jittery about potential changes to the FDA's energy drink policy.
Mitsubishi Motors
Hey, guess who's still making and selling cars here?
No, not
Suzuki
. They just announced plans to fold up the sales tent last month after selling little more than 25,000 cars last year and eking out a 0.1% share of the market. Nope, not
Saab
either after selling fewer that 5,600 cars during its brief revival.
Yep, it's Mitsubishi and the walking corpse it calls Mitsubishi Motors North America. Once a partnership between
Chrysler
and Mitsubishi that produced vehicles such as the Mitsubishi Eclipse, Dodge Stratus and Chrysler Sebring at its plant in Normal, Ill., Mitsubishi Motors North America has been reduced to producing only the company's Galant model.
Mitsubishi has killed off its Eclipse and Endeavor vehicles in recent years and sells only four models in the U.S.: The Galant, the Lancer compact, the Outlander crossover SUV and the tiny iMiEV electric car. While sales of the Outlander and some Lancer models were up last year. Mitsubishi's overall U.S. sales plummeted 27% from 2011.
There were only three vehicle brands sold in the U.S. with a smaller market share than Mitsubishi's last year: Suzuki,
Porsche
(0.2%) and
Jaguar
(0.1%). Since no one would confuse Mitsubishi with the latter two, there's a strong chance it could meet the same fate in the U.S. as the first. A Super Bowl ad could remind everyone they're around, but you kind of get the feeling the company is in no hurry to do so.
Anyone from the video game industry
Seriously,
Nintendo
? Your new Wii U system is outsold in volume by your old Wii, your new 3DS handheld is being sold at a loss, you just recorded a $460 million loss in the past fiscal year -- your first in three decades -- and we can't even get so much as a Super Bowl commercial out of you as a sign you're fighting back?
It's a shame, but it's about par for the video game world these days. According to market research firm
NPD Group
, sales of consoles, physical video games and accessories all fell 22% last year to $13.3 billion. That's on top of a 9% decline between 2010 and 2011 and includes a particularly dismal holiday season during which sales fell from $4.1 billion in December 2011 to just $3.2 billion last month.
Video game companies are putting $300 consoles and $60 discs gamers have to wait for up against smartphones costing $200 or less, online versions of disc games that stream right to a computer and casual game apps that cost less than $10 or are free. Meanwhile, the cost of producing top-tier games such as
Activision's
(ATVI) - Get Activision Blizzard, Inc. Report
Call Of Duty
series or
Take Two
(TTWO) - Get Take-Two Interactive Software, Inc. Report
subsidiary Rockstar Games'
Grand Theft Auto
franchise have soared into the multimillions as production of other games plummeted. In December, the industry's Top 10 games accounted for 46% of all game spending, compared with just 36% in December 2011.
Meanwhile, both
Microsoft
(MSFT) - Get Microsoft Corporation Report
and
Sony
have hinted that new Xbox and PlayStation systems may be on the way this year. Great. Tell us how that worked out for you last year, Sony. Remember when your company released the PlayStation Vita handheld console for hard-core gamers at $250 and $280 apiece last february? Remember when the Vita was outsold that same month in Japan by the PlayStation Portable console Sony originally released eight years ago? Remember how it sold only 1.2 million units in the U.S. to date, or just 200,000 more than Nintendo's Wii U home console despite a nearly nine-month head start? Remember how it's cemented itself to dead last among console sales? No, you probably don't, as you're too busy selling off your New York office and trying to keep your whole operation afloat.
Here's the big issue: According to
Flurry Analytics
, smartphones now make up 60% of the handheld game market after coming in at 19% in 2009. NPD Group says the number of gamers playing on smartphones now exceeds those playing on dedicated consoles. The gaming industry -- perhaps with the exception of Wii-era Nintendo -- has insisted that core gamers glued to multiple screens of first-person shooters and multiplayer online role-playing games would save the day with their obsessive spending. That hasn't been the case, and casual gamers have been loath to part with wads of cash for the latest iteration of some long-running, hours-long series or the maps and other downloadable content that come with them.
The new state of gaming is quick, somewhat easy and relatively cheap. The future isn't the new
Elder Scrolls
, it's the new
Temple Run
or
Fruit Ninja
. When the gaming industry got
Crysis
complex, casual gamers went running for the next
Pac-Man
or dance game. Now their smartphones are the new arcades and the big gaming companies forgot how to play quarter-by-quarter.
The Super Bowl could show otherwise, or it could just remind everyone why their console has been off the whole time. It's pretty easy to get a quick round of the updated
You Don't Know Jack
in on a tablet during a TV timeout.
-- Written by Jason Notte in Portland, Ore.
>To contact the writer of this article, click here:
Jason Notte
.
>To follow the writer on Twitter, go to
.
>To submit a news tip, send an email to:
.
RELATED STORIES:
>>5 Big CES Products That Tanked
>>10 Cities Poised For Greatness In 2013
>>5 Most Infamous Cars Of 2012
Jason Notte is a reporter for TheStreet. His writing has appeared in The New York Times, The Huffington Post, Esquire.com, Time Out New York, the Boston Herald, the Boston Phoenix, the Metro newspaper and the Colorado Springs Independent. He previously served as the political and global affairs editor for Metro U.S., layout editor for Boston Now, assistant news editor for the Herald News of West Paterson, N.J., editor of Go Out! Magazine in Hoboken, N.J., and copy editor and lifestyle editor at the Jersey Journal in Jersey City, N.J.