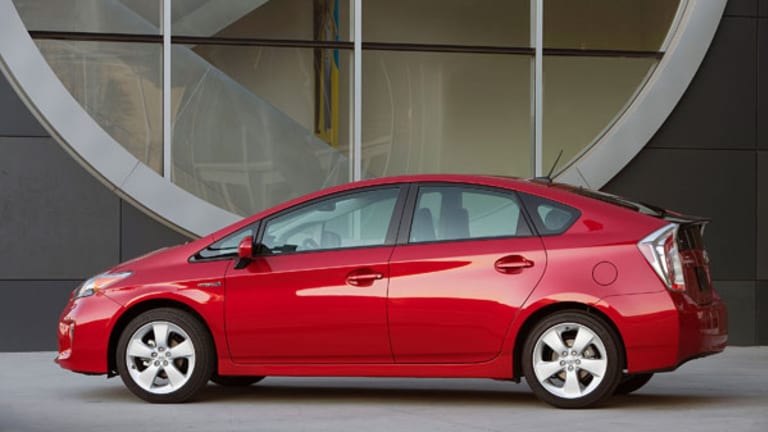 5 Cities That Want Your Used Hybrid Car
Hybrids may be costly and come with battery replacements down the road, but there are buyers out West willing to roll the dice on your old gas sipper.
Hybrids may be costly and come with battery replacements down the road, but there are buyers out West willing to roll the dice on your old gas sipper.
PORTLAND, Ore. (TheStreet) -- For car buyers in some corners of the country, Earth Day just doesn't end.
While this year's installment has passed, the folks at auto sales site CarGurus note that the demand for used hybrid cars is year-round for some portions of the United States. That's not terribly surprising, as the number of "green" low-mileage, hybrid and pure-electric vehicles has only increased in recent years as commuters drive less and live closer to work.
The Department of Transportation notes that U.S. drivers, who had been racking up a steadily increasing number of miles since the 1970s, started cutting back in 2008 and never returned to that peak. Meanwhile, traffic information service Inrix, notes that as gas prices started spiking in 2010, average commute times during peak hours dropped from more than four hours to less than two.
Meanwhile, DC Streets Blog and the Frontier Group and the U.S. Public Interest Research Group Education Fund point out that Americans are driving roughly 6% fewer miles than they were in 2004.
If you're driving shorter distances less often, it makes sense that some car shoppers would prefer to invest in vehicles that don't burn up a whole lot of gas getting them from here to there. Last year, there were nearly 496,000 hybrid vehicles sold in the U.S. -- the most ever and well more than the 261,500 sold in 2011. Meanwhile, the more than 96,000 plug-in hybrid vehicles sold last year was an 80% increase over 2012. According to CarGurus, 26% of all its used hybrid car listings are for the Toyota Prius alone, but a steady stream of hybrid offerings from Ford, General Motors, Honda, Hyundai, Nissan and others are padding that lineup pretty quickly.
CarGurus took a look around the country and found the Top 5 markets for people seeking used hybrids. While Detroit, Virginia Beach, Pittsburgh, New Orleans and Cincinnati have little use for them -- generating less than 0.9% of all demand in each city -- there are other places in the U.S. that don't fear the cost, the potential battery replacement or the number of outlets they'll have access to for plug-in models. This is what they look like:

5. Seattle
Percentage of hybrid inquiries: 3.04%
This is just the first Pacific Northwest entry, but it's a strong one.
Keep in mind that, according to Experian, Washington State alone accounts for 3.94% of hybrid sales in the nation -- good for No. 6 overall. That's particularly impressive when you consider it accounts for only 2.04% of all auto sales, which drops it to No. 15 among car-buying states.
It helps that Seattle itself is teeming with charging stations for would-be plug-in hybrid owners.  it also helps that the Washington State Department of Transportation has hooked up interstates 5 and 90 as well as local Route 2 with charging stations as part of its electric highways initiative. In a tech-heavy area that houses Microsoft and Nintendo, among others, it helps to show a little tech savvy of your own. Besides, with the Cascades, the Olympic Peninsula, the San Juan Islands, Puget Sound and mounts Baker, Rainier, Olympus and others reminding locals constantly of the ecological wonder beyond their city and sprawling suburbs, it makes sense they'd want to preserve it as best they can.

4. Los Angeles
Percentage of hybrid inquiries: 3.11%
Don't point the finger at Hollywood here. California as a whole offers great incentives for hybrid owners and has been a major force in pushing hybrid, alternative-fuel and electric technology. While it accounts for 13% of all auto sales, it makes up a whopping 26.3% of U.S. hybrid sales.
There aren't enough elites in that town to take up one out of every four hybrids in the country. But there are enough people who don't like seeing the hills and just about everything else obscured by smog and will do just about anything they can to clear the air a bit. That means biking even when the air quality doesn't reward it, embracing subway and light-rail options that it's taken this city a long time to love and it means burning a little less gas on the freeways and packing in when possible.

3. Portland, Ore.
Percentage of hybrid inquiries: 3.49%
Because of course it's on this list.
Ubiquitous bikes aren't just a stereotype in Portland, but a way of life. Streetcars, light rail, aerial trams up to the hospital complex -- they're all just reminders that Portland prizes all of the above over just about anything with four wheels. It's a city where the suburban workers groan about the condition of the pavement while city dwellers on cyclocross bikes navigate potholes, sewer grates and sunken streetcar tracks with ease -- and without the benefit of a half-ton cage around them.
Still, there are times that trip out to the coast or Columbia River Gorge are inevitable and your ZipCar or Car2Go membership just doesn't cut it. According to Polk, hybrids make up 6% of all cars sold in Portland -- well above the 3% national average. Fortunately, this is also a city in which each supermarket parking lot comes equipped with charging stations, each college campus is incredibly EV friendly (Portland State's "electric avenue" in particular) and each hybrid owner can rest assured that they'll never run out of juice within city limits.
Or beyond them, for that matter. Oregon's electric vehicle infrastructure program has covered the western half of the state in a web of charging stations. From Cannon Beach to just beyond Mount Hood, Oregon drivers have a whole lot of incentive to seek out hybrids and plug in. It's a big reason the Bend and Klamath Falls areas have hybrid purchase rates similar to Portland's and why hybrids make up 8% of all vehicles sold in Eugene. Though Oregon buys only 1.19% of the nation's new cars, it accounts for 2.6% of all hybrid vehicle sales. Those lit beacons in parking lots around the state are just a reminder that Oregonian hybrid and electric vehicle drivers are always in range.

2. San Francisco
Percentage of hybrid inquiries: 4.31%
This surprises exactly nobody and is only half of the Northern California story.
One out of every 10 cars bought in the Bay Area is a hybrid. This city alone accounts for nearly 20% of all electric vehicles sold within the United States. Combine a progressive, ecologically minded population with an influx of Silicon Valley neighbors driving up the rent while driving around in hybrids and Teslas and you're going to have a lot of these vehicles kicking around.
Why not? There are huge tax breaks for picking them up, it gets you a spot in the carpool lane as a result and you're saving on gas in a state that isn't exactly known for its cheap gasoline prices. Besides, if you're going to live in San Francisco, it helps to save every penny you can.

1. San Jose
Percentage of hybrid inquiries: 5.07%
If we just lumped this in with San Francisco, a full 9% of all used hybrid inquiries would come from this general area for many of the reasons we just stated.
We'll admit we're a bit surprised that this number isn't lower, though. After all, this is Tesla's stomping grounds and the focal point for just about every EV startup that's tried to match Tesla's success. Owning an all-electric vehicle here is like driving a Rolls-Royce Phantom in just about any other moneyed corner of the world. It's a status symbol, but also distinguishes the driver as one of the like-minded locals: A disruptor and world changer.
A straight-up hybrid still isn't all that disruptive, but it beats banging around in some gas guzzler like a gawking tourist.
-- Written by Jason Notte in Portland, Ore.
>To contact the writer of this article, click here: Jason Notte.
>To follow the writer on Twitter, go to http://twitter.com/notteham.
>To submit a news tip, send an email to: tips@thestreet.com.
RELATED STORIES:
>>Why Goats, Chickens and Bees Should Be Doing Your Yard Work
>>5 Best Convertibles For Summer 2014
>>Sorry, Cadillac: We're Not Ready For Jerks Yet
Jason Notte is a reporter for TheStreet. His writing has appeared in The New York Times, The Huffington Post, Esquire.com, Time Out New York, the Boston Herald, the Boston Phoenix, the Metro newspaper and the Colorado Springs Independent. He previously served as the political and global affairs editor for Metro U.S., layout editor for Boston Now, assistant news editor for the Herald News of West Paterson, N.J., editor of Go Out! Magazine in Hoboken, N.J., and copy editor and lifestyle editor at the Jersey Journal in Jersey City, N.J.