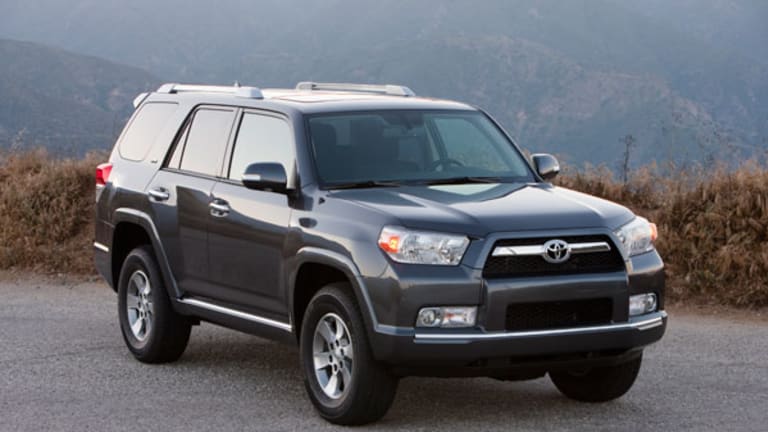 5 Cars With the Best Resale Value
Domestic car fans will not approve of Toyota's dominance. But the smart ones will pay attention anyway.
PORTLAND, Ore. (TheStreet) -- Buying a car is as much about what you'll sell it for years from now as it is about the current sticker price.
The standard wisdom is that your car depreciates in value as soon as it leaves the lot. Its value doesn't completely fall off a cliff, however, unless you decide to run it into the ground or buy a model not known for its longevity. The folks at auto pricing and valuation site Kelley Blue Book note that depreciation costs a car owner more than gas, maintenance or insurance during the first five years of new-car ownership.
Kelley Blue Book has been publishing its residual value guide since 1981 and knows a thing or two about resale value. That "blue book" value used car buyers talk about when pricing a vehicle? Yeah, they're the same guys, and they've been handing out their Best Resale Value Awards since 2003.
The 2013 model year's entries are going to make
Toyota
(TM) - Get Toyota Motor Corp. Report
fans extremely happy, but will likely produce more grumbling from Detroit Three loyalists. Toyota and its Lexus division were named Best Brand and Best Luxury Brand, respectively, for their ability to retain their cars' value over the first five years of ownership. Despite the automaker's spate of recalls and its struggles after the Japanese earthquake and tsunami last year, Toyota took six out of KBB's 22 vehicle categories, while Lexus won two of three luxury categories (the
Porsche
Panamera won Best High-End Luxury Car).
Though
Honda
(HMC) - Get Honda Motor Co. Ltd. Report
swept the small and midsized car categories and Toyota won both pickup honors, the Detroit automakers weren't completely shut out. The
Ford
(F) - Get Ford Motor Company Report
Fusion Hybrid won Best Hybrid/Alternative Energy car over the Lexus ES 300h,
General Motors'
(GM) - Get General Motors Company Report
Chevy Volt won Best Electric Car over the Toyota Prius Plug-In and GM's Chevy Camaro took Best Sports Car and Best High-Performance Car ahead of the Porsche Boxter and Lexus IS.
There are only a handful of cars that give owners a big portion of their investment back five years later. According to Kelley Blue Book, the following vehicles are a car buyer's best chance of getting half of their money back or more once it's time to sell:
5. TIE: Toyota Land Cruiser and Toyota 4Runner
MSRP:
$78,255 and $31,340
Resale value retained after five years:
49%
The cars with the highest resale value are almost exclusively SUVs. The Land Cruiser and 4Runner are great examples of why. The 4Runner is the mix of the big school and soccer shuttle families want and the bike and kayak hauler weekend warriors crave. Meanwhile, the Land Cruiser is the most expensive Toyota available and the last in a dying breed of big, affluence flaunting gas guzzlers. You'd think the 4Runner and Land Cruiser and their average combined mileage of 20 and 15 miles per gallon, respectively, would be in less demand after gas prices flirted with $4 a gallon earlier this year. It turns out that used car buyers are OK paying more at the pump if it means getting these apartments on wheels at half price.
4. Honda CR-V
MSRP:
$22,695
Resale value retained after five years:
50.7%
Honda's small family crossover of choice makes moms and dads swoon with its redesigned exterior, spacious interior with 70 cubic feet of cargo room with the seats down and tech toys such as its informational display, navigation and rear camera. The combined 26 miles per gallon certainly don't hurt.
3. Jeep Wrangler
MSRP:
$22,195
Resale value retained after five years:
55.3%
It's loud, it's not terribly reliable, it sucks up gas at a combined 19 miles per gallon and it doesn't store a whole lot unless you get the stretched out Unlimited version. That said, nothing looks quite like it and nothing's an acceptable off-road substitute at this price. The ground clearance and four-wheel drive come in awfully handy in miserable winter weather, while that removable hardtop makes it a sweet open-air ride in the summer. Car buyers don't pick up a used version of the Wrangler because they want to truck the kids around or make grocery runs. They buy it because they want a "Jeep," and all the frivolities that go along with it.
2. Toyota Tacoma
MSRP:
$17,525
Resale value retained after five years:
57%
The Tacoma has taken this award 10 times for one big reason: You can beat the hell out of it and it'll come back for more. Durability is a big deal in the Tacoma's world, where car buyers who don't feel they need all the size and strength of a Ford F-Series or Chevy Silverado are drawn to its off-road agility, flexible cargo options and easy handling. At a combined 23 miles per gallon, the base model Tacoma gets the mileage of a small SUV without sacrificing any of its midsized truck power. When you're content with fetching big items from the hardware store or taking a yard full of leaf litter to the dump without flashing chrome or flexing muscle, this is the understated truck to buy, even if it's secondhand.
1. Toyota FJ Cruiser
MSRP:
$26,880
Resale value retained after five years:
63%
No other vehicle comes close to the resale value of Toyota's odd-looking midsize SUV. It looks like it's getting ready to invade a country and is equipped as such. Its available four-wheel-drive system, hefty 260-horsepower 4.0-liter V6 engine and 5,000 pounds of towing capacity are beastly, while its interior is made for messy adventures. Rubber floors and water-resistant seat fabric are made to withstand mud, ash and anything else you track in. Meanwhile, it has enough gauges to make sure you never get too lost on your backwoods outings. It's an outdoor workhorse without equal, which is why buyers will still pay dearly for it after half a decade of rugged outings.
-- Written by Jason Notte in Portland, Ore.
>To contact the writer of this article, click here:
Jason Notte
.
>To follow the writer on Twitter, go to
.
>To submit a news tip, send an email to:
.
RELATED STORIES:
>>10 Small Web Sites For Big Holiday Shopping
>>10 Eccentric Holiday Shopping Sites
>>10 Best Holiday Beer Buys of 2012
Jason Notte is a reporter for TheStreet. His writing has appeared in The New York Times, The Huffington Post, Esquire.com, Time Out New York, the Boston Herald, the Boston Phoenix, the Metro newspaper and the Colorado Springs Independent. He previously served as the political and global affairs editor for Metro U.S., layout editor for Boston Now, assistant news editor for the Herald News of West Paterson, N.J., editor of Go Out! Magazine in Hoboken, N.J., and copy editor and lifestyle editor at the Jersey Journal in Jersey City, N.J.