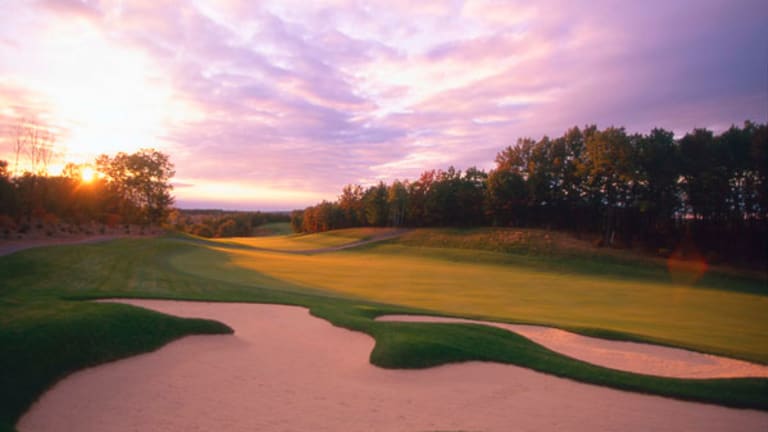 5 Businesses That Have Survived 50+ Years
Whether it's a Michigan summer resort, an organic egg farm in New Hampshire or the graphics and printing firm on Long Island, these businesses have survived decades' worth of changes.
NEW YORK (
) -- The Fourth of July is synonymous with American tradition -- BBQs, fireworks, ice cream, pool parties and the beach. But what could be more American than starting your own business?
To be sure, creating a company that will last for a half a century is something that perhaps today's entrepreneurs may not be familiar with, given the current mindset to launch and then sell to the highest bidder -- whether it be a tech giant like
Yahoo!
(YHOO)
or any number of private equity firms.
Private companies generated average annual sales growth of 10% as of May 31, roughly the same growth as a year ago, according to a June report by Sageworks, a private-company financial information firm.
Companies also continued to expand their profit margins in this period. Net profit margins rose to 6.6%, up from 4.5% a year earlier, the report says. Sageworks says the estimates are based on financial statements reported by companies in the six months ended May 2013.
Service-based businesses, like consulting companies, architecture firms and computer systems-design companies, in particular, are seeing strong growth, the report says.
The five businesses featured have figured out how to adapt to changing consumer demands, economic cycles -- including the Great Recession just a few years ago -- increased regulation and the growing digital world to make their businesses have staying power.
From an organic egg farm in New Hampshire to a graphics and printing firm on Long Island, these businesses have survived decades worth of changes. We're celebrating Independence Day by highlighting a handful of businesses that have stood the test of time.
Pete & Gerry's Organics
Monroe, N.H.
70 employees
Sometimes the path forward means you have to go back. For
egg farm, this is exactly what happened in order for the farm to survive.
CEO Jesse Laflamme, 35, is a fourth-generation farmer who transformed his family's farm (Pete is his cousin and Gerry is his dad) into the organic and cage-free egg farm it is today. The company sells two brands of eggs: its certified organic eggs and Nellie's cage-free eggs (named after Laflamme's childhood pet chicken).
The company has experienced exponential growth of roughly 35% a year over the last 13 years, Laflamme says.
But the company wasn't always doing so well.
Laflamme's grandfather started the family's original egg farm, Ward Poultry (a spin-off from the family's larger diversified farm), shortly after returning from World War II. Hens were able to roam where they liked. It wasn't until the larger agriculture industry began using cages in the mid-1960s that his grandfather also installed them, Laflamme says.
"It was about efficiency and it was about scale and in order to keep up, he had to implement and adapt and put cages in," he says.
By the time, his father took over the farm in the early 1980s, the industry was rapidly consolidating.
"Instead of selling to Mom-and-Pop stores, we started to sell to chains. And chains wanted to streamline. If you were smaller, it made it difficult to compete," says Laflamme, who has two children ages three and five.
Add in other egg farms that were producing eggs in less than ideal conditions and the business almost shuttered completely over the bad press the industry was getting. But Laflamme's parents revamped the company to represent the exact opposite -- a small, trustworthy egg farm, which evolved under Laflamme into organic and cage-free egg farming.
"We made the philosophical choice to not keep a single hen in battery
-operated cages," he says. "We're the first egg farm to be
, which carried through from animal welfare to how we treat workers."
Pete & Gerry's answers a growing trend by consumers who want to know where their food is grown. It's also supporting the local farming community by partnering with nearly 60 small egg farmers in the Northeast -- a concept that is near and dear to Laflamme.
The partnerships are mutually beneficial because Pete & Gerry's can produce more eggs without having to build more barns, Laflamme says. The farmers can either own or essentially "rent" hens from Pete & Gerry's, but are subject to raising them by the same company standards. Pete & Gerry's takes care of the packaging and marketing of the eggs.
"The last thing we want to do is imitate
big agri-business by having a gigantic concentrated farm," Laflamme says. "A small commodity egg farm has a million hens, a bigger one has 10 million. We are about 160,000 hens in nine different barns. When we got to that size we blew the whistle -- we are not building anymore."
Pete & Gerry's says marketing, communication and, of course, technology, gives the company a chance to tell its story.
"We do have a story to tell," he says. "The agri-business for the last 40 years has been hidden away. We want to be exactly the opposite. We want consumers to know about our farmers. ... and how our hens are treated and there's no better vehicle to do that
than the Internet."
Larson & Darby Group
Rockford, Ill.
40 employees
July 3 marked the 50th anniversary for
, an architecture and engineering firm.
The company has learned a lot of lessons along the way that have helped it survive this long. Most importantly, keeping employees happy so there is little employee turnover. In addition, the company prioritizes continuing education so employees can keep abreast of constant regulatory changes as well as environmental trends, the company's chief executive Bill Waldorf says.
Staff is also very close knit and driven by the same goals, Waldorf says.
"We do good, reliable work for our clients for a fair price. Most of our clients are repeat clients or recommendations from our clients. We are very fortunate to have a lot of work come to us by recommendations ," he says.
Larson & Darby was forced to consolidate during the worst of the economy, cutting nearly half of its employees. Rockford saw one of the highest unemployment rates in Illinois and in the country. Today, Rockford still has one of the highest unemployment rates in the country at 9.9% vs. the 7.6%, according to Department of Labor data.
However, business is booming for overall architectural, engineering and related services, according to the Sageworks report. The industry tied with employment services and computer systems design for the second highest annual sales growth among service industries of 14.9% in May.
Waldorf points to the company's versatile offerings, which helped offset business lulls, and employees that specialize in everything from hospitals to churches to keep the business going.
Keeping the architectural firm up-to-date with the industry isn't cheap. It takes constant investment in technology training and education on things like energy efficiency as well as sector specification.
"Thirty five years ago when I started all we had were pencils -- and some days I long for that," Waldorf says. That said, Waldorf emphasized how important it was for the firm to keep up with the rapidly changing digital world, another reason for the firm's staying power, he says.
"We were one of the first people in our area to start with computer-age graphing. We were on version 1.5 and
are constantly updating our skills and training people," he says. "It's now moved to the three dimensional and building informational modeling... if you want to survive the industry. Our clients expect that."
"Continuing education is another expense as the CEO of the firm I sometimes I look at. We have to do that. We have several architects that work exclusively in health care. Just to keep them up to date on the new technology, the new codes and new rules of a hospital is a never-ending battle," he says. "We are constantly sending our people to seminars, classes so they can talk intelligently and understand what the client needs."
When asked about the effects of the upcoming health care reform though, Waldorf says again, the expenses are necessary. Larson & Darby already picks up a large percentage of their employees' health care benefits because cutting back on health care benefits is not an option.
"That's how we keep and retain employees," he says. "As painful as it is, we will keep covering them with insurance."
So what will keep Larson & Darby around for the next 50 years? Innovative designs and the "best solution" for the client, Waldorf says.
""We have to give them the options -- how can they get the most building for their money and that's why we've survived," Waldorf says. "Maybe we don't make the most money in the world but we have happy clients."
Sentinel Printing
Hempstead, N.Y.
13 employees
can trace its beginnings to 1858, when the commercial printing and graphic communication company was a newspaper. The $2.1-million revenue company is probably the biggest example among our list of companies that has had to completely overhaul its business model or risk going out of business.
President Glen Boehmer has been with the company for 25 years after his father bought the company from the original family that owned it for four generations. Boehmer attributes Sentinel's survival to customer service, attention to detail, and, of course, its ability to transform.
"The number one thing is you can't be complacent. The technology will outpace you if you really sit on your laurels. Complacency is really dangerous. It's important to remember your core strengths. That's one of the reasons we really survived," Boehmer says, echoing Larson & Darby's CEO Bill Waldorf.
"We're still here because we are that resource. We have a core expertise in how to get the message out to the clients," regardless of whether that message is in an email, on a Web site or elsewhere, he adds.
The company started as a newspaper in a barn, but Sentinel couldn't compete when
Cablevision's
(CVC)
Newsday
took over and starting using its printing presses for commercial jobs. Through the years, Sentinel evolved from Letterpress printing to offset printing to digital.
"If we didn't evolve ... we probably would have been out of business," Boehmer says.
That also includes expanding from its traditional local clients. Client sizes now range from the local dentist to
E*Trade
(ETFC) - Get E*TRADE Financial Corporation Report
. The company has also done various jobs for commercial clients in New Jersey, Virginia, even as far as Nigeria.
"We have a little more firepower than the small local resources. The people I have here we've all been in the printing industry for a number of years, we're a diverse bag. It helps complement jobs that may be difficult to do," Boehmer says.
Sentinel is up against companies like
FedEx
(FDX) - Get FedEx Corporation Report
,
Vistaprint
(VPRT)
and
Office Depot
(ODP) - Get ODP Corporation Report
, which Boehmer says attracts a different kind of customer.
"We're a boutique printer that handles the kinds of print jobs that matter to companies. Projects that people do
where they want the lowest cost -- that's not where we fit," Boehmer says. "We survived for 150 years because the relationship is always more important than one transaction."
The Bavarian Inn
Frankenmuth, Mich.
150 full-time employees; in-season up to 1,000
The secret to success for
seems likes something so obvious, but yet something that some companies can't seem to figure out how to do well -- pay attention to what customers want and respond.
The Inn, which dates back to 1888 and has had several name changes, started out as a boardinghouse for the lumbermen in the Frankenmuth area, about 100-miles north of Detroit. As the lumber trade started to move away from the area, the boardinghouse changed to a restaurant that promoted "all-you-can-eat" chicken dinners, says president William Zehnder.
Zehnder, 64, says his family purchased the property 53 years ago (his parents used to come for the chicken dinners) and started to expand, beginning with a Bavarian-style hotel addition in homage to the area's German roots.
Since then the Inn has expanded exponentially. With more than $31 million in annual revenue, the property includes a separate lodge, swimming pools, shopping and a water park. Today the restaurant seats 1,200 guests in 12 dining rooms and serves over 600,000 meals annually.
"The business always needed to adapt to what the market was dictating," Zehnder says. "We were basically following what our customers saying and adding on to what they liked."
Another key to the company's success -- a total of 10 members of Zehnder's family are actively involved in managing and operating the business, including his 91-year-old mother, who still works in the kitchen. "There's always a couple of them pretty much on site at all times," Zehnder says. "It's one of the real strengths we have as a business and as a family."
But with a property as big as the resort, one has to wonder if the family ever considered that it over-expanded. Zehnder easily answers the question, saying that while not everything was an automatic success, those decisions haven't been regretted.
"You just got to keep trying things and seeing what works and maybe not spend too much money on it initially," he says. "Our challenge and my children and nieces and nephews' challenge is to figure out what the needs are going to be going forward. We need to find it before everyone else does."
Zehnder says the resort's recent addition of a water park was an example of filling the need. "We caught that wave on the upswing, so to speak, and are able to capture a lot of guests," he says.
One of the biggest priorities for the family is being able to create memorable opportunities for other families -- and that especially means competing in today's digital-centric world.
"We're not interested in selling," Zehnder says. "We're interested in continuing our legacy and continuing to create enjoyable experiences for our guests and for our team members."
The International
Bolton, Ma.
25 full-time employees; in-season up to 250
Dan Weadock, entrepreneur and owner of
golf course and special events destination, says his company's story is one of "change and adaption."
The golf course, situated in picturesque New England, started out as a private club that dates back to the turn of the twentieth century. But with memberships declining and revenue falling, particularly during the most recent economic downturn, The International, under Weadock's charge, has evolved significantly from a private club to a "world class golf and special event destination," which features a restaurant, spa and lodge that is open to the public.
"The crux of the story is we've had to adapt," by "breaking every rule that ever existed in the private club industry," Weadock says.
Weadock credits his unconventional decision to implement a
Groupon
(GRPN) - Get Groupon, Inc. Report
offering for the company's growth. Since its first Groupon debut in 2012, The International has sold nearly $307,000 in daily deals through the site.
"Groupon was instrumental in helping our company successfully shift our business strategy and model from a private golf course to be open to public," says Weadock, estimating that 95% of Groupon customers a repeat customers. "Our business is moving forward in an industry where other businesses are getting crushed."
Weadock may have a point.
Annual revenue at golf courses and country clubs rose 5.5% over the past year, as of April, slightly better than the 4.6% increase in 2012 and the biggest gain since 2004, according to data from Sageworks.
However, golf courses and clubs, on average, are still struggling with profitability. Net losses for golf courses have been around 2% of sales since 2012, though that's an improvement from negative mid-single-digit margins from 2009 through 2011, Sageworks says.
"Because many courses require memberships involving financial commitments of a year or more, golfing may be slower to rebound than some other leisure activities," Sageworks analyst Brad Schaefer says. "In addition, business budgets for entertaining clients through golf and other activities may still be constrained."
The International is raking in roughly $10 million in annual revenue, with food and beverage as its largest sales generator. "The company was a dues-centric company," Weadock says. "I've moved away from dues to events."
As much as Weadock tried unconventional approaches to improving business, he says, the business still prioritizes the customer experience. "We serve our customers a premium service. We
know our members by name. Even though the club isn't the core focus anymore, people have been here for a long time and we treat them as family," he says.
And the company hasn't forgotten about its golf course, holding many golf tournaments and even hired a top golf recruit.
"We're trying to keep the best of what was while trying to be modern and evolve," Weadock says.
-- Written by Laurie Kulikowski in New York.
To contact Laurie Kulikowski, send an email to:
Laurie.Kulikowski@thestreet.com
.
>To submit a news tip, email:
.
Follow
TheStreet
on
and become a fan on
Disclosure: TheStreet's editorial policy prohibits staff editors, reporters and analysts from holding positions in any individual stocks.